Member Bios
Group Admin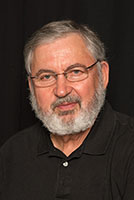 Isaac Vaisman M.D., FACRO
Isaac Vaisman, M .D.

I am a native of Caracas-Venezuela, born and raised there. I still am a semiretired physician (radiation oncologist) and a self educated photographer since the mid sixties. As a teenager I was the youngest member of the Foto Club Caracas. Winner of the first price in black and white prints in all three camera clubs of Venezuela, the same year. Did my own black and white processing and printing for many years, until I finished medical school and came to the US for postgraduate training in the 70's.

After a very long gap, started with digital photography in the early 2000's and more involved in the last five years. I am a "Nikonian" by conviction. Have participated in many competitions and received several awards.

I am/was a member of 3 local camera clubs in South Florida: Broward Camera Club, of which I was the President for four years, Pines West Camera Club and Coral Springs Camera Club. I am an active member in groups 04,58 and 72. I am the administrator of groups 58 (street Scenes) and 72 (Nature Plus).
---
---
---
Hassan Sadek, QPSA
My name is Hassan Thabet. I am a passionate photographer who holds a Diploma in Photography and I won a PSA Honourable Mention Ribbon in August 2017 . I was born, live and work in Qatar. I have a Bachelor Degree in Electronics Engineering from Egypt and hold a Master in Business Administration (MBA) from Malaysia. I work as a Proposal Engineer in an engineering consultancy company. I work on photography after my office time and looking to keep developing my skills and knowledge in photography, specially Street Photography.

---
---
---
Randy Andre

Born and bred in New Jersey, retired recently from the teaching profession as a Technology Education teacher. I have been in and out of photography since the mid 1970's, and as a teacher I supervised several clubs one of which was photography for middle school students. I currently reside in south/central Pennsylvania and I am the current president of the York County Camera Club. I enjoy landscape, cityscape and portrait photography and am looking forward to becoming more proficient in these genres with the help of the PSA.
---
---
---
Jim Mayo
After retiring as an ob-gyn physician 3 years ago I decided to pursue one of my boyhood hobbies of photography. I quickly learned that I would have to work part time as a doctor just to pay for all the 'stuff' I needed. It used to be simple, just take your pictures and develop the black and whites or send the colors to a lab. Now I use an expensive camera, computer, and software to digitally manipulate and then print large pictures.

I take a lot of pictures and courses to work toward a professional level. I really enjoy it and have met many wonderful people through photography.
---
---
---
Gloria Sprung
Retiring to Florida in 2013 from the corporate world gave me the time to devote to photography and hone my camera skills. I got my first DSLR in 2010, a Canon 60D which remains my primary camera. My husband and I have travelled more extensively since retirement, and my photos reflect my interest in travel and the culture and peoples of the places we have visited. We also spend our summers in beautiful Canada and this also gives me the opportunity to add some variety to my burgeoning collection of images.

Although I am semi-proficient in Photoshop, I have recently started using Lightroom more heavily in my workflow due to its ease. I particularly like Lightroom for its organizational structure which had has been a tremendous aid in finding my images. I occasionally use plug-ins when I want to introduce a "painterly" effect to my photos.

I belong to two camera clubs in Florida, and these groups of avid photographers have greatly helped in upping the ante of the photos I submit at competition. I continue to learn a lot of techniques through the internet and from reading photo magazines. I hope to benefit from the opinions and experience of others of this study group and look forward to enjoying the images of the group.
---
---
---
Daniel De Cort
Born in Leuven (Louvain, Belgium) in 1949
Board member of Foto Gamma Leuven (B)
Bachelor in art photography
GPU: Hermes, Cr 1
PSA: 2* PIDC

Art statement:

Photography always was part of my life. From my youth I followed the example of my father and elder brother. From my 16th I became member of a photo club: Foto Gamma Leuven. Later I became the president, still now I am a board member.

During 5 years I studied at the Academy of fine arts in Leuven, and graduated in digital photography.

Always looking for structures, shapes and stripes in urban landscape and nature.
Street photography and people in the studio are my principal interest.

To narrate a story is becoming more and more important as well as to implement contents to my photography.

And an other photographic challenge and inspiration I do find in the underwater world with his unique landscapes, fishes and also people.

e-mail: daniel.decort@gmail.com
website: http://danieldc.jalbum.net
Facebook: Daniel De Cort