Member Bios
Group Admin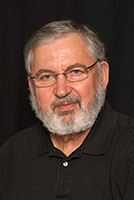 Dr Isaac Vaisman, QPSA
Dr. Isaac Vaisman, QPSA

I am a native of Caracas-Venezuela, born and raised there. I still am a semiretired physician (Radiation Oncologist) and a self-educated photographer since the mid-sixties. As a teenager I was the youngest member of the Foto Club Caracas. Winner of the first price in black and white prints in all three camera clubs of Venezuela, the same year. Did my own black and white processing and printing for many years, until I finished medical school and came to the US for postgraduate training in the 70's.

After a very long gap, started with digital photography in the early 2000's and more involved since I acquired my first digital Nikon D300 . I am a "Nikonian" by conviction. Have participated in many competitions and received several awards.

I joined the first Camera Club in Florida in 2008: Broward Camera Club, of which I was President for four years (2013 to 2016). Also was a member of the Pines West Camera Club, and currently I only attend the Coral Springs Camera Club that offers activities of interest.

I joined PSA in 2011. Completed the course of Image Evaluation a few years ago, and most recently (March 2021) the Advanced Photo Travel Course and was an instructor for a while. Appointed as 2nd Vicechair of the PSA Photo Travel Division in 2021

I am an active member on four of the PID Digital Dialogue groups: 04 (General Photography), 58 (street Scenes), 59 (Sport) and 72 (Nature +). I am the administrator of groups 58 and 72. I am also a member of the PSA PTD (Travel Photography) group 04.

Recently I obtained my ROPA distinction QPSA. I hold 2 stars in Nature Exhibitions, 2 stars in Monochrome Class, 2 stars in Color Class, 1 star in Photo Travel Exhibitions and 1 star in Photojournalism.

---
---
---
Sally Erickson
I was born and raised in Michigan. My family has said I got the gypsy gene as I have wandered and lived in many different places. Currently, I live on the south coast of Mass. One of my favorite sayings is "Not all who wander are lost".

I've worked for large and small companies generally in administrative from the receptionist to office manager/executive assistant. I currently am a tax preparer which is perfect because I work from January to April 15th. I'm not fond of winter so it helps the time go by to spring which I love because I can go out with my camera and record the rebirth of my surroundings.

I didn't really get into photography until later in life. I love to go out on the lake and fish, it's peaceful and the sunsets are amazing. That's when I picked up a point-and-shoot disposable camera. My heart began to sing, so I then invested in an entry-level Nikon film camera. Now I have a Canon Rebel T7i with kit lenses. It suits me just fine. Maybe one day I'll move up to mirrorless, time will tell.

When in Colorado I joined a PSA member camera club and my eyes were opened. I learned so much, I will be forever grateful to the membership for helping me along. I joined a local camera club as soon as I moved to Mass. Everyone in the club is friendly and helpful. I am now the treasurer and chair of our exhibits planning group. We go on outings together and share our images on our meetup site.

I am looking forward to sharing with this group. So many times I have been working on an image and I wonder how I can make it better, a different perspective, a new way to imagine it. Thank you for the opportunity.
You can see my work on: Heavenly Kreations Photography
---
---
---
Les Lincke, PPSA
Les Lincke was born in Chicago in 1933. He spent his early years playing baseball and helping his dad develop photos in their kitchen. He graduated from Miami University (Ohio) with a B.S. in Business and four letters in baseball. Following two years in the U.S. Army he graduated from the University of Chicago with a Masters in Business and attained his CPA. He has been Chairman of International Harvester Credit Corp., Canada and an IH and Sullair Corp. VP. He has lived in the U.S.A., Sweden, France and Canada.

Since retiring he has served in various non-profit organizational capacities and has actively pursued travel, visiting more than 100 countries, golfing, playing chess, reading, bicycling and photography. Photography always has been an interest and is his latest hobby which he turned to when the young guys started hitting the golf ball further than he could.
---
---
---
Bruce Goodman
After working for 40 years as a Human Resources executive in financial services ( 35 of them involving a daily 3 hour round trip to NYC) I retired in June 2018 to enjoy family, travel, cycling, and other hobbies. I bought my first camera in high school and was an active photographer in college for a daily newspaper, the university press , and the yearbook (mostly sports). Several years ago after dabbling with digital point-and-shoot cameras I finally bought an Olympus OMD EM1 (and EM1-Mark II). I mostly shoot with a 12-40mm f 2.8 and a kit lens 14-150.

In retirement I joined a local photo club and have been exposed for the first time to competitions and critique. I am trying to learn new skills, struggling with composition, and with post-processing (mainly with Lightroom and some with Photoshop).

follow me on Instagram @photosfrombrug and @madebybrug

---
---
---
Dan Waters
A former Marine, sales engineer and business owner and medically retired with a desire to stay active and involved. Photography was a hobby, something I enjoyed as a youth and still enjoy and it is something I wish to become proficient in. We are in our sixth year of following our dreams by traveling the United States via motor coach and having a wife who takes assignments as a travel nurse helps to make it possible. I use a Nikon D5000, a few lenses, some close up filters, a couple of flashes and if you see a bike pulling a child's trailer loaded with camera gear and a dog ... wave! It's me. Introduce yourself and tell me those secret areas where you like to set up and take photos.
---
---
---
Gloria Sprung
Retiring to Florida in 2013 from the corporate world gave me the time to devote to photography and hone my camera skills. I got my first DSLR in 2010, a Canon 60D which remains my primary camera. My husband and I have travelled more extensively since retirement, and my photos reflect my interest in travel and the culture and peoples of the places we have visited. We also spend our summers in beautiful Canada and this also gives me the opportunity to add some variety to my burgeoning collection of images.

Although I am semi-proficient in Photoshop, I have recently started using Lightroom more heavily in my workflow due to its ease. I particularly like Lightroom for its organizational structure which had has been a tremendous aid in finding my images. I occasionally use plug-ins when I want to introduce a "painterly" effect to my photos.

I belong to two camera clubs in Florida, and these groups of avid photographers have greatly helped in upping the ante of the photos I submit at competition. I continue to learn a lot of techniques through the internet and from reading photo magazines. I hope to benefit from the opinions and experience of others of this study group and look forward to enjoying the images of the group.
---
---
---
Bill Wright
My name is Bill Wright and I live in Canada's capital city of Ottawa, Ontario. I have had a camera since I was seven years old. I bought it for 7 Orange Crush (a pop drink) caps and $1.00. At age 13 I got a fixed lens 35 mm and there was no looking back. I built a darkroom in my parents basement and used it extensively until I joined my university photo club and learned what a "real" darkroom looked like.
Over the years life got in the way and photography took a back burner. I retired as a college prof about 12 years ago. I wasn't smart enough to lay back and take it easy and return to photography and started a speaking and training business instead.
I now consider myself retired and have returned to photography, woodworking and genealogy.
This past fall I joined the RA Photo Club in Ottawa, am currently taking a 12 week winter landscape course and just last week joined the PSA. I have signed up for the Digital Photography Course with the PSA and just received my welcome letter as I type this.
I have taken a lot of photos over the years and now look forward to start taking some good ones.