David Halgrimson, APSA
---
September 2023 - Cookie
Original
About the Image(s)
This is my wife and our new puppy, Cookie. She, Cookie, is the sweetest thing but a rascal and getting a shot like this was not easy.

Shot with an Olympus EM1 MKIII, Olympus 40-150mm lens at 50mm, 1/20th sec, f/4 and ISO 200.

Processed in Lightroom, lowering highlights, raising shadows and whites adding texture and clarity. Used masking to darken areas around edges, corners and selective areas.

Converted to B&W in Topaz Silver Efex Pro 2, using preset 0 Neutral.

---
5 comments posted
---
---
---
Kathryn Delany
David well done in capturing a new puppy. A really lovely portrait of your wife and the puppy. The lighting is lovely coming over the back and to the side lighting both the person and the dog. It is clear that you wife loves this little ragamuffin. You caught a great expression on the puppies face too. No improvements needed. Fabulous job &nbsp Posted: 09/06/2023 16:59:56
---
---
---
Vincent Cochain
I really like the scene. Her eyes are wonderful. When they are fully open as it is, the face is illuminated and very beautiful. Not easy to realize that.
You will have a lot of fun with her. Enjoy.
Is she a Shih Tzu? &nbsp Posted: 09/07/2023 01:59:58
---
---
---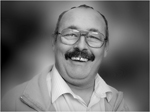 Paul Hoffman
She is very cute, I mean the puppy. Hide the slippers and anything else that is soft and chewy. Very cute face and big eyes that you are never going to say no to. Lots of photographic fun over the years to come. Congratulations. &nbsp Posted: 09/14/2023 05:50:00
---
---
---
Fran Yates
Awww...what a cutie. I like how you have converted it to B&W and softened the focus on your wife. The tones are wonderful. I might do a few things to bring Cookie out a bit. I might draw a small dodge line around her eyes to add to contrast a tiny bit and add a little bit of texture to her fur. Nitpicky, I know for a wonderful shot. &nbsp Posted: 09/14/2023 13:18:00
---
---
---
Ken Wilkes
My eye is drawn right to the puppy (primary subject) and then moves to your wife as the secondary subject. I really like the contrast and detail. &nbsp Posted: 09/16/2023 10:30:42
---
---
---
Please log in to post a comment