Paul Hoffman
---
September 2023 - The Crossword Man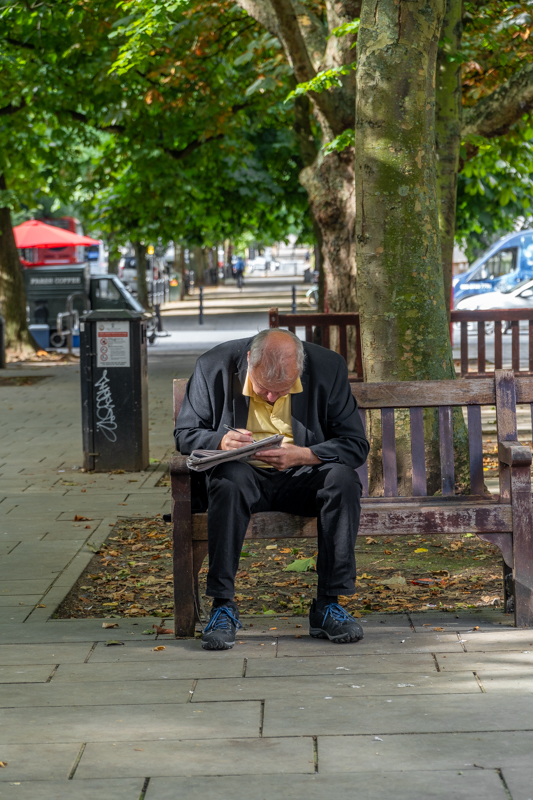 Original
About the Image(s)
Sony a6600 – Sony 18-105mm F4 G OSS @ 73mm (109mm) ISO400 1/125 f5

A couple of times a week this gentleman comes into the centre of Cheltenham and sits. He then does the Crossword, he does not stop, he does not look up. When he finishes, he then goes to the coffee shop for his morning coffee and something to eat. His concentration never moved with everything going on around him.

Processed in lightroom and then PS. Nik Silver Efex 6 for black and white process.

I had to decide of either packing up photography or changing what I do. I could not carry around my big landscape gear any more as my back just would not take it, but I had to keep moving. So, I treated myself to a Sony crop sensor camera and a lens and have taken to the streets. Must admit what a joy it is, only been attack once and I did not take a picture of her. Luckly there was a nice policeman around. So new style of images to come. But it makes you see the world in a new way. Only been doing for four weeks but already 1500 images to play with.
---
5 comments posted
---
---
---
David Halgrimson
Great street photography. The subject makes a strong and impactful image. The lighting with the many highlight areas throughout the image is exceptional. The crop offsetting the subject to the left works well with the rest of the bench provides balance to the image. Enter this one in competition, it should do well. I can't stop looking at it. &nbsp Posted: 09/02/2023 11:09:11
---
---
---
Kathryn Delany
Paul this is fantastic. The overall tones and matte finish give a very classical feel to the image. Great story and lighting to draw the eye. The crop helps the composition and cuts out unnecessary background clutter. PS. I understand 100% about lugging around heavy equipment and am ever in the pursuit of lighter gear &nbsp Posted: 09/06/2023 16:49:27
---
---
---
Fran Yates
This is absolutely wonderful! Your crop, the B&W tones, and the focus on the man all work so well. So much to look at and so much to see. Perfect!
You know, when you get used to your crop sensor, you will be back to doing whatever you like best. We switched to the Olympic Mirrorless because of weight when hiking. Use it exclusively. I can handhold up to 2 sec. &nbsp Posted: 09/14/2023 13:29:16
---
---
---
Vincent Cochain
In two words: great and wonderful.
Good idea the crop in square format. I like his position, and specially his shoes that are very sharp and give him a "style".
Some can say a part of the bank is missing. It doesn't matter for me. Our eyes go ans stay to the man, and the tones of the pictures.
A lot pleasure with you new camera. &nbsp Posted: 09/15/2023 10:44:18
---
---
---
Ken Wilkes
Well done, Paul! Nice subject and well composed. Tells a story that keeps my interest. A little more contrast might provide more separation between the man and the background. Just a thought. &nbsp Posted: 09/16/2023 10:13:44
---
---
---
Please log in to post a comment