Mark Bargen
---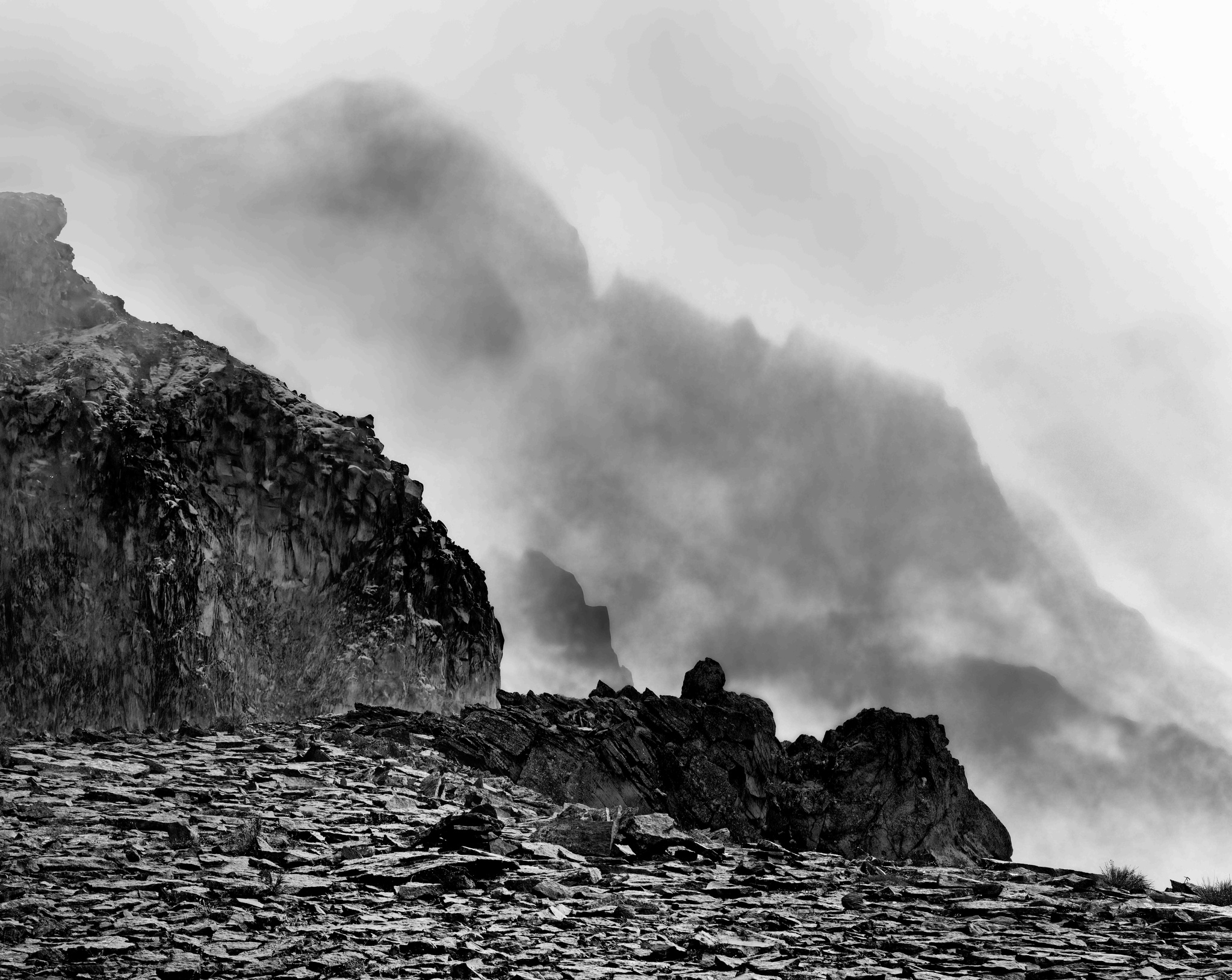 September 2023 - A Formidable Prospect
About the Image(s)
For this month, I've returned to Iceland, where I spent six days this Summer camping and hiking a total of 35 miles.

I captured this image on my fifth day, on a twelve mile hike up and over Kristinartindar, which is a major mountain in the Skaftafell National Park. To the right is a precipitous drop down to Skaftafellsjokull (a major tongue of the massive Vatnajokull ice cap), a drop carved by said glacier, and which grew ever more dramatic as I continued to climb along this rim toward the summit visible at the top of the frame. Weather in Iceland is notoriously changeable, difficult to predict in other than very general terms. Most of the day the upper reaches of the mountain were shrouded to one degree or another by mists and clouds, but at this point the cloud base was low and ragged.

I regret to report that I failed to summit. I was alone and had encountered only one other party all day. My nerve finally gave out about 200 meters below the summit. The loose rock was frequently slipping out from under me and then I faced a traverse not more than ten feet across, but falling away to the side at such an angle that I lost all confidence that I could make it across. So I turned and headed back down a ways, and circled around the flank of the summit along a safer trail. The skies opened up and drenched me for about ten minutes, as though the mountain were laughingly shaking his fist at me. All in all, it was an epic adventure!

I'm still not satisfied with the image, despite putting in a lot of effort in post. It deviates pretty significantly from the conventional, especially in terms of balance and composition. The darks are especially dense, and the plateau in the foreground is rather contrasty, but I believe that this is necessary to achieve layering of tonal values and to emphasize the stark harshness of the rock face. (As a side note, that seems to be less of an issue whe printed large.) There is definitely one problematic area: the indistinct rockface high on the left edge; I have not found a way to improve on that. At this point, I need a few weeks away from it, come back with a fresh eye and mindset.

From a more subjective perspective, though, I am pleased with the image. I intend that it be gloomy and feel daunting. I would like it to make the viewer somewhat uncomfortable. It should not be "pretty" or "epic". This is one of my most deeply personal images to date. I've begun to consciously try to make images that resonate for me as "self portraits" (metaphorically, of course) or as autobiographical. By my measures, this one is a success, as for much of my life I have felt as though there loomed close at hand a grave unseen peril, while my path forward was towards a barely discernable formidable challenge of my own choosing.
---
Please log in to post a comment