Witta Priester
---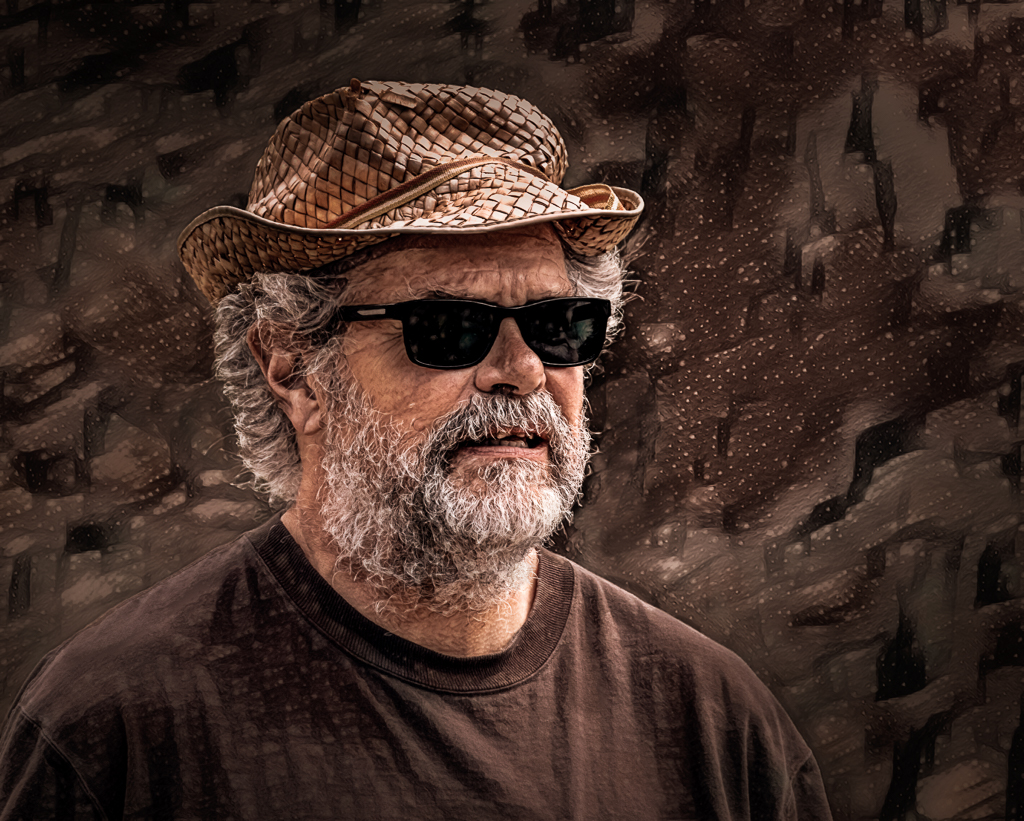 September 2021 - Man in the Straw Hat
About the Image(s)
The start photo was taken (surreptitiously) at a lavender farm last month -- 400 mm on a Canon 90D, f/5.6, ISO 320. After some minor adjustments in LR, it was opened in PS.

I have been learning Topaz Studio 2 (TS2) and in the process creating some "looks", which are personalized combinations of several filters that can be saves. Some of these filters are not traditional filters, in particular I like Topaz's "AI Remix" filter. (The recent version of PS has an attempt to copy AI Remix. If you want to try it, take a photo and stamp up. Then use filter / neural filters; turn on the "style transfer "button ; apply one of the style options and say OK. Then you can lower the opacity of this filtered layer and/or change its blend mode.)

For this image, I applied one of my saved looks (which includes 3 AI remix filters at various opacities) and then I partially masked his face. That resulted in the interesting background. Back in PS I did a bit of cloning, and applied a levels adjustment layer to just the funky hat (using a mask). This resulted in 2A. It seemed to still need a bit more to make it pop, so I stamped up and on that layer in TS2 applied another of my "looks". Back in PS, that second topaz layer was applied at 60% opacity, again partially masking the face, resulting in 2B.

Now back in LR… I scrolled through my 60+ "develop presets", most of which were created by others; I had downloaded them over time (for free) from various sources. This quick scroll through my develop presets helped me choose an effect from Doug Landreth that he named "Hidden Potential V1 01. Applying that preset as a starting point, I made a bunch of develop changes and selective adjustments to create this month's image.

I think some might label the image "creative", but I wonder: do YOU think it is fine art photography? Also, any ideas for improvement would be appreciated.

---
6 comments posted
---
---
---
Georgianne Giese
Well done! Thank you for the instruction on the PS filter. I will try it. I do have TS2, but have not used it much. WillYou have inspired me to do more with it.

The background is terrific, though I could do with many fewer dots. The hat is well done. Though the background is appealing to me, I like the way the man really stands out from it. The coloring of this portrait is also appealing to me.

Yes, to me this is fi e art. I would hang it on my wall! &nbsp Posted: 09/03/2021 04:41:50
Witta Priester
See reply below. &nbsp Posted: 09/17/2021 12:37:03
---
---
---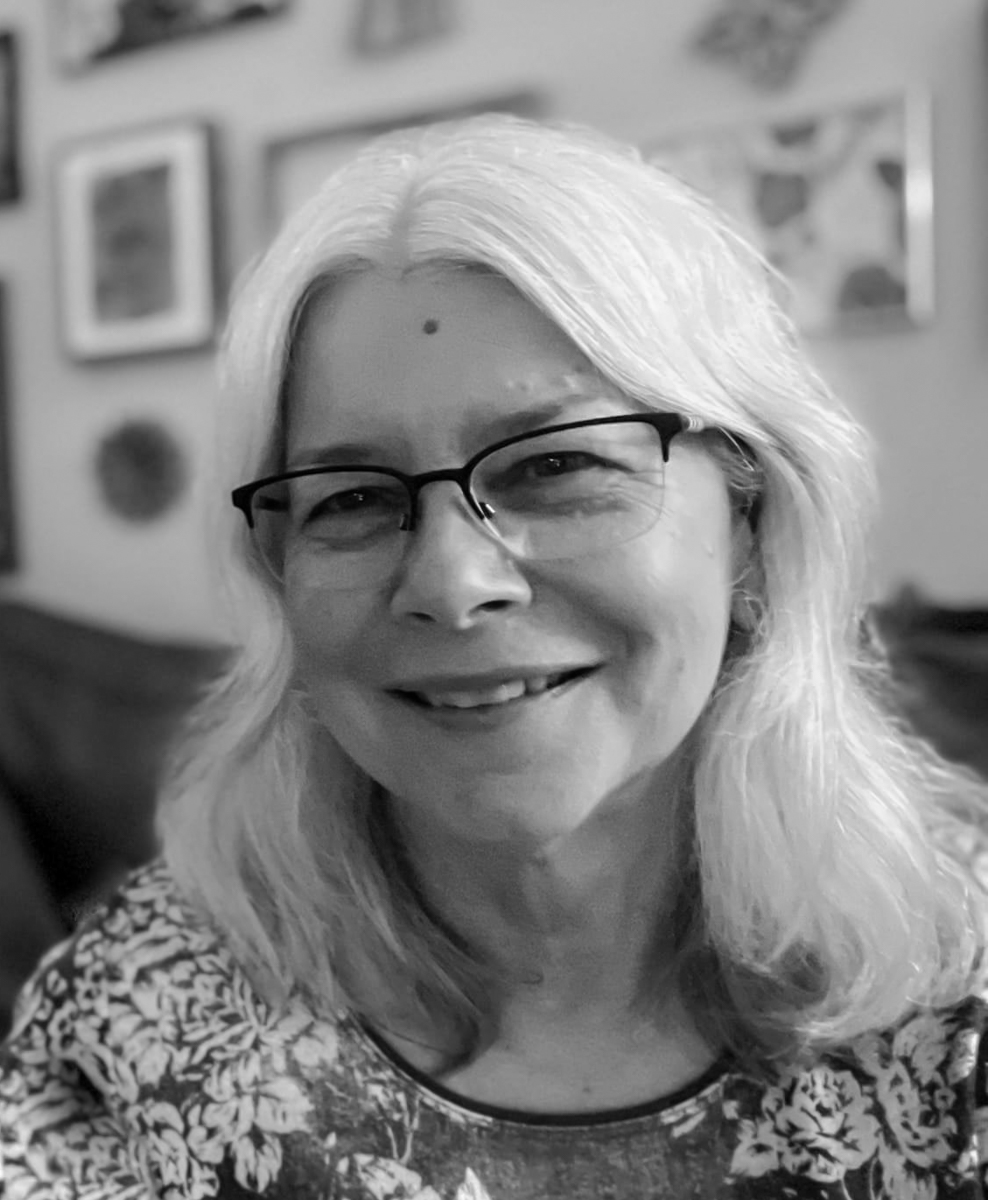 Denise McKay
So I'm going to try to answer your question; is this particular image "fine art"? What's always been interesting to me is that there is not one specific definition for fine art photography. However, one definition I connect with is when the photographer brings a vision, emotion, or state of mind to life. So if I went with that, I'd have to ask what was your vision here? What was it about this man that made you want to take his picture and how did your post-processing decisions help you express that idea?

As it stands, it's an interesting portrait and I like how your post-processing brought out the details in his hat, hair, and skin tones. But I don't think the background adds to this image. I'm curious to hear more about your objective for this photo. &nbsp Posted: 09/06/2021 08:01:27
Witta Priester
See reply below. &nbsp Posted: 09/17/2021 12:36:46
---
---
---

Linda M Medine
Witta Priester
Linda, thanks for the "flip the image" thought. I do prefer it.
Georgianne, thanks for your comment on the background dots; I agree they are distracting.
Denise -- it's hard to know why I take a photo (it is mostly because I enjoy being out there doing it.) In this instance it was because he looked like an interesting "Character", he had a uniqueness about him. Also, he was in a location where I could easily blur the background with my camera settings. So, that was step 1. Now for the why of the processing... for me it usually starts with a "play-around", letting my tools and skills try things, almost unconsciously. In the end, I wanted to emphasize a grittiness that I associated with his distinct look, the scruffiness of his hat and hair and coarse beard.
I have worked on this image some more, given your helpful comments. I'm thinking about putting this revised version into the NWCCC competition late next week. &nbsp
Posted: 09/17/2021 12:35:19
---
---
---
Please log in to post a comment