Member Bios
Witta Priester
Witta Priester is a fine arts photographer, experienced judge, commentator and lecturer. She has been doing "serious" photography since 2005 and is an active member of 3 camera clubs, including the Olympic Peaks Camera Club and the Coachella Valley Desert CC. Witta earned her photographic honors, an Associateship with the Photographic Society of New Zealand (APSNZ) in 2007. Her work is catholic and eclectic, including wildlife, landscape, tabletop, travel, and whatever else comes her way. She enjoys experimenting, both in-camera and in the digital darkroom, where she often converts her photographs into creative works of art. Her most recent work uses textures and collages. Witta uses Canon equipment, with a range of lenses that span 12-500mm. She uses Lightroom and Photoshop, as well as an assortment of NIK filters.

Before retiring and focusing on photography, Witta had several careers. She has a Ph.D. in organic chemistry and has worked as a research scientist, as a long-range planner, and as a registered patent agent. Witta is also a good golfer, with a 14 handicap, and competed in the USGA's Women's Senior Amateur Golf Championship some years ago.

A sample of her photographic work can be found on her Flick'r site: http://www.flickr.com/photos/wittap/
---
---
---
Connie Reinhart
In 1965 our little B&W TV broke. To pass the time needed to deliver a new TV, we went to a local discount store, bought a color developing kit and processed our first B&W roll of film. Our new TV was 2 years old before we ever watched it.

The first remodeling in our new home was making a dark room. So B&W is my first love. We joined the Palmerton Camera Club in 1969 and have been active in it ever since.

We like nature, travel, portraits, macro, just about any subject. (We're not crazy about fast-flying eagles.)

We work with the local historical society copying old photos and documents or taking pictures of current events for future historians. We have mentored Girl Scouts and Boy Scouts in
photography.

For several years we have been responsible for the tabletop set ups at the Berks Photographic Conference.

I use a Canon 5D Mark II with a Tamron 28-300 zoom. We enjoy making slide shows using ProShow Gold. I use PhotoShop CS6 for editing, and NIK filters and Topaz are my go-to
tools.
---
---
---
Mary Hinsen, BPSA
I live in Cromwell in the beautiful Central Otago area of New Zealand. I am a mother, grandmother, photographer, videographer and writer. My love of photography started as a child, when my father gave me my first film camera. I continued learning and experimenting through my school years, until study, work and children meant photography had to take a back seat. Through this time, however, I learned that art could take many forms. Design became my creative outlet, designing décor, clothes and food - creating something beautiful from something ordinary.

Now, as a photographer again, I particularly love to shoot people and food. I try to capture something special about a person, and to photograph food in a way that makes you really taste it.

I am always learning, of course! I am a member of the Queenstown Photography Club here in New Zealand, and also the New Zealand Institute of Professional Photographers. I joined the PSA to take advantage of a greater range of learning opportunities, and to get to know and learn from other photographers.
---
---
---
Michael Moore
I grew up in Southern California and received a BS in chemistry from Cal State San Bernardino followed by a PhD in chemistry from the University of Illinois. I had the great fortune to work for DuPont for 34 years in a variety of technical and business roles including an international assignment in Germany for five years. I live in Chadds Ford with my wife Carolyn, have three wonderful grown children and four incredible grandchildren.

After retirement I have finally found the time to balance those things I truly love in life - family, friends, music, photography and fly fishing. Music is a true passion of mine and I have played guitar since high school. I currently play in a smooth jazz trio which is such a joy. I find music and photography share many of the same elements. Both pursuits require that you become technically proficient with your instrument or camera before you can truly dive into the process of creating art – that intersection fascinates me. My father was an accomplished photographer and taught me the basics. I'm a generalist and enjoy all aspects of photography. I particularly enjoy photographing landscapes, flowers, macro and am starting to enjoy wildlife photography. I have always been interested in creating artistic images but have found that these images tend to not do well in local club competitions. I am hoping that the Fine Arts Study Group will give me the opportunity to develop more creative images which are shared with and critiqued by like-minded photographers.

I shot with a Canon 5D mark ii for many years and have just upgraded to the Canon R5 which seems to be a fantastic camera. I also use a Fuji x100s as my primary travel camera due to it's very compact size and great optics. The camera is probably the least important part of the photography equation but who does not love new gear which can often provide a needed catalyst for further exploration.

I joined Delaware Photographic Society (DPS) in 2018 and it has really had a tremendous impact on my photography. Being around so many exceptional photographers can only help to take your game to the next level. I have enjoyed club field trips and getting out informally with club members to shoot and learn. This year I became the Membership Chair for DPS and have really enjoyed my interactions with new members.


---
---
---

Linda M Medine
Linda M. Medine retired from banking after forty years with American and Hancock Banks. Her love of banking has always competed for attention with her love of photography.

Banking has taught Linda that learning requires involvement. This philosophy has served her well in her photography also. Capturing images for forty years, she is active in the Louisiana Photographic Society and has served as the program chairperson, Treasurer, Vice President and is now President designate for 2015. She was also Co-Chairperson for the Gulf States Camera Club Regional Conference held in Baton Rouge, on April 24-27, 2014. She is a member of PSA and completed the program Judging and Analysis with Jon P Fishback FP, ARPS and Individualized Photography. She is now working on PSA's Photography Project Course.

Photography has taken Linda to many parts of the United States. She loves Louisiana landscapes and is passionate for the outdoors and the beauty of nature.

Linda's Facebook Linda Medine
---
---
---
Group Admin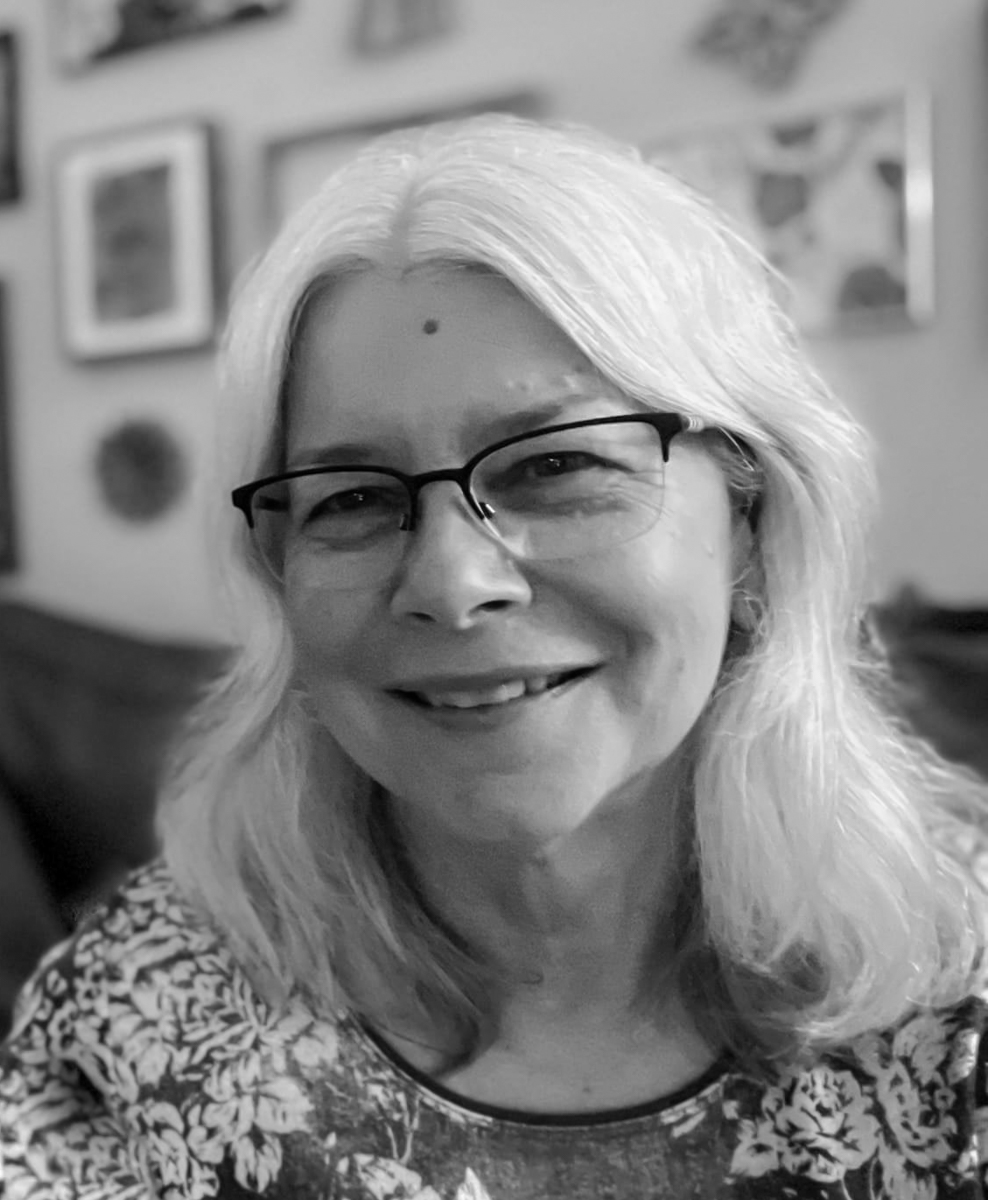 Denise McKay
Since I was old enough to hold a crayon, I have been compelled to create. I am extremely curious, and love to try new creative techniques. I don't always master what I attempt, but I love the learning process and experimentation. In school, you could find me attending all of the art and music classes available. I learned how to play the piano and tried my hand at ceramics, print making, drawing, painting, and crafts such as macrame and crocheting. When my first grandchild was born, I learned to quilt, and continue to make quilts today.

In the early 70's I had an Olympus OM-1 film camera that I used to capture moments and beautiful objects. At the time I didn't think of photography as "art" but more as a tool to keep memories. My objective was to know how to use the tool for clear representation of what was in front of me. So, I learned the technical aspects of taking photos, then as the years went by, eventually discovered the creative and artistic possibilities.

Although I have gained much knowledge over the years, I will always consider myself a student of photography. I get great enjoyment from taking images of things that intrigue and delight me; flowers, nature, details of architecture and other man-made objects; anything that grabs my eye and stirs my imagination. I will continue to seek out new ways to use the camera as a creative tool.