Witta Priester
---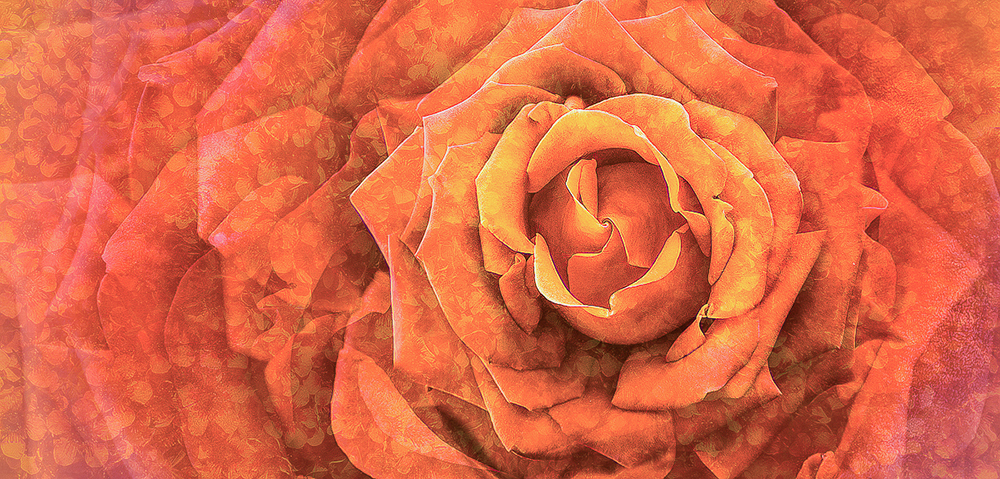 June 2021 - Textured Super Rose
About the Image(s)
How I did it —Textured SuperRose

A friend would like to hang one of my photos over her bed. She wants flowers and a long horizontal image; orange or green colors should work well. Her taste is pretty traditional, and she didn't jump at any of the first batch of more abstract and more creative images I sent her. I'm hoping this one will work for her.

The start image was created several years ago. It is a cropped version of a rose photo that I had combined with another rose to make a "super-rose". I printed a solarized B&W version of the un-cropped SuperRose for an exhibition I had in 2019.

A "texture" photo (the bottom one) was created from two photos — one with lots of little flowers, the other with lots of bokeh. These were layered in PS and blended using the overlay blend mode, and then sharpened.

The texture photo was placed on top of the rose and blended in soft light mode, with a mask used so there was much less blending of the texture in the rose's center. In LR the color variations at the sides were added for interest, using graduated filters with light blue and light purple colors. Finally, a vignette and my "emphasis" radial filter were added to keep the eye coming back to the center of the rose.

I'd appreciate any improvement suggestions .

---
7 comments posted
---
---
---
Witta Priester
Imagine it BIG! &nbsp Posted: 06/02/2021 10:44:53
Michael Moore
This is a fantastic image and one that you can easily imagine on the wall. You have done a great job with blending your textures to achieve your final product and have certainly given me some ideas to explore regarding using multiple textures. &nbsp Posted: 06/03/2021 11:34:57
---
---
---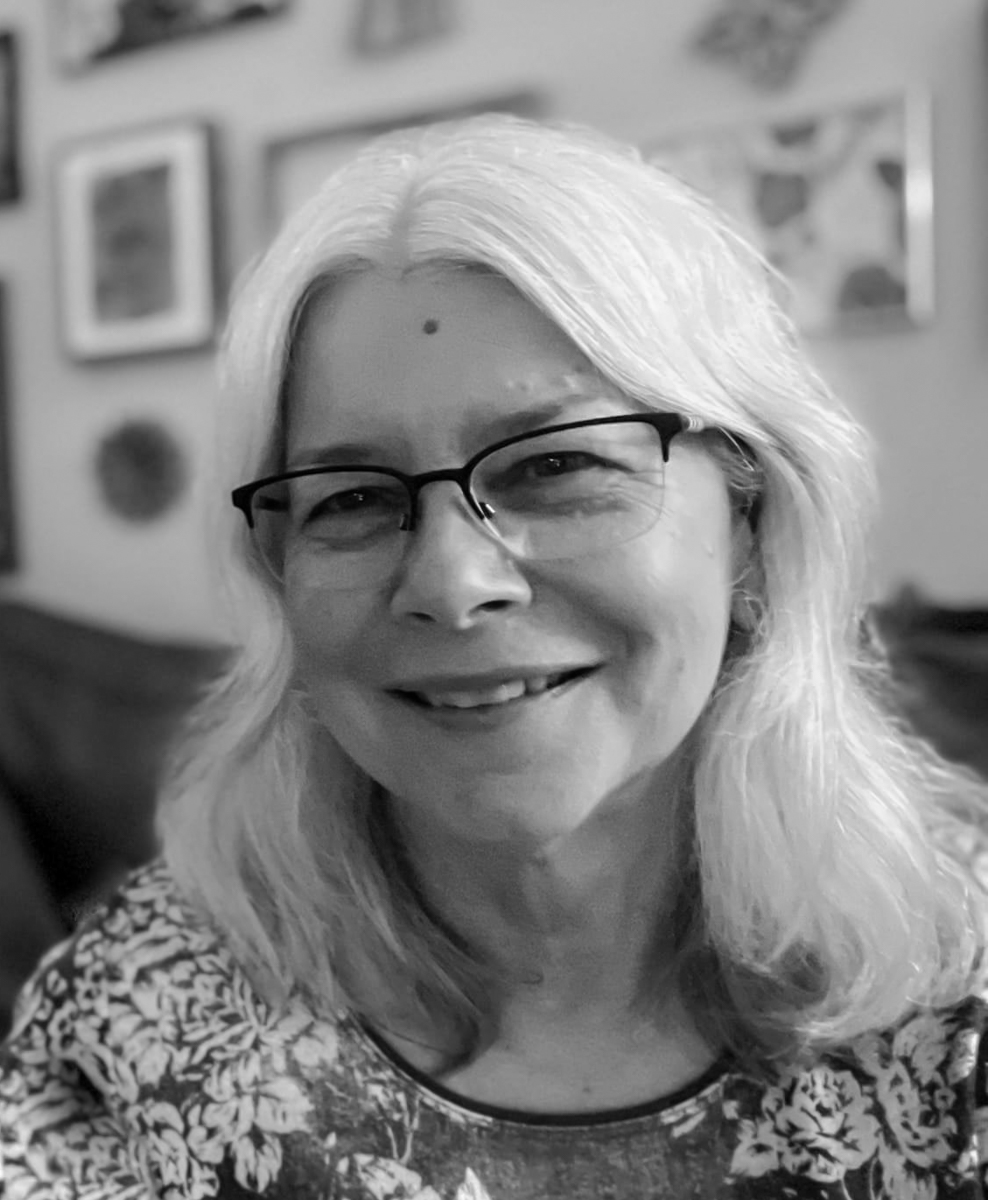 Denise McKay
Well, there are no improvement suggestions I can make here. I think this is a wonderful image that your friend should snap up! I really like the texture you created for this as well. This would be fantastic as a large print over your friend's bed.

&nbsp Posted: 06/02/2021 17:53:18
---
---
---
Connie Reinhart
When first seeing the image,, not yet reading the 'how-to', I thought, "This should be on a wall." So you nailed it. What made you think of adding color variations, and why did you pick those colors? If I was alittle girl photographer, I would want to grow up like you. &nbsp Posted: 06/06/2021 08:44:50
Witta Priester
Connie, thank you so much for that very special little girl comment -- it made my day. (Maybe my week!)

As for the color variations at the sides, I felt the image was too mono-chromatic and needed some more (albeit subtle) interest. So I tried to change the side colors a little. The blue and purple colors used for for the graduated filters were found by experimentation. &nbsp Posted: 06/06/2021 16:00:15
---
---
---
Georgianne Giese
Magnificent! I do hope your friend accepts this wonderful image for her bedroom!

I have no suggestions. You did a masterful job by adding the blue and purple colors on the edges. Images of roses are not often thought of highly by photographers, because they are so common. But you turned an ordinary (and beautiful) rose into a work of art! &nbsp Posted: 06/15/2021 08:45:07
---
---
---
Mary Hinsen
Hi Witta - I can't really say more than what has already been said - I love your image and it is definitely worthy to be framed and hung on a wall!
Thank you for your 'how to'. I love seeing what everyone does, and it is so helpful to pick up something new each time :) &nbsp Posted: 06/16/2021 16:13:36
---
---
---
Please log in to post a comment