Don James
---
September 2023 - Collision Course
About the Image(s)
Title - Collision Course

Playoff game in the round prior to the state cup. CRHS center mid, Derek Ringnalda went up for a header to move the ball to the goal and missed against the Eastside back line. He was within centimeters of hitting his head. The back line for Eastside was the best I've ever seen in high school soccer.

Image was taken with a Nikon Z6
Nikon Z70-200mm f/2.8 VR S @ 200mm
F/4.5 1/1000 ISO2500

The image was cropped in Lightroom.

---
8 comments posted
---
---
---
Hans-Werner Griepentrog
Hi Don, that could have gone in the eye with the two players jumping up, seems to have gone well once again. You have caught the scene at the right moment. Well done.
&nbsp Posted: 09/08/2023 07:32:55
Don James
Thank you, Hans! &nbsp Posted: 09/18/2023 21:55:26
---
---
---
Bruce Benson
Hey Don, You caught a moment with great action that could have gone badly for both players. My only suggestion would be to crop the right side just enough to eliminate the leg and arm of the player on the far right side. Bruce &nbsp Posted: 09/08/2023 13:58:04
---
---
---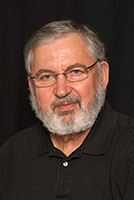 Dr Isaac Vaisman
Don, peak of action frozen in the air. Great face expressions. The image is sharp. I do not think that the arm and leg of the right side can be cropped without amputating the left arm of the # 21 Eagles Player. &nbsp Posted: 09/12/2023 08:44:43
---
---
---
Kerry McFarlane
Don, excellent timing to capture the action at its peak. I agree the arm and leg on the right side are a distraction but don't feel they could be cropped out. Image is very sharp and shows great facial expressions. &nbsp Posted: 09/13/2023 01:04:04
Don James
Thank you, Kerry! &nbsp Posted: 09/18/2023 21:53:27
---
---
---
Ronald Davis
Hi Don. A fine shot that shows the intensity of heading the ball and well done at F2.8, best setting for obtaining background blur. The portion player to the right is for me a little annoying, you say cropped, but I wonder if he could have been left in the photo? I have nothing against backs of players as it is all part of the game and action. IMO more back is better than a little back. As a further improvement to the photo only micro is to bring more out of the hair details of black jumper player 21. At the judging level, judges love details of flying hair in a contest, this can be done with the adjustment brush. Reduce Shadows, increase Clarity and Sharpness. I used freeware program PTPhoto Editor, far more simple to use than Lightroom. &nbsp
Posted: 09/18/2023 20:27:32
Don James
Great feedback, Ronald. I could have had the other player completely in the picture without the crop. Also great feedback on the hair as well. I didn't do any additional editing beyond the crop, but I really like your suggestions and thoughts! &nbsp Posted: 09/18/2023 21:53:09
---
---
---
Please log in to post a comment