Member Bios
Group Admin
Paul Moertl
I have been photographing since high school (too many moons ago...). I got interested in HDR a few years ago and really like it. It is so flexible. And I like Topaz, ON1, and my favorite, Photomatix (which is made for HDR). I also enjoy macro and monochrome. I belong to the Wisconsin PSA Chapter and also a local camera club here in the Milwaukee area.
---
---
---
Lorna Zaback
I picked up my first SLR camera as a teenager and immediately fell in love with taking pictures. After working with film (mostly black and white) for a number of years, I took a long break, but over the past few years, have rediscovered this passion of my youth, now in the context of digital photography, with its many possibilities and challenges. For me, photography is not only about attempting to create beautiful and inspiring images, it is also a journey of discovery, of striving to find my artistic voice.


I am a retired math instructor living in Victoria on beautiful Vancouver Island, Canada. I am an active member of the Victoria Camera Club where I have been inspired and mentored by a number of outstanding photographers. I shoot with a Nikon D750 but also love my little Fujifilm X-T10 for travelling. I am a big fan of post-processing and often work with a combination of Lightroom, Photoshop and Nik Color Efex and Silver Efex.



You can see my work on: Lorna Zaback Photography
---
---
---
Mary Ann Carrasco
I live in Sacramento, CA. Photography has always been an interest but I did not seriously pursue it until I retired in 2013. Currently, I am using a Nikon D500 and my lenses consist of a wide angle (10-20); Tamron 18-400 and Tamron 150-600. I like shooting wildlife, landscapes, flowers and whatever I come across. Lately, I have explored some astro photography, including the recent comet and the milky way. I look forward to participating in this dialogue, continuing to learn and explore.
---
---
---
Karl Hokanson, EPSA
I am a retired architect living in Port Washington, WI. I got back into photography in 2006 thanks to my son and a friend who shots sports car racing (Road America race track just 30 miles away). Then another guy at that office was racing bicycles (road, mountain and cyclocross) so I added another subject (shooting the cyclists I found I liked showing the expressions of amateur athletes who play and work at their sport for the love of the sport and competition). I have since added rugby, some track, speed skating, the Milwaukee Zoo, buildings and other various Port Washington and Milwaukee scenes.

For equipment, I shoot Nikon, D500 (cropped frame) and recently added a Z7 to explore mirrorless full-frame. I also have a Samsung phone, an old 7000 and a Leica D-Lux to keep things confusing. I use a monopod (Sirius with feet), tri-pod (Manfroto carbon fiber), 1.4 and 1.7 extenders, primarily a Nikon 70 - 200 f2.8 lens, and several other smaller prime and zoom lens for buildings. Oh yes, I use the arco-swiss camera plates.
---
---
---
Cindy Lynch
When I retired from being a school district administrator, I told a good friend that I wanted to take up photography when I retired. As a retirement gift, she gave me my first year's membership in the St. Louis Camera Club. That is when my new passion began. I found the people talented, friendly and so willing to share their knowledge with a beginner like me. I was both inspired and hooked. I had taken art classes my freshman year in college with thoughts of a career in art. However, I turned to education and had a very rewarding career. With photography, I found that I could develop my artistic side while also learning new technical skills. I love that photography keeps me learning and that my initial captures can turn into art in any number of different ways. There is always something new to learn. I enjoy our weekly meetings and competitions in the St. Louis Camera Club and have served on the Board of Directors, Print Committee and am now the Vice President.
<br />
<br />At the same time I joined the St. Louis Camera Club, I also joined PSA. I have taken advantage of the many opportunities to grow in the art of photography. I completed two of John Fishback's online courses. I also participate in two PID Digital Study Groups:Fine Art and General, where I am the secretary; as well as three PID Digital Dialogue Groups: General, Monochrome and Macro. I love the feedback I receive and often submit my images to these groups prior to placing them in competition. I routinely participate in the PSA Interclub competitions through my camera club, as well as Print of the Month. For the first time, I won Print of the Month for October, 2016 with Ruby, an orangutan at the St. Louis Zoo. I have won Print of the Month 3 more times since then. I love to compete and frequently enter the International Competitions in PID Color and Monochrome. I am working on achieving my 5th star in Color and my 3rd star in Monochrome. I was fortunate enough to have won a Gold Medal for Jake in 2015. I have judged twice in PSA Councils Challenge and twice in Individual Creative Competition.
<br />
---
---
---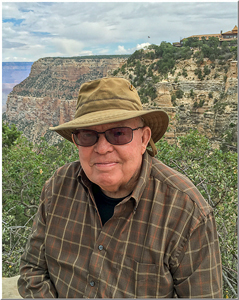 Chuck Carstensen
A Kodak Baby Brownie Special with 127 film was my first camera. It did not take long to get passionate about photography. My parents supported building a simple wet darkroom in the the basement. It was truly magic developing the film and making prints. Experience includes intern photographer at the Pueblo, Colorado Chieftain and Star Journal Newspaper. Camera of that period was a 4x5 Speed Graphic. I joined the U. S. Navy and graduated from the Naval Photography School in Pensacola, Florida. I am a private pilot now retired from 35+ years independent aircraft accident adjusting and investigation as a business owner. My career always strongly involved photography.