Member Bios
Bai Chuang Shyu
I am a neuroscientist and working in a Research Institute in Taipei, Taiwan. I start to take digital photos about 2 years ago when I got a Nikon D700. I took a photograph course in a community college and then followed a group of photoenthusiasts that went around the hot photographic spots during sunset or sunrise. The process of taking a photo is different from that of pursuing knowledge of biological function happened in the laboratory. But the intensity of focus and passion devoted to accomplishing a work is quite similar to me. Most of my works has been in landscape, nature and architecture. My interest in photography is gradually growing over the years. I am going to retire in 5 years. I wish that I will extend my passion for photography to my retired life.

I have Photoshop CS5, Lightroom 3 and the Nik software suite. The Viveza 2 of Nik software is my favorite post-processing program. I just joined PSA in May 2013. I am also a member of Taipei Photography Association.
---
---
---
David Terao
After a 40-year career in the commercial nuclear power industry, I retired from the U.S. Nuclear Regulatory Commission in 2014 and currently reside in Silver Spring, Maryland. I first became seriously interested in photography in 1975 when I purchased an Olympus OM-1 camera, shot Tri-X black-and-white film, developed the film myself, and made prints in my darkroom. I currently use a Canon full-frame digital camera and also use a micro-four-thirds system for travel. My post-processing includes the use of Lightroom, Photoshop, and several plug-ins. For subjects, I have no particular specialty, but I do favor landscapes, cityscapes, macro, wildlife, abstracts, and architecture. I have difficulty with portraits and street photography, but still keep trying.
My interest in photography was inspired by the candid, street photography of Vivian Maier (who lived in Chicago, my hometown), the odd portraits by Diane Arbus, and, of course, the wide-tonal-range B&W landscapes by Ansel Adams. I currently belong to three camera clubs that keep me busy photographically. I've been a member of PSA since 2017.

---
---
---
Ray Henrikson
I live in the Albany, NY area and have previously lived in Tenafly, NJ; Sydney, Australia; and Boston and Worcester, Mass, which is my hometown. My interest in photography developed in the 1950s but soon took second place to the time demands of college and graduate school, family responsibilities, and career. About 10 years ago I retired from the faculty of the Albany (NY) Medical College, where I had taught Histology/Microscopic Anatomy for 25 years. Upon retirement, I returned to the world of serious photography. My prime outlet for the craft, at the moment, is in the Schenectady Photographic Society. I have been president of the Society and continue to serve on the Board. I was dragged kicking and screaming, almost, into the digital world. I suppose I have turned my back forever on the world of film photography and darkroom printing - I haven't been in a traditional darkroom for 4-5 years. The magic of seeing an image come up in a tray of developer is missed, but I'll get over it! Digital photography has its own magic. I enjoy competing in the monthly print competitions of the Schenectady Photographic Society and have had some modest success in regional competitions. I'm also active at the Photographic Center of the Capital District, in Troy, NY.
---
---
---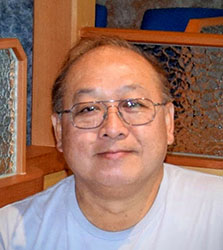 Charlie Yang
I love to travel, and travels bring back pictures and memories, that's one of the reasons I join PSA, to take better pictures and learn what to adjust afterwards. Just start to learn the capabilities of PE and PS, and things some of my club friends can do with them just simply amaze me.

Nikon D5300 is my main camera, recently, got a 50mm 1.8F, and it is fun to see what it can do, and learn to walk around the objects to get different views was fun and tiring.

My other pastime is golf. Hope to play out 50 states PGA courses.

I live in Schaumburg, IL, looking forward to get some fun experiences with the group.
---
---
---

Phyllis Peterson
I've been around photography my whole life. I am a Navy Brat which means we moved around as my father followed his Navy assignments. But my father was a photographer and I learned about film development in my his darkroom. My first camera was a Kodak Instamatic and I took photos of friends and family and I enjoyed making scrapbooks out of my photos.

I have a wonderful husband, Bob and we raised 4 boys. Along the way I photographed our children in all their activities and I made a photo albums for every year.

In the about the year 2002 I got Olympus digital camera and I started photographing wildflowers. In my spare time from my main profession which was teaching Life Science and Biology I would learn as much as I could.

When my husband and I lived in North Carolina, I began to photograph the parks and coastline. And I wanted to improve my skills. I joined camera clubs, notably the Carolinas Nature Photographers Association and Charlotte Camera Club. I became the president of the Charlotte Camera Club and I would host photo trips for the clubs. And I participated in many workshops in the Carolinas and Tennessee with some fantastic teachers. I was able to learn and improve my photo skills in a beautiful part of our world.

However now Arizona is home. My husband and I have moved to the Phoenix area to be closer to Grandchildren. I currently belong to the Province Photography Club and the Sun Lakes Camera Club here in the Phoenix area. I photograph events for our community magazine.

There are so many photographic opportunities here in Arizona and the surrounding states. I am excited for the adventure.
---
---
---
Robert Knight
I live near Potters Bar in Hertfordshire, UK. I grew up in Leicestershire and have lived in Africa and London in between.
My uncle introduced me to photography when I was quite young and gave me a couple of cameras at the time. He had a pharmacy and in those days many pharmacists also supplied cameras and arranged for films to be developed and printed.
I decided to take up photography seriously about 10 years ago with a view to making it a retirement project. I joined a local club and entered club competitions. I was programme secretary for 2 years.
I have Nikon equipment which has been built up over several years. I now have a good range of lenses and go photographing whenever I can.
We have a caravan and the Caravan Club has a photographic section which I joined. It runs 8 weekend meetings at various sites during the summer and I have taken on the role of Site Coordinator which involves identifying and booking the sites and organising the social events during the weekends. There is also a print and a digital circle attached to the group.
My plan this winter is to concentrate on bird photography and macro and also take advantage of the Study Groups.

---
---
---
Group Admin
Cindy Lynch
When I retired from being a school district administrator, I told a good friend that I wanted to take up photography when I retired. As a retirement gift, she gave me my first year's membership in the St. Louis Camera Club. That is when my new passion began. I found the people talented, friendly and so willing to share their knowledge with a beginner like me. I was both inspired and hooked. I had taken art classes my freshman year in college with thoughts of a career in art. However, I turned to education and had a very rewarding career. With photography, I found that I could develop my artistic side while also learning new technical skills. I love that photography keeps me learning and that my initial captures can turn into art in any number of different ways. There is always something new to learn. I enjoy our weekly meetings and competitions in the St. Louis Camera Club and have served on the Board of Directors, Print Committee and am now the Vice President.
<br />
<br />At the same time I joined the St. Louis Camera Club, I also joined PSA. I have taken advantage of the many opportunities to grow in the art of photography. I completed two of John Fishback's online courses. I also participate in two PID Digital Study Groups:Fine Art and General, where I am the secretary; as well as three PID Digital Dialogue Groups: General, Monochrome and Macro. I love the feedback I receive and often submit my images to these groups prior to placing them in competition. I routinely participate in the PSA Interclub competitions through my camera club, as well as Print of the Month. For the first time, I won Print of the Month for October, 2016 with Ruby, an orangutan at the St. Louis Zoo. I have won Print of the Month 3 more times since then. I love to compete and frequently enter the International Competitions in PID Color and Monochrome. I am working on achieving my 5th star in Color and my 3rd star in Monochrome. I was fortunate enough to have won a Gold Medal for Jake in 2015. I have judged twice in PSA Councils Challenge and twice in Individual Creative Competition.
<br />