Member Bios
Peter Cheung
I was born in Hong Kong and live in Sammamish, WA right now. I work in Information Technology Industry in Seattle area. Photography is always my favorite hobby. I bought my first SLR camera, Nikon FM2, when I was a graduate student in Arizona State University. I fell in love with this camera. I went back to Hong Kong after I graduated from Arizona but unfortunately I didn't continue my photography hobby after that. Perhaps this is because I was too busy at work. Later I migrated to Seattle in 1998 and purchased my first DSLR camera, Nikon D90, in 2009. Photography became my passion again. It provides me an extra eye to observe the nature, human, and life.

I now use Nikon D810 with five lenes, Nikon 14-24mm, 18-35mm, 24-70mm, 70-200mm, and 200-500mm so it covered from super wide angle to super telephoto ranges. I like hiking and travel. Landscape and nature are my favorite subjects but I also like street and people photos. I mainly use Lightroom and Photoshop as my post-processing tools, and still learning how to master them.

I look forward to learning from each other within the group.


---
---
---
Subhash Sapru, APSA, PPSA
Subhash Sapru APSA

A PR man by profession and photographer by choice, I live in Chandigarh in India where I graduated with Hons. in Geography and did post-graduation in the same subject. While doing Post-graduate Diploma in Journalism, I had started my career as a freelance journalist. Later on I joined Public Relations Department of a State Government where photography is not a part of my profession.

I had taken up the hobby of photography in my early teens and over the years my interest in this form of art and expression has grown with my age. I have been actively participating in some of the prominent international exhibitions within India and abroad since 1997 and have held two solo shows in my home town.

Having used conventional film cameras for a long time, I completely shifted to digital photography in 2007. Now I find it more convenient and has joined this study group to learn and improve my skill in electronic imaging. I like to capture the element of human interest and storytelling images.

I was introduced to Photographic Society of America in 1998 and that opened new photographic opportunities for me. In the year 2008, I was awarded the distinction of APSA. I also have got three stars from PJ Division, two stars from PT Division and one star from Nature Division of the PSA. Earlier, in 2003 I was also made an Associate of India International Photographic Council (IIPC), New Delhi.

Apart from being a member of PSA, I am also a Life Member of IIPC and Federation of Indian Photography (FIP), Kolkata. My contributions have been published by some of the leading newspapers and magazines like PSA Journal and View Finder of FIP.

I am indebted to my brother Mr Brij M. Sapru for nursing my interest in photography all these years and equally important is the support of my wife and daughter.
---
---
---
Peter Curcio
I have been interested in photography as a hobby since I was a teenager. After a long hiatus, I began to explore digital photography and became associated with the Delaware Photographic Society (DPS) through a digital photography class. I furthered my involvement in DPS by enrolling in a class on Photoshop Elements to learn the basics of post processing.

I am happy to say that I am enjoying my fifth year as a member of the Delaware Photographic Society and I continue to enjoy all the benefits that the group has to offer. I also marvel at the commitment of the DPS membership to the art of photography.

As my photographic journey continues, I enjoy sports photography with a focus on the game of rugby. Other areas of interest include historic buildings landscapes and shooting at the golden hour.

You can see my work on: Fine Art America
---
---
---
Bob Scott
Robert Scott is a career journalist living in Parsippany, N.J. He grew up in the Madison, Ind., area and graduated from Indiana University with a degree in journalism. He photographed largely during annual vacations until 2013 when he became more serious about developing his skills. He utilizes his business travel, vacations abroad, local natural areas and his garden; for locating subjects.
---
---
---
Group Admin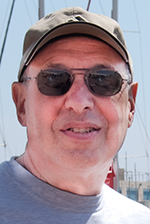 Howard Frank
I am a newbie to serious digital photography. I took a trip to Israel last year and decided to upgrade from my point and shoot to a "real" camera.

I purchased the Nikon D 40X with the 2 kit lenses and quickly realized the limitations of this setup. I purchased a Tamron 28 to 300 zoom lens and started to run into limitations of the camera so I sold it and upgraded to a Nikon D90. I have since added a Tamron 17 to 50 mm F2.8 lens and a Nikon F1.8 50 mm lens.

I started to get involved with HDR imaging. I am trying to learn everything at the same time - how to take a great image - Photoshop CS4 - Lightroom and Photomatix. I have joined 2 camera clubs in the area and am having a lot of fun.
---
---
---
Helen Sweet
Originally from Green Bay, Wisconsin, I now live in the San Francisco Bay Area. In the 1980s, I began photographing and took classes and we built our own B&W darkroom.

I bought my first digital camera in 2010 for a trip to Costa Rica then joined the Contra Costa Camera Club b/c they were said to have field trips, but didn't. So I began those as well as monthly education nights which I still organize. I have been president of the club as well as secretary and vice president of our sixteen club council and on the board of our local PSA Chapter.

For the sake of my back, I now use a Sony 6300. At the moment, my favorite subjects are abstracts and architecture During the course of COVID 19 we are canceling trips to architectural meccas: Chicago, NYC and Barcelona. But I still have San Francisco!
---
---
---
Ham Hayes
Retired from a career in systems engineering and IT, I live in the Pacific Northwest, specifically Bellingham, Washington. Besides photography, my hobbies include travel, birding, sailing and volunteer teaching middle and high school students photographic arts and storytelling.

Going back to my days in to college I had been a casual travel photographer using Nikon film cameras. In 2009 a birding trip to Costa Rica fueled my desire to photograph birds in flight, and that prompted me to get into digital photography. My equipment of choice is the Nikon D500 and a variety of Nikkor and Tamron lenses ranging from 10 mm to 600 mm focal lengths. For post processing, I use DXO PhotoLab 3.

I belong to two local camera clubs and have just joined PSA. I'm interested in developing skills in land/sea/cityscape, macro and people photography.