Member Bios
Group Admin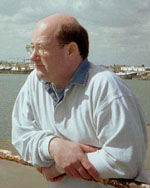 John Hackett
I live in Coventry, England along with my wife Dawn.

Photography has been a passion of mine for many years, whiling away the hours in a darkened room . I have always been interested in manipulating the images I have taken. As the computer gradually invaded my life I saw the �light� and now play with my images digitally.� I have been involved with photographic clubs in my local area since the late 1970s. � My membership of PSA began in early 2001.

Photographically my current equipment is a Nikon D7100 with 18-105 and 75-300 lenses.

As far as photographic subjects are concerned I will point the camera at most things with preferences for landscapes, natural history and sports (as long as it involves wheels).

When it comes to the digital side of things I use Photoshop and Corel Painter Essentials.
---
---
---
Dr Brian Wimborne
I was born in England but educated in Melbourne, Australia. After some years working in vision research (including at Vanderbilt University, Nashville, TN), I held a position of research editor. I retired in 2020. My home is in Canberra, the capital of Australia.

Overseas travel with a camera (Canon 5D Mark 3) was a regular occurrence until the plague hit. Now I am limited to travel in Australia, where there is plenty to see and photograph. Although the country is about the size of the US, its population totals only 27 million, most of whom live in half a dozen coastal cities. Hence, the outback is sparsely populated.

I shoot in colour but sometimes prefer the final image to be monochrome. This is because colour can sometimes detract from the photograph; it depends on the subject matter.

In the months ahead I hope to share with you images of my favourite countries, Australia and Japan, and I look forward to my association with you.
---
---
---
Peter Elliston
Hello. I live in Taunton, Somerset, UK but was actually born in a much smaller place - Guernsey in the Channel Isles where as a teenager I was able to use the school darkroom to develop my pictures. Even then I was an enthusiastic photographer of people and this interest has stayed with me today as most of my shots are of people in informal situations. I very much enjoy photographs of everyday life.

Later, as a teacher, I had very little time or money to pursue my hobby except on holidays where most of my images were of my family - my wife Fran and my daughter Lucy as well as the rest of my family in Guernsey or my wife's family in Yeovil, Somerset.

But when I retired from teaching I started a business selling first edition fiction across the world and had a little more time for photography and by then the digital age had arrived. We had moved to the Isle of Wight but eventually moved to Taunton and I began photography again. I am vice-chair of the Wellington and District Camera Club and enjoy taking part in their competitions and in a digital critique group similar to this. I have also over the last few years started sending images to international exhibitions - with varying success! You soon get to realise that not all of your pictures are world-beaters! I very much look forward to taking part in this group.

I use a Fuji XT3 with mainly an 18-55mm lens. I process my images in Lightroom and then Photoshop occasionally using filters such as Focus Magic, NIK working with the images on an iMac. My printer is an Epson SureColor P600
---
---
---
Sheldon Wecker, QPSA
I've always had an interest in photography, but it really took off after I bought a digital point and shoot camera and discovered that:

• Digital "film" is free, and
• You can do everything with a computer and color printer that you can in a conventional chemical darkroom (and more)

One thing led to another, and now I use Sony equipment … A77ii and RX100 v … and Canon Pixma Pro 10 printer. Most of my photos are of vacation travel and of family. Especially with travel photos, I try and create an image with the same impact I felt when I pressed the shutter release. Since a photo can't provide the range of brightness, or color, or field of view that your eye can, I use software such as Lightroom, Photoshop and a variety of other apps to try and make up for those limitations.

I've displayed photos at community libraries and enter photo contests as a way to get feedback on the photos I take. I also share images with friends and family on social media.
---
---
---
Joe Norcott
I used to have an Olympus 35mm with autofocus. As the kids grew and I started my own business I only used a point and shoot. Finally upgraded to a Nikon D3300 some years back and really enjoy using it. I also got involved as a member of the Stony Brook Camera Club in Franklin Ma and was their Vice President last year. Now I am back to being just a member and spending more personal time on my hobby of photography!
I am a general photographer that enjoys the outdoors. A lot of my photos are on cities, nature, seacoast, and landscape/mountain areas. However, if I like what I see I point and shoot!
---
---
---
Glenn Rudd
I live in Georgetown, Texas and am a member of the Sun City Texas Photography Club. I retired with 40 years of service from General Motors after a career in engineering and management. I am married to Betty and have 3 children, 8 grandchildren and 1 great grandson. We love to travel and frequently combine that with photography workshops and National Geographic's expeditions. My favorite subjects are nature and animals but also enjoy shooting architecture and people with interesting features. My goals are to create technically high quality images that tell a story with emotional impact. My prints are frequently displayed in local competition and public venues.
My primary cameras are a Nikon D4 and a Nikon D810 with a wide range of lenses. I process images in Lightroom and Photoshop CC with various plugs-ins such as Photomatix, OnOne, Topaz, and NIK. My intent is to capture the best image possible in-camera and use minimal processing adjustments.

I recently purchased a Canon Pixma Pro-100 printer and am enjoying the satisfaction of creating my works from start to finish.

My current website is http://www.gwrtexas.smugmug.com/.