Sylvia Bacon
---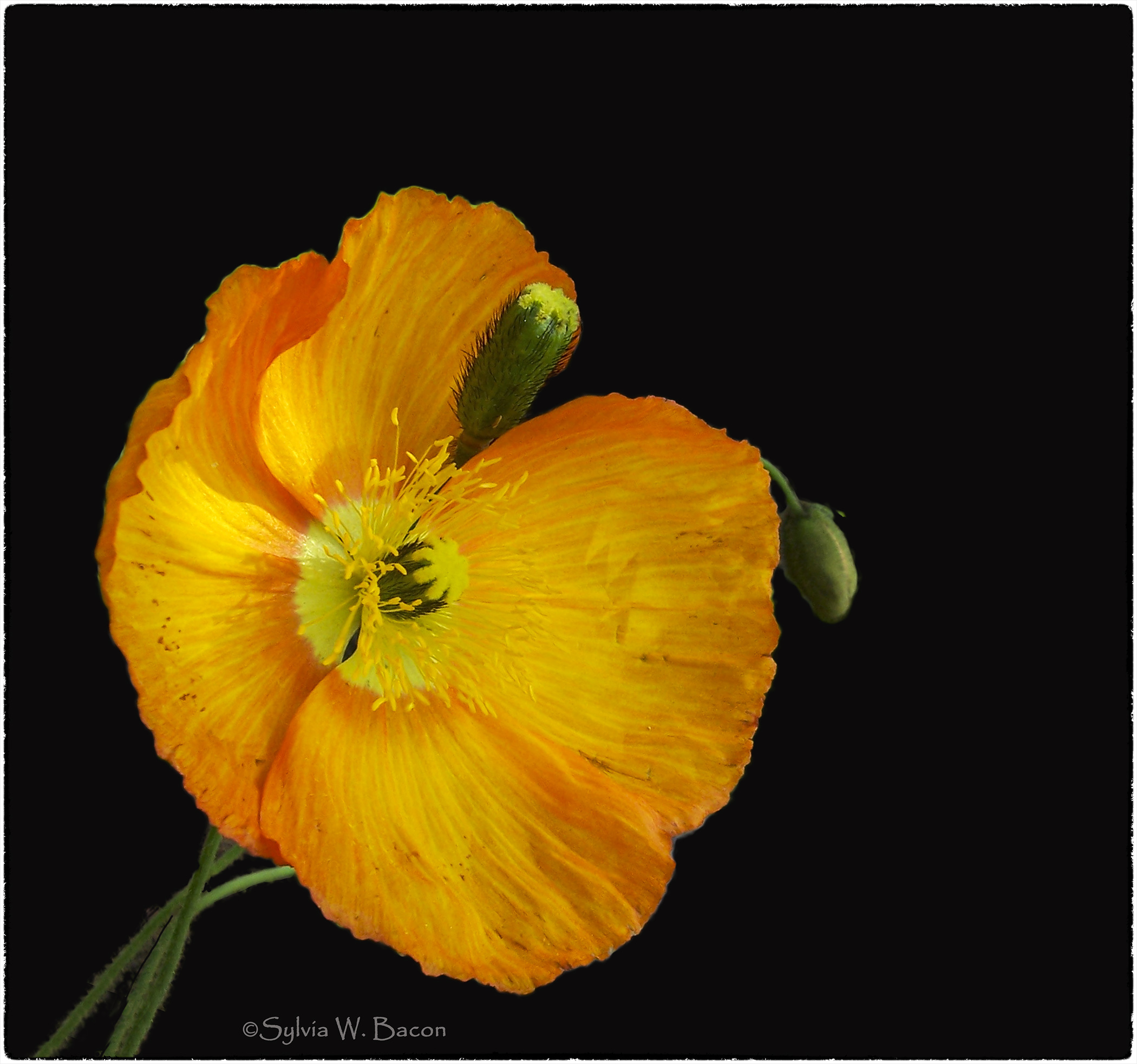 September 2023 - Poppy
Original
About the Image(s)
Kodak CX7530 Digital Camera; Focal Length 5.6; 1/250 sec; f/11; ISO 80; Pattern Metering



Poppies are one of my favorite flowers and this orange one caught my attention.



Edited in Adobe Camera Raw using the adjustment sliders. Then used Photoshop's Select and Mask tool to made a selection of the poppy. Moved it to a black background, horizontally flipped it and placed in the lower left corner of a square. The nice thing is that once a subject is selected it can be resized, moved to any type of background, in any location and cropped as a rectangle or square.


---
10 comments posted
---
---
---
Art Jacoby
Sylvia Bacon
Art, I like how you improved the flower, extra contrast and sharpening makes a difference! Did you use Topaz for sharpening or something else. Also, I prefer the way you cropped it. The border seems normal since I use it on my photos on my blog but it is not necessary. Thank you!! &nbsp Posted: 09/10/2023 13:40:25
Art Jacoby
I used Topaz AI sharpening. &nbsp Posted: 09/22/2023 10:24:03
---
---
---
Regine Guillemin
Sylvia, Thank you for sharing this beautiful Poppy. My favorite one as well. The color is amazing! I think you have done a great job editing this picture. A great idea to change the backgroung in Black. I like what Art did with Sharpening tool. I am always shy with sharpening tool, but here, it works pretty well. There is nothing I would do better. Please Print and frame it. Congrats!!! &nbsp Posted: 09/09/2023 18:08:56
Sylvia Bacon
Regine, I agree that Art made a few good improvement. And, thank you for your kind words! &nbsp Posted: 09/10/2023 13:43:48
---
---
---
Kurtis Sutley
I like what you did in post. To me you had a nice image and flipping really didn't add anything. I approached this image a little differently. First, I didn't completely eliminate the background. Although complete black certainly highlights your subject, to me just a hint of context makes the poppy more real to my eye. I did reduce highlights and increased the shadows, which effectively boosted contrast. I also added just a hint of clarity. The only manipulation was to boost pixels in Topaz Gigapixel to give me more to work with. Very nice and pleasing to the eye. Well done. &nbsp
Posted: 09/14/2023 07:36:26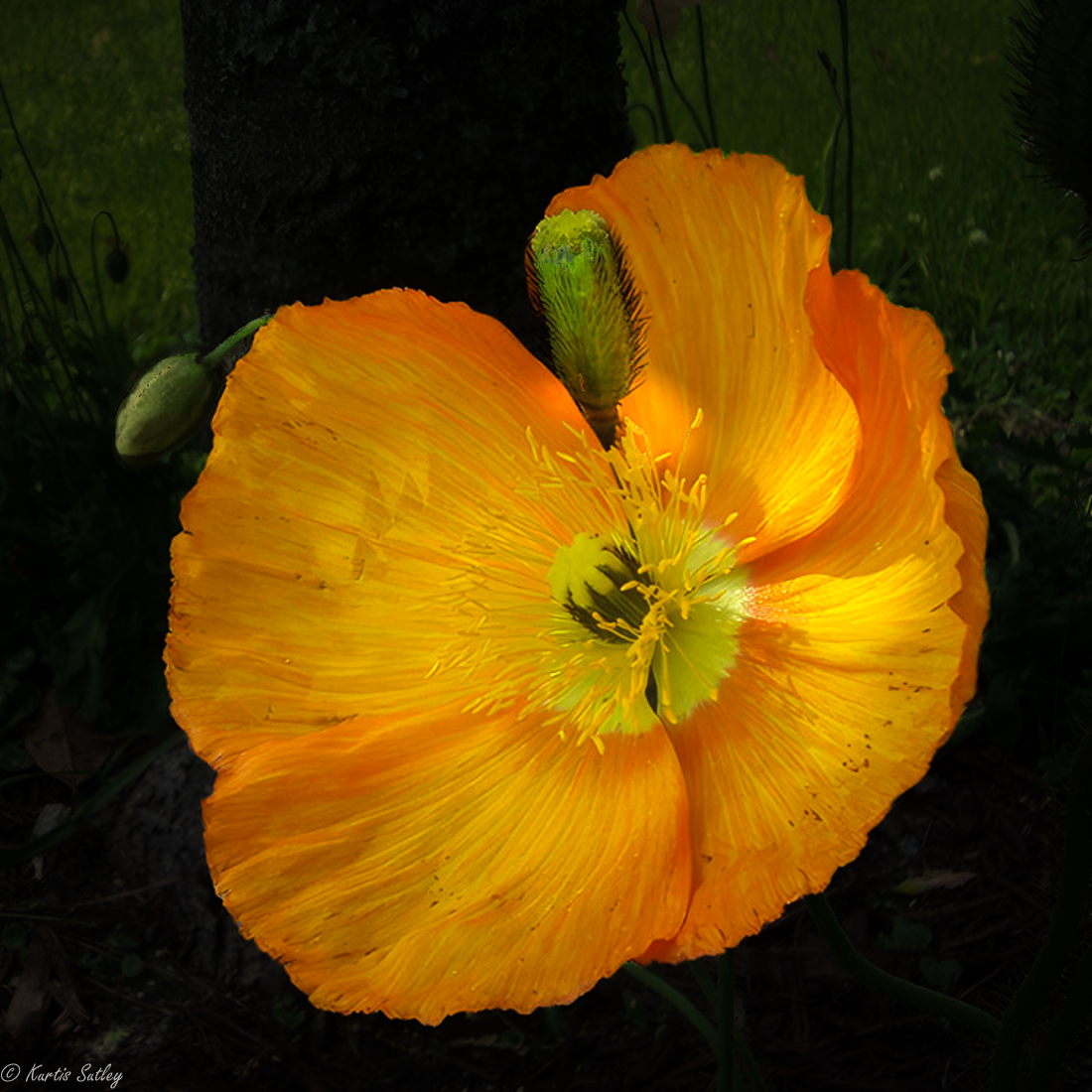 Sylvia Bacon
Kurtis, I like how you boosted the contrast by reducing the highlights and increasing shadows. Had not thought about doing that; I think the flower looks better. Plus, not flipping it and cropping in closer gives it a different look that I am not opposed to. Thank you for taking the time to re-editing this and sharing your thoughts! And, no problem with the watermark appearing. &nbsp Posted: 09/24/2023 12:22:41
---
---
---
Kurtis Sutley
I want to apologize for the watermark. I had put one on a previous image of mine and forgot to uncheck that box when I exported out of Lightroom. &nbsp Posted: 09/14/2023 11:38:02
---
---
---
Marge Barham
Sylvia, poppies are one of my favorites as well but I am not sure if I ever saw an orange poppy before. I thought all poppies are red. You captured it well and your editing made it great. I think Art adding a little contrast brought out the lines in each petal. Well done Sylvia.
&nbsp Posted: 09/18/2023 14:37:19
Sylvia Bacon
Marge, I see what you mean about adding more contrast to made the petals look more interesting. This picture was taken at Magnolia Gardens in Charleston and they had so many different colored poppies, but the orange was definitely my favorite also. Thank you for your thoughts. &nbsp Posted: 09/24/2023 12:40:29
---
---
---
Please log in to post a comment