Kurtis Sutley
---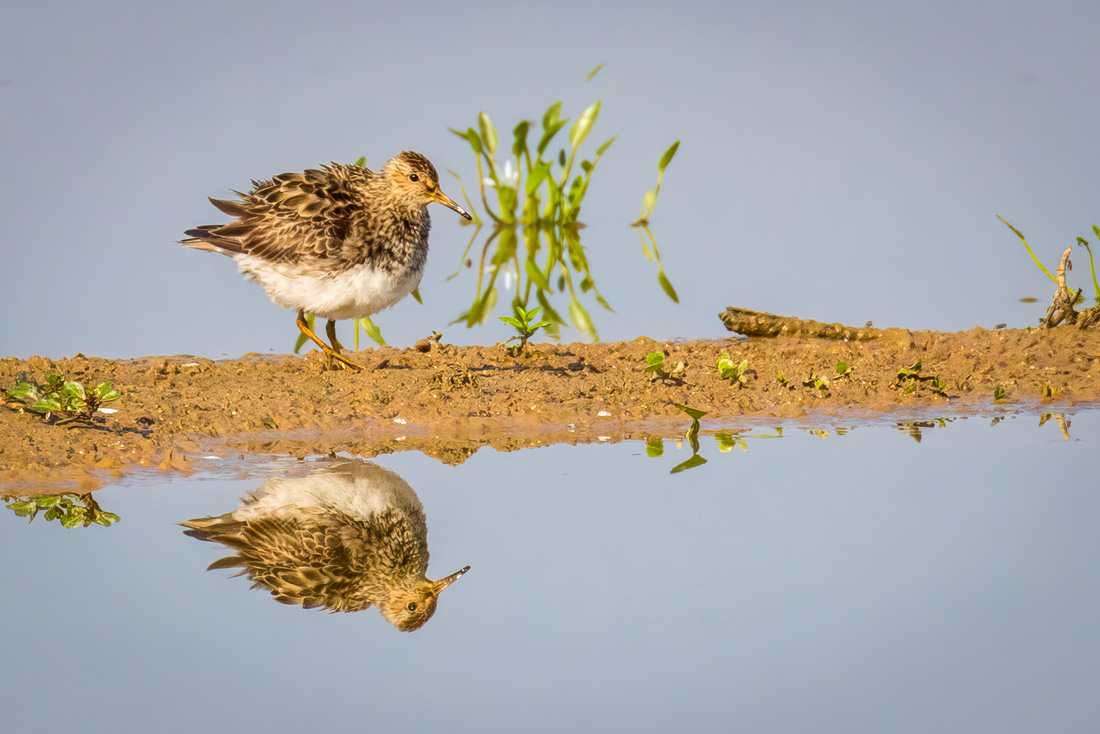 September 2023 - Reflecting
Original
About the Image(s)
This image was taken at the Bald Knob WMA in Northeast Arkansas. I used a
Canon R5 paired with a Canon 100-400mm f/4.5-5.6L IS II lens. It was shot at
1/3200 sec, @ f/5.6 and Iso 400. This is an image-in-an-image that I made
inspired by the diagonal line of ground that ran through the middle of the
frame. It was made with the intent to find an image-in-an-image. As it
turned out, the larger bird provided the anchor for the image. I processed
in Lightroom and Topaz Studio. From the original, you can see I did a good
bit of "spot" removal. The bird appeared to me to be in deep thought, so I
called the image "Reflecting", as a play on words.
---
5 comments posted
---
---
---
Art Jacoby
I think that you have done an amazing job of creating an lovely storytelling image from the original. I cropped a bit tighter, used a curves adjustment and Topaz Sharpen
AI.No
surpurze I also flipped it horizontally. &nbsp
Posted: 09/04/2023 22:02:10
---
---
---
Regine Guillemin
Very successful image Kurtis. I love the story and the stillness of the water. The bird pop out very well on this natural mirror. The picture is very dynamic and the grass in the background adds some great color. I am impressed by the sharpness of the bird. Did you take the picture Handheld?
I cropped it in order to remove the grass on the right edge.
Also, I am curious how happy are you with your mirrorless camera paired with the regular Canon lens 100-400mm? I am asking because I am a CANON photographer as well and plan to get a mirrorless camera for my bird photography. Your feed back would be much appreciated if you have time to spare .
&nbsp
Posted: 09/09/2023 18:00:46
Kurtis Sutley
Regine, Thanks for the kind words. I used a tri-pod for this image because the subjects are usually pretty far away in old rice fields and hard to get close to. I love my R5. The auto-focus is amazing but it does take getting used to all the focusing options. I have had no problems with the Canon EF lens using the adapter. I quit trying to use my Tamron 150-600 because auto-focus was just not reliable using the EF adapter. &nbsp Posted: 09/10/2023 08:45:48
---
---
---
Marge Barham
Kurtis, a nice capture and final image. I think you did a great job editing this photo from what you had. Beautiful reflection and great color. I think Arts flip works well for this photo. Well done Kurtis.
&nbsp Posted: 09/18/2023 14:56:40
---
---
---
Sylvia Bacon
Kurtis, this is such a lovely image and I love how the blueish, green tones compliment the bird and its reflection beautifully. A great picture! &nbsp Posted: 09/24/2023 14:20:35
---
---
---
Please log in to post a comment