Mark Aksoy
---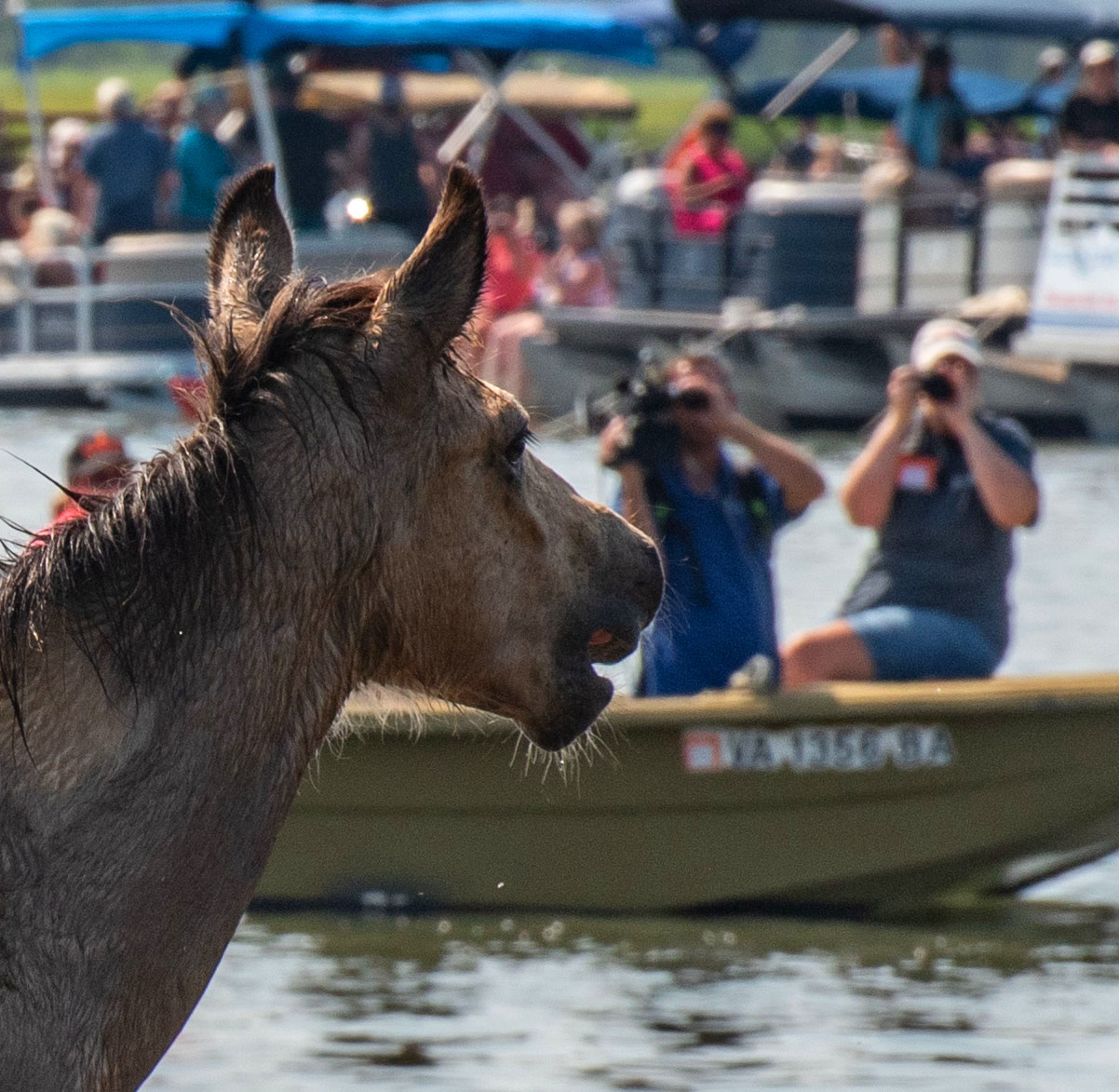 September 2023 - I can't Believe I swan thru all that Water !
About the Image(s)
Chincoteague Pony Swim
This image was taken this past July at the Chincoteague Pony Swim on Chincoteague Island, VA. Every year, some 100-150 wild ponies on nearby Assateague Island are rounded up by Saltwater Cowboys and sent swimming across a narrow channel to Chincoteague Island. There they are paraded through the town and the foals are auctioned off to raise money for the fire department and other community services. A time-honored and photogenic tradition! Standing on a crowded marshy beach, I photographed this image handheld with my D750 plus Tamron 70-300mm lens at 230mm, f/20, 1/320 sec, ISO 320, and 2/3 stop under the meter setting. In Lightroom, I did basic editing, then cropped way in to get the final image.
---
3 comments posted
---
---
---
Meredith Bain
What an interesting event. I like the way you have made the pony the main subject by having it well into the foreground.
The light behind shows the hairy detail of the pony around its edges including the eyelashes adding an unexpected (to me) interest. I wonder if you can blur the background a bit more than it is, so that it doesn't distract from the pony so much. It would still make sense to be able to see that it is photographers recording the event but I think it would help keep the viewer focussed on the pony, if that is what you want. &nbsp Posted: 09/10/2023 21:28:57
---
---
---
Donna Sturla
I think the background is distracting, similar to Meredith. Also, since we can't see the whole animal, it really sort of reminds me of a horse being photographed by people. You really can't tell what the event is, except for your entire title, which didn't fit in the Title box here. I'd love to see pictures of the animals in a group, splashing in the water. Do you have other images that would show that?
What do they do with the ponies after they are auctioned off?
&nbsp Posted: 09/10/2023 22:38:43
---
---
---
Diana Duffey
Hello Mark. It sounds like an interesting event and a good opportunity to take pictures of horses. You were able to make the pony the main subject. You did a great job capturing the pony- very sharp, great detail. Maybe try blurring the background a little more like Meredith suggested. Nice image. &nbsp Posted: 09/15/2023 06:21:28
---
---
---
Please log in to post a comment