Barbara Asacker
---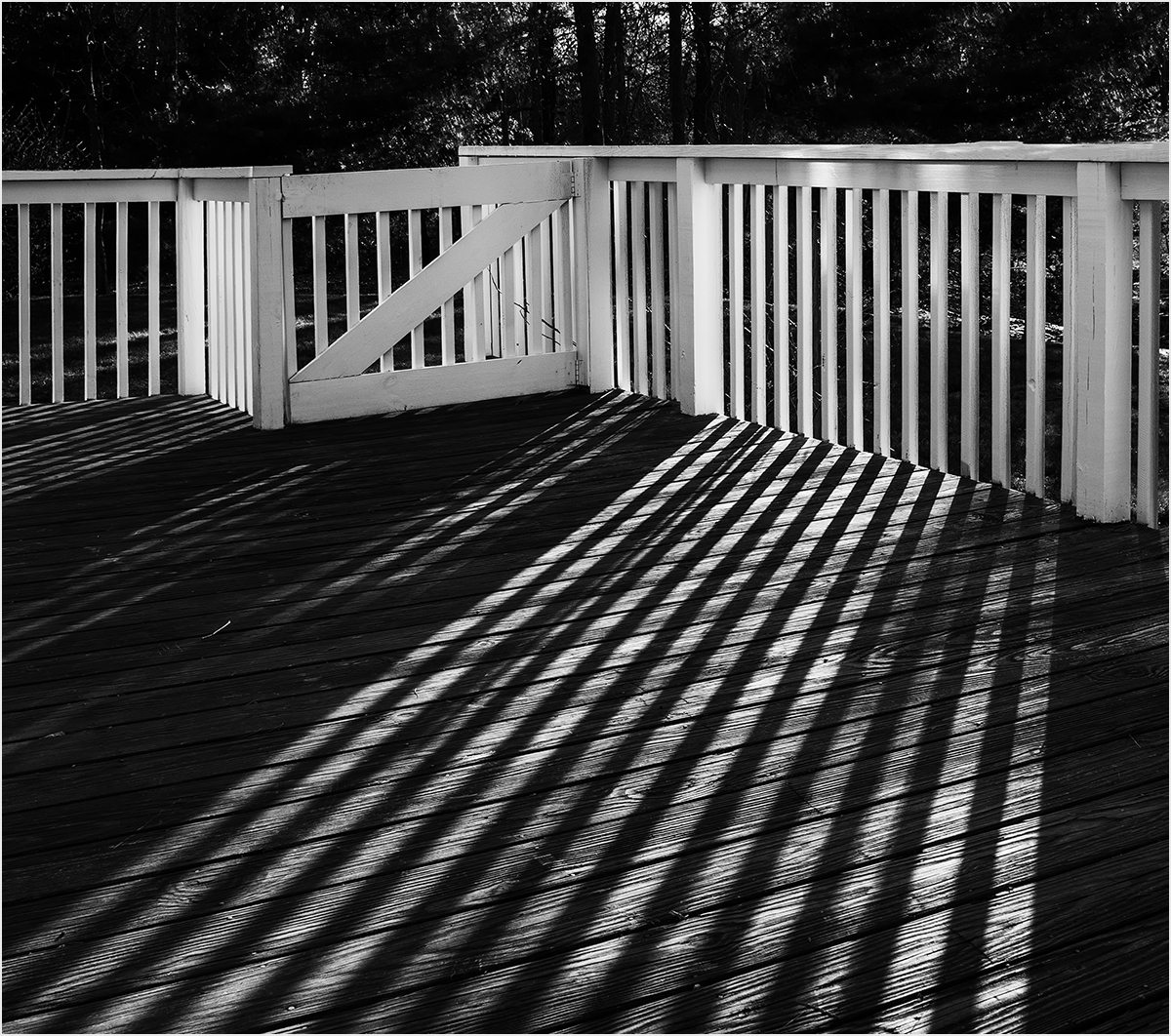 June 2021 - Lines
Original
About the Image(s)
Equipment; Nikon D500, 16-80 lens
Settings: f/11; 1/25 second; ISO 100

As the sun was setting I noticed nice shadows on my back deck. Shooting towards the sun produced more defined shadows. I processed the image in Adobe Camera Raw and Photoshop Elements. After cropping I applied a black and white filter from Nik Collection Silver Efex Pro.
---
7 comments posted
---
---
---
Gerard Blair
Lines by shadow: I think this is a well chosen, classic B&W subject improved to my way of thinking by the intersection of the shadows by the lines of the textured boards of the deck. Then to complete the picture, the shadow lines transform in both direction and tone as they extend into the bars of the fence.
Personally I would stop there. These bold contrasting lines seem so effective to me, that I regret that they stop at the top of the fence. In color, I think the trees beyond work because they contrast in color with the sunlight on the fence, but in B&W I think they detract from the linear form that makes the image so appealing. So, I suggest a tighter crop ... &nbsp
Posted: 06/02/2021 21:06:57
---
---
---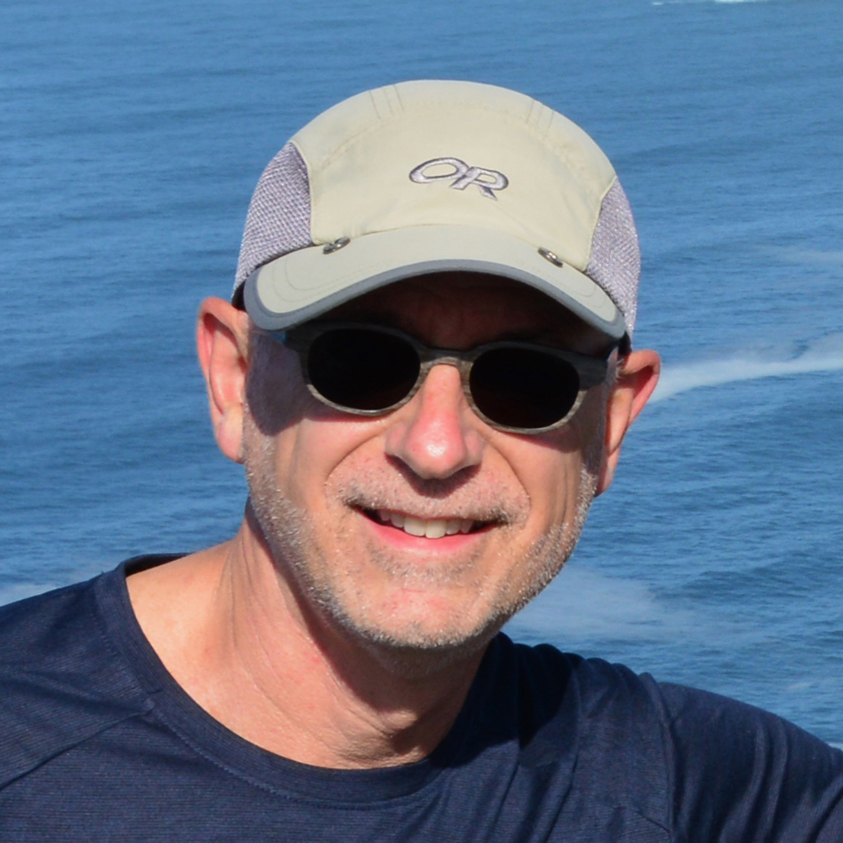 Michael Hrankowski
Barbara, definitely a good choice for B & W. The intersection of the light stripes with the vertical deck slats creates an interesting optical illusion / 3D effect. It is interesting how your edit made the railing and slats look white, which provides greater contrast and interest when compared to the original. It is interesting how Gerard chose to crop the image… I would have left the top intact and cropped from the right to remove the post from the composition. I love the diagonals and overall it is a nice study of light and contrast. &nbsp Posted: 06/03/2021 20:47:38
---
---
---
Peter Elliston
Barbara, this is one of those shots where actually it works both in colour and mono and for very different reasons. I love the warmth of the colour version but the mono version is far more dramatic. I agree though that in the mono version the trees at the top distract from the lines of shadows/light and the texture of the wood. So I would crop this tighter down from the top as suggested by Gerard. &nbsp Posted: 06/05/2021 03:08:31
---
---
---
Leanne Moore
Barbara, Great observation to see this shot in a place you look at regularly. I think sometimes we tend to miss what's around us because it is everyday and in our own backyard. I do agree with Gerard though, the image would have more impact on the lines and shadows if the top 1/3 was cropped. Its a great mono image. &nbsp Posted: 06/10/2021 20:34:43
---
---
---
Randy Andre
I like to contrast between the shadows on the wood and the wood grain itself (perhaps my wood working background), the wood grain takes my eye from the white verticals of the fence to the distinct shadows cast then to the grain of the wood all the way to the bottom of the photo. I do agree that cropping out the top of the photo improves the look and feel. I would like to see the photo cropped (if it's possible) along the left side of the photo starting at the 4x4 vertical post to the right of the gate and following the first bright shadow all the way to the bottom of the photo and then darkening the shadows so less wood detail shows in the shadows. &nbsp Posted: 06/11/2021 15:37:14
---
---
---

Linda M Medine
Barbara, What a neat image. I love it. Great texture and lines. I don't think I would change a thing with this image. Something very small, on the floor there is a stick or something the is lite on the left side in the middle that caught my eye. &nbsp Posted: 06/13/2021 17:36:05
---
---
---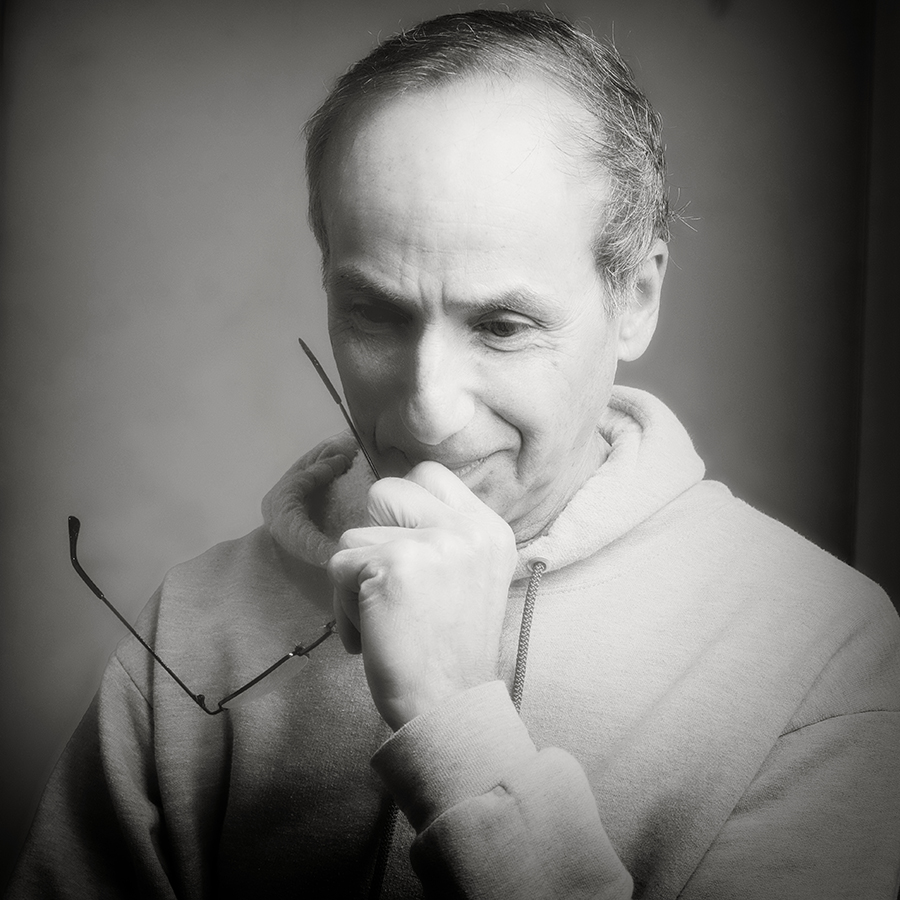 Lance Lewin

(Groups 83 & 87)
Hello Barbara...I'm visiting from DD83-Mono...your featured image fits right into our May and June theme (non-compulsory of course) of "painting with shadows". Hope you come by and review May and June images and also DD87 for the same.

I agree with cropping, but I suggest, all the shapes and lines of the fence stay intact, and instead, crop just above the top rail. In PSCC or LR darken the background during BW conversion, or not.....

In summery, the entire fence (and contrasting lines in the door) offer a very engaging, fun image!

Well done!!

Lance A. Lewin
PSA BW Photography Mentor
DD83-Mono & DD87 Admin &nbsp Posted: 06/13/2021 20:09:03
---
---
---
Please log in to post a comment