Robert Knight
---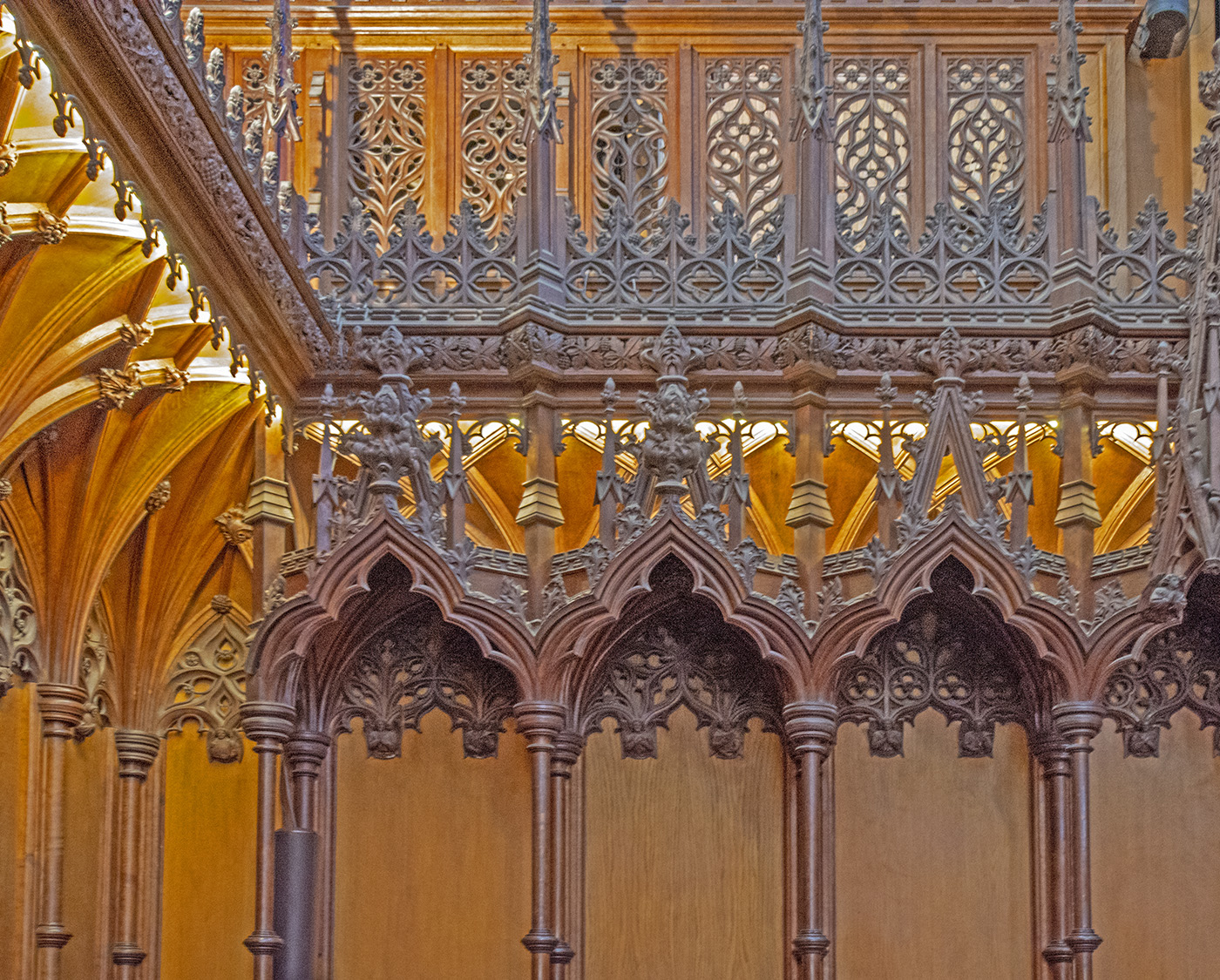 June 2021 - St Albans Cathedral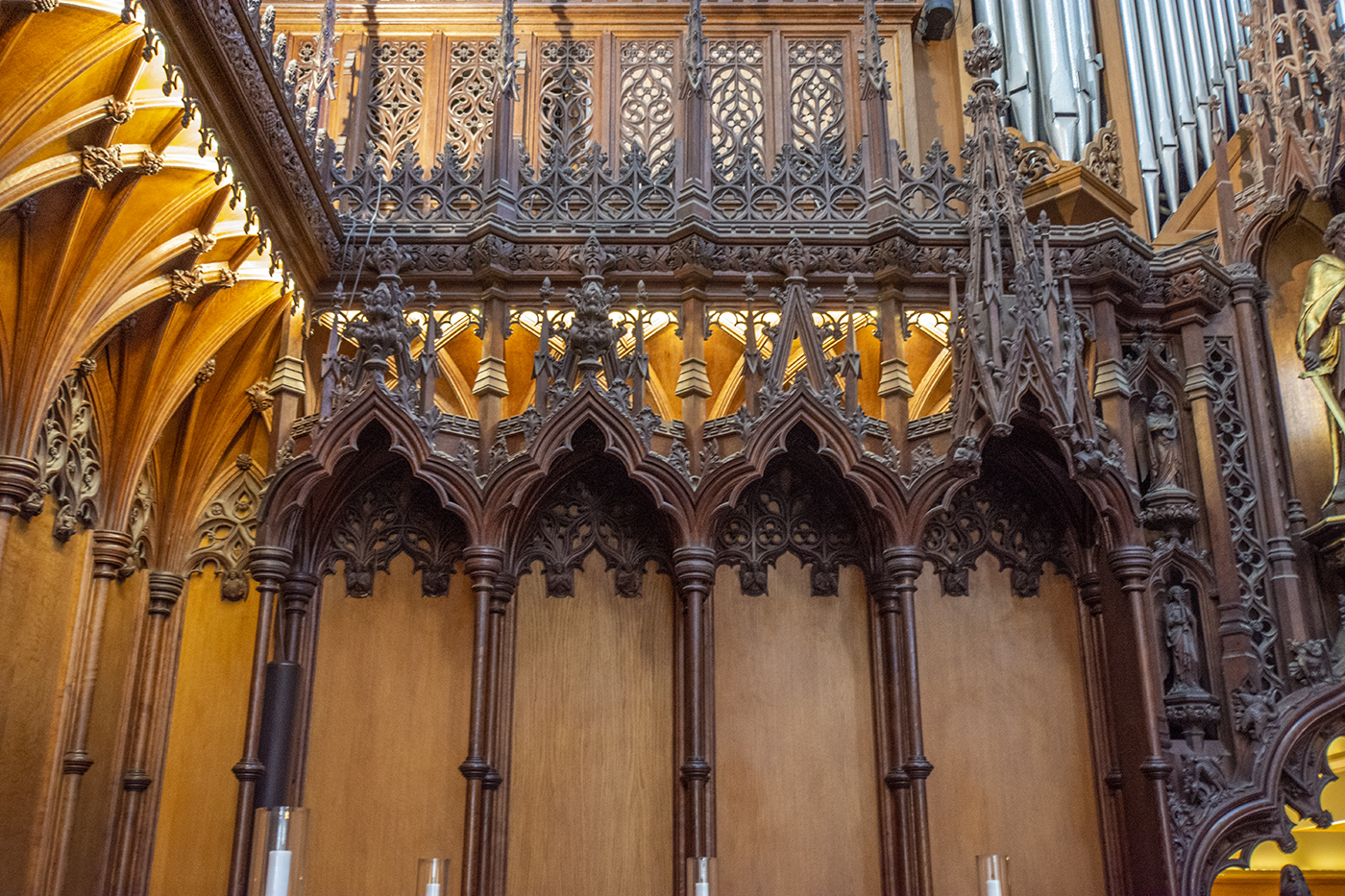 Original
About the Image(s)
We went on a guided tour of St Albans Cathedral near to where we live. It is one of those places that is so close to you that you never visit it! What a revelation. This picture is of the area in the choir stalls beneath the organ and I was taken with the shapes and colours of the woodwork and lighting. The shot was taken hand held ISO 2500, 24 mm, f5.6, 1/6 sec. I took out the converging verticals, cropped it and removed some 21st century cables. I also reduced the highlights and added a little detail in the shadows.
---
7 comments posted
---
---
---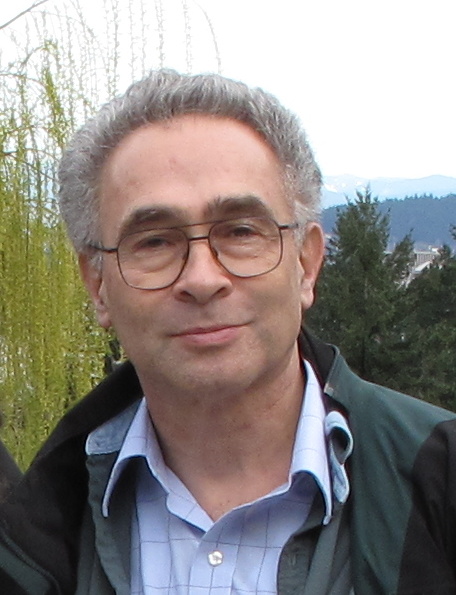 Stephen Levitas

(Group 32)
What a beautiful interior, and a good shot of it. The post-processing looks great.
Was this 1/6 sec. (Wow, what a steady hand you had.) or 1/60?
I know my image below is not true to the interior, but I am showing it as a suggested tool to help with shots of interiors where you can't get everything in. This is a flipped and combined image. &nbsp
Posted: 06/03/2021 13:22:45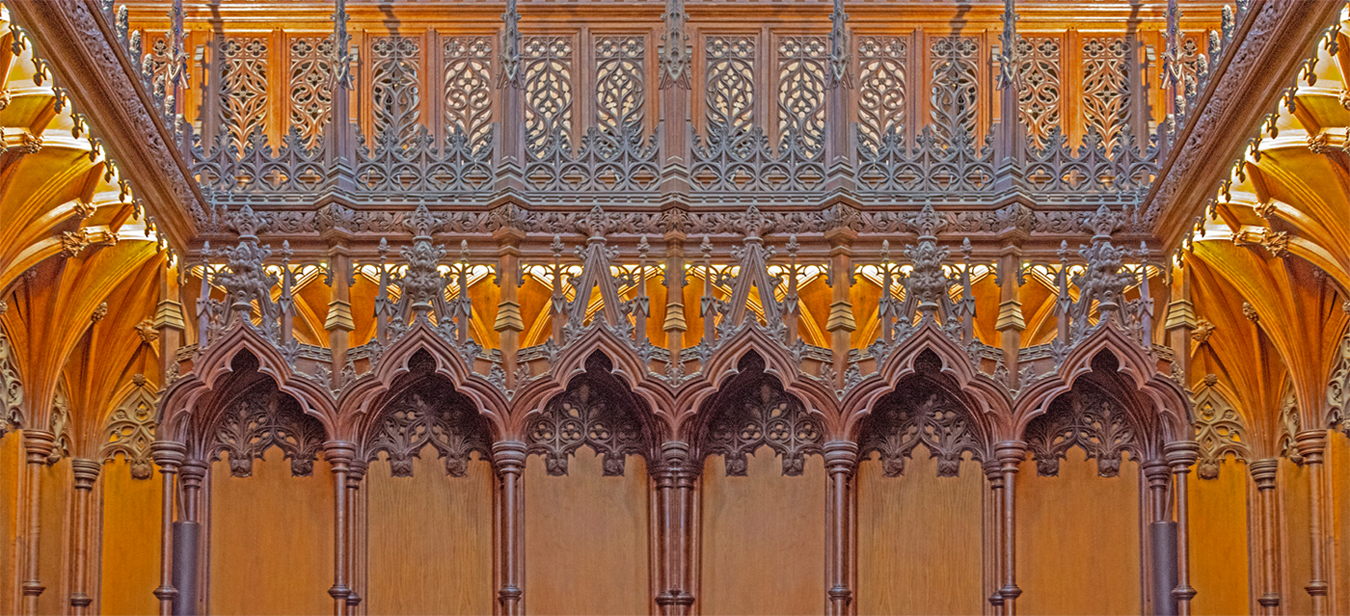 Robert Knight
Thanks Stephen. It certainly makes for an attractive and symmetrical image. &nbsp Posted: 06/13/2021 04:52:42
---
---
---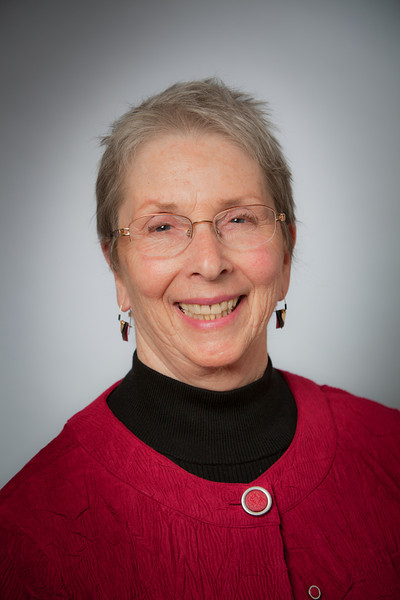 Zina Mirsky
That's a beautiful image and I only regret that removing the converging verticals eliminated the organ pipes; I find them quite an interesting contrast to the warmth of the wood in the original. Likewise I appreciate the darker wood in the original as an excellent contrast to the warmth of the underlying structure. Without that variation in color/tone, I find the image (and the flipped and combined image that Stephen has offered) less eye-catching. &nbsp Posted: 06/05/2021 15:42:35
Robert Knight
I have had another go at it using your suggestions. I agree that the warmth of the wood had been reduced. I originally felt that the highlights in the lights were a bit burned out so I reduced the highlights which had the effect of taking away some of the detail in the wood. I have not adjusted the highlights in this image. What do you think? &nbsp
Posted: 06/13/2021 04:57:22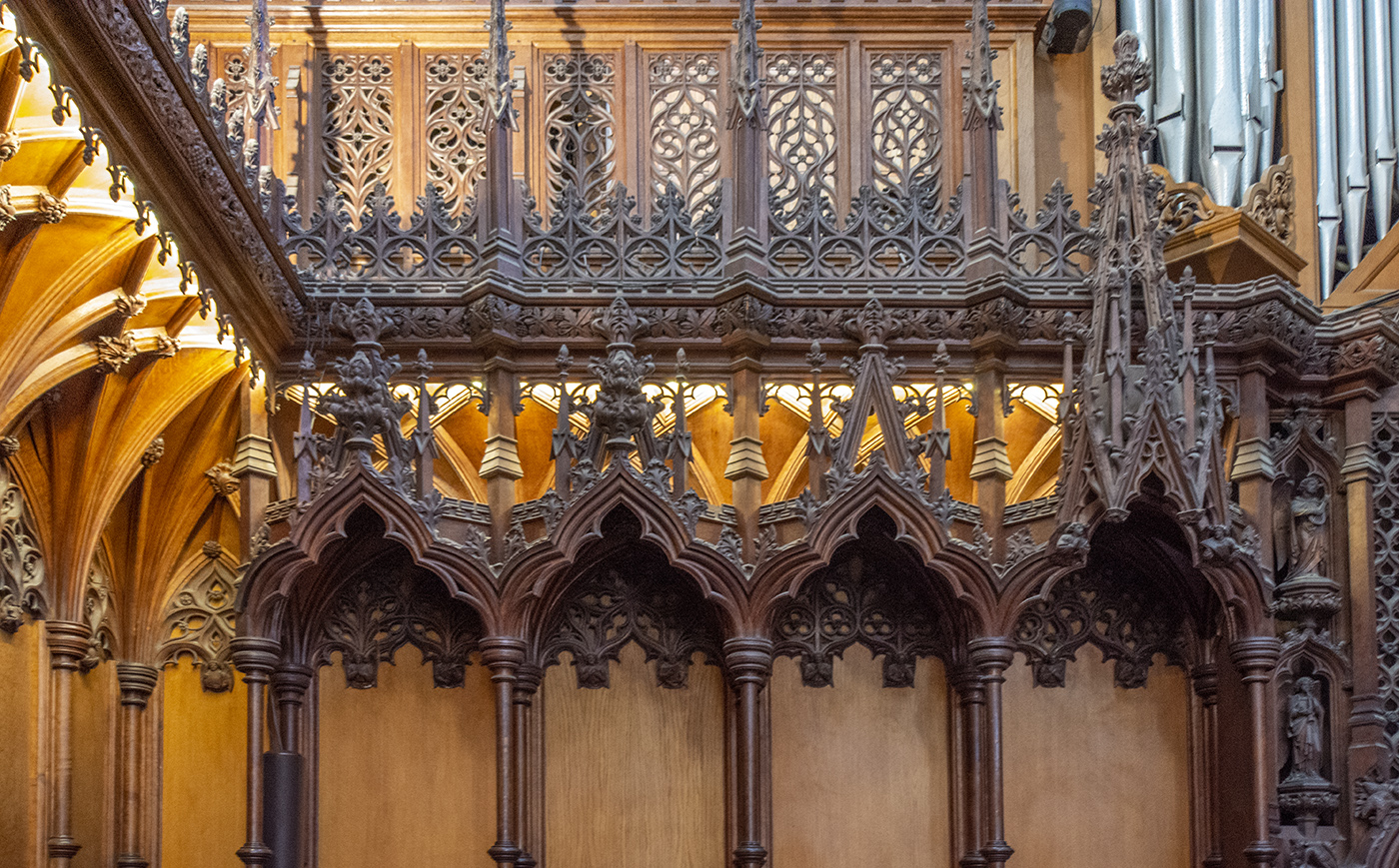 ---
---
---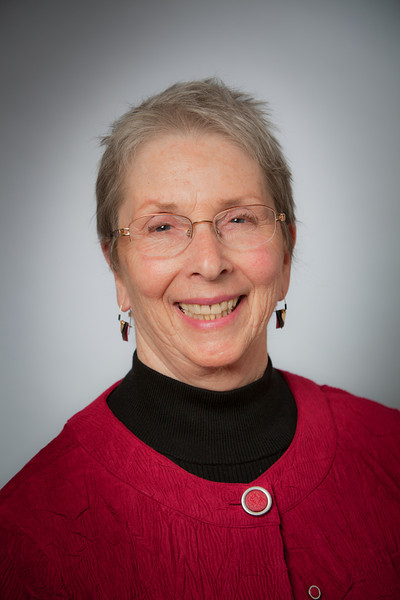 Zina Mirsky
Thank you Robert! I find this much more appealing - the warmth of the wood is clear and the inclusion of the pipes tell me what the image was in its entirety. This is an image that draws me into it! /z &nbsp Posted: 06/13/2021 07:06:14
---
---
---
Wendy Zhang
interesting piece. i wonder the feeling of wooden texture is from post production or high iso.

as for composition, i feel something missing. maybe take multiple pictures and do pano in post, so the audience can see the grander view of the interior and with the details you need as well.

otherwise, i like the flip and combine image that Stephen showed. &nbsp Posted: 06/16/2021 09:12:50
---
---
---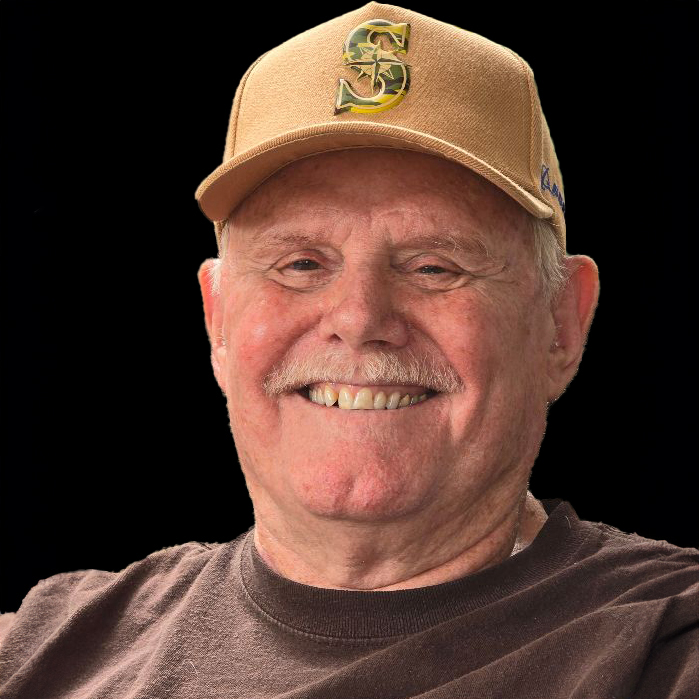 Bob Wills
I think your image is very sharp and the exposure is correct. The composition is hard for me to grasp what you want us to see. The other option to a grand scene might be to focus into an even smaller representation of the woodwork. My image is probably too warm for your club, but the idea is there. Excellent camera work. &nbsp
Posted: 06/17/2021 11:25:46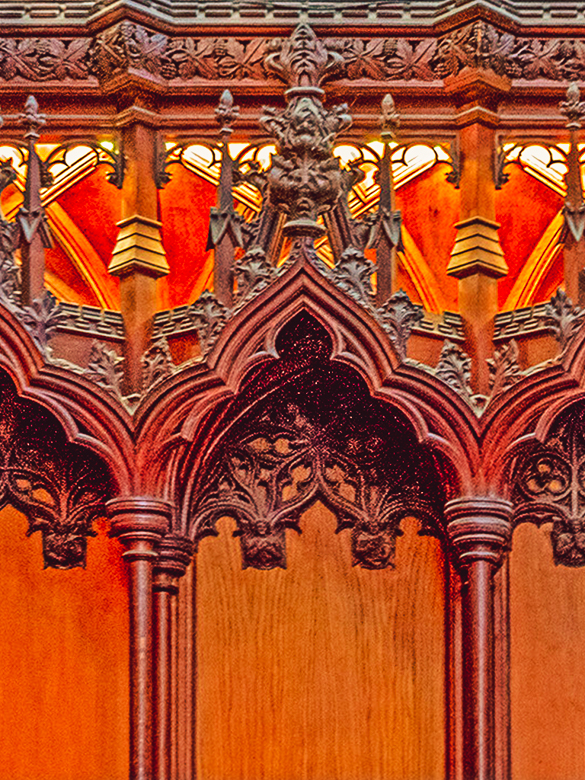 ---
---
---
Please log in to post a comment