Stanley Selkow
---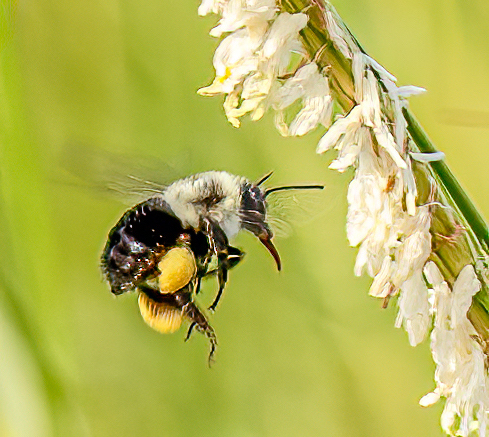 September 2021 - Eastern Common Bumblebee at Salt Marsh Cordgrass
Original
About the Image(s)
Description: I was in my landscape mode (small aperture, slow shutter speed, short focal length) taking a picture of Cordgrass a few feet out on the bay. When I got the picture on my computer I noticed that a bee seemed quite sharp. I was quite surprised with the details present in so few pixels.

Data: hand held Canon EOS R5, canon RF 100 - 500 @ 100 mm, 1/125 sec at f/5.0, ISO 50

In Lightroom I cropped heavily, and then did Daylight white balance and auto treatment. Then I set the black point (-22), Shadows 58, increased Clarity (46) and Texture (38), and Highlights (19). I tried to bring out details on the grass flowers and on the "furry" yellow and white patches on the bee, but to no avail.

---
7 comments posted
---
---
---
Steve Sampliner
Hi Stan, I downloaded your original to give it a go at editing, but sadly I think my LR 4 is on its final legs after the last series of Apple updates. I can't seem to import files as I used to be able to; something weird is going on. Anyways, my idea was to see what it would look like if the blue part across the top 1/4 was cropped out as well as a bit from the left and right (or maybe leave the left and right alone to create a pano). The bee really sticks out green the greens, so maybe keeping it is bit minimalist would be a nice image. The focal fade of the grass and grass flowers is exceptionally nice with this lone bee showing the lengths it needs to go in order to provide pollen. So, that was my idea. I'll mess around with LR4 to see if I can get it done. If not, it might finally be time to upgrade hahhaa &nbsp Posted: 09/02/2021 01:14:19
Stanley Selkow
Wow, a totally different idea, Steve. I was so impressed that I could crop in so much and get the bee that I got a shot that could have been done with a macro lens. And the macro would have had better definition of the "furry" parts of the bee. But what's really striking is that the bee is so tiny in that vast expanse of grass. Thank you! &nbsp Posted: 09/02/2021 06:00:20
Steve Sampliner
I have to say that I am also totally impressed that you were able to extract enough data from the original to produce your submission. I was thinking that maybe if I had cropped a bit tighter and then positioned the bee off-center, it might be a slightly more engaging image. Just an idea. &nbsp Posted: 09/06/2021 00:19:23
---
---
---
Jeffrey Pawlan
It is amazing that you got this with cropping and also with such low shutter speed.

&nbsp Posted: 09/03/2021 18:20:20
Stanley Selkow
I agree. I honestly don't understand. AND it was handheld. I got the Canon EOS R5 for the high pixel count and 8 stops of stabilization. Many of my photos are of distant seabirds which require heavy cropping and good stabilization. But in this photo I was using my "landscape" settings to get a wide view of the cordgrass which was about 10 feet out in the water. &nbsp Posted: 09/08/2021 07:52:20
---
---
---
Sophia Schade
WOW! Very impressive with the photo, photographer and the equipment. I personally like Steve's crop. I love the simplicity and the intensity of the color.. &nbsp Posted: 09/08/2021 15:04:23
---
---
---
Please log in to post a comment