Sophia Schade
---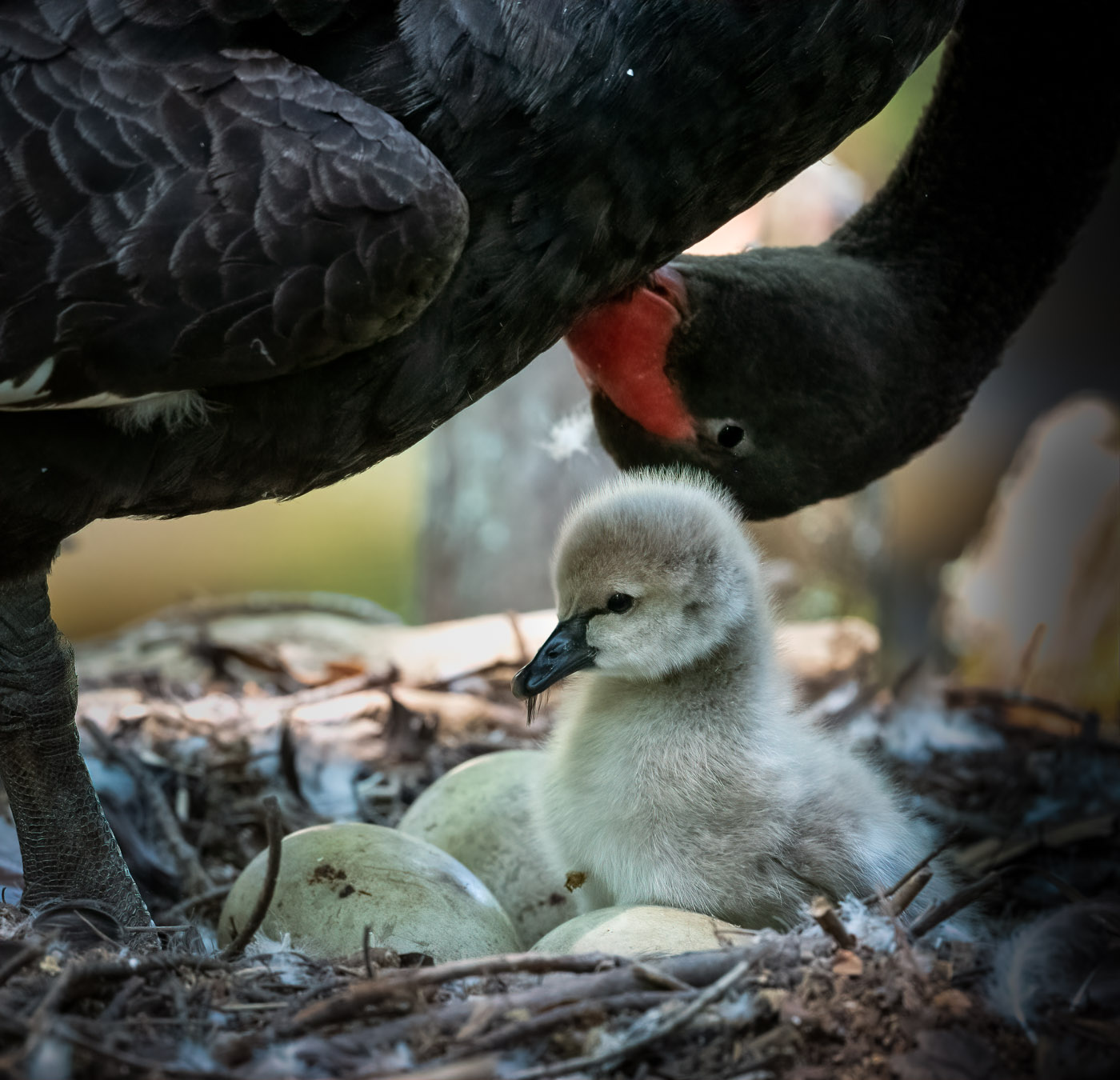 June 2021 - Can't Wait to Meet My Baby Brothers
Original
About the Image(s)
Photo taken 5.26.21 around 11AM at Swan Lake in Sumter, S.C. about 2 hours from my home.
Sumter Swan Lake Iris Gardens is the home of eight species of swans and some of the most intensive plantings of Japanese Iris.
My goal for the day was to photograph as much as I could in the 4 hours I was going to be there.
I used my new Nikon full frame D850 with a new prime 500MM 5.6 lens.
Shutter Speed 1/640 - 5.6- ISO 3200 with a Dynamic exposure area pattern D9. Handheld, on my knees.
With this photo, I wanted to tell a story of swan nest; waiting for the mom to stand up so she can expose the eggs. This behavior only happened once, and it only lasted a split second during the 1+ hour photographing the nest.
I wanted to highlight the nest, show the eggs, show the tender moment between mom and baby and the additional eggs. I was almost on the same level as the nest and the baby. See how focused he is on the other eggs. Both momma and baby looking at the same direction. The eggs surround the baby. The mom and the baby's eye.
Next time when I want to capture a similar image, I will use a stool to sit vs kneeling on a wet ground, use my tripod, adjust my setting faster, think faster, don't pay attention to anything else and just focus on the moment and politely ignore everyone else talking to me. Plan to be there longer, go with the purpose, don't feel like I need to photograph everything, stay focused. Only go to photograph the nest. I used De-Noise Studio 2 and Lightroom to process.
I wish the Momma's eye were better. I cloned the baby's eye to mamma since she had the membrane closed. I need to learn how to bring another image and clone from that. I must get better with photoshop.

---
4 comments posted
---
---
---
Jeffrey Pawlan
Perfect photo of the baby, eggs, and mom.

I personally do not like vignetting (and it is also not allowed in PSA Nature) even though it is fine in the DD groups.

Yes the D850 is excellent. &nbsp Posted: 06/01/2021 14:00:46
Sophia Schade
Hi Jeffrey, thank you for letting me know about the vinnetting not allowed in Nature PSA.. I need to do a better job understanding the rules.. I love this photo and need to do a better job processing it. Again thank you for taking time to give me your feedback &nbsp Posted: 06/03/2021 12:16:05
---
---
---
Steve Sampliner
Hi Sophia. First thing I wonder about is if 7.1 or 8 aperture might have brought the face of the mother into better focus. The reason I notice this is because the chick is the main subject, but the mother's head is directly behind. The disparity in the focus sort of pushes the mother farther back into the frame and disrupts the intimacy a bit.
The position of the mother taking up the majority of the top of the frame creates a very nurturing, tender and protective feeling. As does your positioning when taking the image.
I kind of wish I didn't know the mother's eye is from the baby because I don't know if it is the knowledge that makes the eye look small and out of place or if it really is awkwardly noticeable. I know we have different ways of going about it, but for me this image would be sent to the trash. The only way to fix is to go back and try again :) (if possible)
I like the colors but do you think that there is a touch too much green in the eggs and the chick feathers? Asking because I don't know. I don't think I've ever seen swan eggs or new-born chicks. &nbsp Posted: 06/02/2021 09:10:54
Sophia Schade
Hi Steve, thank you for your candor feedback.
I love this image , so no trash :)
Yes, the colors of the eggs and baby are a bit off but not by much.. I believe they are dirty due to the parents behavior.. they tend to leave the nest for long periods and then come back wet .. etc., based on your feedback, when I get home from my cross country trip to see national parks I will play with it and re-post.. I know I have to become better on my processing.. &nbsp Posted: 06/03/2021 12:24:49
---
---
---
Please log in to post a comment