Sophia Schade
---
May 2021 - Great Blue Heron
Original
About the Image(s)
Photo taken March 28th around 1PM in full Sun at Port Royal wetlands in S.C.
1/3200 F5.6 at 480MM at 500 ISO with the Nikon D500 and a Nikon 200-500 lens
I have done the following processing - 1)Denoise, AI-clear and color adjustments to bring out the colors ( Lightroom sliders) . I darkened the background and flipped it.
I followed this Great Blue Heron for an hour before he found his next meal. It happened so fast, I was able to get to the correct position to capture both the bird and the frog eye. I submitted this photo last month at the Beaufort Club spring competition (3 panel judges) and received a first place ribbon at the expert category. I am considering submitting it again at a bi-club (2 clubs Hilton Head and Beaufort) yearly competition, but I want to do something different with the background.
Can you please help me on how to fix the background so the subject is not distracted from the background or any other suggestions you might have?
---
4 comments posted
---
---
---
Steve Sampliner
Hi Sophia, the first thing that comes to mind is to mute the background a bit. Looking at your original, the background has depth and I feel that the depth has been removed in your final edit. I think this would add more focus to the subject.
I put my suggestion to the test. Not sure if it is better or worse. I used an old version of LR. shadow +40, vibrance -15, green saturation -15, yellow saturation -25 luminance -15. &nbsp
Posted: 05/03/2021 03:48:43
Stanley Selkow
Hi Sophia, wonderful capture! It's almost like you staged it to get the heron's eye and the frog's eyes in the same shot. I agree with Steve's edit because the heron's plumage color and the green of the background are so close. Steve's toning down the background clearly helps for me. But I'd go a bit further. There's quite a large number of pixels on the left of the image that distract me from the drama. I cropped out a large space on the left. BUT, I don't like having pushed the frog all the way to the border of the picture. So... &nbsp
Posted: 05/03/2021 12:52:46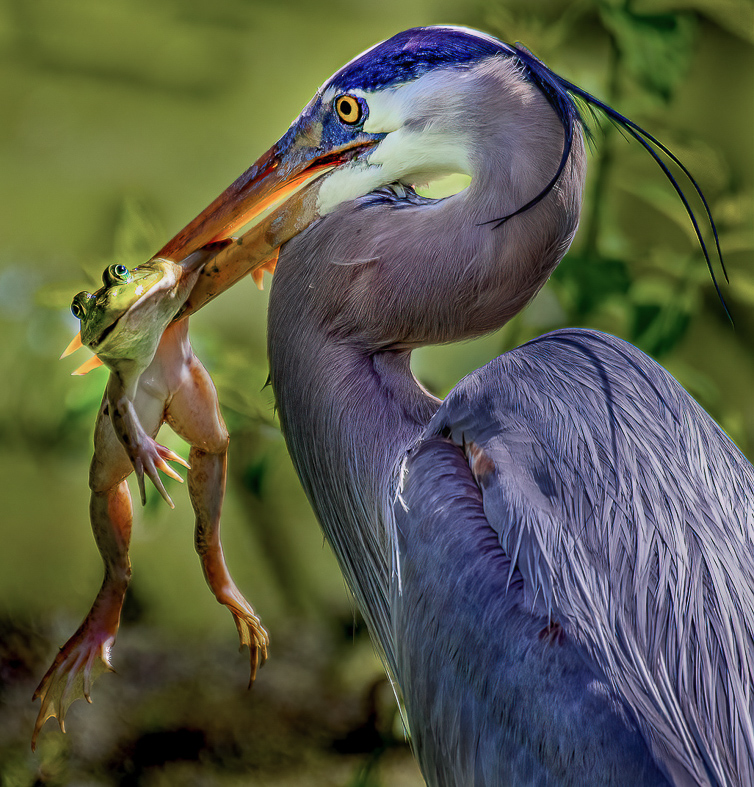 Sophia Schade
Thank you so much on the detail feedback! You are the best! I am still working on it. &nbsp Posted: 05/07/2021 20:25:01
---
---
---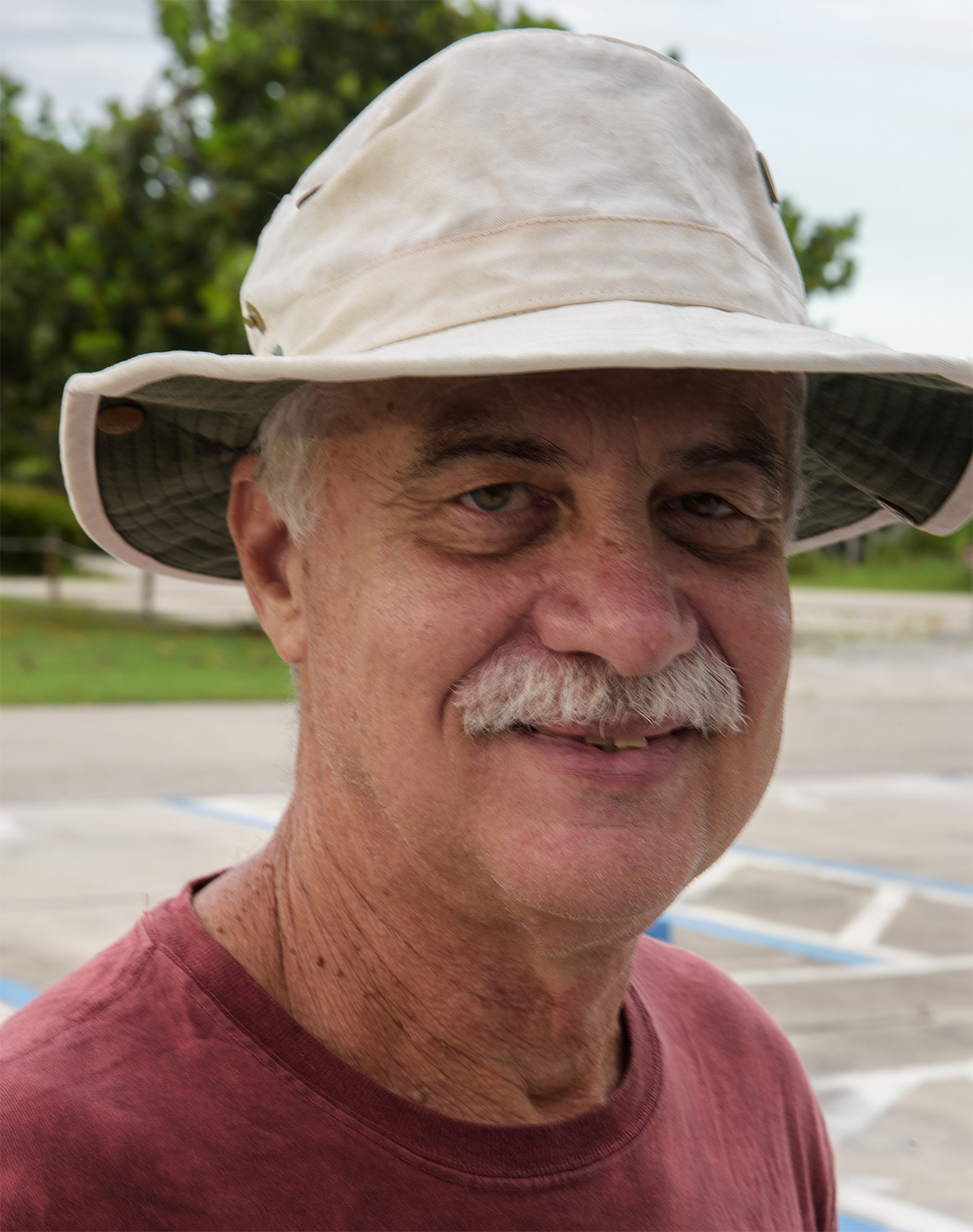 Larry Treadwell

(Groups 36 & 67)
Nature photography is about capturing the moment. Anyone can photograph a bird on a stick, but capturing that special moment is what sets great nature photography from the rest of the pack. Ideally there should be a story line that is clear there should be a striking and compelling subject that is separated from the background.

These things you did quite well. While I've seen a considerable number of GBH holding frogs this frog is special. First it is large, then it faces the camera and the viewer can make eye contact with it. These are huge positives. Speaking as a nature photographer you do not need to crop the image tightly. Your submission works well because placing the from in the center draws more attention to it which serves as a positive for this particular frog.

I feel the issue about the background that is mentioned by Steve is directly related to what I see is the only flaw in the image. Look carefully at your original. The colors in that image are quite close to the natural colors of the GBH. This "natural look" should be what you strive for. To me, you have greatly oversaturated the colors of the bird and this process is what caused the shift in the background as well.

I also at the feel the flip you did improved the image. Now, as a viewer I'm moving into the bird's face---almost confronting the bird as my eye travels from left to right. In your original image the bird feel like it is retreating into the background (which it actually is) but in the flipped version this feeling is not so pronounced and thus the image is stronger.

Anyway, just my two cents worth. This is a fine image. &nbsp Posted: 05/08/2021 17:13:10
---
---
---
Please log in to post a comment