Bob Wills
---
May 2022 - Mammoth Terraces
About the Image(s)
We took one of many Yellowstone NP trips and I took this image on the Mammoth Loop. This is a rather small section of the hot springs' terraces, and I think I originally thought to make a triangle with the trees and boulder. When I did my B&W tone assessment, I don't think a late morning shot was a particularly promising idea. I'm now settling for the subject of color, rather than landscape. I gave it an Orton effect in PS to soften the image.
I need some help with this one. My ideas aren't productive.

Nikon D800, 24-70 mm f/2.8 lens, ISO 100, 33 mm image, manual exposure handheld 1/60 sec @f11, no polarizer as the sun wasn't at 90 degrees. Mid-morning, bright day! The park had just opened after winter.
---
6 comments posted
---
---
---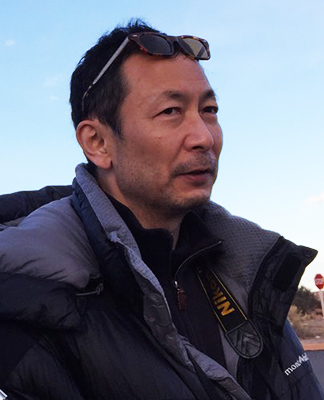 Haru Nagasaki
---
---
---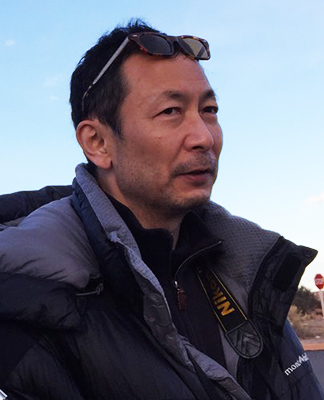 Haru Nagasaki
2. The light is harsh but not that bad. It has some shade and it makes the subjects 3D looks (light/shadow).
3. There are beautiful 3 layers in the image, foreground, midground big stone, and background yellow hills.
On the other hand, there are a couple of points needed to be fixed;
1. Yellow casted overall
2. blue sky is good in contrast against the yellow hills but that's does not add value to the story of the image.
3. Orton effect - I do not like all the subjects are softened. Center of attention need to be clear and sharp
So my strategy to make this work is;
1. Position that the big stone is the center of attention. Place that in 1/3 from right by cropping left side.
2. Crop most of the sky so that attention goes to non-sky area.
3. Make up evening light - it gives a feeling that the scene is hit by evening light. So I replaced the sky with evening sky (I learned how to do it)
4. dehaze the big stone and foreground to looks sharp. But add blur in the hills to add sense of distance.
5. I like the green tree on middle left. Currently it is in shade, but I brighten up significantly.
By doing this edits, this is the end result.
&nbsp
Posted: 05/04/2022 02:35:31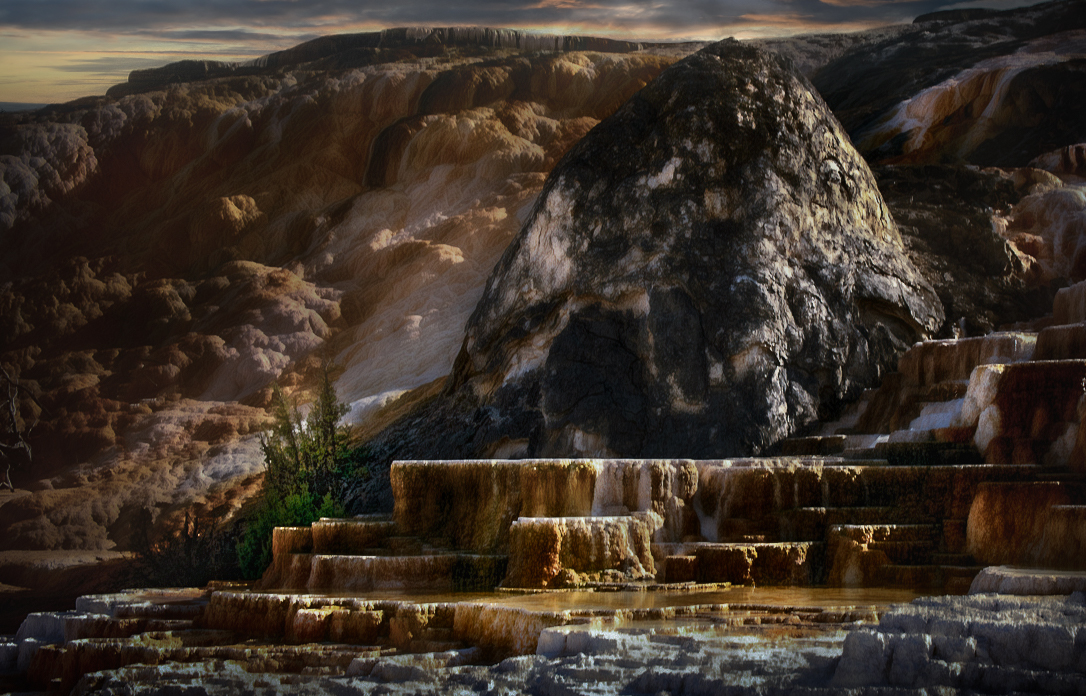 ---
---
---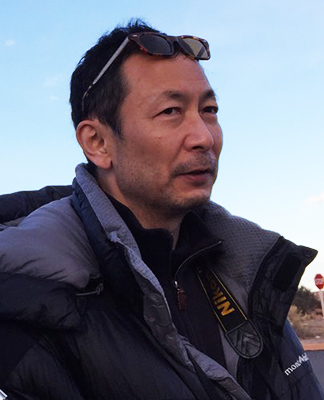 Haru Nagasaki
---
---
---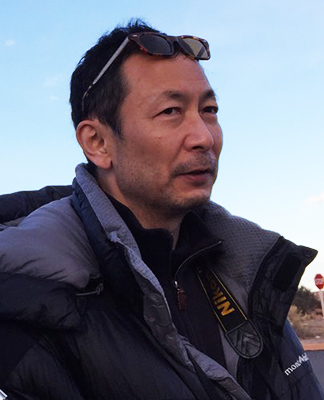 Haru Nagasaki
But one thing I need to note;
the big rock top is touching the hill edge or even exceeds the edge of the hill. That's not good for me.
I would place the top of the rock below the edge of the hill so that the hill is clearly recognized as "background".
That's my personal observation.
Hope this helps. &nbsp
Posted: 05/04/2022 02:42:23
---
---
---
Gloria Grandolini
Hi Bob,
Very interesting place! I agree with Haru that the triangles are there and guide the composition. I like what Haru has done - sharper, less sky, and more focus on the big stone. Maybe I would settle in the middle in terms of color, yours is too yellow but Haru's version might be too dark. &nbsp Posted: 05/17/2022 13:51:07
---
---
---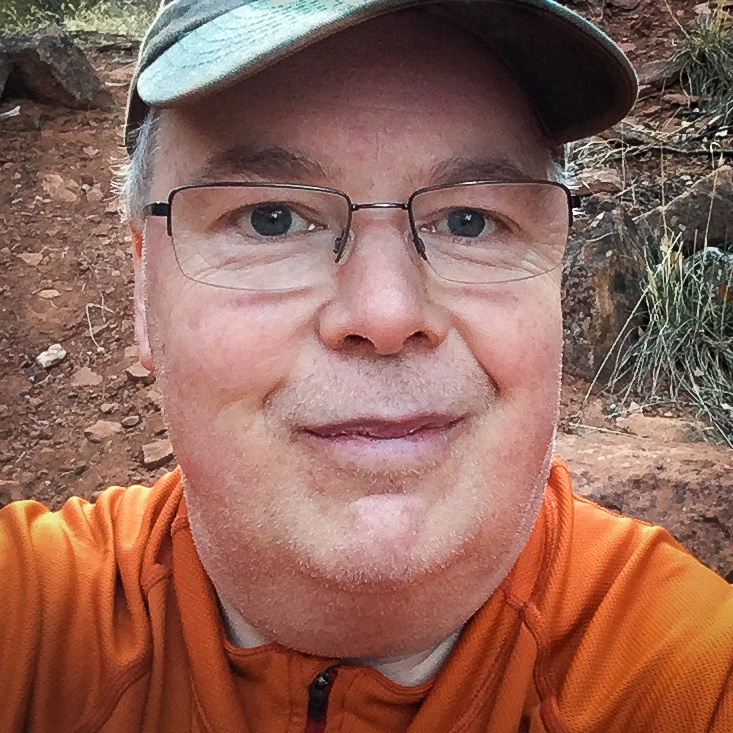 Robert Atkins
Hi Bob,
I've visited Yellowstone several times, and tried to photograph at the Mammoth Hot Springs at least twice. I find it a very difficult place to get anything that seems to work, both compositionally and in terms of lighting. It is such a fascinating place, I always want it to work, but can't figure it out.
I am not in love with this shot, but given the difficulty of the place it is not bad, and certainly better than anything I've walked away with. I very much like Haru's processing which I think gives the image more focus on the interesting terraces in the foreground. I might go even a little further in adding drama, something like I've attached. I darkened overall, and more in the sky. I color graded to bring out the terrace in warm light, which I spot lighted a bit further. And gave it a bit of and edge burn. &nbsp
Posted: 05/21/2022 10:08:33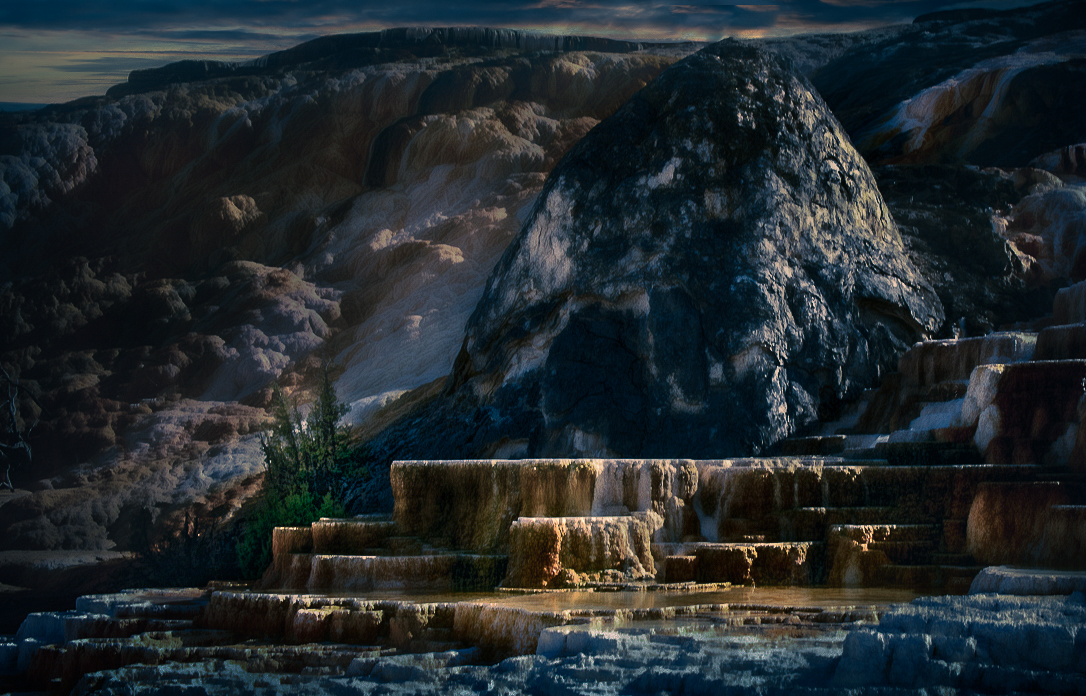 ---
---
---
Please log in to post a comment