Emily Kawasaki
---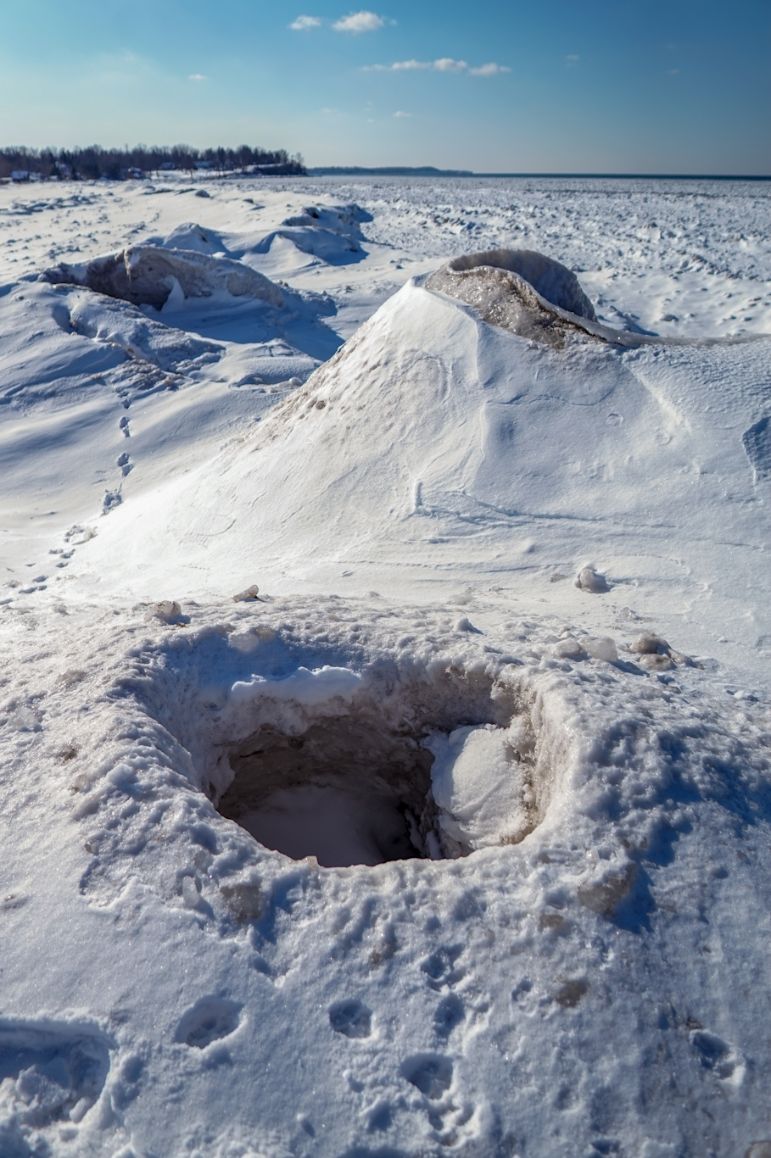 January 2022 - Ice Volcanoes
About the Image(s)
This photo was taken from the pier leading to Sodus Outer Light, in Sodus Point, NY. The photo was taken looking west onto the shallower part of Lake Ontario. (Out of the frame, Sodus Point Beach Park is on the left side and Lake Ontario is on the right side.) There are three ice volcanoes in the foreground. It was a very bright day with a bit of glare from the sun reflecting on the snow/ice.

The photo was taken on February 21, 2021, at 3:15pm Eastern. I used my Sony a5000 camera with the Sigma 16mm f/1.4 DC DN lens. The F stop is 1.7, the ISO is 100, the focal length is 16mm, and the shutter speed is 1/4000 sec.

The post-editing was minimal and done with Adobe Photoshop Express, with a slight increase in clarity and slight decrease in white.
---
4 comments posted
---
---
---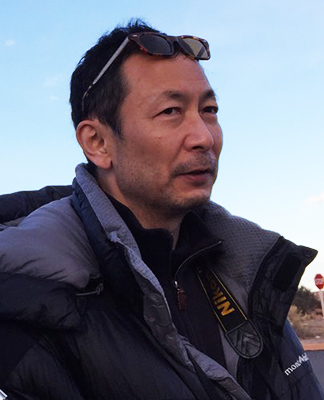 Haru Nagasaki
Hi Emily,
Nice shot!
It has nice eye-catching foreground and my eye is lead by the footprint and hoppes over the ice volcanoes in the midlayers. It shows excellent depth.
I wish it has more cloud actions at the back but it is well captured image as it is.
If I shall give an advice for improvement, I would increase saturation of brown part of ice volcano - the image is bluish overall so it would be better to have warm colors to balance against blue. The ideal is to have orange sunset color at the back but you would not expect it at 15:00.....
Anyway, it is great shot! Well done. &nbsp Posted: 01/10/2022 04:03:57
---
---
---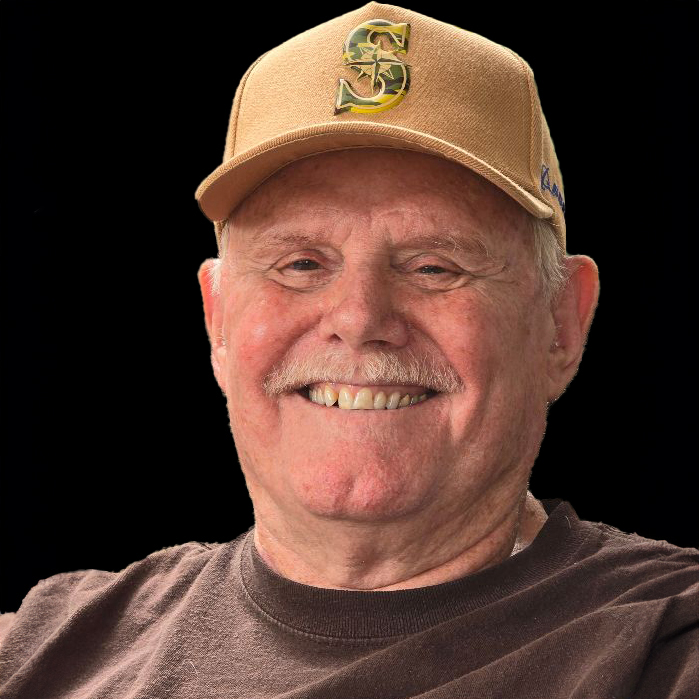 Bob Wills
Happy to see all the smog was on the Canadian side! Just kidding. I've never seen an Ice volcano before, but they are pretty cool. The image you have given us does need the tracks in the snow to give a perspective of the volcanoes' size. Well done.
I warped the image in PS just to see what a singular volcano could look like.
&nbsp
Posted: 01/10/2022 13:15:09
---
---
---
Gloria Grandolini
Hi Emily, Wow - I had never seen an ice volcano. Very impressive. And I love to see the background. An idea would be to crop the foreground one, to give more focus to the middle imposing one. On the sky agree that it is a bit tame - I wish we could always time shoots at sunrise or sunset...
&nbsp
Posted: 01/11/2022 16:47:10
---
---
---
Cheryl LaLonde
Hi Emily
This image is well exposed and the highlights don't appear blown out. I image may have been helped with a little different framing when you took the picture. I wonder how it would have looked with the camera at a lower angle and moved to the left to use the prints on the left side of the image as a leading line. I can not say if this would have worked having not been there at the time. With the foreground as is I find the prints in the snow too busy. Also could you give me some in site as to your choice of F stop. The aperture is almost wide open making some of the details soft rather than sharp and in focus. With a shutter speed of 1/4000 you may have been able to move the f stop to f8 or f11 and still have a fast enough shutter speed to shoot handheld ( I am assuming this is handheld). I also think a better time of day (sunrise or sunset) would have improved the sky and eliminated the harsh shadows although I have no idea if that would have been possible for you.
I have never seen an ice volcano so I really do appreciate being able to see them. Great job capturing something unique. &nbsp Posted: 01/15/2022 12:59:11
---
---
---
Please log in to post a comment