Keith Au
---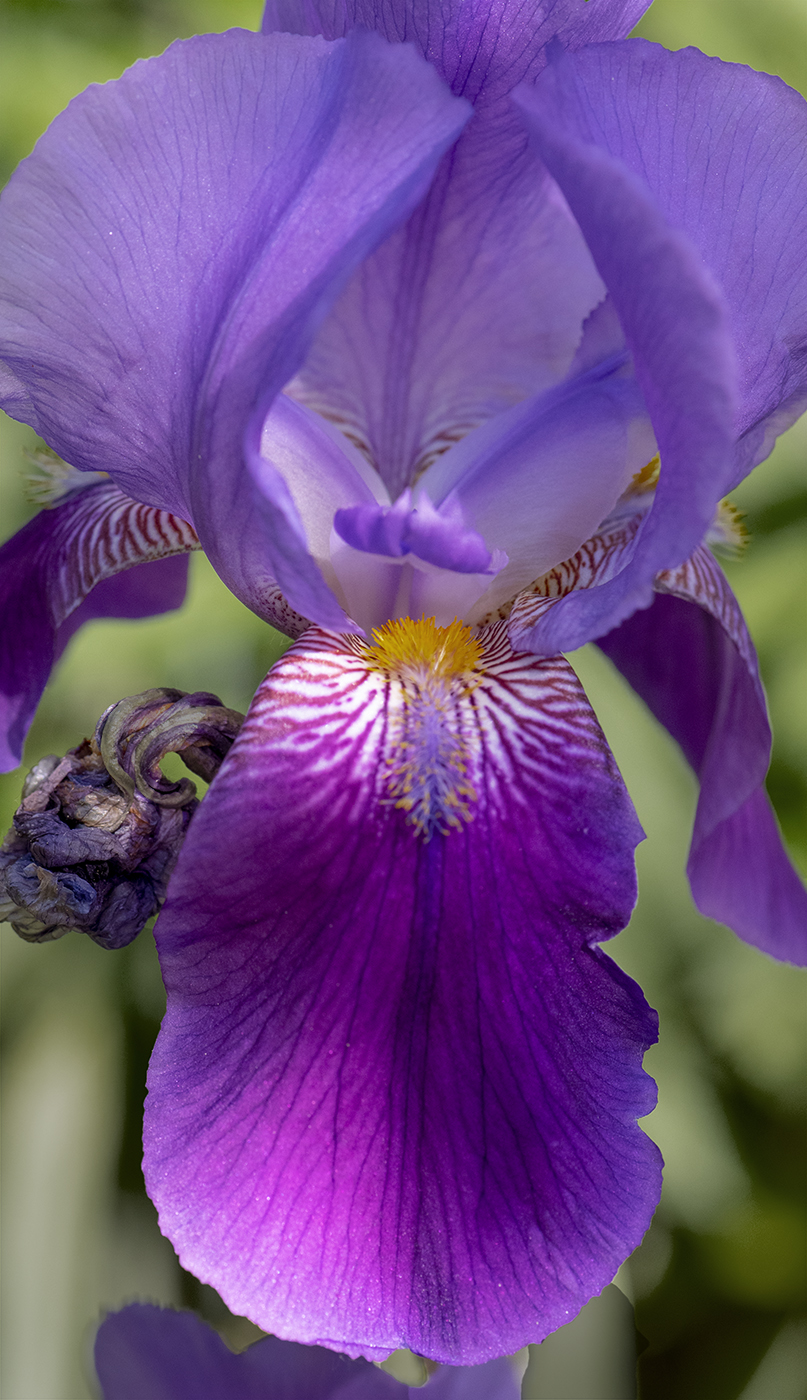 January 2022 - Purple Orchid
Original
About the Image(s)
This image was taken from my backyard's orchid collections June 2021.
It does not provide high impact or real closeup macro effect.
I just like the shape of the flower under the morning side-light.

Gear: Nikon D750; Nikon 105mm f/2.8 Micro lens
Settings:
Shutter priority @ 1/1000s +0.3EV f/10 on tripod
Auto ISO @ 1250
Post-processing tool: Adobe ACR / PS (minor increase of contrast & lowering background exposure)

---
7 comments posted
---
---
---
Pat Glenn
Keith, gorgeous flower and shot of it. before I read your description I was testing myself and did not think it was 1:1 [not that I care, just testing myself]... there are many points of focus to be 1:1 it seems. beautiful veins/capillaries in the leaves. the white parts like purple zebra stripes jump out at me along with the yellow - that is where my eye goes. there are the 4 different angles to the leaves and their folding is just gorgeous - good eye to pick this type of flower positioning. minimal background to see but one of my favorite colors is purple and green which you have there. &nbsp Posted: 01/09/2022 21:25:12
Keith Au
Hi Pat, thanks for your comments. Glad you like the capture.
Yes, I took the picture when I was attracted by the morning sunlight spotting on the yellow bloom and the zebra stripes, while the rest of the flower was largely in the shadow.
My new year resolution is to get into making some nice 1:1 macro compositions.. still learning.. &nbsp Posted: 01/10/2022 09:43:44
---
---
---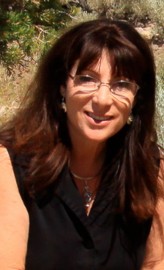 Carol Sheppard
Keith, this is a beautiful subject, and you've captured the zebra stripes so perfectly. The lighting also feels quite good. I do see that you were at 2.8, which feels not deep enough to my eye. If you used a deeper focus/aperture, the two areas surrounding the in-focus part would also be in focus. When I enlarge your flower, the upper piece is out-of-focus, but right out in front. The piece directly below your lovely yellow center capture is also out of focus, and it is still an important part of the in-focus area. Just a suggestion. Place your focus closer to the front and your aperture at f5.6 or f8 or even f11, and see what happens. I think it would give you a nice out-of-focus background, too, if the focus point was placed right up near the front of the flower. One final suggestion: if you can, remove the dead piece on the left before shooting. &nbsp Posted: 01/11/2022 14:56:27
Keith Au
Thanks, Carol. Yes, I also noticed that some of the yellow part is out of focus.. I tried multiple shots and they were similar. From the ACR reading, the aperture is f/10. That is something kept bothering me (when shooting these kinds of close-up shots).. I always have trouble getting the parts I want all in-focus. Would that have something to do with what focus mode I used? (single point, 9 points, 21 points, etc)?
&nbsp Posted: 01/11/2022 23:26:53
---
---
---
Stuart Ord
Nice picture, I like it. Orchids are lovely subjects. I'd agree with Carol's comments.

As a comment, the physics works both ways - the fact that this is a full frame camera and has a significant depth of field at f2.8 means the magnification was quite low. &nbsp Posted: 01/11/2022 17:08:25
Keith Au
Thanks, Stuart. So at f2.8, the depth of field is also acceptable in this case? Sorry I am trying to understand the physics so I can take a better shot next time. Thanks for all the help. &nbsp Posted: 01/11/2022 23:30:14
---
---
---
Tom Pickering
Capturing a single-image macro at 1:1 is no simple endeavor. It takes lots of practice. At least with digital cameras, you can take lots of shots to experiment and learn from. This iris is quite lovely and would have presented many interesting macro shots. How to do that?
Some key things to remember when shooting macro are: 1) turn off Auto Focus; 2) set the focus to 1:1; 3) do not touch the focus ring again! But wait! How do I focus if I cannot touch the focus ring??? Either move your subject until it's in focus or move your camera until the subject is in focus.
This is one of the hardest things to train yourself to do when starting into macro - it took me quite a while to figure it out. Once you start doing this, you'll find a whole new world appears in your viewfinder.
That said, there are things that can be done in post-processing to improve the look of your images. In this case, I brought your original into Affinity Photo, selected the iris and copied it to its own layer, removed it and the dead bud from the original layer, applied some Gaussian blur to that layer, applied some clarity and to the iris, then some vibrance to the whole image, and finally did some targeted dodging and burning to add a little more dimensionality to the iris. Let me know what you think. &nbsp
Posted: 01/17/2022 15:27:32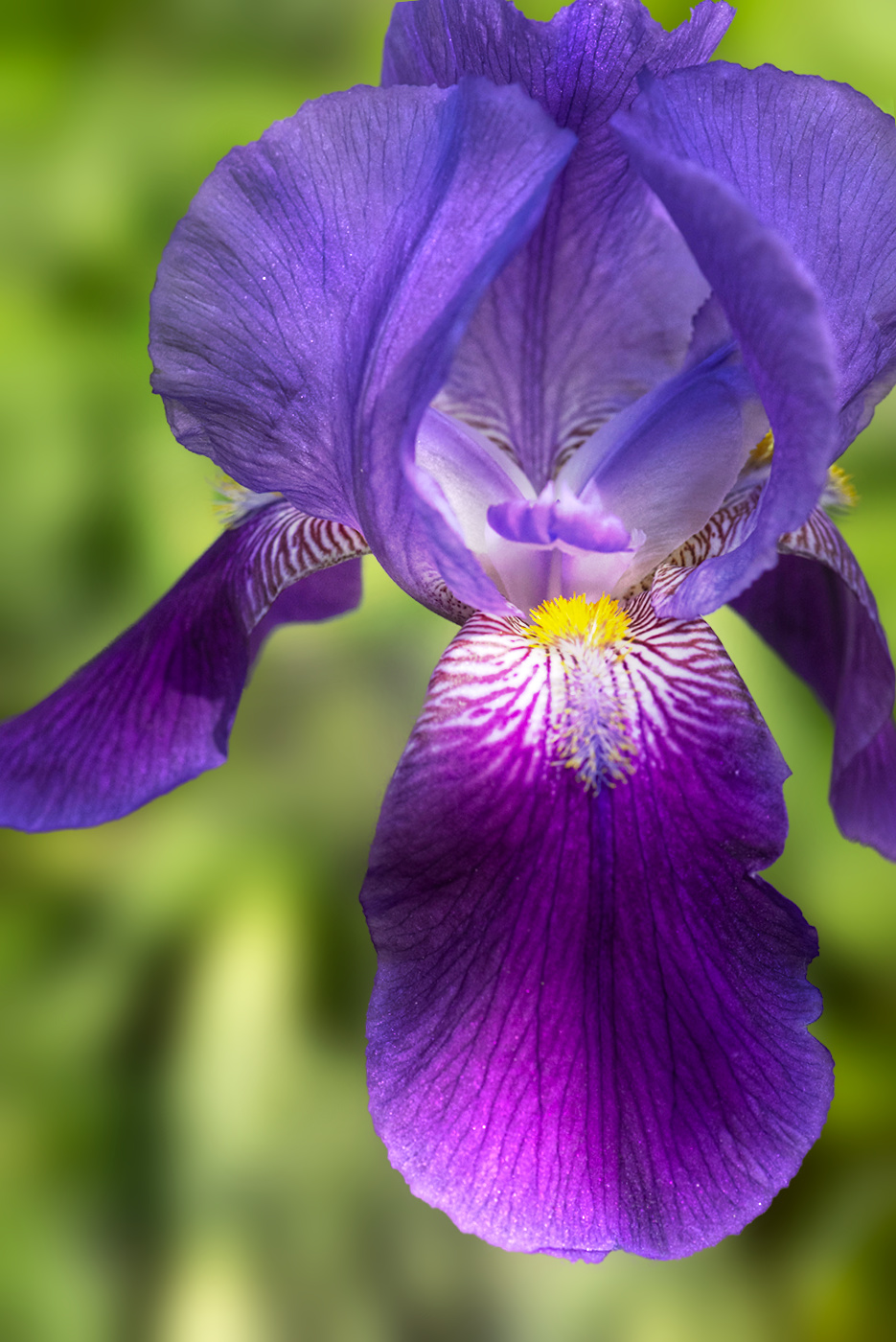 ---
---
---
Please log in to post a comment