Pat Glenn
---
November 2021 - Green Leaf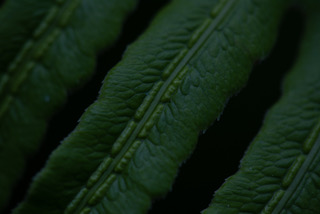 Original
About the Image(s)
Hand held. No cropping. One small section is most focused.
brightness/clarity/texture increased a little for overall photo.
shadow increased only a tiny bit - mainly wanted the background to stay black-ish.
Then in the specific area near the focused area I decreased highlights and I used 2 masks to decrease highlights and increase clarity/texture/dehaze again.
I am still using the first macros I ever took last year just to review technique. The leaf offered the width of 3 leaves to show what is in an our focus and length of leaf to show what in and out of focus. I do not know what magnification of the lens this was [not recorded in metadata].

---
This round's discussion is now closed!
13 comments posted
---
---
---
Pat Glenn
Nikon D750, Nikon lens Micro 105mm, 1:2.8 ; ISO 100, 1/60, F8; &nbsp Posted: 11/07/2021 16:45:39
---
---
---
Stuart Ord
It's an unusual and interesting photo, Pat. I like the diagonal lines.

Have you sent a small original to Carol?, as it is small even when clicked to enlarge it. So, it's difficult to examine closely.

It seems nicely exposed and sharp over the central area, courtesy of your subject being quite flat and lens at f8.

&nbsp Posted: 11/08/2021 15:51:08
Pat Glenn
sent 1200 pixel long side.... is that what we were supposed to do?
&nbsp Posted: 11/11/2021 16:28:12
Stuart Ord
Good question! I'm sure Carol or Tom will put us right as I've forgotten the size criteria required. I send in pictures that are usually about 1500 to 2000 pixels maximum dimension, 85% JPG quality, the over-riding criterion being a maximum file size of 1MB (1024 kB). I've downloaded your photo here and it seems to be 320x214 pixels, 43 kB. I'm no expert here, I'd just noticed that when I double click your photo above I get an image on my screen only 5cm (2") wide, whereas if I do that for say Fran's picture, it is 17 cm (7") wide and of course showing much more detail.

Looking back in my PSA DD corrspondence, I found an email from John Roach (he runs group 64 of which I'm also a member) in 2019 when he sent to the group lots of wise guidance including this -
"Current recommended size for your images is 1024 pixels wide by 768 pixels tall and 72 dpi, but not to exceed 1Mb in file size." My limited knowledge suggests that 72 DPI is not important here, the pixel dimensions are, but I stand to be corrected by experts!

John gave a lot of useful comments in that email which might be useful to us all.

Carol and Tom,
This email includes advice on describing your photo when submitting it each month, and on what sort of comments are encouraged for others' photos, suggestions on downloading, editing and re-uploading others' pictures to illustrate comments you are making where appropriate, etc. Perhaps it could go on our Bulletin Board for everyone's aid, but I could show it to you first if you prefer. &nbsp Posted: 11/12/2021 02:54:56
Tom Pickering
That's not what we're seeing. I always suggest that you produce as large an image as you can that will be under 1Mb in size. The dpi makes no difference here. &nbsp Posted: 11/20/2021 22:44:05
---
---
---
Pat Glenn
yes central area only has focus - I tried to extend focus with increased clarity. I left it uncropped just to see if the photo stayed pleasing with background that was not diffuse/abstract. &nbsp Posted: 11/11/2021 16:30:39
---
---
---
Carole Kropscot

(Group 12)
Hi, Just popping in from Group 12. Click on the word Guidelines at the top of any page of this website, and there you'll get your info for sizing your photo. As for a critique otherwise, remember that the eye goes to the lightest part of the image. So, I'd suggest slightly darkening the leaves not in focus, in post-processing. Nice diagonal composition! &nbsp Posted: 11/12/2021 14:26:25
Pat Glenn
yes those guidelines were what I was referring to.... BUT that doesn't mean I did the right thing, I was rushing. my first photo last month was ok so I must have done the submission improperly. &nbsp Posted: 11/12/2021 19:12:01
Stuart Ord
Thanks for pointing that out, Carole! It's probably been there all the time I've been on DD, yet I'd not seen it. The comments there are what John Roach sent group 64 members, but I don't know which is the chicken and which is the egg! &nbsp Posted: 11/17/2021 16:10:15
---
---
---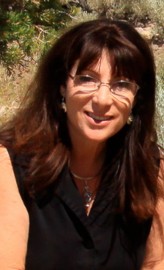 Carol Sheppard
Pat, please let me know if you need help with sizing. You aren't the only one who sent teeny files, so don't feel bad!! However, as to your image, the diagonal crop is spot on and the saturation and lighting are beautiful. What also works well for me is the very sharp center element with two slightly out-of-focus (but only minimally falling off toward the outer edges) elements that frame the subject (which is the center leaf). Well done! &nbsp Posted: 11/13/2021 10:27:58
---
---
---
Pat Glenn
Stuart Ord
Yes, that's better - I'm getting a large picture now when I click your thumbnail. Nice detail is clear now. &nbsp Posted: 11/17/2021 16:07:26
---
---
---
Tom Pickering
Great subject for macro, indeed. Plenty of detail and the diagonal lines make for a stronger composition. &nbsp Posted: 11/29/2021 22:01:30
---
---
---