Mark Bargen
---
August 2022 - Midnight Sunset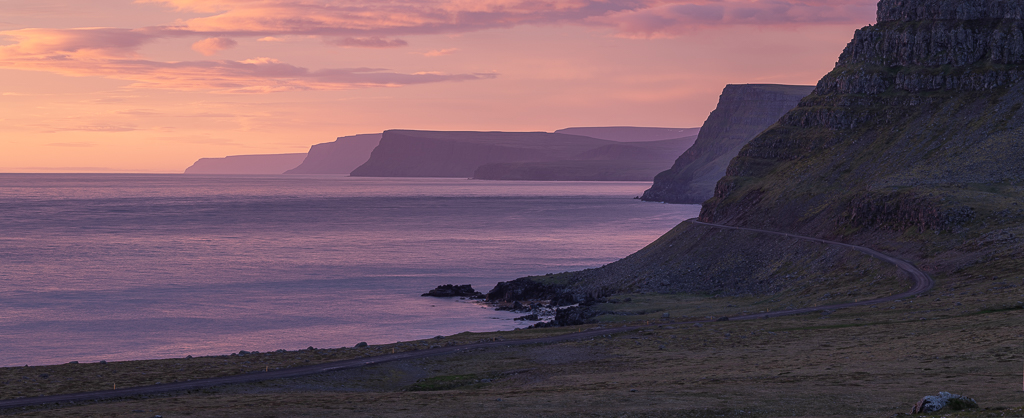 Original
About the Image(s)
Description:

A view, from the Latrabjarg Cliffs, of the north coast of the Snaefellsnes Peninsula in the Westfjords of Iceland, at sunset.

Sometimes it's all about the light. At this latitude and time of year, the Sun sets around 1:00 in the morning, and rises again a bit over an hour later. Golden "hour" lasts about four hours, punctuated by about half an hour of blue "hour".

We were blessed with an interesting sky, gorgeous light, and lush green flora on the hillsides.

As one travels around the Westfjords, one spends hours driving down one side of a fjord, turning, and driving back the other. Surprisingly, one does not grow weary of it, as it's so beautiful and varied. Standing at a bit of elevation, looking to the east (nothing but Atlantic to the west), I was struck by the seemingly endless repetition of the headlands falling away into the distance.

Captured at 12:59 AM on June 17, 2022.
Canon EOS R5, five exposures (1/8, 1/5, 0.3, 0.5, and 0.8 seconds) at f/9, ISO 100
Three frames panorama,
176mm using Canon RF100-500mm F4.5-7.1 L IS USM.
Lightly cropped in post.

Post-processing: Started with HDR panorama merge in LrC. Then headed over to Ps for a Kuyper dehaze (ask if you went technical explanation), increased contrast in the shadows and highlights (at the expense of contrast in the mid-tones), gently painted in some contrast in the clouds, and lightly boosted the saturation on the hillside where the Sun was brushing it with some red light. Used a little bit of warp to pull down the lower right corner and get rid of an eye-drawing stone. Over to ACR to raise the exposure a little bit, together with a bit more global contrast. Added a radial gradient coming in from out-of-frame on the left to add a bit of warmth, and (this is a trick I like) dropped the dehaze to get some glow but compensated by bringing the clarity back up. Back in Ps, I found a couple of reddish areas on the hillside that felt too saturated, so painted in some desaturation there. Finally, I trimmed a slice off the left edge to establish a more uniform rhythm with the headlands.

Everyone knows how much I enjoy post-processing, but I don't strive for "pop", an image with color that reaches out and gives the viewer a slap. I want to emphasize that for this image I executed a LOT of restraint, working in very small increments. The light portrayed here is realistic, perhaps even a bit understated.

---
Please log in to post a comment