Neil Bellenie
---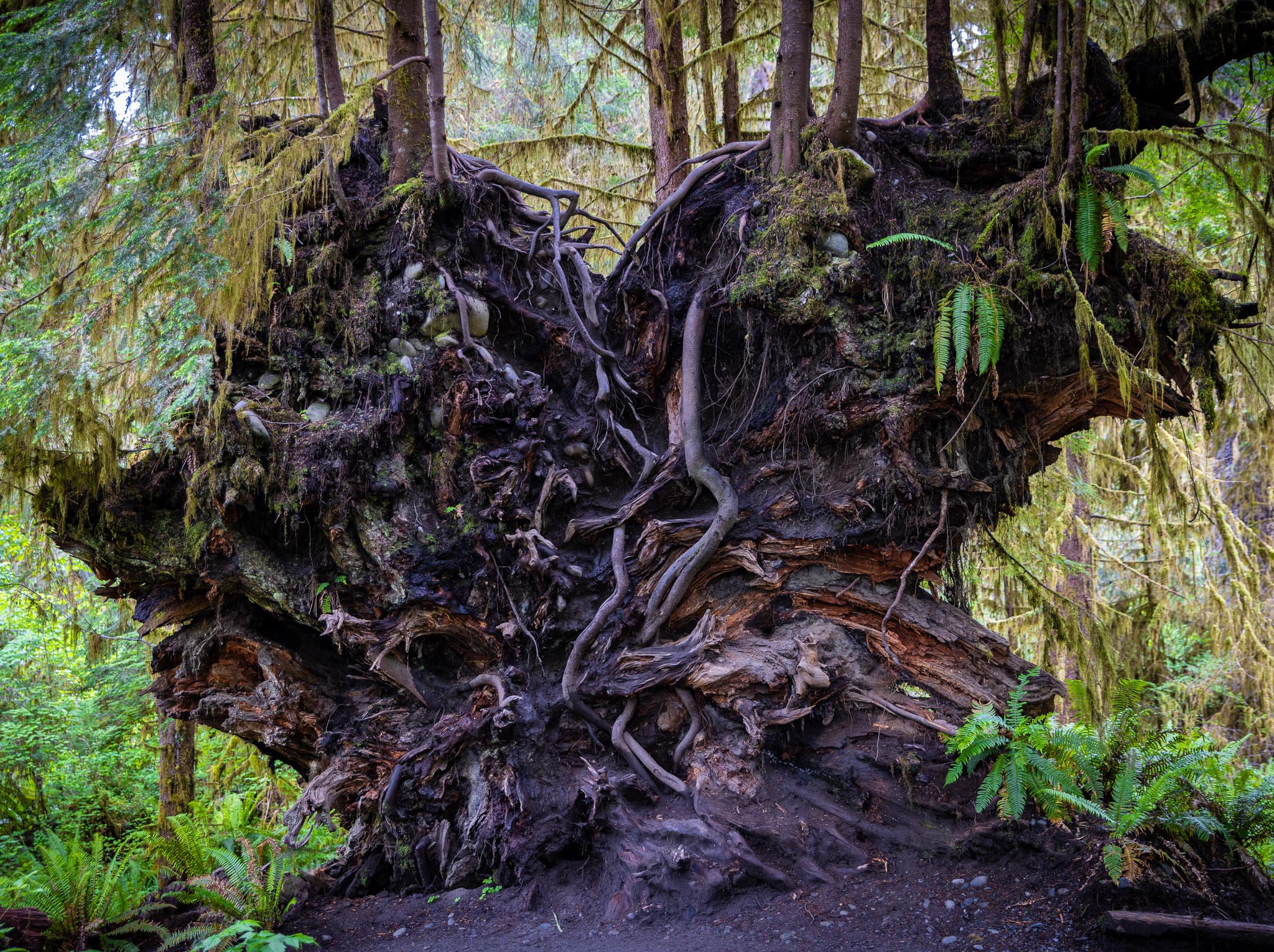 August 2022 - Untitled
About the Image(s)
We were camping in the Olympic National Forest in early June and visited the Hoh Rain Forest. This is a stunning place with vibrant greens and vegetation consistent with being one of the rainiest places in the world. This fallen tree interested me. In part because of its size (to the top of the roots is over 12 feet), partly because there are full size trees growing from the upper surface of the fallen tree, but also because there are so many details in the various sections of the tree base. Zooming into to the various areas shows a world of detail.

1/30th @ f2.8, ISO400. Canon EF24-70 at 44mm. Canon EOS R5 with EF adaptor. Post processing is a small crop, highlight reduction to reduce the glare of sunlight through the gaps, a small amount of saturation increase.


---
5 comments posted
---
---
---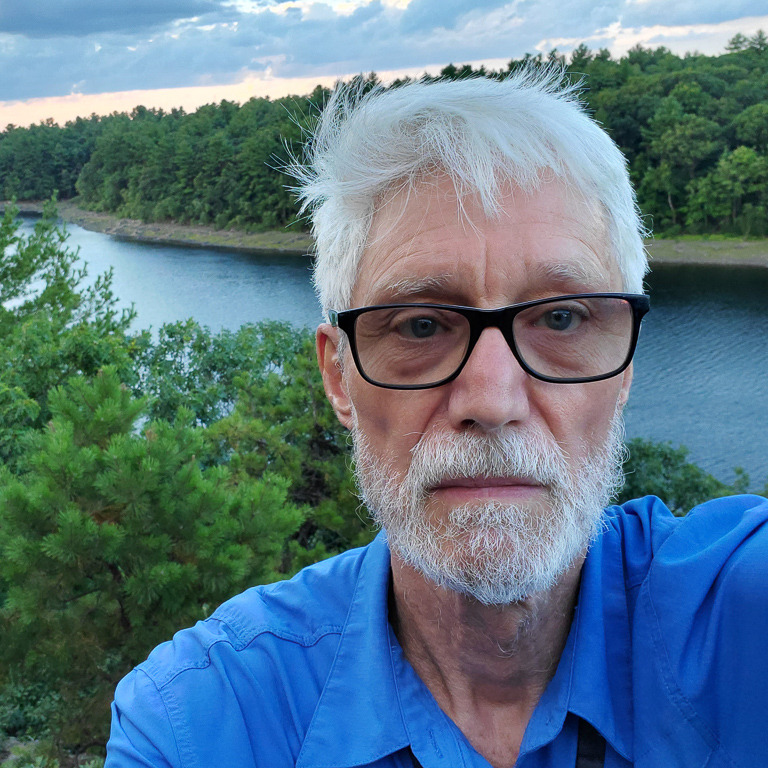 Mark Bargen
As usual, reviewing after viewing only the image and its title, but not the accompanying description.
Definitely an intriguing image! As it is untitled, I took me a moment to understand what I was seeing. To me, that's a Good Thing so long, of course, as the visual elements are sufficient to keep me engaged; here, they are. Someday I hope to get to the temperate rain forest of the northwest, where I'm guessing you shot this. I do love the idea of the "mother tree".
No idea what challenges you faced with what lay outside the immediate frame, but I find this feels a bit claustrophobic. I'd have wished for a bit more space left and right of the dark, so long as it were similar to what is there.
I like the way the background, essential for context, is muted and not distracting. I'm wondering whether you did anything in post to effect that; if so, it was done deftly. Still, I think it's possible to go a bit further.
As I often do, I "tinkered" with the image. I added a little bit of steeper contrast using a curves adjustment. Masking to exclude the darker areas (thus selecting the background), I dropped the dehaze noticeably and compensated for the impact on luminance by raising clarity a bit; this further deemphasized the background. I brushed a very gentle boost in both clarity and dehaze into the root mass and trunks of the trees that appear to grow out of this mother tree. I lightly globally boosted the red saturation to better showcase some of the texture in the root and shifted the greens a bit towards the yellow to tone down what felt a bit bluish.
&nbsp
Posted: 08/08/2022 08:36:42
---
---
---
Neil Bellenie
Mark,

Thank you for the thoughtful comments. I took several different pictures of the dead tree and decided that those with more background appeared to diminish the scale of the root structure. I agree it is a little too cramped. I did reduce the highlights slightly in post to reduce the impact of the background. I am thinking (after seeing Dawn's picture this month) that a fill-in in front of the roots may help.

I am not sure why the picture is not titled. I know I had some trouble getting the image down to <1MB in LRC. A recent LRC update seems to have made the export picture function temperamental so it will not constrain the image below a certain size (usually 2.5 - 5 mb) and it has to be gamed. After fighting with it I probably forgot to add the text to name the pic. &nbsp Posted: 08/09/2022 17:11:32
---
---
---
Ed O'Rourke
Neil, now you are moving into my territory - the wet coastal forest of the Pacific North West. And based on this photo you are forcing me to "up my game". I think this is a great shot. Because of the wet soil fallen and uprooted trees are common in these forest, and for me, this photo has captured the essence of them. I like the way you have framed the image with the underside of the root system dominating the frame while you still leave some of the background to create a border. The sharp focus and lighting on the root system, in my opinion, highlights the intricate detail and allows us to see the complexity of these roots. The deep color of the roots contrasted with a bit of green from the surrounding ferns works well. While I like what you've done I also appreciate the adjustments that Mark has made. And finally, I think it's great that you included the new trees growing out of the top of the fallen root ball, something else that is common in our wet forests &nbsp Posted: 08/12/2022 09:46:31
---
---
---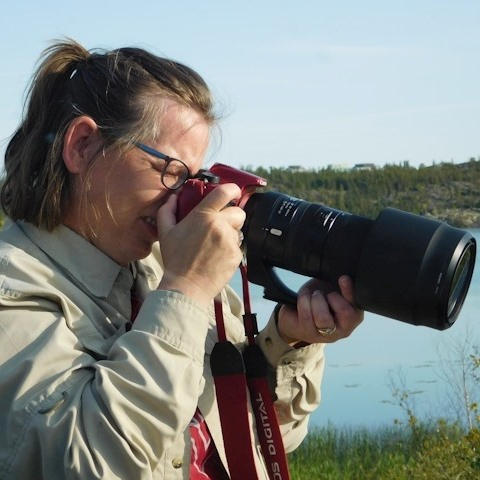 Darcy Quimby
Neil
Behemoth is my first thought when I see this picture. I tend to agree that the edges feel a little crowded for my taste. It did take me a few minutes to see the new growth out of the root ball. Great capture. &nbsp Posted: 08/13/2022 17:44:15
---
---
---
Dawn Gulino
I like the framing and how there is new growth coming from "death" captured here. The different hues of green juxtaposed with the intricacies of the root system are a great contrast. For some reason, it reminds me of a heart and life itself. It not only makes me sad that the tree has fallen, but gives hope for the new life it feeds. &nbsp Posted: 08/14/2022 10:32:13
---
---
---
Please log in to post a comment