Mark Bargen
---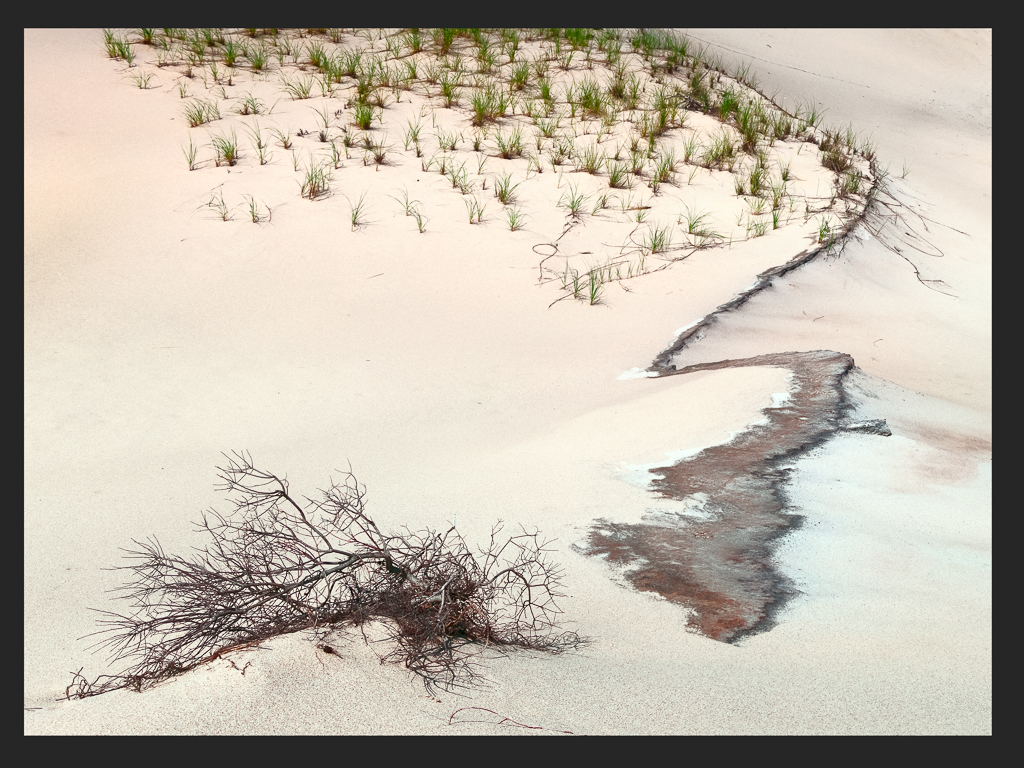 September 2021 - Fragile Life in the Dunes
About the Image(s)
I found this colorful dark patch of biological soil crust but a short distance off the main Dune Shacks Trail among the Province Lands dunes in the Cape Cod National Seashore, two and a half hours' drive from my home. I spent several hours hiking in the area; I found this scene within an hour of arrival.

Also known as cryptobiotic crust, this crust is a living ecosystem largely comprised of algae and bacteria; it is extremely fragile. The American Beachgrass in the distance is hardier, but slow growing and spreads slowly. The seemingly dead shrub in the foreground appears to be beach plum.

Captured on Canon EOS R5 with RF24-105mm F4 L IS USM lens. Shot at 1/1000 second at f/8.0, ISO 100, 35mm portrait orientation and cropped in post to field of view roughly equivalent to 60mm landscape.

Post processing in Adobe Photoshop in too many stages to count, most of it consisting of painting in small curve adjustments in the LAB color space. Also some Unsharp Mask sharpening in the L (lightness) channel. The main aims of the adjustments were (a) add dimensionality and a sense of depth; (b) manage the subtly variable color balance; and (c) increase the color separation, especially in the sand and in the patch of crust. I did also engage (back in RGB land) in a lot of frequency separation / clone stamping to eliminate footprints on the slope to the left. (I'm thankful that no one, including myself, had trod on the crust.). Finally, back in LAB world, I pushed the overall lightness to make it as high key as I dared without losing a sense of depth.
---
4 comments posted
---
---
---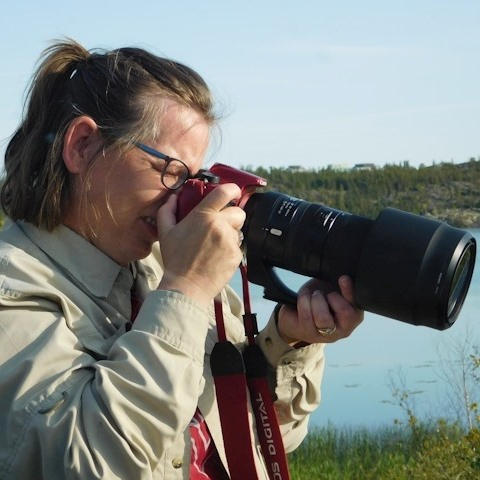 Darcy Quimby
Mark
I am impressed with the time you take in post. In general I like the composition you have a great s curve in the crust. Just my opinion is I find the shrub in the foreground is a distraction. I how you don't mind I removed it so let me know what you think. I like the spot color of the grass. &nbsp
Posted: 09/08/2021 18:04:56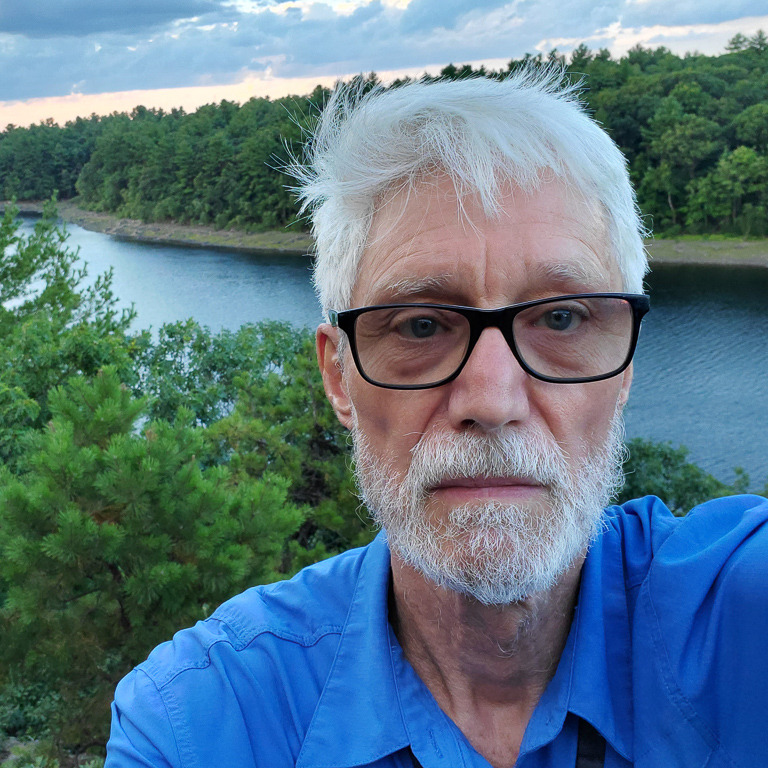 Mark Bargen
Thank you, Darcy. You are quite right, the shrub competes with the crust for the viewer's eye. I also posted this last month in DSG29, and received the same criticism there.

Of course, I don't mind! And I appreciate that you took the time and expended the effort.

For myself, I think the dark shrub, crouching on the edge of the dune, forms a continuation of the S-curve down to the lower left corner. Also, again for myself, I actualy like the tension: is this about the shrub? or the crust? or ...?

Of course, I may come back to this in a few months and feel quite different about it. &nbsp Posted: 09/08/2021 19:28:52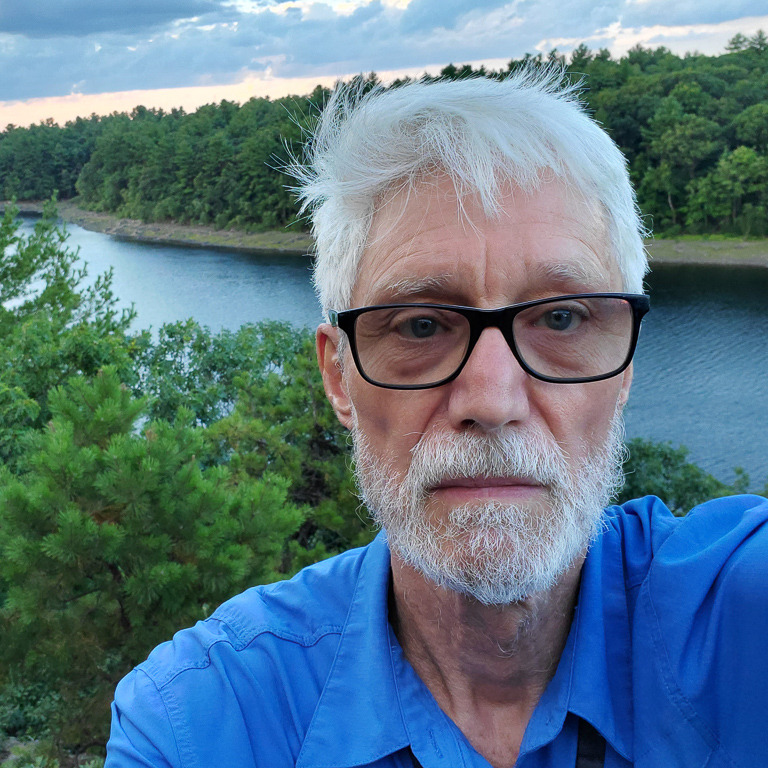 Mark Bargen
And one more thing ... this is a harsh environment ... and I think it not inappropriate that the image makes the viewer uncomfortable. &nbsp Posted: 09/08/2021 19:30:04
---
---
---
Kelly Easler
Hello, Mark! Wow--if there were distractions here, it definitely looks smooth and untouched now! I'm glad Darcy pulled the shrub and honestly can't decide which I like better from a composition standpoint. However, I think having it up front gives the photograph a "story"--kind of a circle of life idea, which seems really compelling to have captured in nature in this one shot. &nbsp Posted: 09/13/2021 01:45:23
---
---
---
Please log in to post a comment