Beth Payne
---
May 2023 - Super Sunday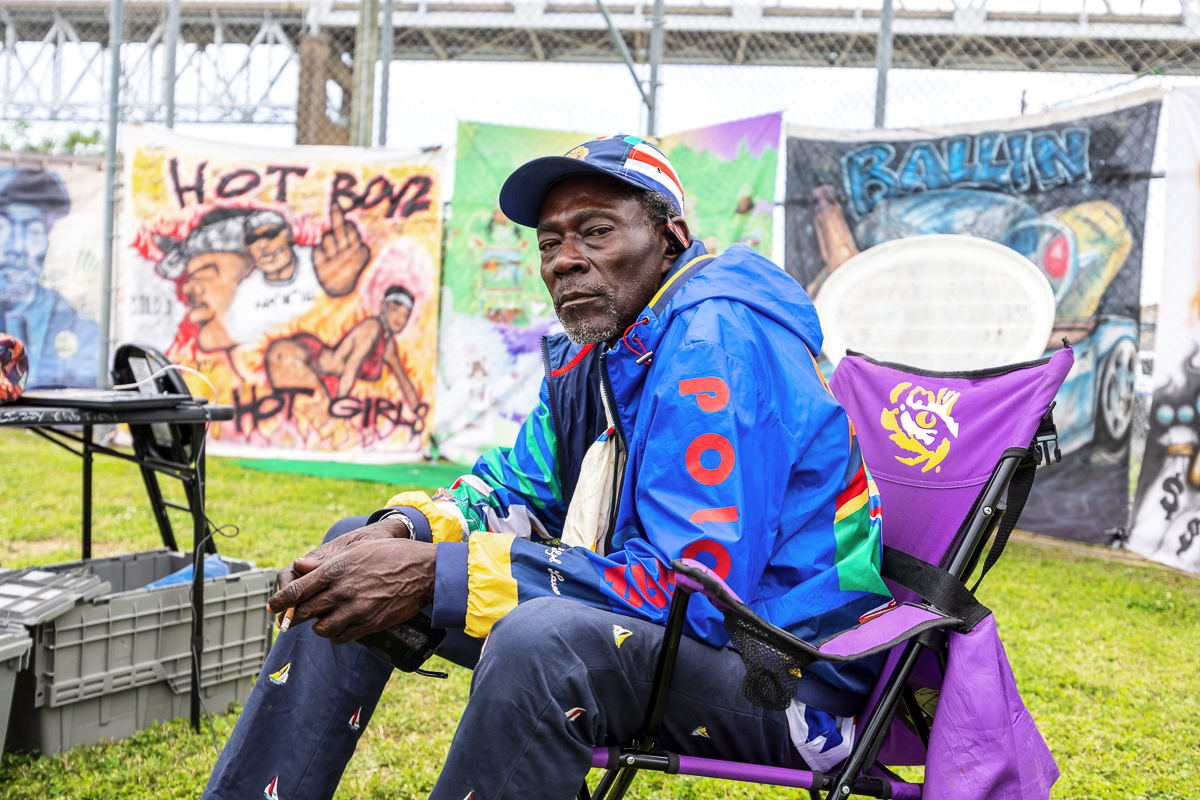 Original
About the Image(s)
I made this photograph in the West Bank, New Orleans on March 4, 2023. The area had a festival called Super Sunday and there were lots of dancers and vendors. I was attracted to this artist sitting in front of some of his art. I like the colors surrounding him and his look. I wanted a shallow depth of field so you can see his art without it districting from the artist.

I didn't do much post processing. I cropped and straightened it a little, reduced the highlights and shadows, and added a little clarity and vibrance.

Canon R5, RF14-35mm at 35mm, ISO 100, shutter 1/250 sec, f4.
---
7 comments posted
---
---
---
Lou McLove
Hi Beth, I love this, I think that you have captured a great image. To my eye the shallow depth of field is perfect for this image and works very well in telling the story. I am not sure how I read the gentleman's posture and look, it doesn't seem friendly nor hostile. Also, to me the color version is perfect, the colors are vibrant and energizing. &nbsp Posted: 05/04/2023 12:05:06
Beth Payne
Thanks Lou, I also liked his look which isn't hostile but also isn't very welcoming. I think he wanted to look cool. &nbsp Posted: 05/09/2023 09:50:06
---
---
---
Susan Robinson
Hi Beth. I read this man's look as suspicious. Perhaps he is wondering, "Will you buy my art?". It's a good street shot. So that is the West Bank of New Orleans... Is that a poor area of New Orleans? There's a lot of story there to be imagined. Maybe he is down on his luck.... or waiting for a customer, or some festival treats.... Anyway you have captured his expression perfectly. Did you speak with him? I've never been to New Orleans but I am a fan of Harry Connick Jr. &nbsp Posted: 05/06/2023 06:09:52
Beth Payne
Thanks Susan, yes, this is a very low income neighborhood in New Orleans. I did speak to him. He told me about his art, which is pretty unique. He was on the edge of the festival just hanging out. New Orleans was a great town for street photography! &nbsp Posted: 05/09/2023 09:51:25
---
---
---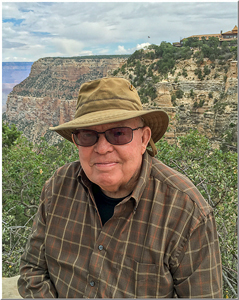 Chuck Carstensen
A great street portrait. What I see is pride of his workmanship. To my eye sharpness of the mans eye is key. Let the rest fall where it may. I just had to take it into Luminar Neo and convert to BW. It is quite amazing how you have control of the entire image colors. Here is my version. I made it square to match the one piece of art in the background. &nbsp
Posted: 05/09/2023 11:52:28
Beth Payne
Thanks. I like your version. &nbsp Posted: 05/10/2023 06:46:01
---
---
---
Marianne Barnhardt
I actually like the color. It tells the story and blends in with the scenery and him. Inquisitive I always get this look, it is kind of...wtf are you doing or....I'm cool. I always hope for the latter. I took a shot of a few guys on a roof. They all called to each other. I could see the wtf look, so I said...I love construction workers can't help it. One took off his shirt. LOL &nbsp Posted: 05/24/2023 07:14:50
---
---
---
Please log in to post a comment