Quang Phan
---
October 2021 - Taughannock Falls in autumn with golden leaves
Original
About the Image(s)
Taughannock Falls in the Finger Lakes region near Ithaca, N.Y., is 33 feet higher than Niagara Falls. This waterfall makes no noise, but it is the highest single-drop waterfall in the north-eastern United States. In the autumn, the leaves turn yellow in front of the waterfall. The background of the massive stone wall makes the scene stand out and attracts many nature lovers. The advantage of this waterfall is that the photographer can get close but still capture the whole scene of the waterfall.
Technical Data:
a) Camera and lens: Sony A7Riii, Tamron lens 28-75mm f2.8
b) Focal Length: 58mm
c) Mode : Manual
d) Aperture: f/10
e) Shutter Speed: 1/160s
f) ISO: 400
g) Focus mode: Spot
h) Focus points: Spot
i) Use of tripod: Yes
Post-Processing:
I used Camera Raw first to open image, adjusted highlight for leave area using brush. Adjusted shadow for some area of the cliff. Adjust Variance for enriching leaves color.
Then I used Photoshop Curve adjustment increase light contrast for leaves color.
I used Nik sharpener to sharpen some places on the cliff, and I used Dodge tool very light to adjust light on water flow.
---
3 comments posted
---
---
---
Charles Walker
Quang, what a lovely Fall image. Thank you for the background story and information. I have just a couple things you might consider. The woman at the base of the waterfall gives us a sense of scale; however, her bright orange jacket competes with the leaves for attention. What if you captured just the jacket and then desaturated the color a notch or two. The sky is a bland hazy white; so, would a sky replacement help? Overall, the image is lovely and makes me want to visit this place. &nbsp Posted: 10/09/2021 20:43:40
Quang Phan
Dear Charles, thanks for valuable and helpful comments. I agreed both of suggestions: desaturate the jacket and replace sky (even if it is very small area). If I have time I will adjust and post the updated image. Thanks again, best regards, &nbsp Posted: 10/13/2021 08:52:56
---
---
---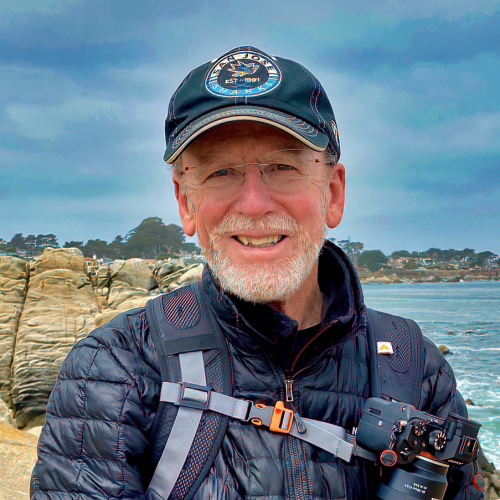 Rich James
Quang, you captured a lovely image - idyllic almost with the orange and green leave framing a very compact yet lacy waterfalls. Also, taking the shot in portrait mode is very effective. I have just two concerns; for me this is more about the women subject than the falls. She is looking directly at the camera, thus gaining all the attention away from where the focus should be. Had she been looking at the falls, it would guide the viewer toward that view. Secondly, the top leaves of the tree obscure where the falls actually start, which is generally the most interesting part of a falls except for when it splashed at the bottom. Just some thoughts. Very enjoyable. Thank you for sharing. &nbsp Posted: 10/13/2021 12:16:10
---
---
---
Please log in to post a comment