Don Stouder
---
June 2022 - Desert Near Amboy, CA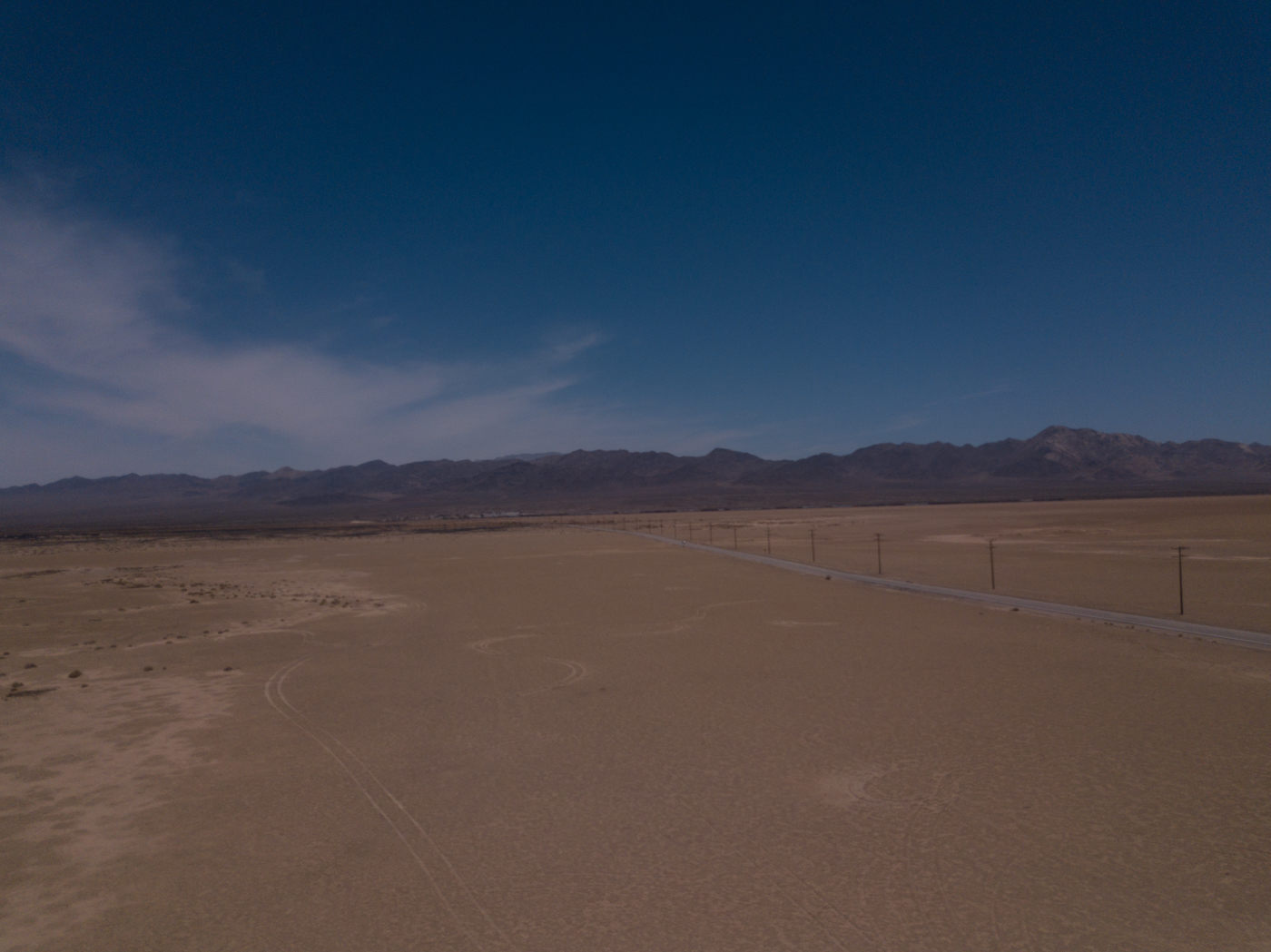 Original
About the Image(s)
Well, I had hopes of capturing a view of the volcanic crater near Amboy CA on Route 66. But my drone does not have a zoom lens. There was a dirt road that I could have taken to get my takeoff point nearer to the crater but ran short of time. Is that an S in the sand? So, I chose this image – one of the 34 images from a 360 pano I shot. I do like the diagonal lines leading towards Amboy in the distance, which today is basically only Roy's Motel and Restaurant. Next time I take the dirt road!

Image Details:
1/300 sec
F/2.6
ISO 100
26 mm Lens (35 mm equivalent)
Altitude About 80 ft.
---
6 comments posted
---
---
---
Pete Scifres
Hi Don, I have shot from the Amboy crater and it is a nice subject. If you are there again with more time, the BLM has built a nice paved visitor area with parking, etc. About two miles east of Amboy off of Rte 66. From it there is a one-mile trail that leads to the crater. So you can launch right next to the crater or even climb to the top of the rim and launch from there. &nbsp Posted: 06/09/2022 14:52:57
---
---
---
Don Stouder
Thanks so much, Pete! &nbsp Posted: 06/10/2022 11:27:49
---
---
---
Drema Swader
Nice job in leveling up the image. There is a lot of sand in the lower middle without a defining subject. Sometimes when viewing vast scenes such as a view from a mountain the pictures don't carry the same weight as when you were there viewing the beauty of the scene. This can also be true when shooting from a drone and I think it is extra important to define the subject for your image. If it was the S curve in the sand, then it is not very visible. Perhaps flying lower and getting a more oblique shot would have helped. Also, perhaps shooting when the sun was low in the sky so that shadows were cast across the scene, making the texture and designs in the sand more visible might have worked.

Also, keep in mind that it is ok to have a bit of haze in the background when there are mountains. Increasing the contrast has darkened down the mountains and you have lost the feeling of depth. Try increasing the contrast on just the lower part of the picture. &nbsp Posted: 06/15/2022 17:34:40
Don Stouder
Thank you for your comments, Drema. You are absolutely right regarding the image could have been much better if it was shot later in the day for example, but I was not there then. I need to keep the golden hour in mind when I go on a photo shoot of any kind.

I do like your comments regarding maintaining a bit of haze in distant mountains. &nbsp Posted: 06/17/2022 14:21:51
---
---
---
Janos Demeter
Very interesting scene, nice sky. I find a bit too dark, at least on my screen it is. If I am right 80 ft are about 24m, which poses the question why did you fly so low? &nbsp Posted: 06/15/2022 23:58:34
Don Stouder
The simple answer to that is that I am concerned about losing the sight of my drone. I am constantly shifting my eyes back and forth from the drone and my iPhone screen. Each time it takes seconds to find the drone again. On this particular day, the screen was very faint given the bright light.

OK, I confess - I'm chicken. :-)
&nbsp Posted: 06/17/2022 14:26:46
---
---
---
Please log in to post a comment