Michael Hrankowski
---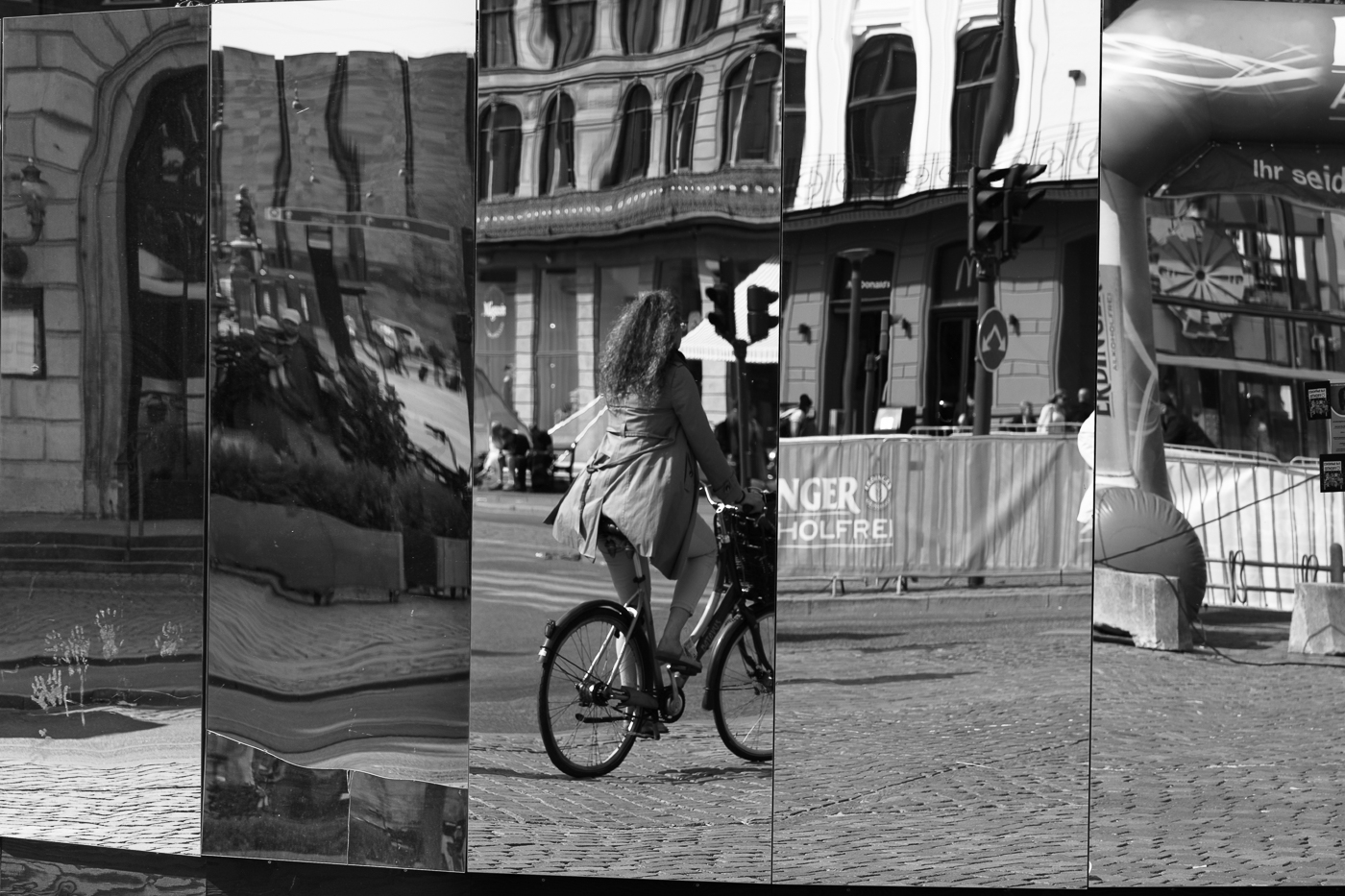 November 2023 - Disoriented
About the Image(s)
Sony a7Riv with an (adapted) Canon 24-105mm lens, shot at 105mm
1/1600 sec; f/8; ISO 200

I came across this public art installation while visiting Copenhagen this past May. It was a large, circular structure clad in mirror panels inside and out. As I stood looking at the interesting reflections, I spied a woman on a bicycle coming toward me.

I waited until her reflection appeared in one of the panels and tripped the shutter.

I captured the RAW image with my camera's MONO mode. Only minor adjustments to exposure, contrast and shadows were made in Lr.
---
This round's discussion is now closed!
16 comments posted
---
---
---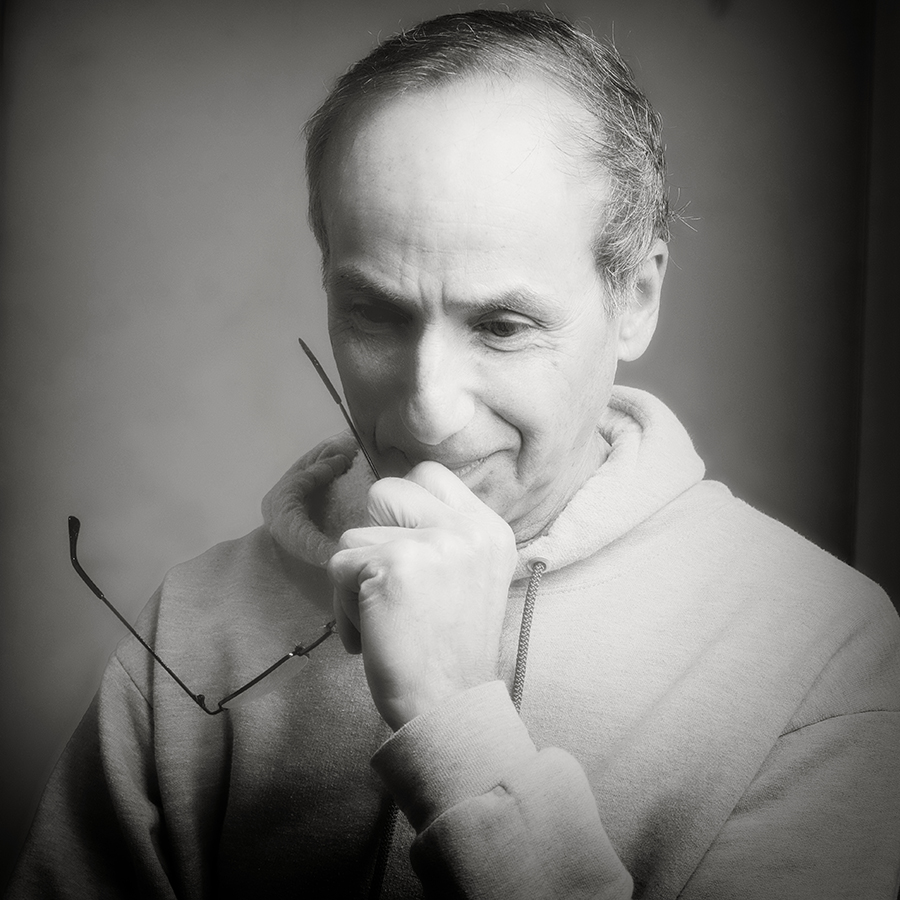 Lance Lewin
Simply a brilliant photographic image!

Waiting for a human subject to interject into this multifaceted visual presentation really tied the knot for making this work engaging ... thus providing possible narratives ... or alternatively, interpreting this composition as a Fine Art Documentary, if we want to be bold. Well conceived, Michael! &nbsp Posted: 11/06/2023 03:29:02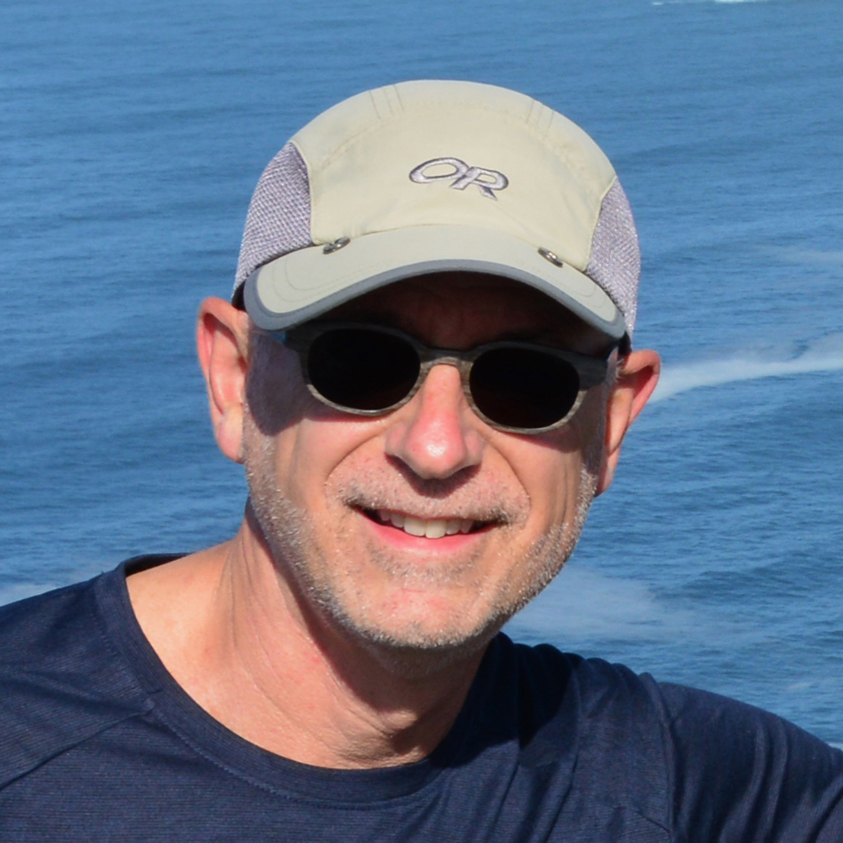 Michael Hrankowski
Thank you, Lance, for your comments. I find that I am drawn to photographing reflections of all sorts. Up until recently, I was of the mind that if a person entered the scene I was attempting to photograph, the shot would be ruined. Now I am going out of my way to include a human element in many of my shots and the images are all the better for it.

As an aside, I invite you to visit Group 3 and check out the monochrome image submitted by our group's newest member. I think it is fabulous. &nbsp Posted: 11/06/2023 09:52:36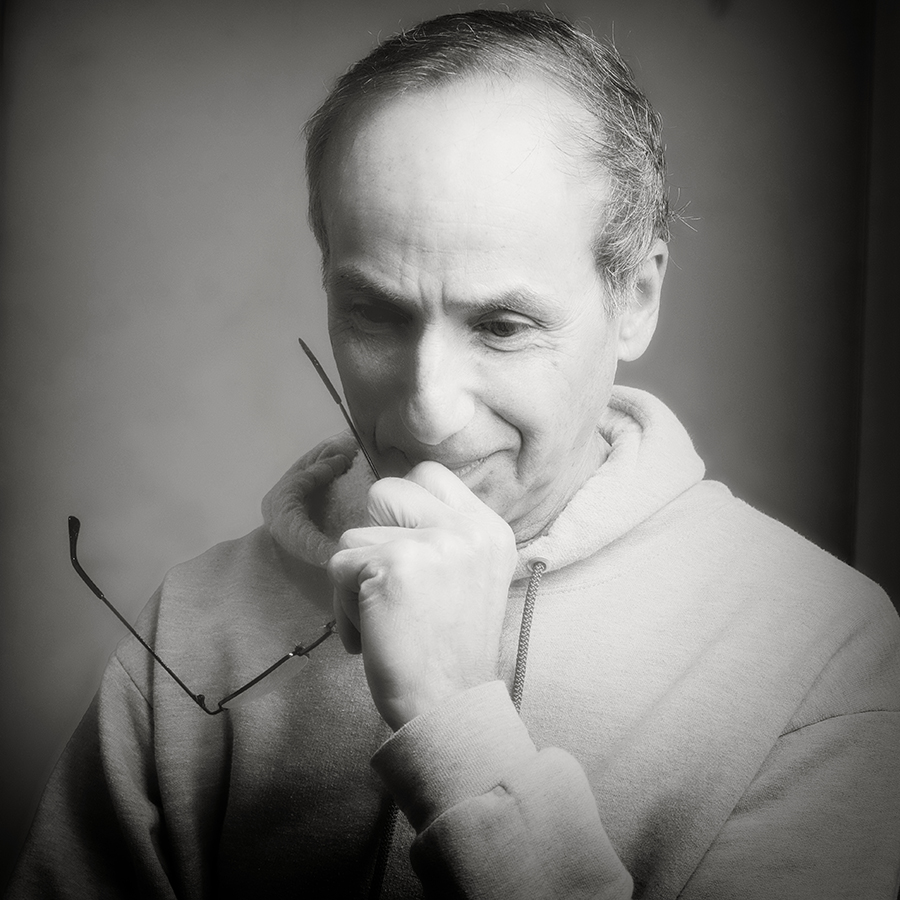 Lance Lewin
"Points to Ponder"

Additional thoughts: your featured work is a prime example of "good" Street Photography; here, most often, a human is juxtaposed to one or more surrounding artifacts (and / or in atmospheres) which relate (or help elicit) a narrative from viewers.

If you want to continue on this path ... that is, these types of Street Photography imagery (regardless if abstract or narrative based), along with "reflections" ... spend time studying work by Vivian Maier .. for one example of an artist who enjoyed compositions that included reflections ... and Gary Winogrand for work that can be extremely abstract both upon initial viewing, and often even after prolonged viewing: I include Winogrand work to teach prospective Street Photography artists that 1. a scene does not always have to be technically perfect, and 2. narrative can be subtle, and often, the best of these types of compositions present the best of what we define as the images Gestalt. &nbsp Posted: 11/06/2023 12:07:08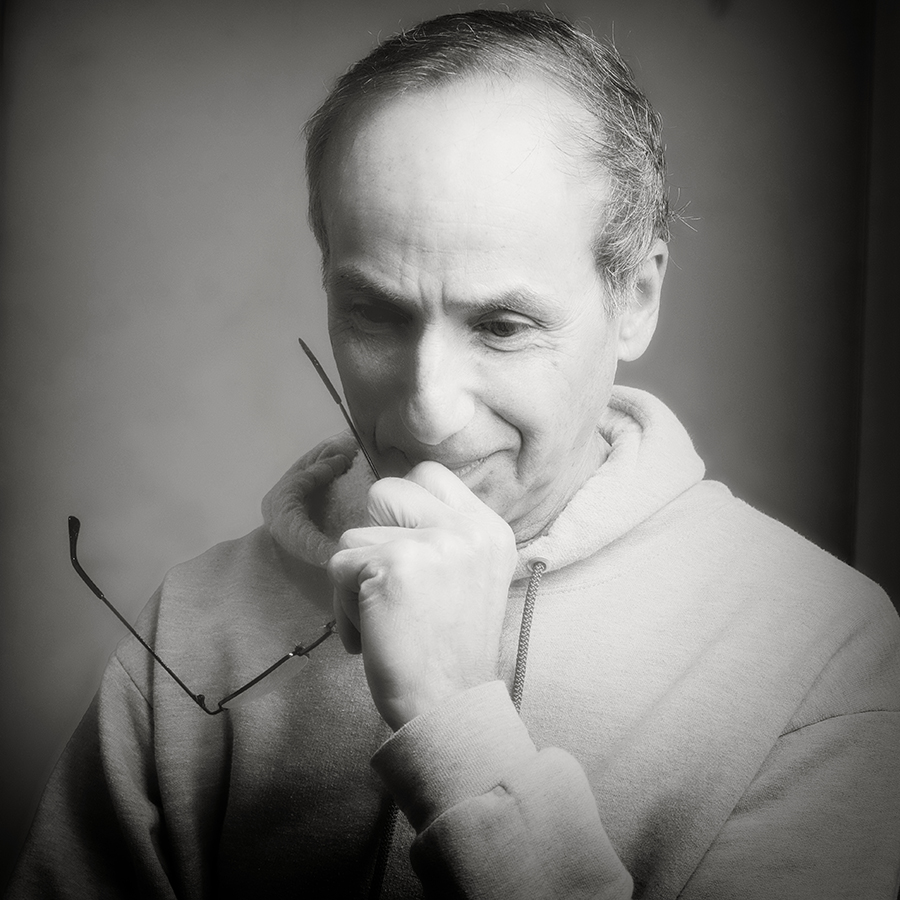 Lance Lewin
Micheal, I did visit DD-3. Thank you for the invite! &nbsp Posted: 11/06/2023 13:12:52
---
---
---
Adi Ben-Senior
Wonderful. the girl, the hands on left pane. just wonderful! &nbsp Posted: 11/07/2023 07:40:39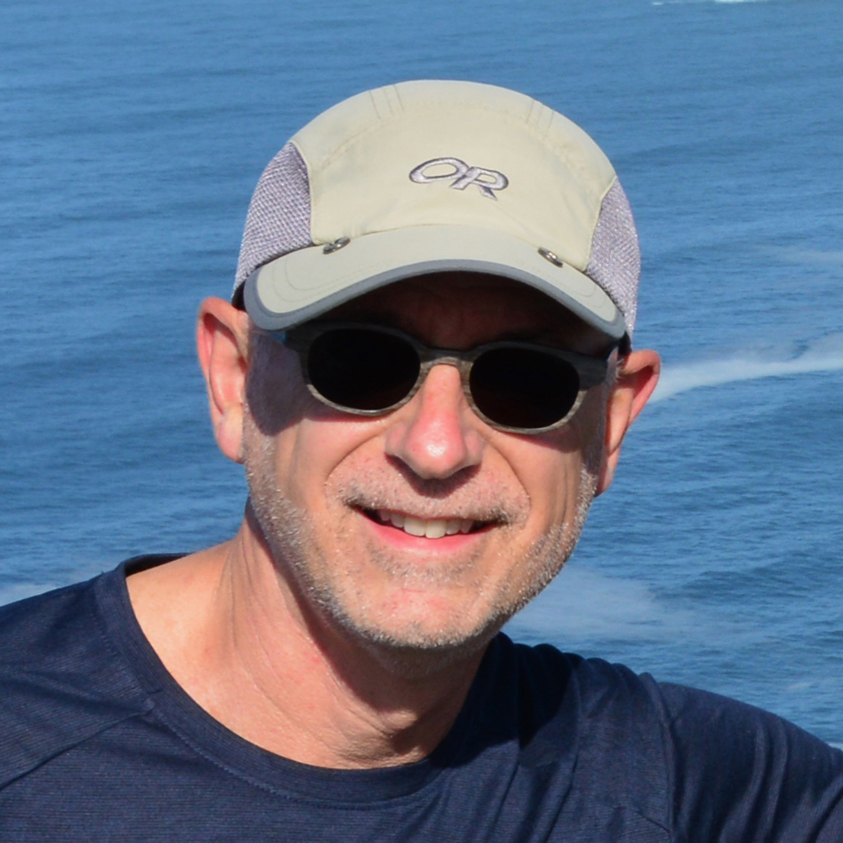 Michael Hrankowski
Thanks, Adi. Glad you like it. &nbsp Posted: 11/08/2023 08:30:41
---
---
---
Margaret Duncan
Interesting shot Michael. It's an unsettling image in a way because there is no obvious connection between the frames - except perhaps for the cobblestones. The reflections all show parts of different street views. Three of the frames are close up while the second from the left is a longer view. Somehow, the girl riding the bike through the middle frame brings it altogether. Great capture. &nbsp Posted: 11/08/2023 04:50:38
---
---
---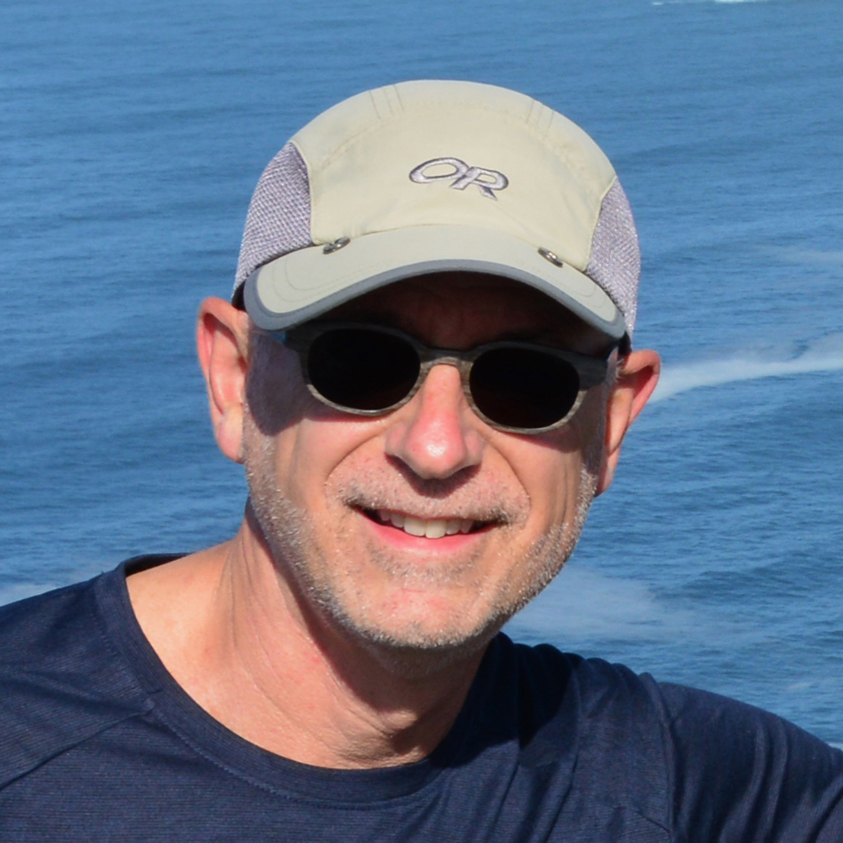 Michael Hrankowski
Hi Margaret. Thanks for your comments. Hence the title. It was like a reverse hall of mirrors. (No one noticed, or chose to comment, that as presented, it is not a mirror image. In post processing, I flipped the image so the text would read as normal. I did this just to see if anyone would notice!) &nbsp Posted: 11/08/2023 08:36:08
Margaret Duncan
No, I didn't notice and even now, not that easy to detect.
Obviously going to have to pay more attention in future. &nbsp Posted: 11/09/2023 17:01:17
---
---
---
Debasish Raha
Hi Michael, this is a fascinating image of reflected images. Circular alignment of the glass panels captured different scenes. Placing the woman in the middle was a great idea. Very well seen and captured! &nbsp Posted: 11/10/2023 21:29:02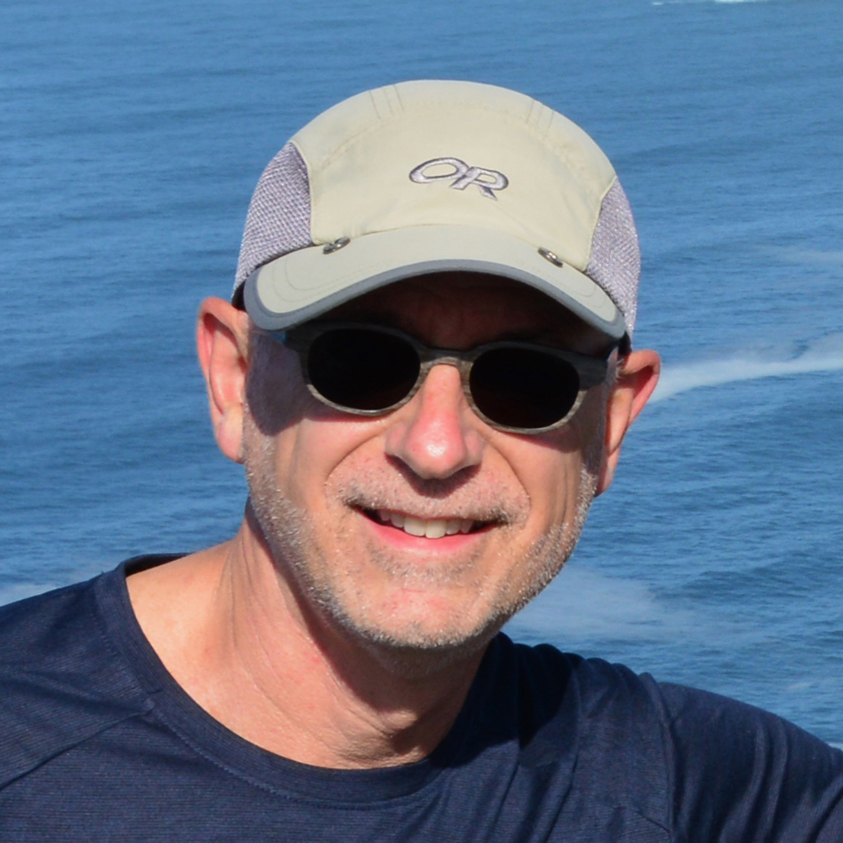 Michael Hrankowski
Thank you for your comments, Debasish. I had a lot of fun that day, taking mostly street images. It's a genre I'd like to do more of. &nbsp Posted: 11/11/2023 08:41:28
---
---
---
Mark Holbrook
Michael-Interesting to look at, but, as long as I have looked (more like stared) at it, it doesn't move me one way or another. More than anything it makes me wish I could have seen the whole, and perhaps that is the value in the photo that I miss in my evaluation. I do like the left pane's hand prints, they seem to tell a story all on their own. &nbsp Posted: 11/26/2023 10:37:00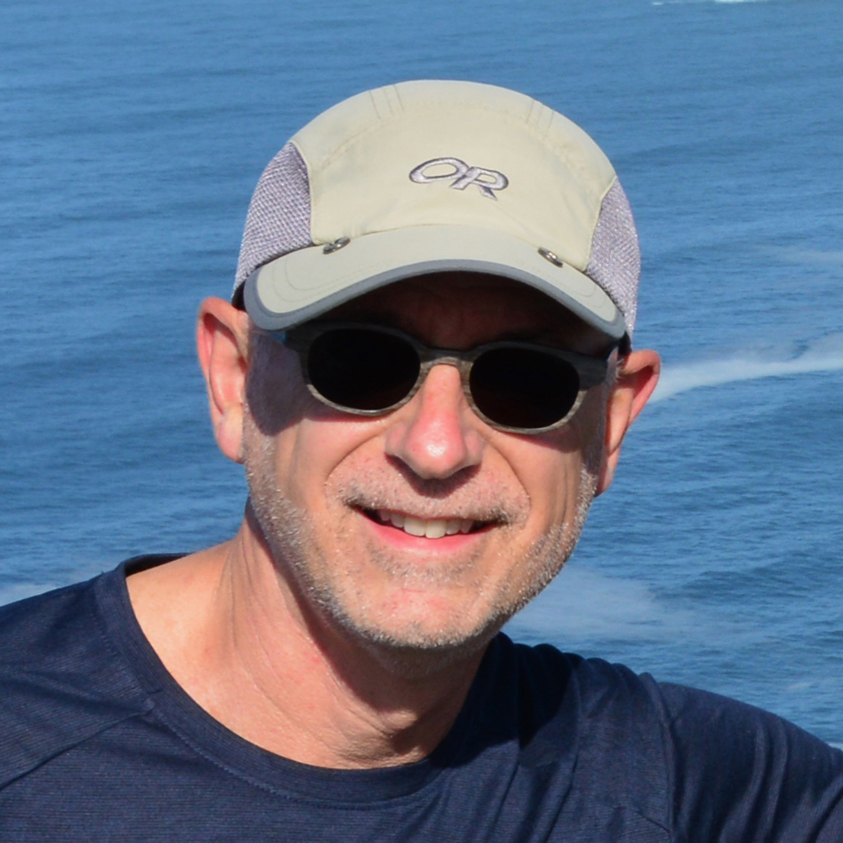 Michael Hrankowski
Hi Mark. Sorry my image misses the boat for you vis-a-vis seeing more of the whole. Having used close-up photography daily in my profession for 36 years, I do have a tendency to crop in close, often at the expense of context.

In this case, I felt by limiting what the viewer could see to only reflections that it would make the image more engaging and perhaps keep them interested. Even though you are neutral in your reaction, the fact that you stared at it for a period of time, makes me think I succeeded, at least in part, with engaging you on some level or another. Nevertheless, thanks for your comments - I welcome any and all feedback. &nbsp Posted: 11/26/2023 11:10:50
Mark Holbrook
Michael - My comments on your photo are not meant to criticize, and I hope we all understand that. It is simply the impression I am left with after viewing. I am not, nor do I consider myself to be, in any fashion, a professional. I am constantly uncomfortable with role I feel forced into by being a member of the group. Inasmuch as I comment on photos presented, my comments are meant to simply reflect the emotional reaction I get from the viewing, not the aesthetics, which I view as the art of any photo. Viewing and reading the comments of others in the group helps immensely in educating me on what is a good photo, not what is a bad photo. I have learned much since joining, and truly appreciate the courage and techniques many of my fellows in this group operate with, so please continue to stretch my experience and appreciation for the various genre of this form of art.. &nbsp Posted: 11/27/2023 09:14:04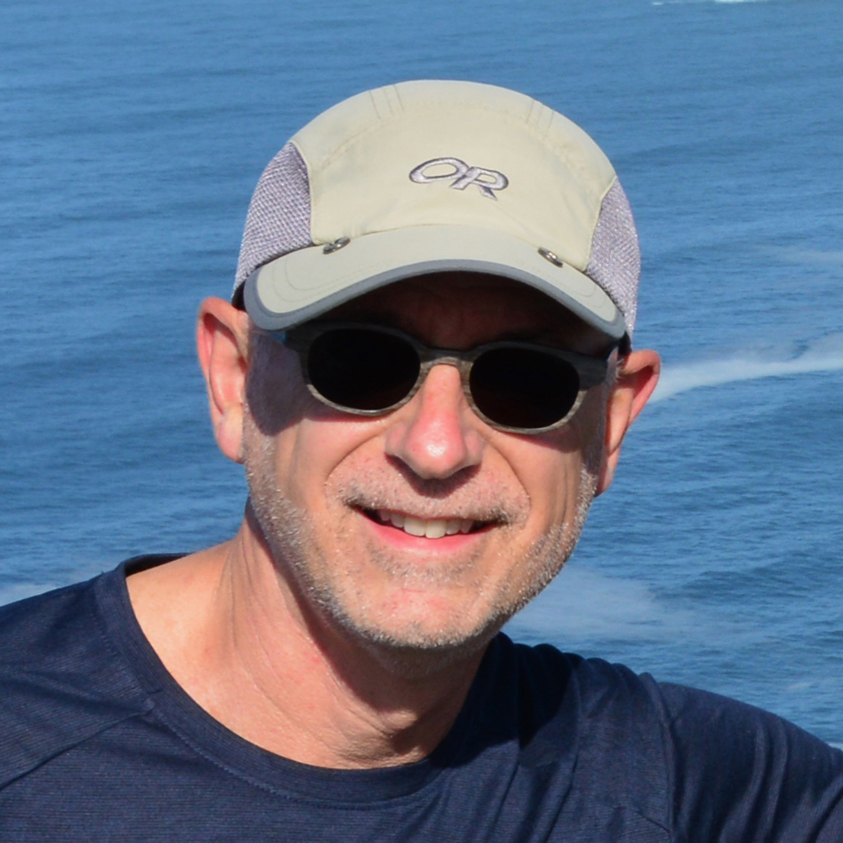 Michael Hrankowski
Mark, I don't ever view other members' comments as criticism and I hope that they don't take my comments as such either. I appreciate all feedback, even when it might not be what I hoped to hear. I'm not looking for praise, just honest feedback as to how my images are resonating with other group members. As photographers, we all have had the experience of our images falling flat - can't be all things to all people. So...never hesitate to say what you feel. It's all good!!
&nbsp Posted: 11/27/2023 15:30:00
---
---
---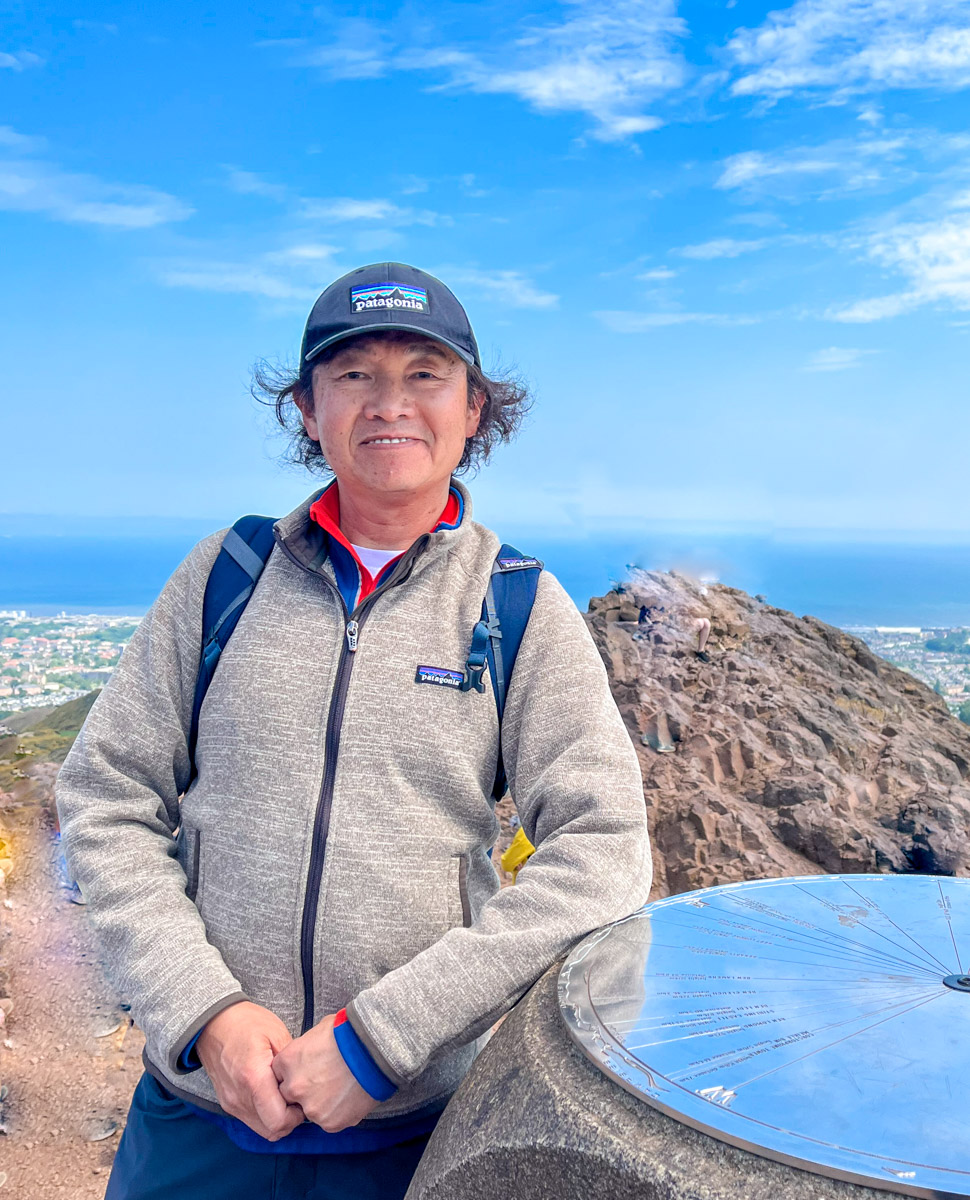 Don Chen
great capture of the moment Michael! I like the way you put the biker to the center of the frame with the other panels guiding my view to it. some abstraction, some story telling, very very interesting and original shot! &nbsp Posted: 11/26/2023 19:46:07
---
---
---