Victor Dallons
---
May 2021 - Caught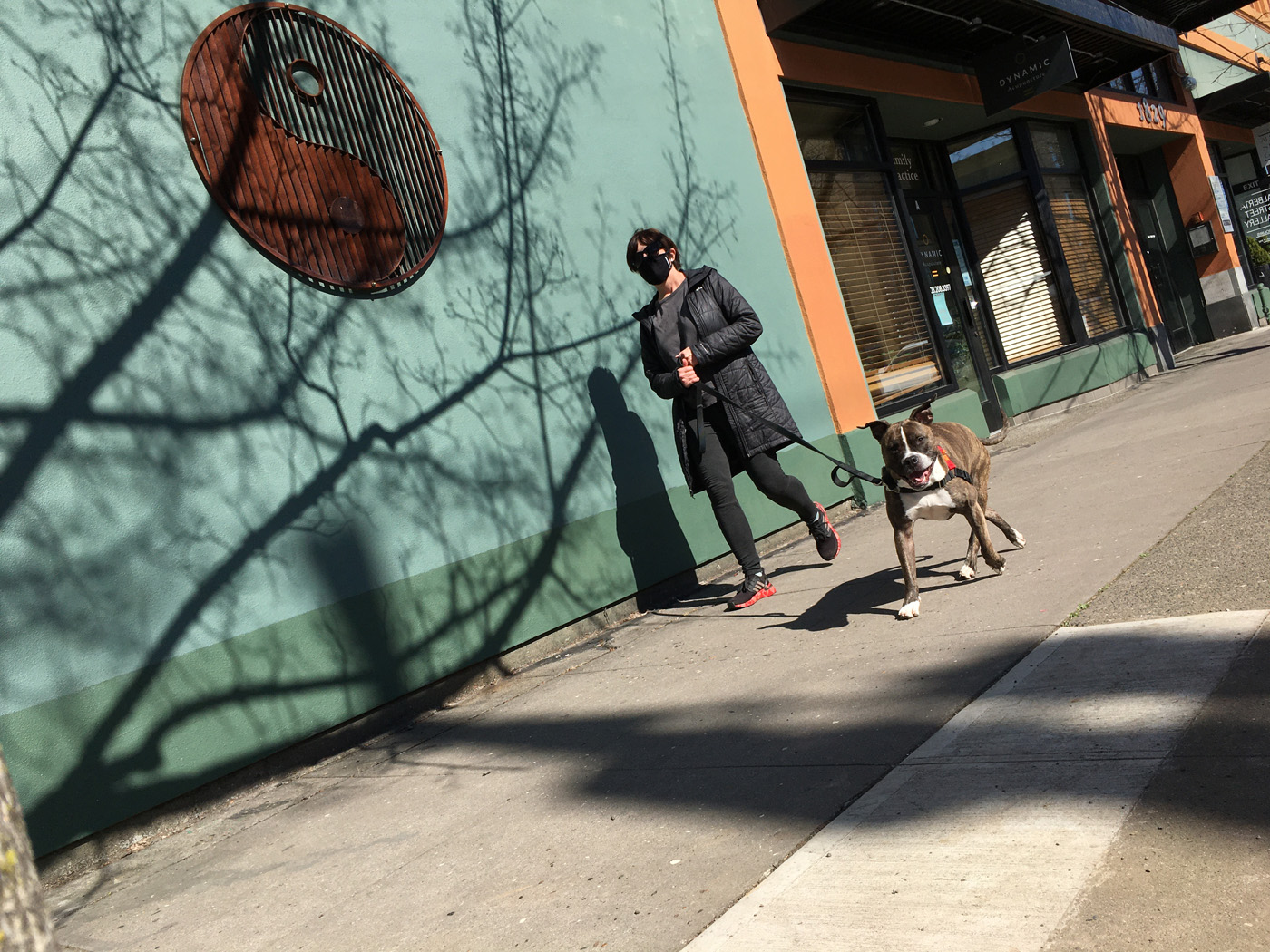 Original
About the Image(s)
I started experimenting doing street photography with a cell phone. I like that I can get a lower point of view, be closer to the subjects, and yet not draw attention to myself with a large camera and crouching down to change my point of view. I hold the phone at waist height and use the loudness button on the side to trigger the shutter. The downside is that I can't see what I am photographing to frame it, so it is pretty much hit and miss. I also have issues with the phone switching to modes other than taking a picture when I lower it, so I am constantly having to check its status and being very careful not to bump anything.

I liked the way the shadows worked in this image. For some reason, dogs often seem to be attracted to me, their owners restraining them from paying me a visit. What are your thoughts?

3/11/21 iPhone 6s. f/2.2 1/9000 sec. ISO 25 4.2 mm focal length (29 mm full frame equivalent). Jpeg file

RAW development, ACR: Highlights +3, Shadows +64, Clarity +24, straighten and crop.
Photoshop: Conversion to B&W (Darken blues and yellows), darken bright corners, increase midtown contrast, adjust final brightness.
---
8 comments posted
---
---
---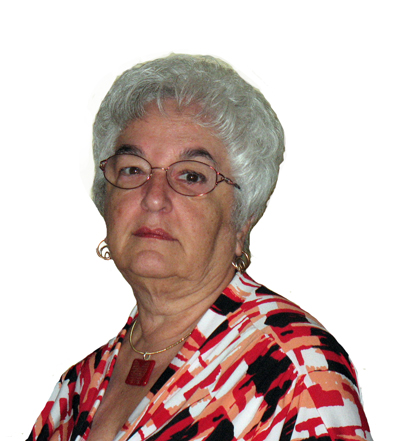 Bev Caine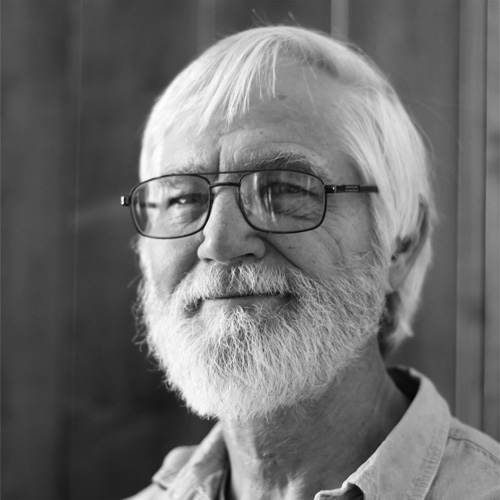 Victor Dallons
Thank you for your observations Bev. I understand your point.
&nbsp Posted: 05/06/2021 00:18:40
---
---
---
Ed Tepper
I think the dog was hungry and you looked like a good snack <LOL>. No, really, cute pooch. The B&W rendering works better for me than the color version and I think you did a good job with the tones.

When I first look at your crop, my eye is first drawn to the bright area on the top left. With Bev's crop, my eye is first drawn to the dog because it's the proportionally the biggest thing in the frame and up front. I like that better from a compositional point of view.

I think the dark shadow across the woman's face is a little distracting. Maybe if you dodged it down just a little show it's not as dark, it may improve the composition.



&nbsp Posted: 05/03/2021 11:19:13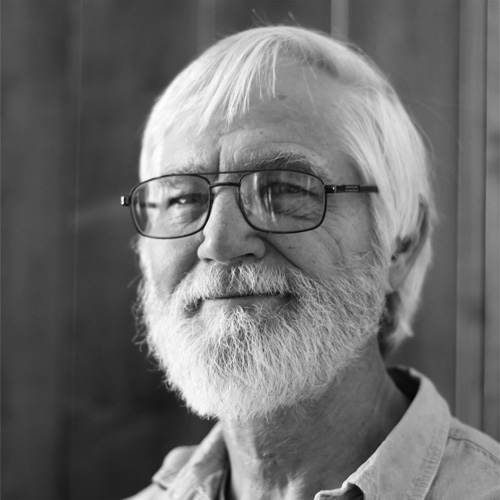 Victor Dallons
Thanks Ed for your thoughts. I tried your suggestion to lighten the face of the woman and I think it helps.
&nbsp Posted: 05/06/2021 00:21:40
---
---
---
Mo Connelly
I really like both images, but I prefer the coloured version. The B&W version is beautifully converted but I find the shadows of the tree prevent me from seeing the face of the woman. I love the dog making eye contact with you. &nbsp Posted: 05/04/2021 09:00:43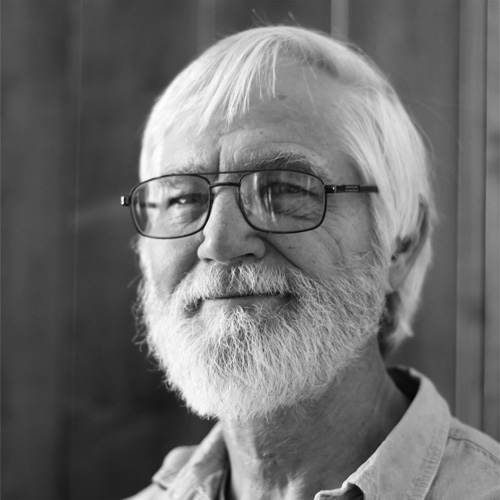 Victor Dallons
Thanks for your thoughts Mo. I tried Ed's suggestion to lighten the dark areas on the woman's face and thingk that it helps.

&nbsp Posted: 05/06/2021 00:23:09
---
---
---
Bill Foy
Your subject is definitely eye catching. I think your B&W conversion is really good, and the correction of the background distortion is also very good. For me, those tree branch shadows ruin the image, particularly the shadows in the area of the woman's shoulders and head. &nbsp Posted: 05/04/2021 12:48:13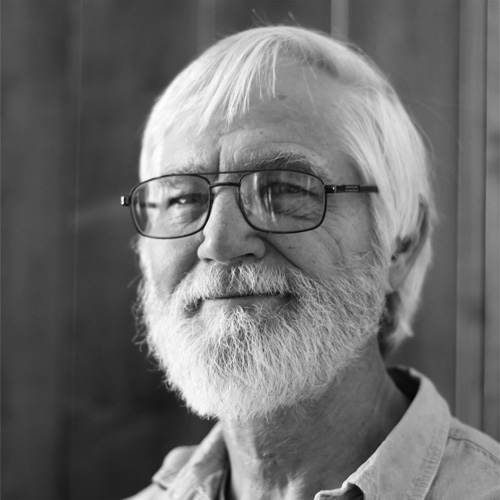 Victor Dallons
Thanks for your thoughts Bill. I find people's reaction to the tree shadows interesting. Another person who I showed this image to loved the shadows. I have taken several other images at this location because I like the shadows. It seems that it is a mater of taste. Just the same, I appreciate the input. &nbsp Posted: 05/06/2021 00:29:10
---
---
---
Please log in to post a comment