Helen Warnod
---
October 2021 - Yawning Pelican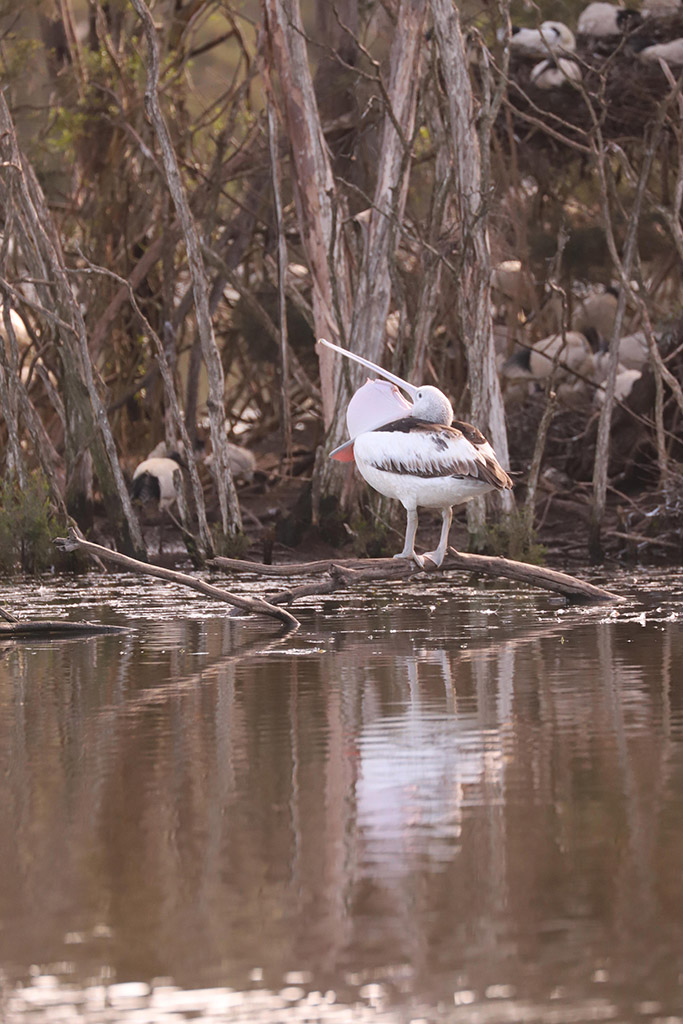 Original
About the Image(s)
Gear: Canon 6D Mark II,
Lens: 24-70mm 1:2.8
Settings: f/8, 1/1000sec, ISO-3200
Taken: 6 September 2021

In lockdown, we are permitted to exercise outdoors for an hour or two. I go walking along a watercourse very near my home. There is a natural wetland where, annually, pelicans winter in the waters. This photo was taken fairly late on a winter afternoon, so the light was low and the pelican was in the shadows.

Using Photoshop, I tried a number of adjustments to try and separate the pelican out from the background, but I did not succeed for my liking. I am also mindful that I cannot alter the image too much if I am to comply with the PSA Nature category rules.

Anyone got any amazing fixes or stunning secrets for this image?


---
13 comments posted
---
---
---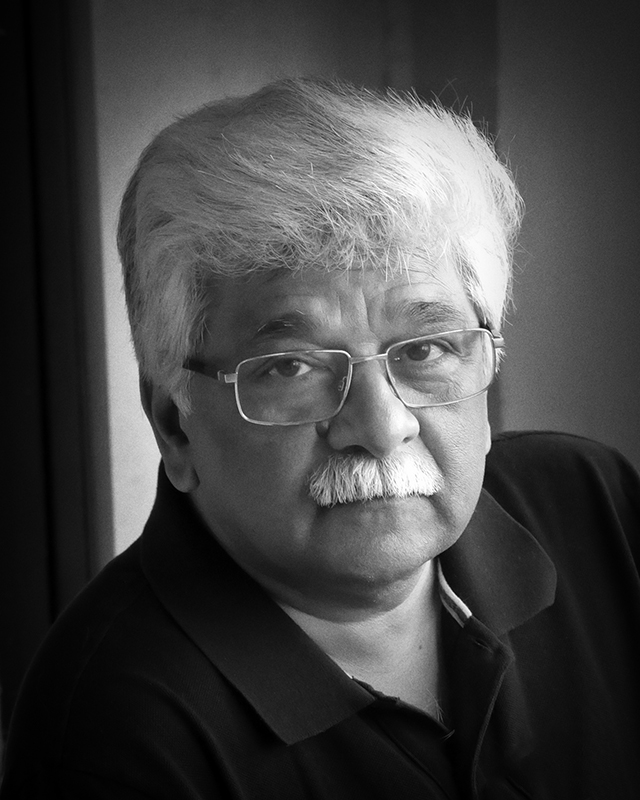 Sunil Mehta
Helen,
Very well cropped.
Processing on the bird is a good idea, but the processing of shadow area is not, it makes image flat. In the original photo, the bird pops out which is lost in the processing.
&nbsp Posted: 10/03/2021 22:08:47
Helen Warnod
Thanks Sunil, True, a good observation! &nbsp Posted: 10/10/2021 19:10:26
---
---
---
Terry Walters
Hi Helen, interesting location, something we would never see in the UK. Sunil is on fire this month and I have to agree with him again, the background is just that to give some feeling of location but the Pelican is where we want our eyes to settle.
I dropped your file into Camera Raw, hit Auto and then moved Dehaze to 100%. I've also kept the reflection from the water as to me it adds something to the scene.
&nbsp
Posted: 10/04/2021 14:15:00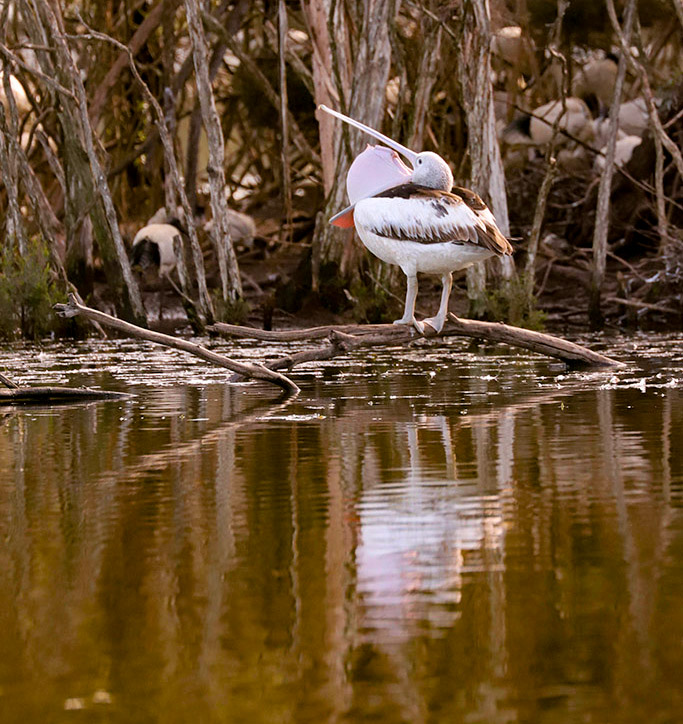 Helen Warnod
Mmmmm Dehaze to 100%! Never dared to do something like that Terry. I will certainly take this in and try it! Thanks! &nbsp Posted: 10/10/2021 19:12:53
---
---
---
Jim Hagan
Helen Warnod
Hi Jim. I agree with your horizontal crop. Placing the pelican on the third makes the composition stronger.
Blurring the background may be a no no for using it in Nature competition, but, in Open it is a great idea. Thanks &nbsp Posted: 10/10/2021 19:28:30
---
---
---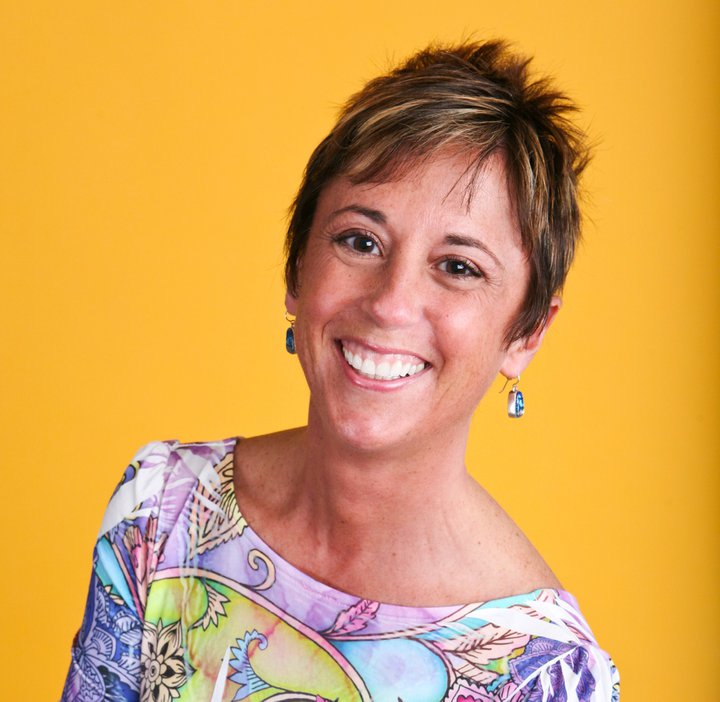 Brenda Fishbaugh
Yow! Sunil, Jim and Terry all had fabulous contributions. I would never have thought of taking DeHaze to 100 percent--new trick in my toolbox--thanks, Terry!

Such a great moment...such an amazing bird. &nbsp Posted: 10/10/2021 15:22:11
Helen Warnod
We are fortunate to have so many birds in our suburban environment. This wetland is very close to my house and 30km from the centre city. Our waterways are protected and have nature parks and corridors running to the sea. &nbsp Posted: 10/10/2021 19:33:51
---
---
---
Jason Kravitz
That's awesome you have this environment and wildlife so close to home. Sucks though that you only get to enjoy it in a regimented way. Hopefully that is opening up now?
As for recommendations... I *swear* I'm not a one trick pony but again I think the horizontal flip works here which makes the pelican look off to the right vs left. Will leave that for you to consider.
Along the lines of Jim's idea, I also found the whole thing to be a very uniform color and was able to open it up more by removing the color cast (using the PS technique Terry shared with Brenda a month or two ago to create a "Blur Average" layer then use the middle dropper in Levels to create a gray layer than cancels out the dominant color).
That still seemed flat to me so I added a warming filter but doing it across the whole image is just another color cast of a sort, so instead I applied it using a gradient mask so the warmer color is more prominent on the left side of image (tail feathers)
Despite all that, I still like the tones in Jim's edit better and would go with something more like that but I like in my crop to leave a little more of the reflection too. &nbsp
Posted: 10/11/2021 10:29:55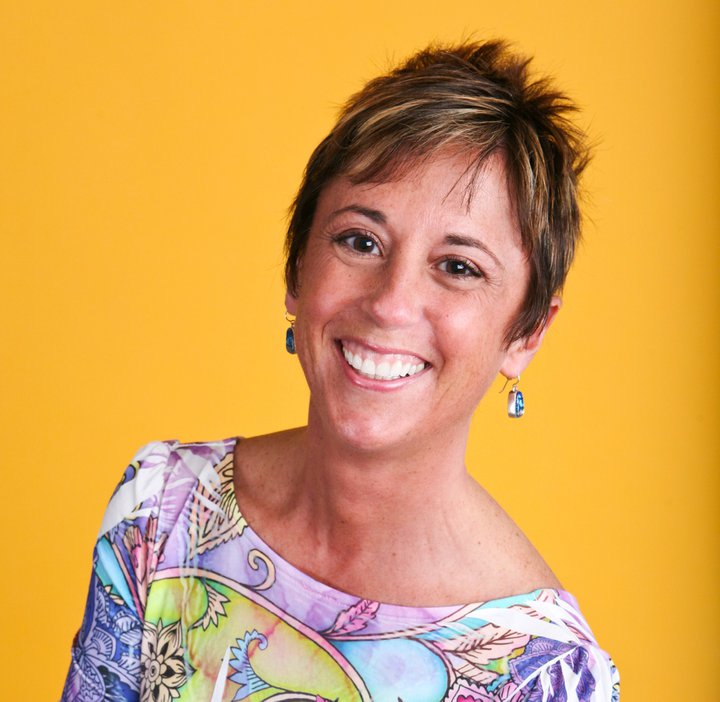 Brenda Fishbaugh
Jason, your notes to Helen were a great review of all of the techniques at our disposal...flipping, Terry's wild Blur Average idea, and warming filters and gradient filters (I've got to learn gradients). Thanks so much! &nbsp Posted: 10/11/2021 10:40:43
Jason Kravitz
Glad it was helpful. On gradient masks, this is pretty easy with an adjustment layer (like a warming filter). You just click the thumbnail in the adjustment layer (see attached) and now anything you put there that is white will show the full layer and anything black will block it. You can use the photoshop gradient tool to go white to black (which fades out the effect in the direction of the gradient). Or you can use the brush tool and paint in the mask as well. In that case a low opacity brush works good because you can keep going overtop of it repeatedly to gradually make it darker and darker (thus muting the layers effect). &nbsp
Posted: 10/11/2021 11:02:41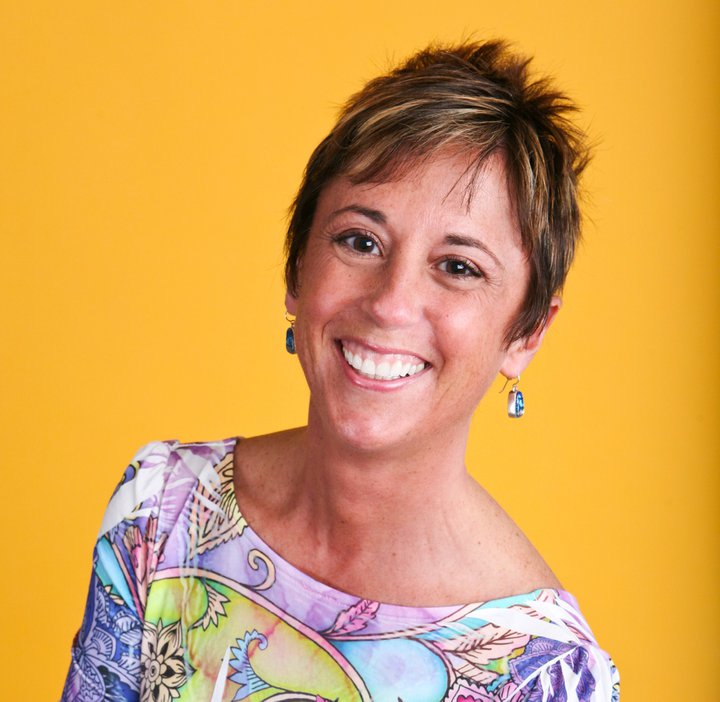 Brenda Fishbaugh
Great explanation, Jason. I just screen shot this to print it.
Thanks! &nbsp Posted: 10/11/2021 11:10:00
---
---
---
Mitch Ross
Hi Helen - nice capture. You caught a very unique moment/pose of the bird, which I appreciate! Personally I woudl keep the reflection in the image. I'm a big fan of pelicans - currently in Cabo and saw a flock (?) of 11 pelicans flying in formation low over the surge. Sadly, did not have camera in hand. they look truly prehistoric. Only ones I get in Phx are at the zoo.

Not personally sold on the horizontal flip yet (sorry, Jason), but delighted to read all of these other processing suggestions. Nothing else to add form my end. Thanks!
&nbsp Posted: 10/11/2021 17:54:26
---
---
---
Please log in to post a comment