Connie Reinhart
---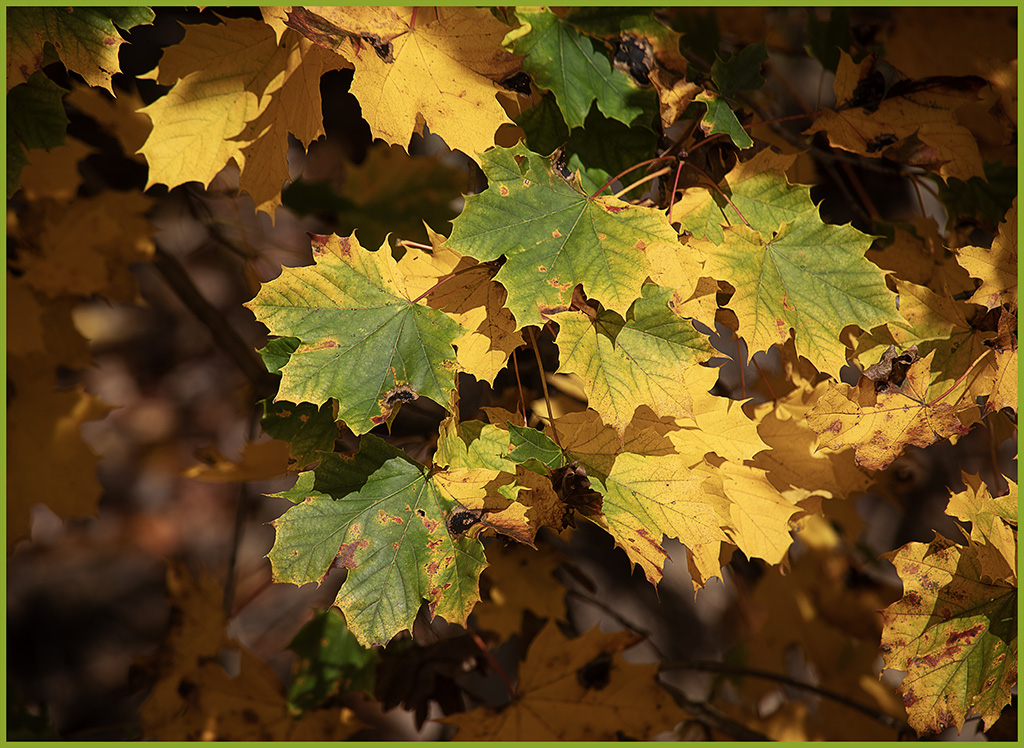 November 2023 - Glissando
Original
About the Image(s)
Happy Thanksgiving to all. This was taken last week when cabin fever demanded that we get some fresh air. Taken on auto; auto's choice was f/7.1, 1/250 sec, ISO 160. I cropped from the left. Used curves to darken the foliage without overly affecting the leaves. Then used hue/saturation on the greens and yellows. Added a high pass filter that was masked away from the background. Added a stroke around the edge for our website. I debated between yellow or green. The green seemed to emphasize the yellow in the subject. I liked the diagonal and the gentle layering of the leaved. This looks like an image of a glissando.
---
This round's discussion is now closed!
9 comments posted
---
---
---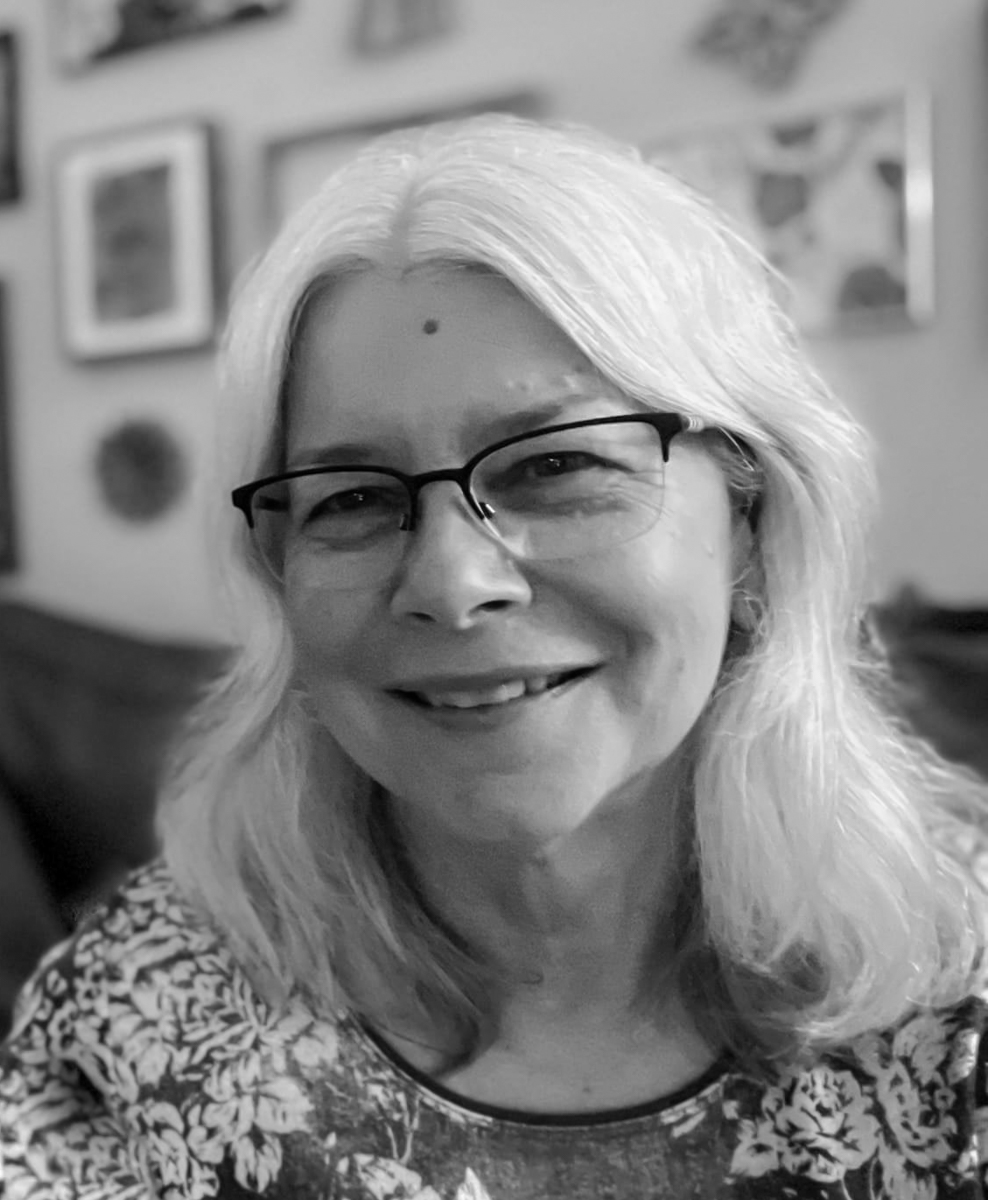 Denise McKay
Hi Connie. I can see why these cascading leaves would catch your eye. The green fading to yellow is always so pretty, and seeing layers of depth and capturing that is nice as well. However for me, the fact that the leaves were in such poor shape, all the brown decaying spots and some ragged edges, made it hard for me to enjoy viewing this image.
You did a good job of defocusing the background, smoothing those colors and keeping the front hanging leaves in focus. However, because of their condition they aren't calling to me to appreciate the image as much as I'd like to.
If this image was mine and I really wanted to do something with it because I liked the composition, I'd take it very abstract. I've attached an example that may seem a little extreme but I think still captures the cascading (or glissando) feel you got when you took the photo. I took it into Topaz Studio 2 and added an oil paint/expressionism kind of look, then masked the background and removed a lot of the effect so the cascading leaves would stand out more. Then back in Lightroom I added a mask to just darken the shadows of the background to enhance the depth a little more. In my opinion, this converted the decaying spots to something that added more interest rather than detracting from the beauty of the colors. So - your photo DID inspire me, LOL. &nbsp
Posted: 11/15/2023 09:19:32
Connie Reinhart
Hmmm. I like this. Maybe a little overdone, but that is personal taste. Thank you for this idea. Meanwhile, the less than perfect leaves are part of the changing seasons, so that doesn't bother me. But you are right; most people prefer nicer leaves. &nbsp Posted: 11/26/2023 15:24:43
---
---
---
Mary Hinsen
Hi Connie, your image is a real reminder to me that we live in different parts of the world. Your image is quintessential autumn, while we are in Spring.
I agree with Denise's comments. I love the autumn colours and would try something abstract to lift it. Especially since you have dealt with the background so well, and the leaves are beautifully in focus - it's a great foundation to experiment with. &nbsp Posted: 11/19/2023 16:13:21
---
---
---

Linda M Medine
Connie, WOW! I love this image. The colors are spectacular. I feel like Denise, you have inspired me to work with this image. If it was my image I would try this. I have a visual feedback. I used camera raw and selected the leaves and darkened the background. I used High Pass to sharpen. I used a 2 pixels white boarder. &nbsp
Posted: 11/19/2023 17:06:37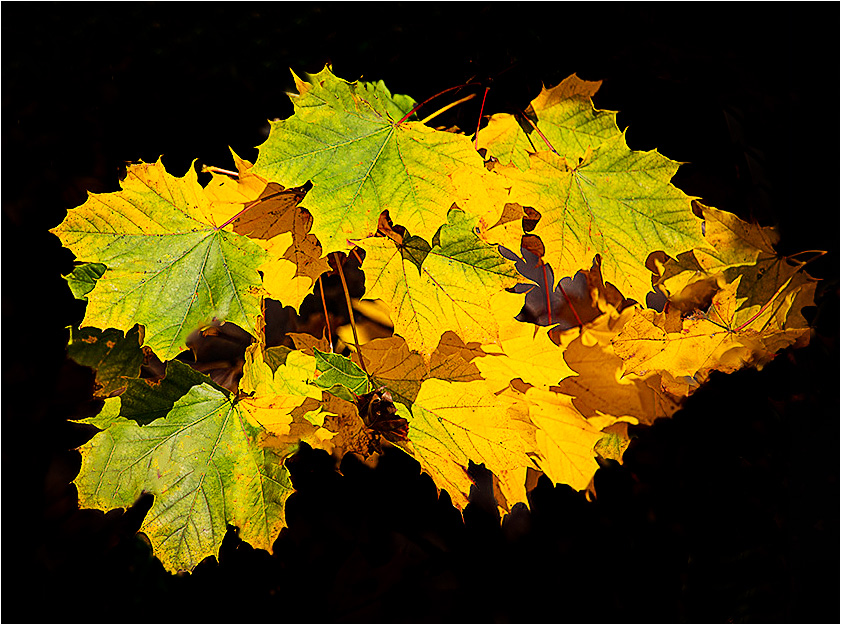 Connie Reinhart
Oh Linda, this is much closer to what I perceived. Thanks. You and Denise have given me inspiration to keep working on this. &nbsp Posted: 11/26/2023 15:26:25
---
---
---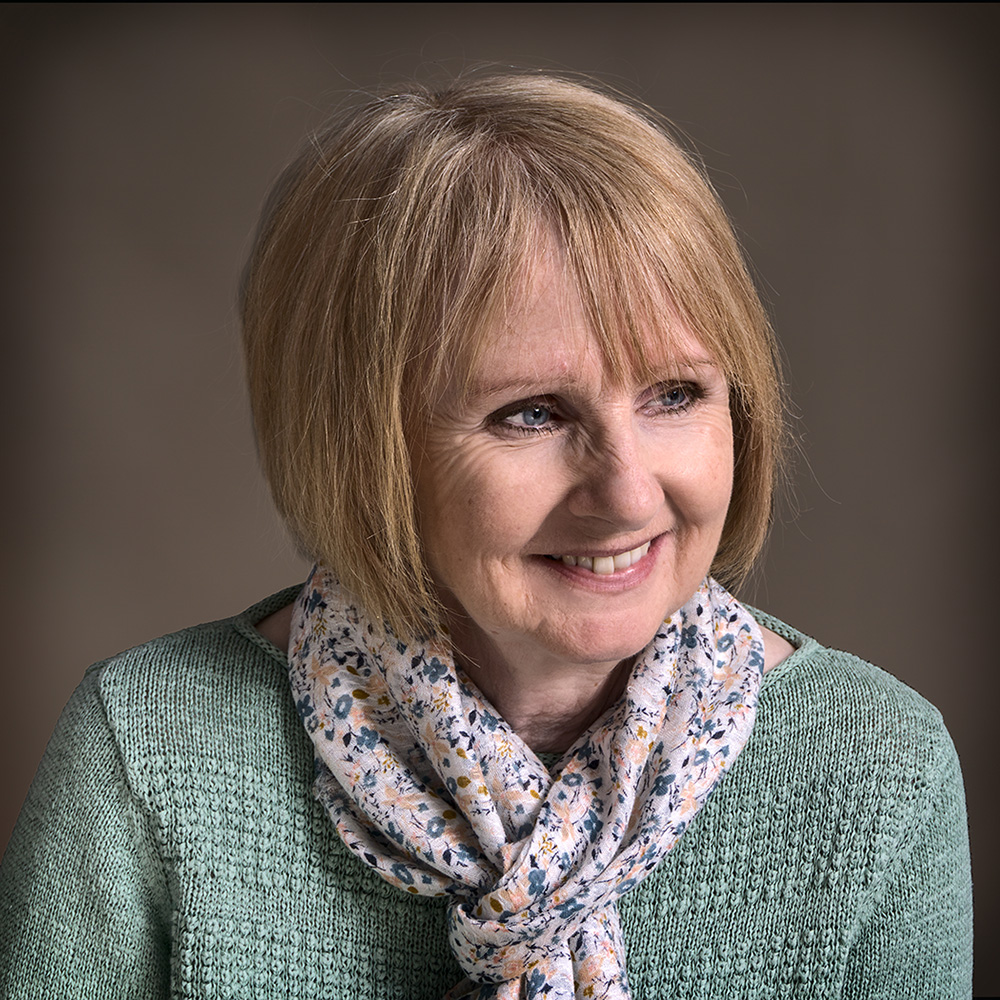 Carol Watson
Hi Connie, you have captured some lovely autumn colours here. You might want to crop in tighter to focus on the colourful leaves. Shame about the blemishes, you could try some spot healing but you do then loose some of the detail. &nbsp Posted: 11/20/2023 09:49:01
Connie Reinhart
Spot healing does a good job. I probably was feeling too rushed to take the time. You all have inspired me, so spot healing will be part of future versions. &nbsp Posted: 11/26/2023 15:28:03
---
---
---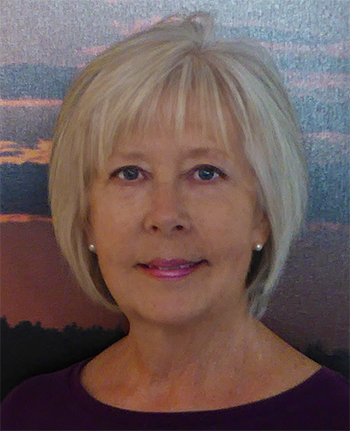 Jan Handman
This certainly evokes a feeling of Autumn and the shapes of the leaves are interesting. I agree with Denise about the condition of the leaves; and I like her version. You did a good job blurring the background but still keeping enough details to put the leaves in a nice context. For me, the wide border detracts a bit from the rest of the image. This scene looks like a lovely place to go for a stroll. &nbsp Posted: 11/21/2023 15:21:19
---
---
---
Connie Reinhart
I just added the border to make the image stand out against our background. But, yes, it should be smaller. We traveled north that day toward some state parks, hoping for good color. But fall was probably two weeks further along toward winter than in our backyard. It was a pleasant day, however. We did have some very nice walks. &nbsp Posted: 11/26/2023 15:31:14
---
---
---