Michael Moore
---
January 2022 - Gerbera Daisy
Original
About the Image(s)
I have wanted to try some black and white photography and selected a Gerbera Daisy as my subject. I used my 100mm macro lens for this shot at f8, 1/200 sec and ISO 400. I cropped and flipped the image and used PS ACR for my black and white conversion. In ACR I made basic corrections and used the color mixer to bring out the texture in the petals. I then did a bit of dodging and burning to bring out more details and balance the image. Back in LR I added the "Warm and Moody" preset for my final image.
---
8 comments posted
---
---
---
Witta Priester
This is a nice conversion, but without a stroke on the outside, it's difficult to know where the image ends.
To my eye, the sharpest, brightest parts are the ends of the petals, which leave me wanting more. Therefore, I would work to better emphasize the flower center, or to de-emphasize the petal ends. &nbsp Posted: 01/07/2022 23:49:46
Michael Moore
I really don't have a good feel for when the use of a border is appropriate. In a very simple image like this one I can see how it would definitely help to set the scene off. I think I need to understand the general use of borders better. &nbsp Posted: 01/12/2022 09:35:01
Witta Priester
In my view, if there's some totally black areas on the EDGE of the image, and the image will be shown on a black background (black behind the image), add a small stroke on the outside to define the image edge. &nbsp Posted: 01/12/2022 09:40:34
---
---
---

Linda M Medine
Michael Moore
This version does look nice Linda. I usually try and avoid negative space on the right of the image as we tend to view from left to right but I see how it can work nicely here to have the petals lead you into the image. &nbsp Posted: 01/12/2022 09:32:15
---
---
---
Georgianne Giese
I prefer Linda's rendition. The image seems a bit plain to me. As a second version, you might consider bringing back the color in the center halo.
I didn't do the most professional job on my possible alternative image, but here it is, just to share the idea. Layered the final image over the original, flipped it, used a mask to paint back the center, and reshaped the original image to fit the final image when I realized they were different sizes. &nbsp
Posted: 01/11/2022 15:57:09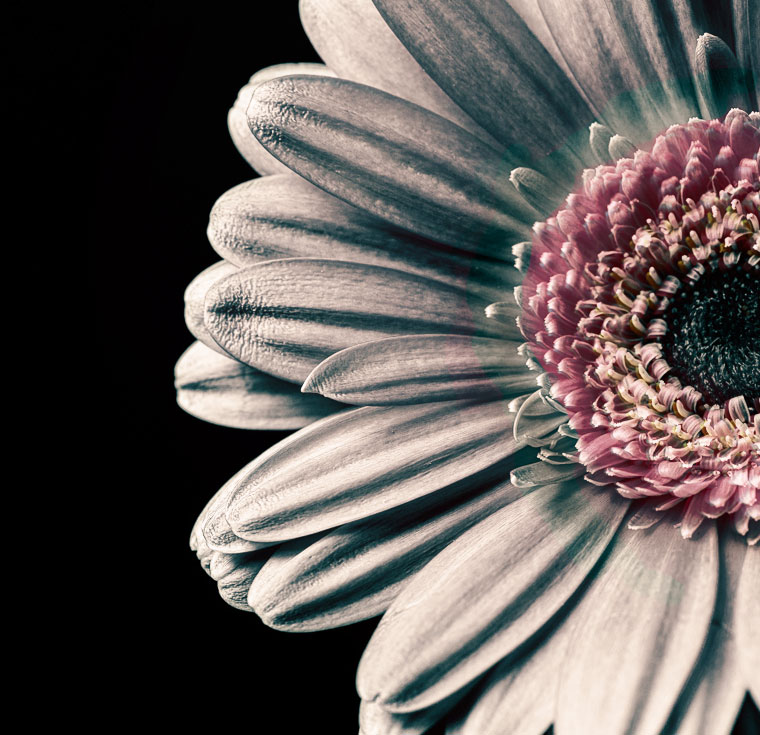 Michael Moore
I'm normally not a fan of selective colorization but it does look tasteful and sweet with your edits here Georgianne. Thanks for taking the time to show me another direction. &nbsp Posted: 01/12/2022 09:37:11
---
---
---
Connie Reinhart
I have a gerbera daisy very similar to this. It got many the same comments that yours did. But we still like them, don't we? Black and white is counter-intuitive for flowers, but texture makes them ideal for monochrome. That said, my preference would be for a little softness on the petals, preserving the beautiful texture of the center. As for borders, they are dependent upon the final use of the image. For websites like this they can separate the image from the background. For prints or canvas wraps you probably don't want a border. A border on this picture would just let us know how you cropped it. &nbsp
Posted: 01/13/2022 14:40:38
---
---
---
Please log in to post a comment