Michael Moore
---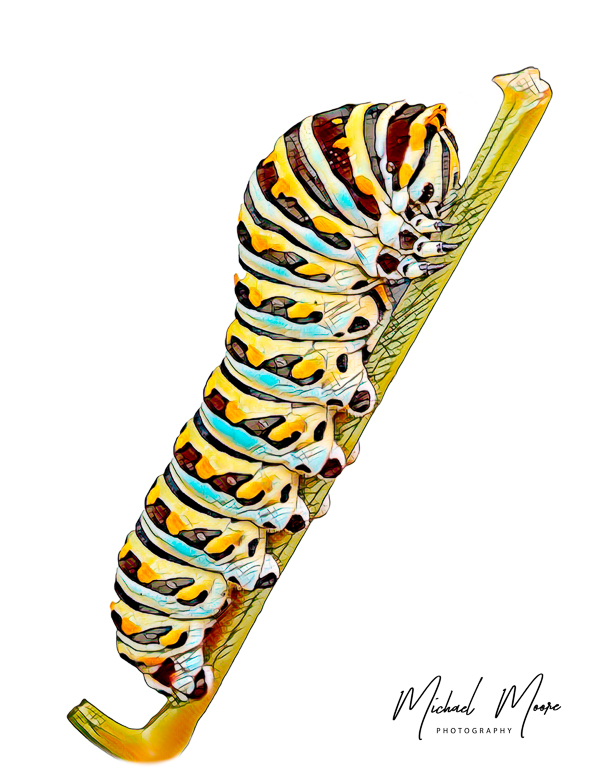 September 2021 - Swallowtail in Waiting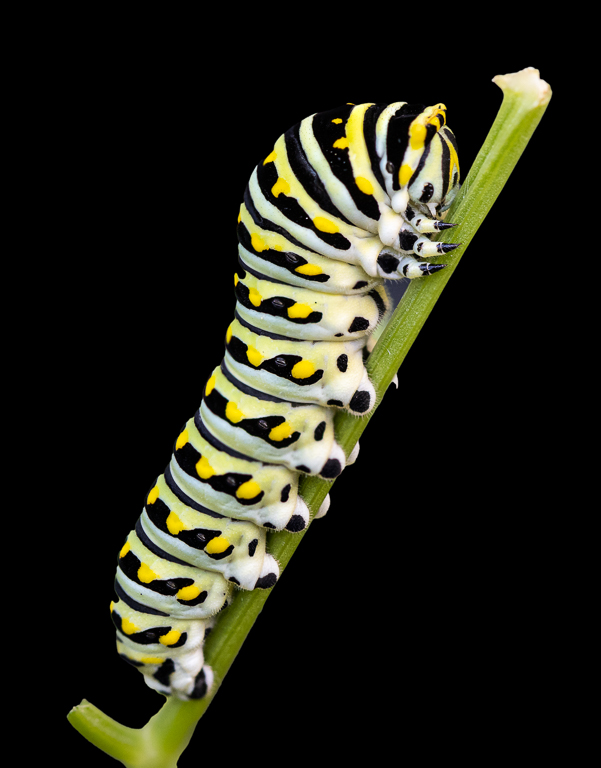 Original
About the Image(s)
I document what's going on in my yard and create greeting cards for my grandchildren as a way of staying connected. My wife had planted fennel and it attracted a large number of swallowtail caterpillars. I placed black foam core behind the fennel and used a 100mm macro lens at ISO 100, F5, 1/100sec to capture my original image which is a focus stacked composite of 7 images. Who knew these caterpillars had claws? Can a macro caterpillar image that would sit comfortably in an entomology textbook be repurposed as a fine art image? I'm not sure but I was sure I wanted to try.

My idea was to transform my capture into a "sketch/watercolor" type image which I decided needed to be high key. I used Topaz Studio and selected the AI Remix filter with beige sketch. This filter really gave me the artistic quality I was going for but also introduced lots of artifacts in the background and created an unattractive halo all of which I removed in PS.
---
7 comments posted
---
---
---
Georgianne Giese
This is very beautiful and you chose a really good post process, in my opinion. I love the color in your image. The composition is well done.

Wow, focus stacking on a catatonic caterpillar is a great idea! I didn't realize they would maintain an unmoving pose long enough to do focus stacking on them. Koodos for your work! &nbsp Posted: 09/03/2021 05:06:28
Michael Moore
Thanks Georgianne. It was really easy to catch these caterpillars "napping" as it were. They were very still which made focus stacking a breeze. They also have "defensive horns" which are these bright orange organs that they can shoot out of their heads to scare away would be predators - sure worked on me the first time I experienced it. &nbsp Posted: 09/05/2021 10:01:11
---
---
---
Witta Priester
This is a wonderful and fun image. I love the stacked detail in your original, and the creative way you have made it into art. I think your post-processing to convert the background to white and to add the watercolor effect works really well. If I were to hang this on the wall, it would work well and I might not change a thing.
On the other hand as a card, there are some options you could consider if you wanted to make the image more fun. These include a light texture behind the caterpillar (since there is so much "white-space"), and a fanciful frame around the image. This frame was created by expanding the canvas, applying a gradient adjustment layer to the selected expansion and adding a stroke. Then the canvas was expanded a second time and filled with color to make the outer frame.
&nbsp
Posted: 09/04/2021 08:54:48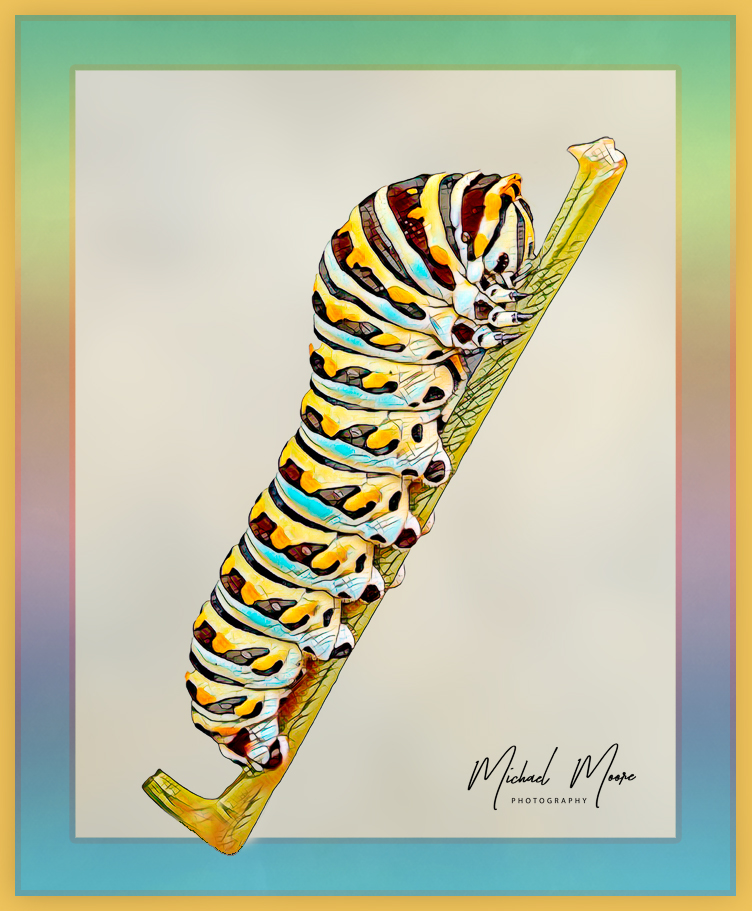 Michael Moore
I really like your addition of this very attractive border which I can easily see on a greeting card. Your harmonizing of all the colors is just lovely. Thanks so much for taking the time to show me this approach. You are inspiring me to rethink borders as you have done so much with this one. &nbsp Posted: 09/05/2021 10:06:00
---
---
---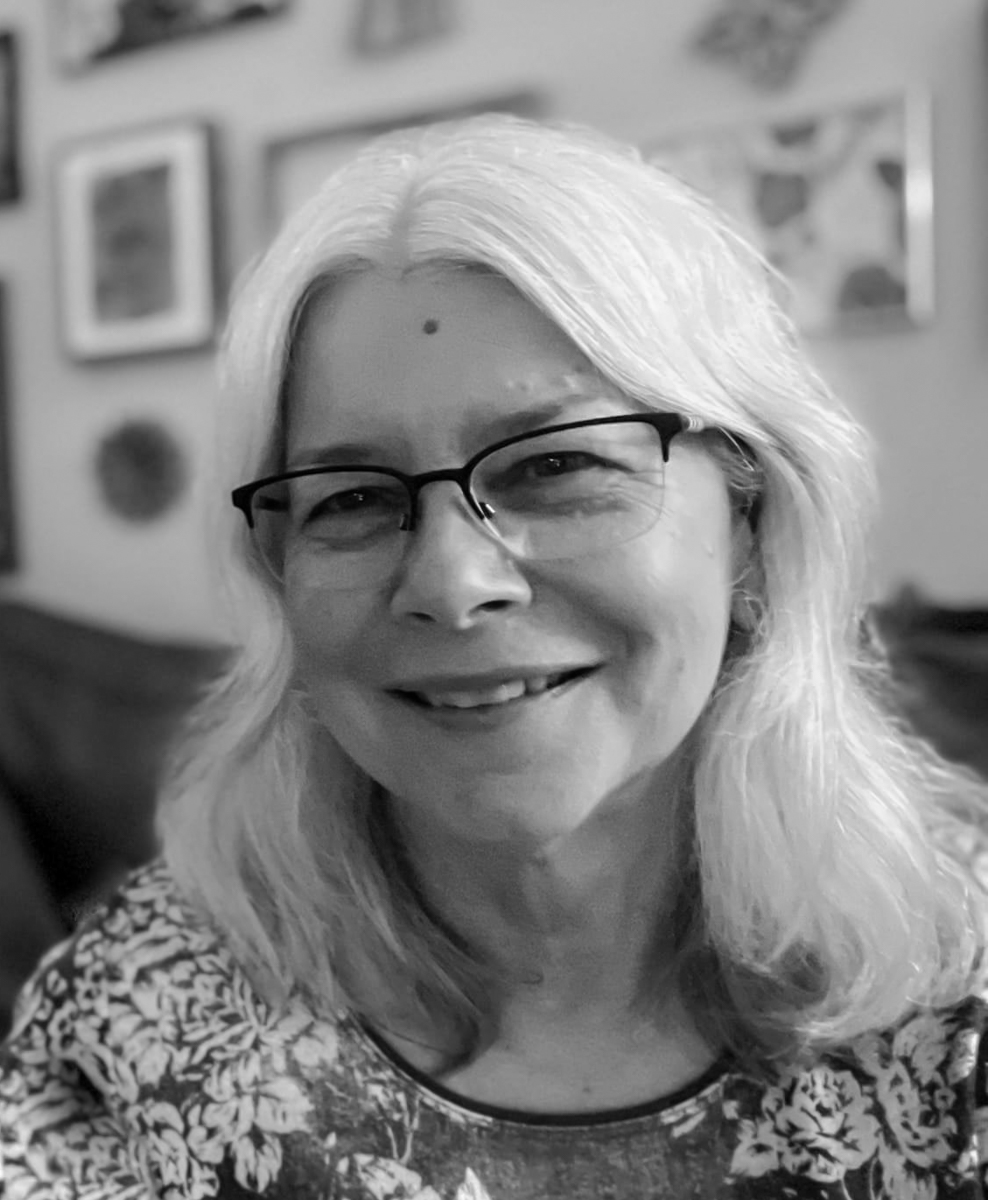 Denise McKay
I love your subject matter and the creative post-processing! I have craved finding these colorful caterpillars but I think I'm always in the wrong place at the wrong time, LOL.

I also really enjoy the card Witta made from this, which frames your photo perfectly!

Great job on this image! &nbsp Posted: 09/06/2021 09:16:11
---
---
---

Linda M Medine
---
---
---
Connie Reinhart
Id this fine art? Well, that is in the eye of the beholder. I can see this on the wall in a Biology professor's office. Or perhaps as one of a set of similar images for a nature lover's family room. This caterpillar could be the main character in a children's book. It is truly beautiful. &nbsp Posted: 09/24/2021 12:37:26
---
---
---
Please log in to post a comment