Connie Reinhart
---
June 2021 - Bleeding Hearts Still Life
About the Image(s)
This was taken a few years ago at Hazel Meredith's Creative Conference. There was an area with many kinds of flowers and various props to use with them for still life's. We were allowed to pick and choose, move them around, and even cut them to suit our ideas.

These bleeding hearts looked lovely against the birch bark. Taken with Canon 5D Mark II. F/8 for 1/80 second at ISO 1600. I really don't remember what steps went in to post processing. I always start in PS. The finished image was the result of some filter or preset in Topaz Original Studio. I tried replicating it today with no luck. Something gave it those little colored sprinkles. It always catches my eye when looking through images, but never makes the cut. So here it is for you to judge.
---
5 comments posted
---
---
---
Witta Priester
Connie, I had a hard time with this image. In particular, the contrast between the soft delicate flowers and the super rough wood doesn't seem like a good combination to me, since they both pull the eye but in such opposite directions. The depth of field is very good; the composition is straightforward… As for those colorful "artifacts" that you like so well, I find them distracting. What to suggest? How about this necklace? It was pretty easy to create (duplicate layer, expand canvas, flip duplicated layer horizontal, move to meet at center, and adjust colors, vignette…This version has the advantage of making the rough wood an integral part of the story. &nbsp
Posted: 06/02/2021 08:18:47
Connie Reinhart
I agree that the texture of the bark is a big contrast to the flowers. This is probably why I rejected this image in the past. The colored artifacts are most likely mistakes, but I found them oddly charming - like colored sugar crystals. I do like your 'necklace' with the pink crystal center bottom. Thanks for getting my imagination going. &nbsp Posted: 06/06/2021 08:48:46
---
---
---
Georgianne Giese
The flowers are quite lovely. The curve of the flower branch is well placed. I do like the flowers against the bark. It tells a story of nature. I once did a painting of a rose against a grass/weed like background. I always loved that picture! Go to a botanical garden and one will frequently see such a contrast.

This is what I found distracting: The blurriness of the upper bark and the colored artifacts. The artifacts could be removed with the healing brush in PS. The original image would have been a good candidate for focus stacking, using a tripod. &nbsp Posted: 06/15/2021 08:57:40
---
---
---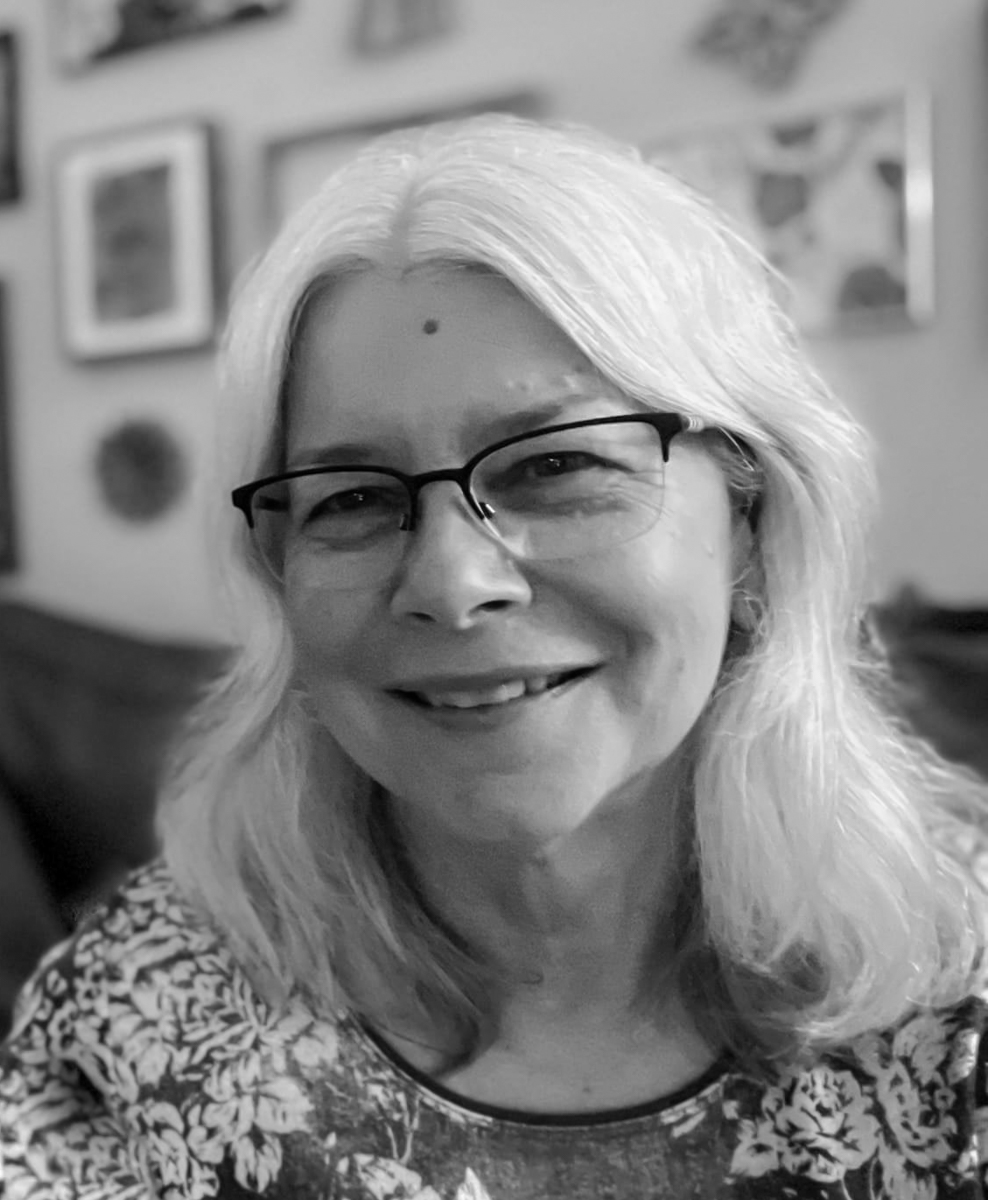 Denise McKay
I love bleeding hearts, but have yet to take a picture of them that I like for some reason. I think Witta's necklace version is very clever. I like your version as well and enjoy the soft pink against the rough, white wood background. I agree with others that the "sparkles" are distracting and don't add to the image.
I thought I'd make another version of this where I cropped in to put the focus more on the larger blossom and put a faded white vignette on the edges. Just playing around to see how this would look filling the frame more. &nbsp
Posted: 06/15/2021 17:27:32
---
---
---
Mary Hinsen
Hi Connie. It is so interesting that we all see something different in an image - and each view adds something new to the story.
I personally like what Denise is trying to work with your image - she has honed in on the beautiful flowers, while removing the distraction of the birch bark, keeping it and staying with the story of nature.
Witta's interpretation is amazingly creative and deals with the bark in a wonderful way by making it central to the story.
I often keep two final versions of an image, so I can use them for different purposes :) &nbsp Posted: 06/16/2021 16:22:57
---
---
---
Please log in to post a comment