Witta Priester
---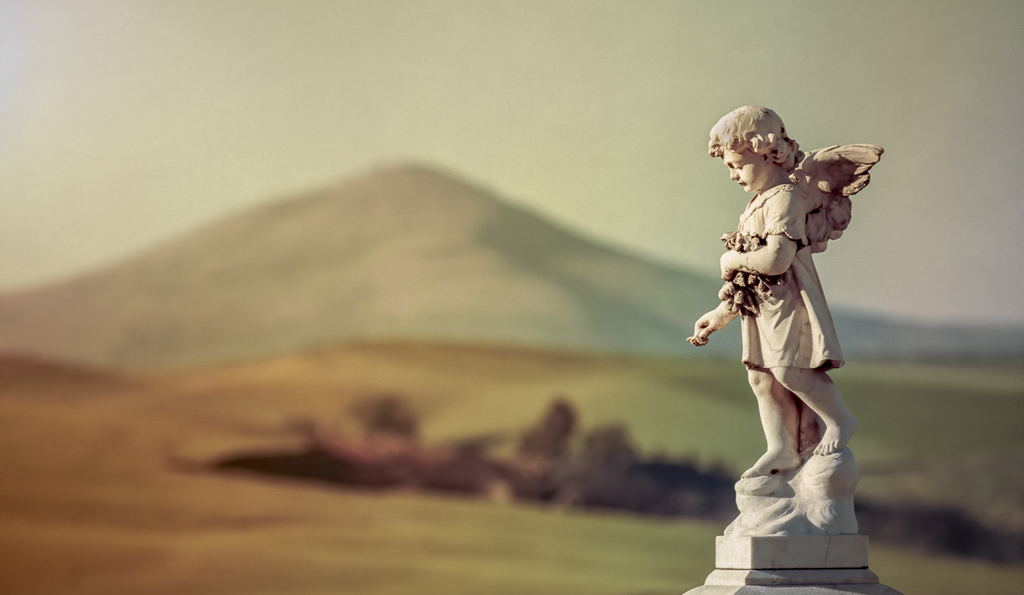 May 2021 - Palouse Angel
About the Image(s)
This photo was taken in 2016 and recently revisited. For many years, I have wandering through cemeteries looking for angels or other interesting monuments. This angel and its bucolic setting were a special find.

The start photo was taken on a tripod at f 7.1, ISO 100, at 230mm using a 100-400mm lens on my Canon 80D. This resulted in the soft background. I liked the photo, but it languished on my hard drive. Looking at it recently, I thought it needed more mood and some pop. Also, I was concerned that the photo was too much about someone else's art.

In LR. I applied a free develop preset, this one downloaded from Trey Ratliff called Seafoam Memories; I quite liked the added colors. This was followed by several local adjustments (via gradients and radial adjustments) to get to the Intermediate photo.

BTW, I have a bunch of free develop presets and some I have created myself that I sometimes "walk through". I use them as starting points to trigger a Develop path in my mind. They help me visualize a more evocative and interesting image.

The Intermediate photo was taken into PS where I used Topaz Denoise to smooth out the pixels. Then blank layer was created and filled with gold color; it was changed to the overlay blend mode and the opacity was adjusted. Also a photo filter layer (also golden) was added at 20 % opacity . Finally a faux sun was created, using a large, soft white brush on a new blank layer.

Back in LR, there was some more overall tweaking, as well as additional local adjustments on the angel, resulting in the final image.
Please log in to post a comment