Walter Swett
---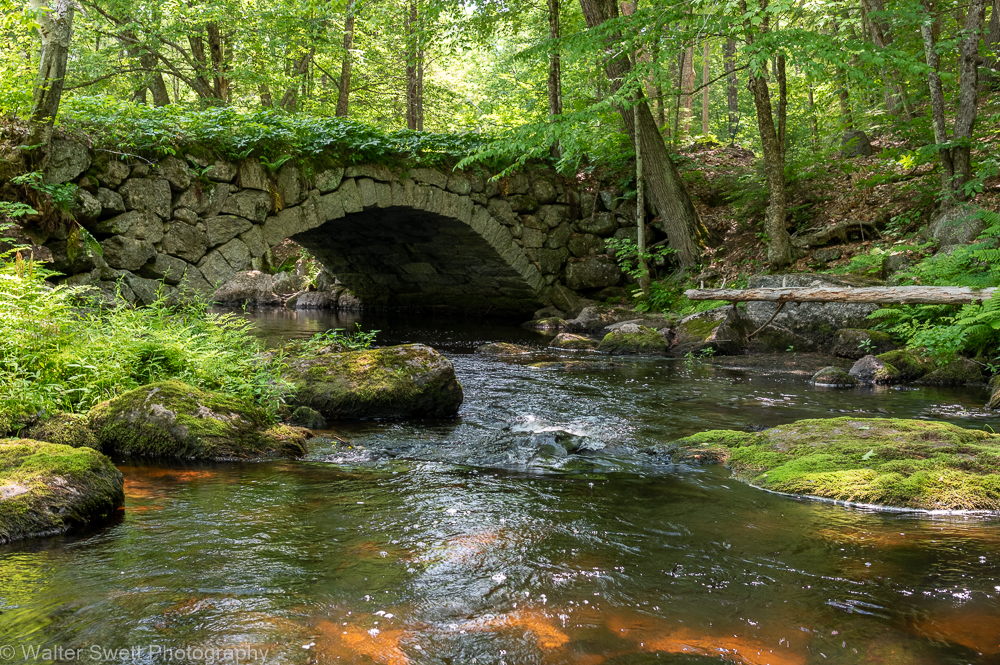 June 2021 - Stone Arched Bridge
About the Image(s)
I shot this unnammed stone arched bridge over Beards Brook on Gleason Falls Road, Hillsborough, NH. The image was taken mid day with bright sunlight, which caused extremely uneven lighting as the sun broke through the foliage and heavy shadows in other areas.

I shot the image using my tripod mounted Nikon D750 and Nikkor 24-120mm lens set at 38mm.

The final image is an HDR created in Lightroom from three images shot at the following exposures: ISO 500, f9, 1/10, 1/20 and 1/40 second. I cropped the final image slightly and removed a traffic sign that can be seen in the original images.

My goal was to capture the peaceful, magical qualities of the scene.
---
12 comments posted
---
---
---
Janice Rosner
I think you accomplished your goal. This is a peaceful scene with a magical quality. I also think you did a good job with that difficult time of day. You've avoided harsh shadows and blown highlights. On my monitor, the rocks and moss in the left foreground don't seem to be sharp which surprises me given that you were at f9 with 38mm. I love the little island on the right and the orange toned rocks in the foreground. This is a successful composition. &nbsp Posted: 06/09/2021 17:00:16
Walter Swett
Thanks for your comments and feedback. &nbsp Posted: 06/12/2021 08:48:51
---
---
---
Nicole Asselborn
nice and peaceful ,beautiful greens ,I find the log on the right distracting from the peace you impart ,beautiful image &nbsp Posted: 06/09/2021 20:34:20
Walter Swett
Thanks for the feedback. &nbsp Posted: 06/12/2021 08:49:07
---
---
---
Kerry McFarlane
Oh yes Walter, I want to sit in this scene and relax. Like the way you have used the water as a leading line. You have captured the light nicely. On my monitor the whole image looks green, if its not just my monitor I feel toning down the green tinge on the rock wall would at interest. Good job, beautiful image &nbsp Posted: 06/12/2021 20:47:22
Walter Swett
Thanks for the feedback Kerry. There was so much foliage around, there was a lot of green tint cast. I had not noticed how much green there was on the stones until you commented on it. I went back and checked the white balance and I think I've fixed it. How does this version look? &nbsp
Posted: 06/13/2021 21:20:20
---
---
---
Pauline Jaffe
This is peaceful spot that you have captured. It is well composed with nice leading lines of the water moving toward the bridge. The image is sharp and in clear focus.

Considering you took this image at noon when the light was harsh you did an amazing job of working the scene to remove the harsh light. &nbsp Posted: 06/13/2021 08:24:13
Walter Swett
Thanks for the comments. &nbsp Posted: 06/13/2021 21:22:03
---
---
---
Nicole Asselborn
much better after you corrected the green tinge very peaceful &nbsp Posted: 06/16/2021 08:37:09
Walter Swett
Thanks. Sometimes it is difficult to see the obvious. A new set of eyes can be very helpful! &nbsp Posted: 06/16/2021 08:43:23
---
---
---
Frank St-Pierre
This is a very peaceful setting, and highlighting the old bridge allows many stories to flow. For me it's the craftsmanship of the stone masons which has endured the water (and cars) for over 100 years. &nbsp Posted: 06/17/2021 17:25:51
Walter Swett
Thanks Frank. This bridge was built circa 1840 and is still in daily use, granted not a high volume of traffic, but still pretty amazing. &nbsp Posted: 06/17/2021 18:10:31
---
---
---
Please log in to post a comment