Don Hill
---
November 2021 - Yosemite National Park
Original
About the Image(s)
For my 65th Birthday, my wife gave me two "Golden Hours" in Yosemite National Park. I submitted what I consider an average image because no one shoots Yosemite like my hero Ansel Adams. When my wife was checking the weather before we left for the four-hour drive to the park, she said "oh, we lucked out, it's going to rain." This image was shot at about 7 pm with my Nikon with a 105 mm lens at f20 @1/125 ISO 640. Edited with Photoshop and Silver Efex Pro.

---
This round's discussion is now closed!
6 comments posted
---
---
---
Ata Kemal Sahin
Hi Don, I wish you a happy birthday and the gift your wife gave was an amazing one. I do not want to evaluate your PS processing that I really enjoyed shades of gray tones, overall sharpness and contrast value. I just want to ask why you've chosen f20, did you also shoot at a lower aperture eg f16 or below? Thanks for sharing. &nbsp Posted: 11/02/2021 08:18:50
---
---
---
Don Hill
interesting question. I was trying a technic I learned from a street photographer for low light and rapidly changing conditions. I set the ISO to automatic with a cap of 640 and set the shutter at 1/125 and the aperture at f11. for some reason I punched it up to f20. I wanted the forground and everything else in focus. I was shooting with a 28-150 zoom and I usually stay away from the higher f numbers. I probably should have shot numerous shots of this but from my film days, I try to make my shots count. It was crazy, when I got home I noticed I took over 600 images over two days. That was a new world record for me. let me know if that helped to get inside my head. I used to use hyperfocal distance scales but new Nikon lenses don't always have distance and apreature scales. &nbsp Posted: 11/02/2021 09:36:50
---
---
---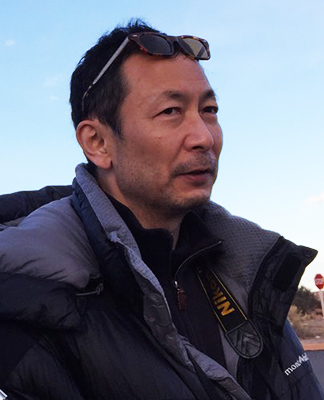 Haru Nagasaki
Hi Don,
Thank you for sharing.
I like the scene very much. I especially the layers of the mountain with some cloud actions.
I understood what you are trying to achieve. You have good eye to catch it.
Having said that, first, I would not crop out the tree right.
It is a good anchor point and it also helps to emphasize the depth.
It will be balanced well against the mountain left (in the middle layer).
Second, I think you increased contrast/clarity too much - it lost details, details of the trees in the hills and mountains. What worries me is the trees in the hills. it is buried in the hills and I cannot separate those trees well from the hill.
For my practice, I edit myself.
The original has little pixel so it has limitation but I tried to maintain the texture/detail as much as possible, and try to describe the mountain layers - the far the mountain you go, the lighter tone it become. I did not put so much contrast in the sky. Fuzzy contrast would fits better in my view.
Hope this helps. &nbsp
Posted: 11/04/2021 02:19:58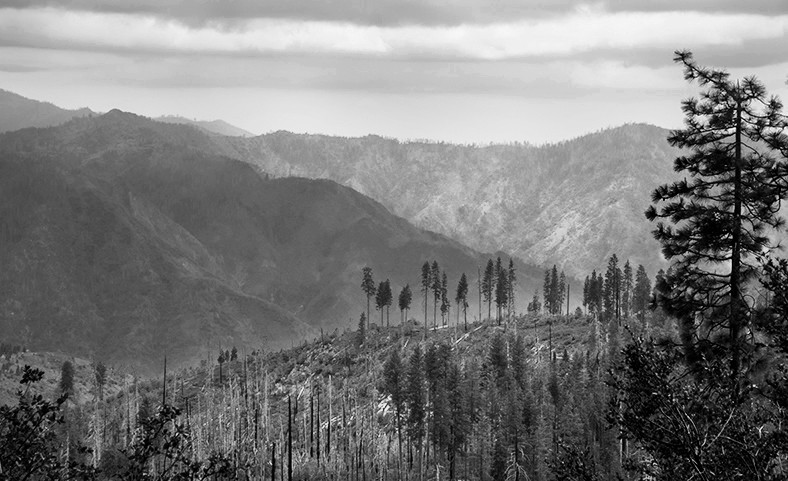 ---
---
---
Don Hill
Hey Haru, I really enjoy your method of evaluating images. This image in my opinion is very subjective (you know like most images). I really like what you did with the tones and the big tree can stay or go in my opinion. So in the original, the forground was darker than everything else, mostly because this part of the park was hit by a very big forest fire last year. I wanted to show this. The rain clouds were my Birthday present and ISO 640 added some grain (or noise as the younger photographers would say). your take on this seems to be sharper and the mountains have more separation. I accomplished my goal of posting this: i have learned some new technics. Thanks Haru. &nbsp Posted: 11/04/2021 10:03:45
---
---
---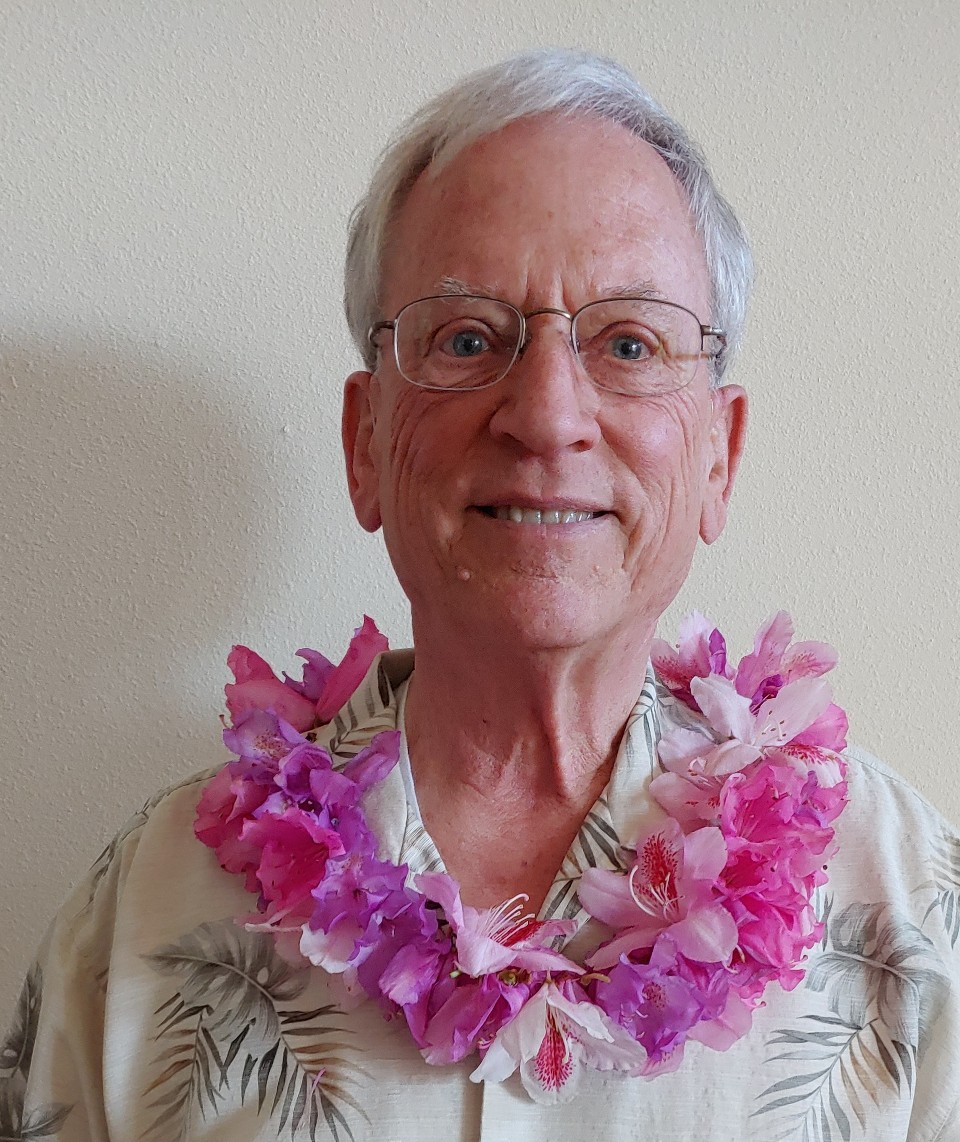 Dick Knudson
Interesting story and image, Don. I find that leaving the tree in the image allows it to be a fellow observer of the scene. The image seems over-sharpened to me, with a lot of contrast introduced into the near slope and trees, and an unrealistic level of detail in the more distant hills, and especially in the far tree silhouettes. The top cloud layer is the brightest element, so it demands excessive attention from me. Starting with Haru's BW, I tried to emphasize the rainy atmosphere and let the luminous far mountainside be a focus area for the viewer (and the tree). &nbsp
Posted: 11/06/2021 14:35:11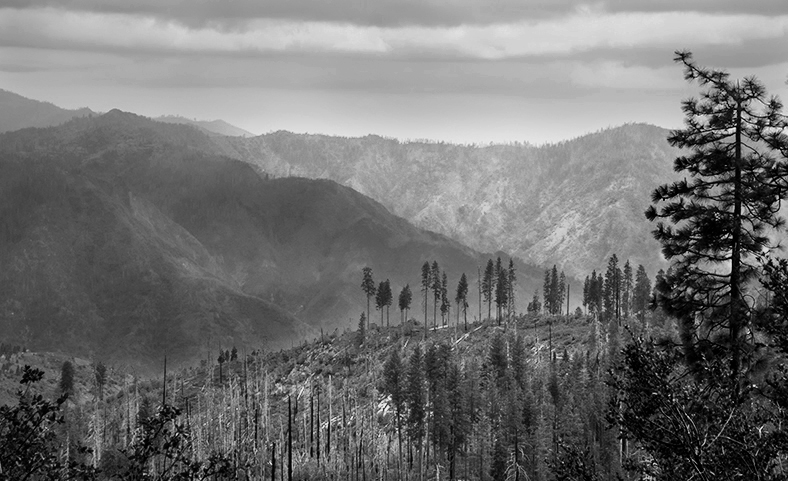 ---
---
---
Arne Skinlo
First, I would like to say that I am also an admirer of Ansel Adams. This scene is a classical example of creating depth with a clear foreground, middle ground and background. In the original the dept is evident by going from dark in the foreground and going lighter into the middle and background. Haru and Dick has already said what I would suggest, so I shall not repeat any of that. &nbsp Posted: 11/07/2021 01:27:18
---
---
---