Ata Kemal Sahin
---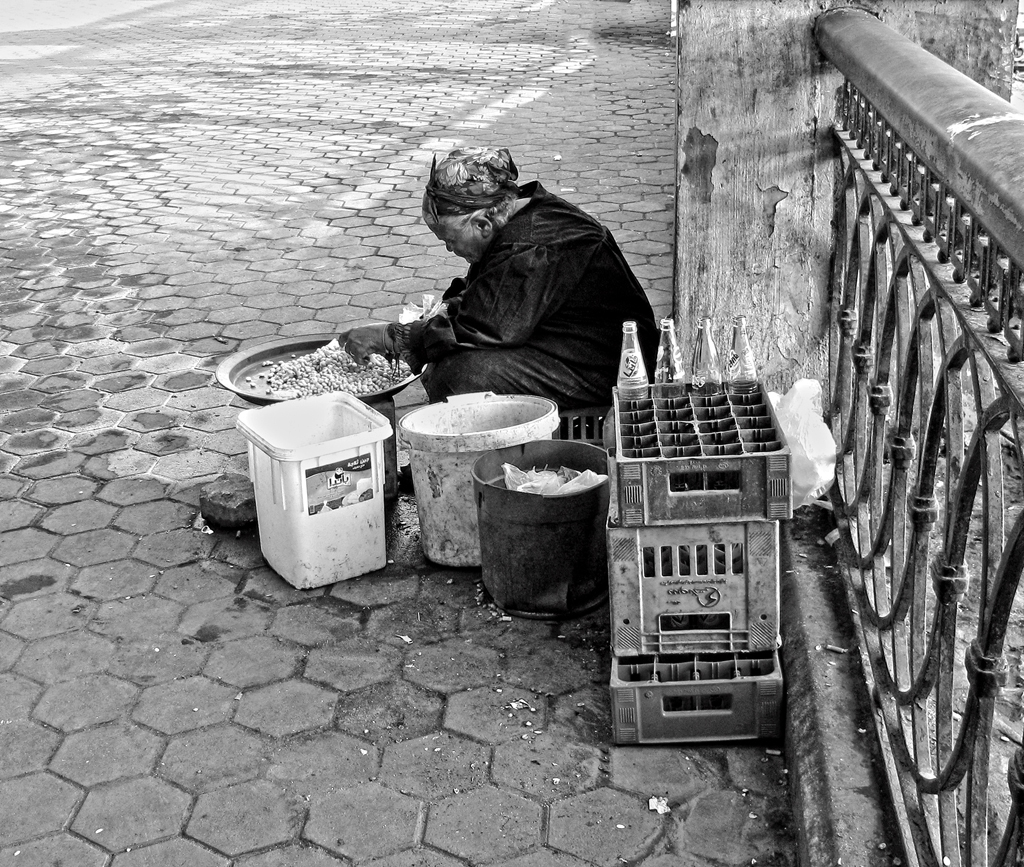 October 2021 - Love Beans
Original
About the Image(s)
The automotive industry is a major industrial force in Egypt that's why I was visiting often. Cairo has hot days and cool nights. The city's main thoroughfare is the Corniche and most youngsters take a walk -in the late afternoon- on the banks of the Nile i.e. "Corniche el Nile." For those who know Cairo: A quarter mile between 6th Oct Bridge and Kasr el Nile Bridge is a phenomenal line to meet and date in the afternoon & evening.

Anyway, this old lady sells Termes (Lupini Beans); the most common, affordable, cardioprotective and delicious snack in Egypt. It's served sprinkled with salt and dash of red pepper and -locals believe- conjures up lovely personal memoirs. Of course, you will not think about hygiene! Frankly speaking, I never tried.

I used PS to edit, crop and convert to grayscale.

Exif: f2,8 ISO80 1/40" 6mm
---
13 comments posted
---
---
---
Tracy Szela
I like both the color and B&W conversion of this image. The colors of the crates and beans are nice and draw my eye into the image in the color version, and the woman is what draws my eye in in the B&W version. &nbsp Posted: 10/03/2021 15:54:09
Ata Kemal Sahin
Thanks for your comment. &nbsp Posted: 10/04/2021 05:45:42
---
---
---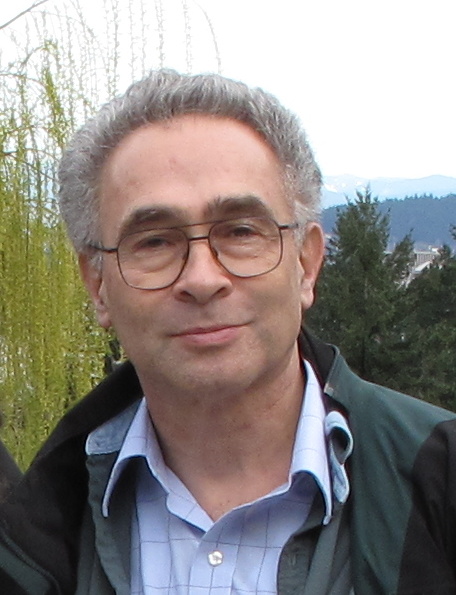 Stephen Levitas

(Group 32)
Hello Ata,
When we made our trip to Egypt a few years ago (just before the change of government), my wife remarked that it looked to her like Turkey 50 years ago.
I like everything about this, including your assessment of the nutritional value of the beans from the street. This is an excellent character-and-place shot. You always show sensitivity to the situation of poor folk you see in the streets.
Critically, I can only suggest lightening the woman's face. I tried two methods: 1) overall "lighten shadows," and 2) selected only her face and then applied "lighten shadows," images attached in that order. &nbsp
Posted: 10/03/2021 21:58:42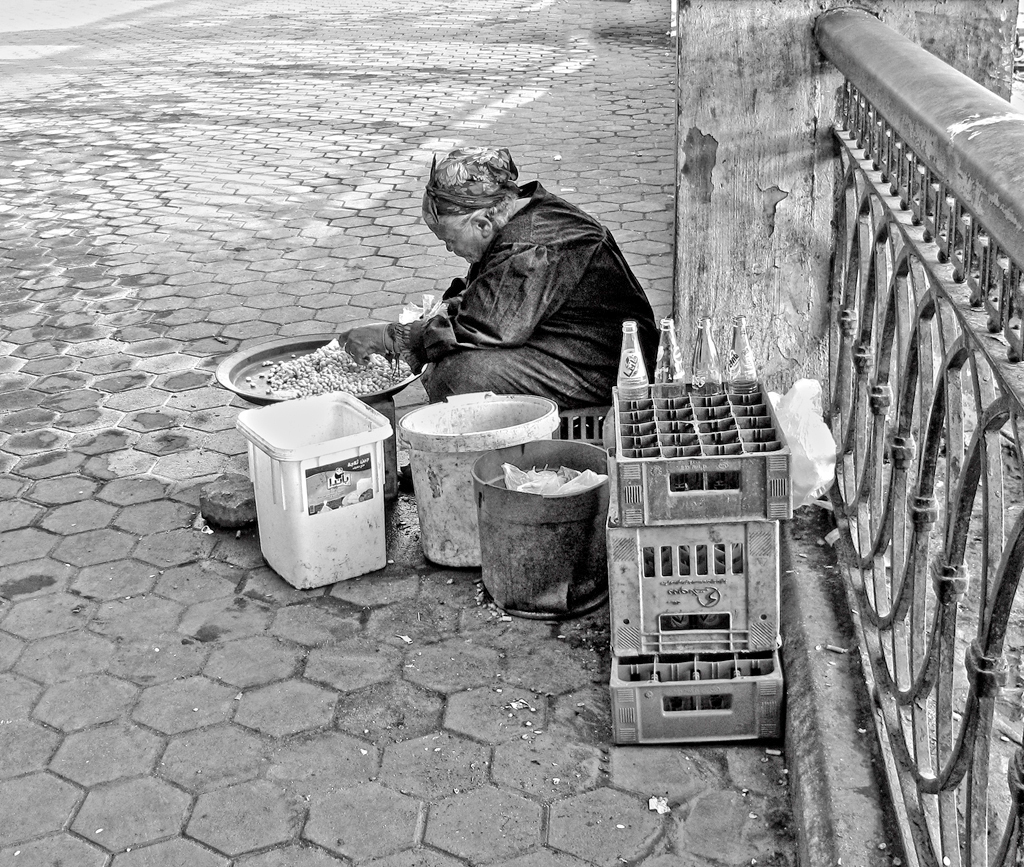 Ata Kemal Sahin
There may be different processings; but I enjoyed this one. Thanks for your efforts Stephen. &nbsp Posted: 10/04/2021 05:44:25
Ata Kemal Sahin
Yes, it's a classical oriental view:) Thanks Stephen. &nbsp Posted: 10/04/2021 05:45:05
---
---
---
Tevor Harvey
Ata as always I love your street portraits, another cracking example I would love to have in my collection. I think that the crop is perfect to remove distractions and not make the subject cramped. &nbsp Posted: 10/04/2021 18:08:05
Ata Kemal Sahin
Thanks Trevor. &nbsp Posted: 10/06/2021 09:44:19
---
---
---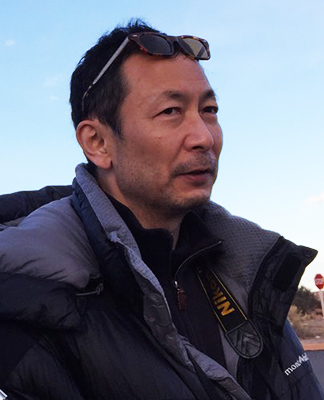 Haru Nagasaki
Hi Ata,
Thank you for sharing.
I am always amazed by your portrait/street photography.
You always present the sorrows/sadness of life. You have a good eye to catching it.
I like the pattern of the sidewalk. By converting to BW, it adds stronger impression on the image.
Also the details are well described.
For my practice, I edit the original myself (really quick and dirty).
See the attached.
I crop down the bottom and right to place the lady in 1/3 line from right(I did not crop the street people above). By showing the street people, it become obvious that her business is not busy.
I made contrast on shade vs light on the sidewalk, by doing that viewers understand that lady is sitting in the shade.
This would become completely different story you wanted to present though.
&nbsp
Posted: 10/04/2021 22:54:14
Ata Kemal Sahin
Yes, that's a different story and thank you for your efforts and comment Haru. &nbsp Posted: 10/06/2021 09:45:15
---
---
---
Don Hill
Hey Ata, As a fan of street photography, I really like your image. I think Haru's take puts the subject in the real world and not just sitting by herself. I am glad no one cropped out the right side railing. You really captured all the textures and, as you said, the hygiene. &nbsp Posted: 10/06/2021 09:39:26
Ata Kemal Sahin
Hi Don, welcome to the group. Thanks for your comment. Yes, our group members are all good photographers and we support each other mostly on editing / retouching techniques. &nbsp Posted: 10/06/2021 09:52:59
---
---
---
Arne Skinlo
It is a very narrative image about the life in the street. The cropping emphasise on the woman. I think a lower camera position and slightly to the left would given a better impression of the situation. I would also considered to use a dark gradient from upper left corner as my eyes are drawn out of the picture in that direction. &nbsp Posted: 10/10/2021 05:33:04
---
---
---
Please log in to post a comment