Tevor Harvey
---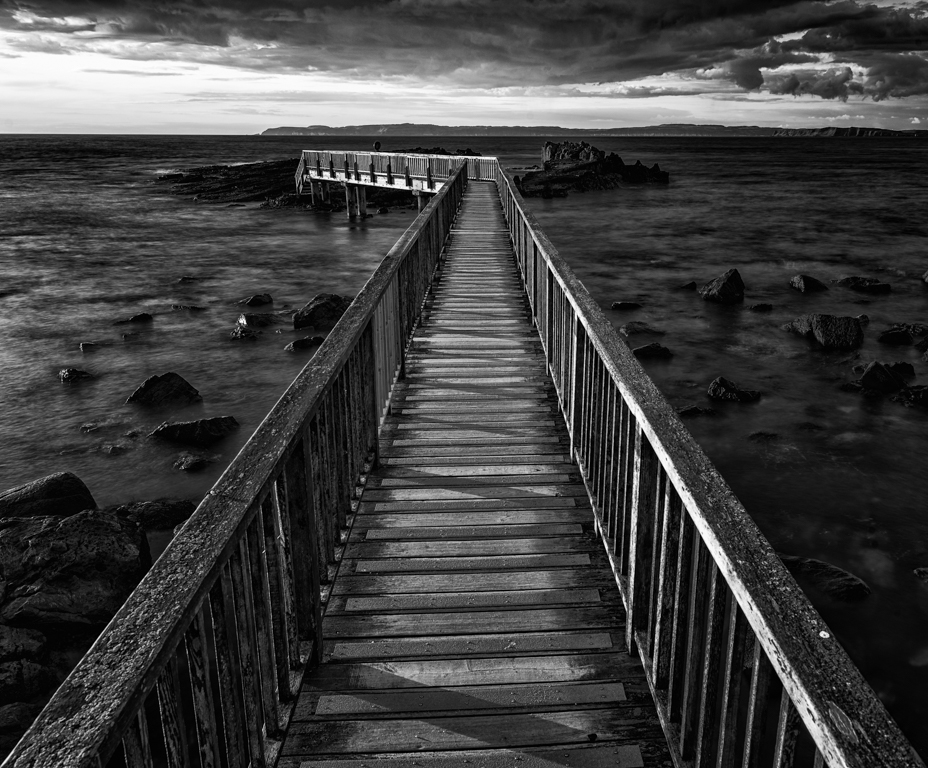 September 2021 - Island Bridge
Original
About the Image(s)
I was trying to find a leading line from each corner to the highlight in the sky of the image. It was coming towards sunset and there was a break in the clouds at the end of the bridge.

I was using a Nikon d750 and a Nikon 24-70 f2.8 lens at 24mm, 50 iso, 6 second exposure and f11. I was using a 6 stop neutral density filter and a graduated neutral density filter for the sky as I wanted to blur the water and hold exposure on the sky.

For processing
In lightroom I cropped the image and straightened the Horizon. I then put the image into colour effects and used the detail extractor and the darken lighten centre, I then put the image into silver effects to do the mono conversion. Finally in lightroom I did an overall sharpening of the image with a mask.
---
9 comments posted
---
---
---
Ata Kemal Sahin
Hi Trevor, there's nothing to add more i.e. cropping lines, tonal value, contrast, sharpness are all well-balanced. Boosted sky is impressive. Meanwhile, what do you think about the balance between sky and sea? Thanks for sharing. &nbsp Posted: 09/02/2021 06:37:30
Tevor Harvey
Hi Ata, Thanks for the feedback. I'm not sure if the sky is too bright I have tried it a few ways and have even though of replacing it with a new sky &nbsp Posted: 09/04/2021 22:06:36
---
---
---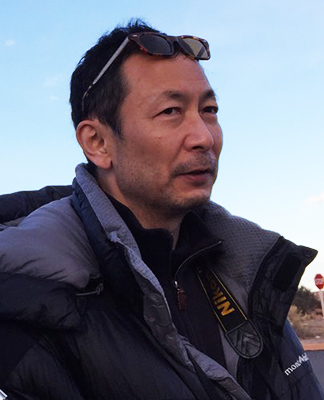 Haru Nagasaki
Hi Trevor,
Thank you for sharing.
The composition works well as you intended. The bridge create strong leading line to the sky.
This image has a mood - it give an impression that a storm is coming
As always, you did a pretty good job in post processing - especially the movement of clouds. I could not do well as this.
Over all good image. Well done.
This would be personal preference but the texture is too tight and it is a bit dark for me.
I am attaching what I did - just for your reference.
&nbsp
Posted: 09/03/2021 03:34:20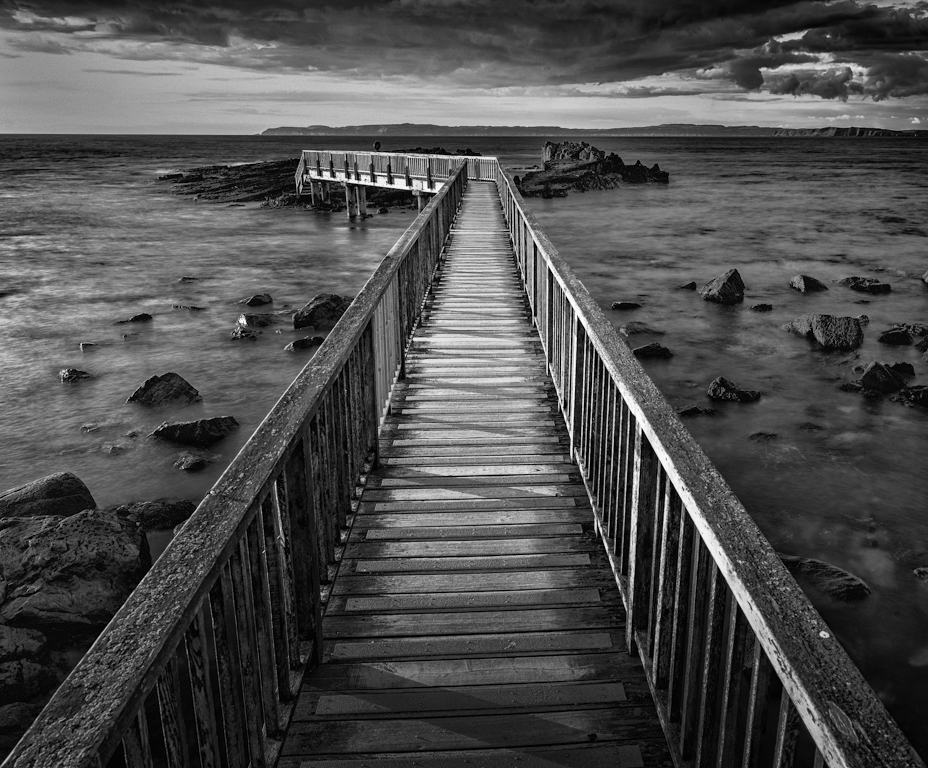 Tevor Harvey
Thanks Haru, I struggle at times with my images looking too grey so at times over compensate. I love your version of the image, thanks for sharing &nbsp Posted: 09/04/2021 22:08:07
---
---
---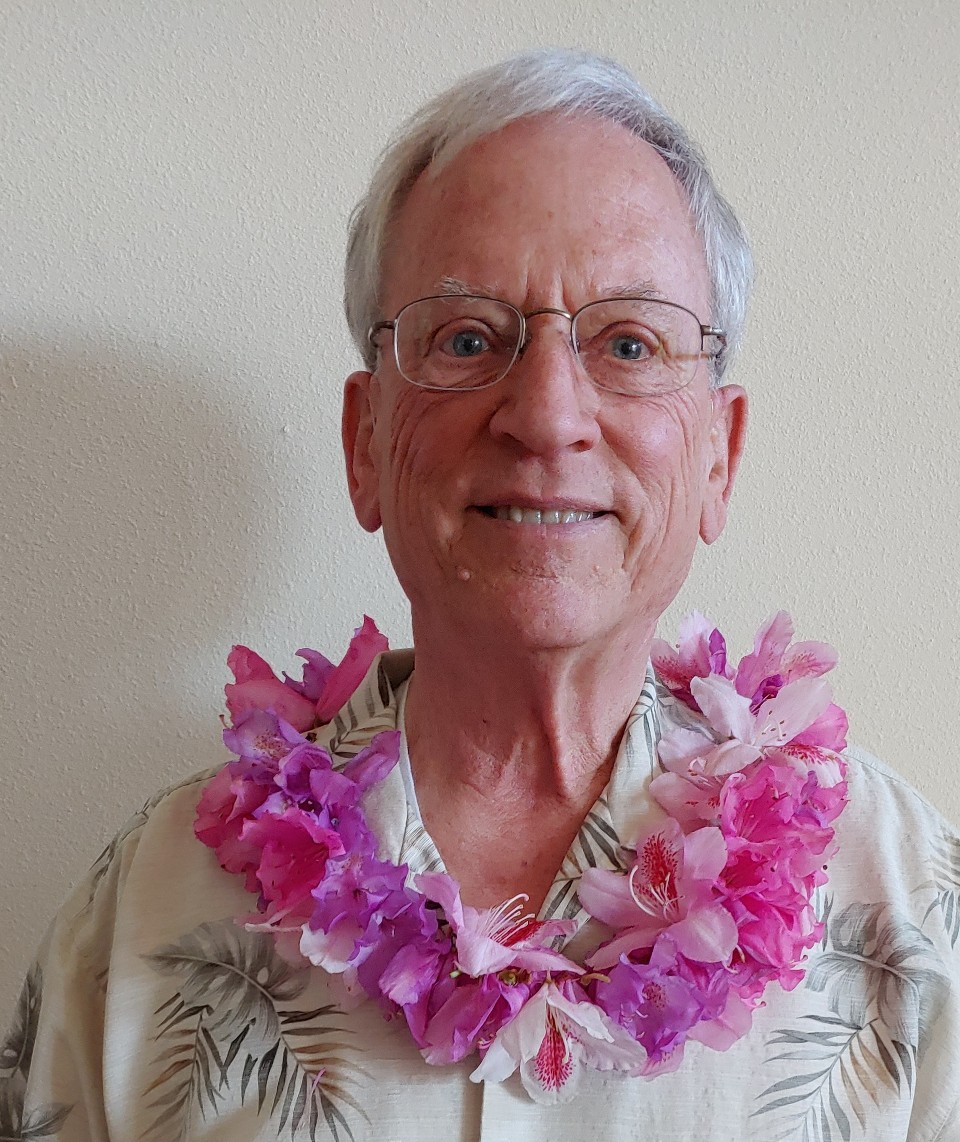 Dick Knudson
For me, this is a fascinating image. You seem determined to convince us that we should come to Scotland. The texture of the clouds and the subdued whites of the near planks and rails lead me to through the scene. The straight section leads me to the clouds, thence to the left sky, and the angled section to the horizon, thence to the clouds. The rough texture of the water combines to tell me I should not venture forth without my ragg sweater and hat. You might consider cloning out the bright spot on the near rail.
Haru's interpretation is also quite intriguing. He reduced some sky brightness, which might work in your version as well. The effect is that I feel I can venture forth with a poplin jacket; no heavy sweater is needed. &nbsp Posted: 09/04/2021 12:49:09
Tevor Harvey
Thanks Dick. There are two highly photographed piers/bridges in Northern Ireland. This one is in Ballycastle and at high tide the bridge can be cut off from the beach. I was fortunate that evening to have nice light from the sunset and a bit of a breeze to get some cloud and wave movement. In Northern Ireland you rarely venture out without a coat, so if you come, be prepared. &nbsp Posted: 09/04/2021 22:12:41
---
---
---
Tracy Szela
I really like how you completely changed the mood from the color version to the B&W version. The color version to me is quiet and serene, and the B&W is moody and a bit more ominous. I too like Haru's edits. It still feels moody and ominous, but not as harsh. Great composition! &nbsp Posted: 09/05/2021 19:55:24
---
---
---
Arne Skinlo
A very strong and powerful composition. The lines are captured with great accuracy. In this case, I think the horizon line is set well as there is a good balance between sea and sky. It is a matter of taste, but to me, there is a bit too much texture and contrasts, so I agree with Haru´s version. Then a very picky comment, but we go for perfection: the planks on the bridge leans to the right one the original and to the left on the BW version. I would suggest to straiten the lines so they are parallel with the edge of the image. &nbsp Posted: 09/12/2021 01:16:47
---
---
---
Bill Foy
It's always interesting to read the comments of the members of this group. I think they, generally, tilt in one direction with the exception of a member, or two. But all offer experienced, educated commentary.
I look at this image and think about seeing it in a gallery, or museum and, with "Island Bridge" by Trevor Harvey on a small plague below it. I would probably see this a sunrise image, and I would think the storm is leaving, not arriving.
Having said all that, I am pleased with this image as is. &nbsp Posted: 09/18/2021 09:52:32
---
---
---
Please log in to post a comment