Maria Mazo, QPSA
---
November 2023 - Bee in a Flower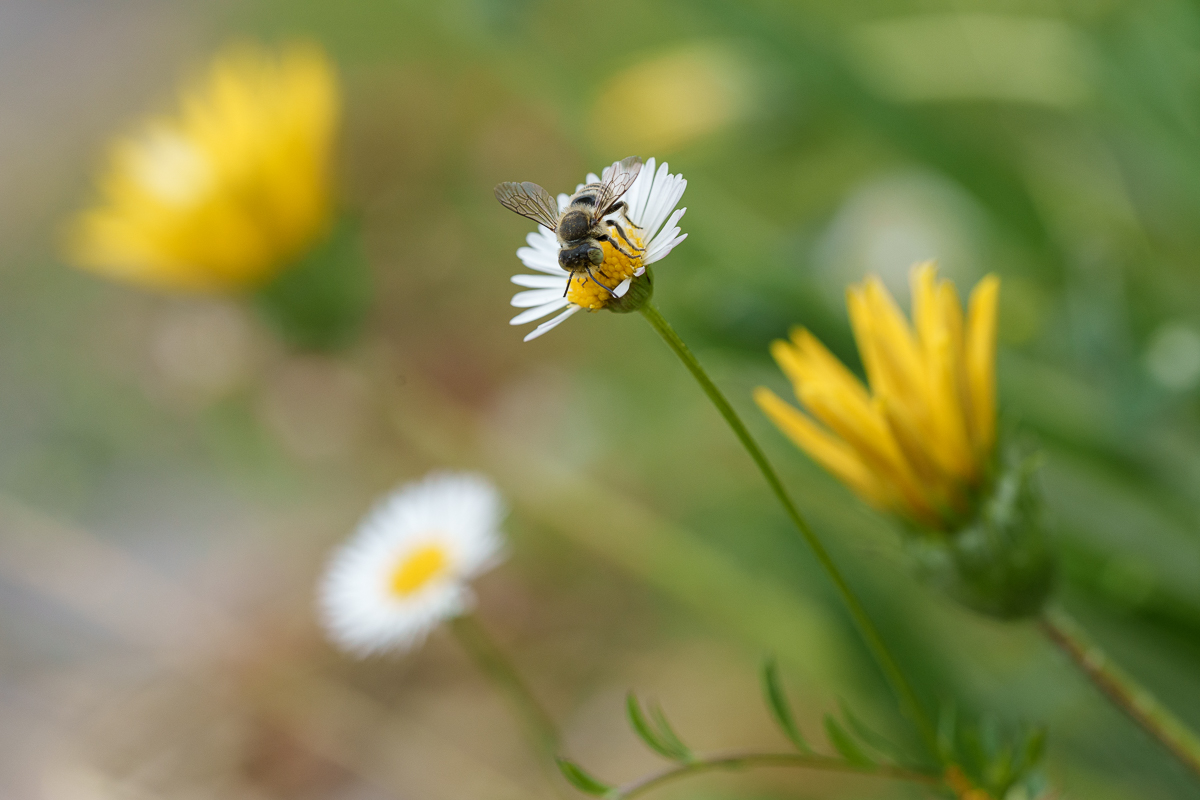 Original
About the Image(s)
I took this photo almost one year ago here during one of my walks around the neighbourhood. What I like about this image is the balance between the flowers and colours.

It could be cropped to focus only on the bee and the little daisy, which are the main subjects, but, as I mentioned, I like the balance with the other flowers and how it shows the bee in its natural the environment.

In post-processing, I only removed some dust spots and applied a bit of clarity and noise reduction.
Here are the technical details:
Shutter Speed: 1/250 sec
Aperture: F 7.1
ISO 800
Shot with a Sony camera and 90 mm macro lens handheld.
---
This round's discussion is now closed!
8 comments posted
---
---
---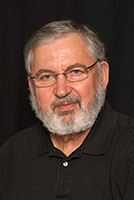 Dr Isaac Vaisman
Maria, nice image, and I agree with you about the balance of the bee on the flower with the other flowers, but I think there are too many flowers which overpowers the bee since it is minimal in the frame. My view is that with this crop, we still keep the balance + the odd number rule (which most of the times is broken) and now the bee is more evident and it is off the center of the frame, Also darkened slightly the background. &nbsp
Posted: 11/04/2023 11:48:21
Maria Mazo
Hi Isaac, thanks for your thoughtful comment. I really appreciate your suggestion about the crop, and I agree that the three flowers works better in the image, making the bee more prominent. &nbsp Posted: 11/19/2023 04:45:52
---
---
---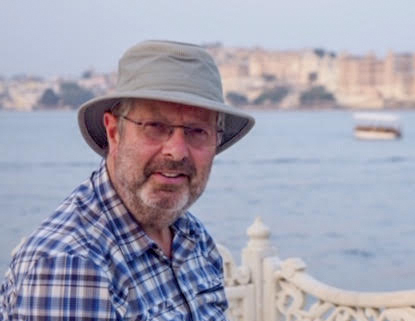 Adrian Binney
Maria, this is an interesting thing to try - to show a bee's environment. I think that for this to work, the main daisy needs to be the main focus, with the other flowers all being softer, quite out of focus and not nearly as bright. Isaac's crop removes one dandelion, but with his crop my eye still goes to the other dandelion rather than the bee and it's daisy. &nbsp Posted: 11/06/2023 16:32:54
Maria Mazo
Hi Adrian, thanks for your comment and suggestions, I can now see that the other flowers are still too prominent in the image, competing with the main focus, which should be the bee. Adding some blur to the other flowers could help create enough separation and give more importance to the little daisy with the bee. &nbsp Posted: 11/19/2023 04:52:30
---
---
---
Bruce Benson
Maria, I have to go with Isaac on the crop for this one. The dandelion on the right is so bright that it makes the eye go to it rather than the bee and other two flowers. Also as Isaac pointed out using an odd number such as 3 makes a stronger image. Overall a very nice image with nice colors and interesting subjects. Bruce &nbsp Posted: 11/09/2023 18:04:28
Maria Mazo
Hi Bruce, thanks for your comment, I also agree with all the suggestions about the cropping the number of flowers that should be included. I believe that making these changes could make the image stronger than the one I have presented. &nbsp Posted: 11/19/2023 04:56:46
---
---
---
Barbara Gore
Hi Maria, I love the delicacy of this image. What drew me to this image was the bee's environment, the color palette, and the way the lines of the flowers are sweeping to the left. I think a moment in the life of a bee was captured and the inclusion of the flowers reveal a larger story. The bee is sharp and nicely exposed. Well done. &nbsp Posted: 11/19/2023 07:04:25
Maria Mazo
Hi Barbara, thanks for your nice comment, I am glad that you like the image. &nbsp Posted: 11/27/2023 03:50:43
---
---
---