Randy Dykstra
---
September 2021 - Jewel in the Sky
About the Image(s)
I went out and bought a "used" 600mm F/4, but I decided to go and get an older model without VR since most of my shots will use a tripod and very fast shutter speed and that any new cameras probably will have in-body stabilization. Plus the lens was significantly less expensive than a new E model, (and the new models are back-ordered right now) I got a Nikkor 600mm f/4D ED-IF and needed to find some good subjects to test it out. I have a hummingbird feeder about 25 feet from my patio. Black-chinned hummingbirds have been hanging out. I added another flight shot that I like to the extras. I'm pleased with the results.
---
14 comments posted
---
---
---
Bruce Benson
Hey Randy, interesting thoughts on getting the older prime lens. My brother bought an older Canon 600 F4 and it works great. The biggest drawback is that it weighs nearly a ton. He does not get to far from the car so does not have to carry it far. The lens looks to be a sharp copy. Light looks pretty harsh for the image. I like the pose especially the way the feet. Your shutter speed kept the body nice and sharp
with a nice blur in the wings. I might suggest dodging the brights a bit in the eye to bring out the catch light. Will look forward to seeing more images with your new toy. Bruce &nbsp Posted: 09/01/2021 17:24:45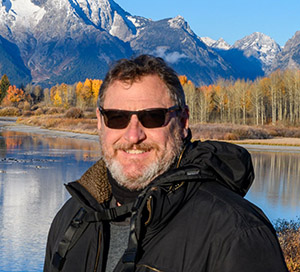 Randy Dykstra
Yeah is does weigh a lot but less than 2 lbs more than the current model. I tried the E out as a demo back in May and you are not traveling to far away from a car with that lens. However, I have my 500mm PF if I'm hand carrying..

To many times I've been in the Tetons early morning wanting more light, and so the F/4 and extra reach made it worth it.
There is very little processing done in this photo, basically auto tone, etc and then some de-noise and sharpening. My whole goal was to check out the depth of field,(BOKEH), AF speed, and the sharpness of the lens. &nbsp Posted: 09/01/2021 17:56:37
---
---
---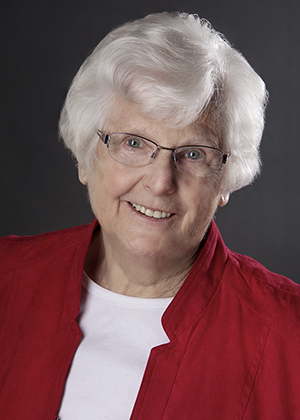 Mary Frost
Randy, I, too, have an excellent older Canon telephoto lens. Mine was bought new....years and years ago. I have the old 100-400mm lens. I bought it when I made my only trip to Africa...Tanzania. It is heavy but in that situation I could lean it on the top of the safari vehicle which we never left.

I, also, think that selecting the bird away from the background and darkening it down might let your beautiful bird stand out more. &nbsp Posted: 09/01/2021 17:50:56
---
---
---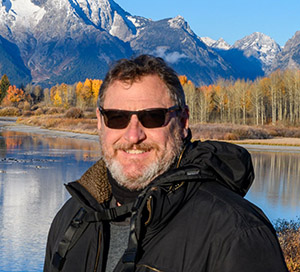 Randy Dykstra
I do want to add, if you really want to up your Wildlife skills, go and try to photograph hummingbirds. You can entice them to a feeder, but they are fast and quick and you really have to get the AF spot on as in most cases you really only have about an inch of DOF. &nbsp Posted: 09/01/2021 18:00:08
---
---
---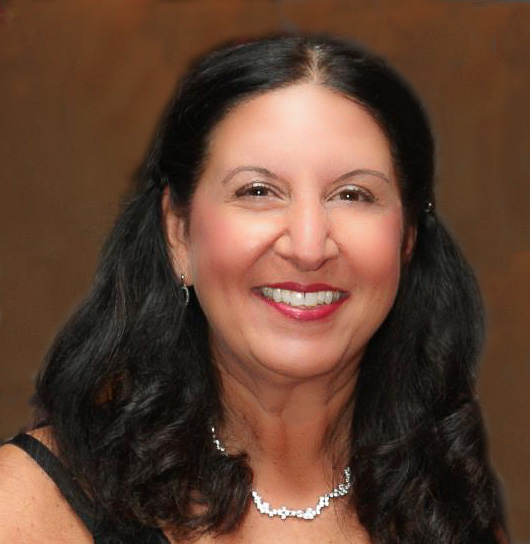 Marie Costanza
Randy, Like many my favorite bird is the hummingbird and these are lovely images. We mainly get the ruby throated hummingbirds in our area, so I was intrigued with your black chinned captures. I prefer your image of the male with its purple throat, which is lovely up against the green background, as it complements his coloring. (Although I do love the feet in your Jewel in the Sky image!) Nicely done. &nbsp Posted: 09/03/2021 09:20:01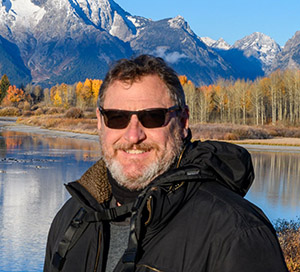 Randy Dykstra
Ruby throated just started to arrive in my area, So I will have a few photos of those soon. &nbsp Posted: 09/03/2021 09:42:04
---
---
---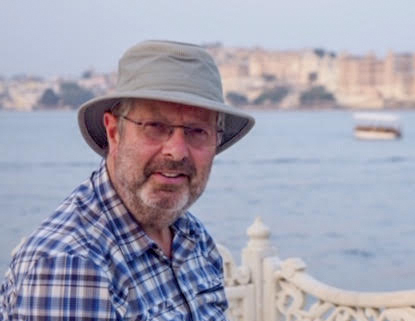 Adrian Binney
Gosh, Randy I'm so envious of you where you live and having Hummingbird feeders at home! My only experience of photographing them has been in Costa Rica, where so many of the privately owned small hotels have planted around their buildings to attract many birds - so up before breakfast! As you say, they move so quickly and are challenging to get clean images.

Love yours! I too prefer your second image with the more helpful background, but the feet of your main image captured so cleanly is so unusual, they really draw the eye. You are so lucky to be able to photograph these amazing birds at home. &nbsp Posted: 09/11/2021 14:46:08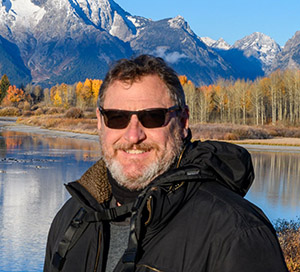 Randy Dykstra
Unfortunately, my new home in Texas couldn't even hold a candle to my previous home in San Diego as far as Hummingbirds go. It was there that I really worked on honing my skill. Learning about the small DOF, (IE that Focal length and distance to subject had a lot more effect than I realized) and how fast your Shutter speed really has to be to get good detail. I also played with sun angles and adding reflectors. Here in Texas I'm lucky to get one HB chase another away from the feeder and thus seeing two at a time. Enclosed is a shot from my Calif Condo balcony... and if you like I have a webpage of just HBs...
https://www.rdykstraphoto.com/hummingbirds
&nbsp
Posted: 09/13/2021 14:00:06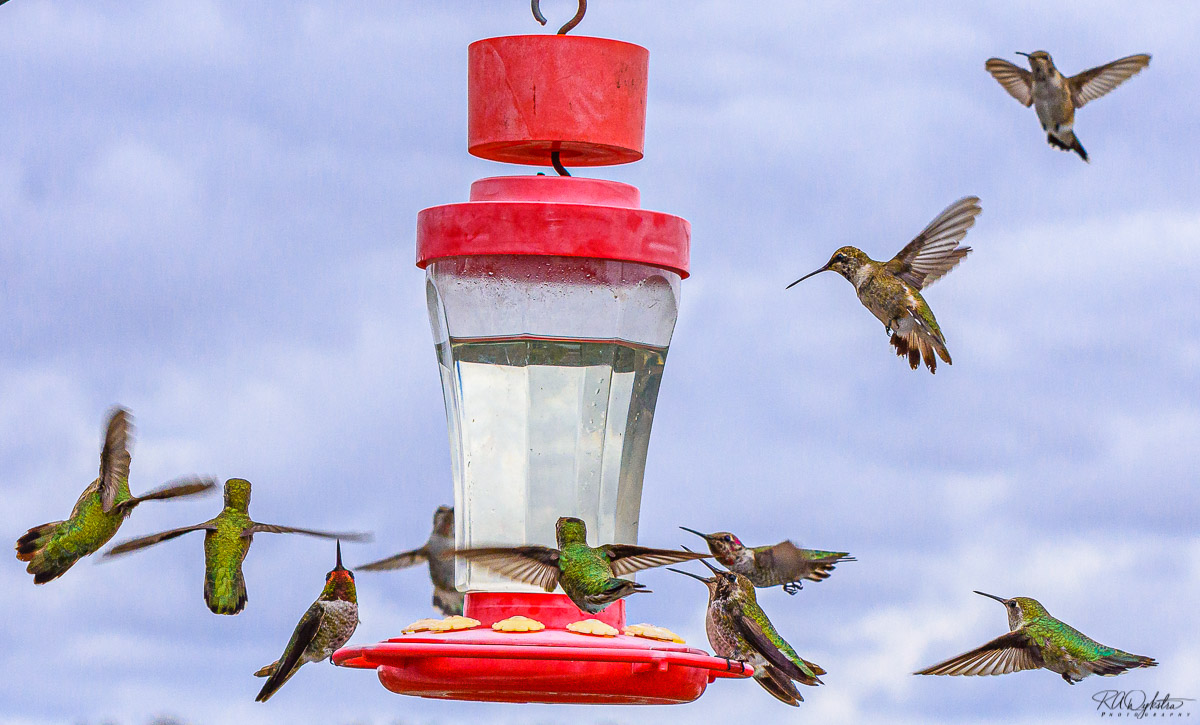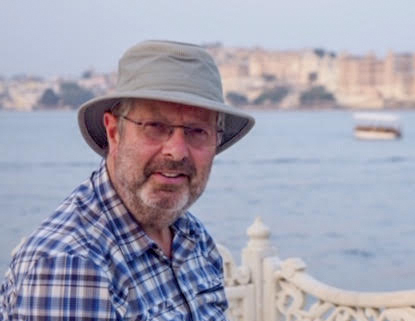 Adrian Binney
Lots of lovely/great hummingbird images there Randy! Thanks for showing them! I hope we from UK will be allowed in to Costa Rica in Feb (got a 2week trip booked!). &nbsp Posted: 09/13/2021 16:23:44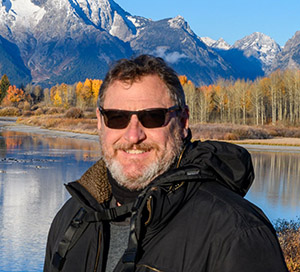 Randy Dykstra
I'll be there in Jan.... &nbsp Posted: 09/13/2021 16:32:12
---
---
---
Walt Brunner
Randy, I also am blessed with hummingbirds where I live. I have feeders out, but do not have the long lens to really get a good capture. The image with the feet in focus is rare indeed, however, the background distracts from the rest of the image. Well done! &nbsp Posted: 09/14/2021 16:54:20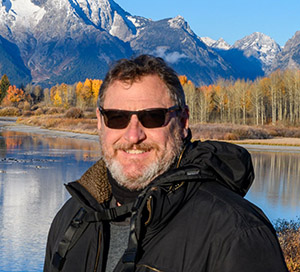 Randy Dykstra
You don't need a long lens. I got a lot of great images at 200mm... (about 10-20 feet away) (in fact you get better DOF) The key is indeed, the light angle and intensity (means specific time of day is best) high SS (1/2000 or faster) although I've some shots down around 1/1000, and then fast AF or anticipation. Quite often I pre-focus on something that is about 6 inches from the feeder and my first burst may or may not get good AF but I'm close and its better than if I just try to get AF from some arbitrary position. And I'm not telling the number of throw aways.... &nbsp Posted: 09/18/2021 22:11:02
---
---
---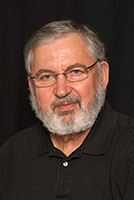 Isaac Vaisman M.D.
Randy, thank you for all the info about photographing Hummingbirds. I was in Costa Rica in July of this year at The Osa Peninsula in Puerto Jimenez, but the light conditions and the rainy days made it difficult to get perfect Hummingbirds images. Obviously, you have almost perfected the technique using natural light. I have seen videos were flashes are set up with laser triggers to get the "perfect shot" but i am far from that. You presented image, the bird's body is sharp, and the wings show slight blur which confirms the rapid movement of them, so you need at least 1/2400 sec to freeze them (you did not state that info). I just reduced the brightness of the background, and makes the bird stand out better. &nbsp
Posted: 09/14/2021 21:33:50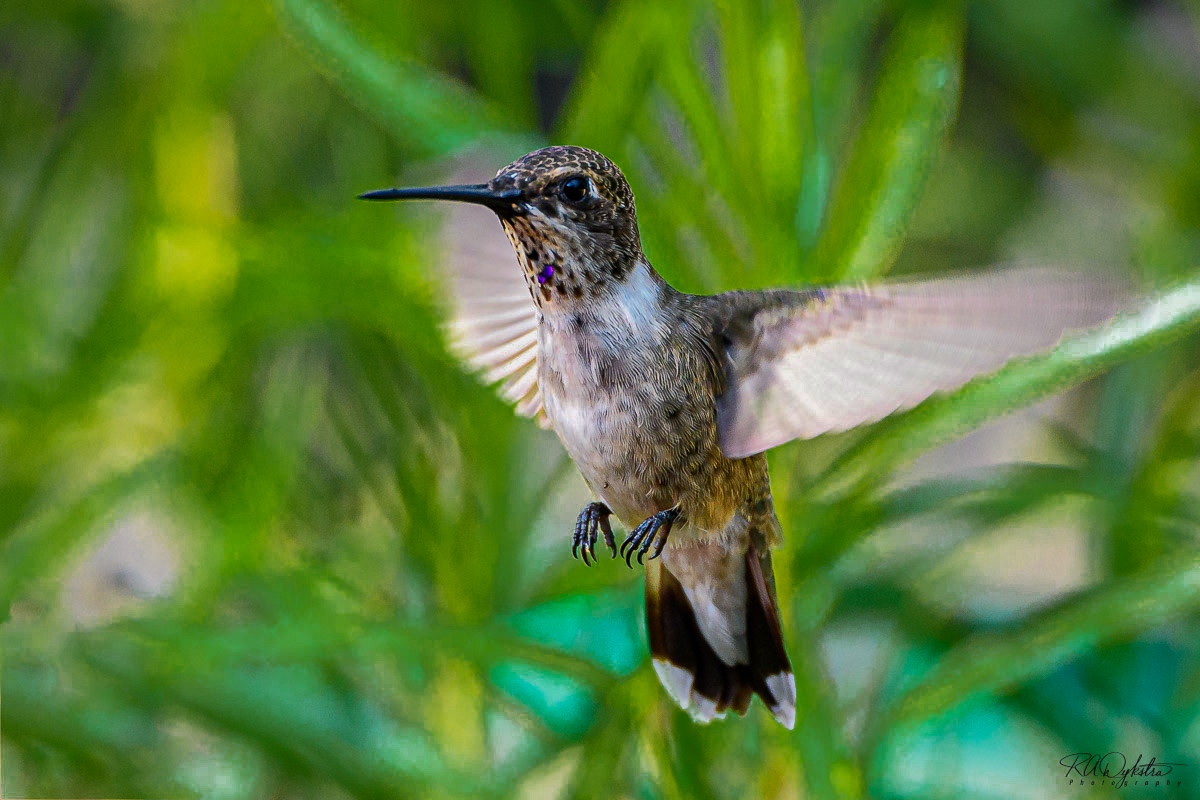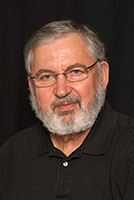 Isaac Vaisman M.D.
---
---
---
Please log in to post a comment