Adrian Binney, LRPS
---
May 2021 - Black necked Grebe by Waterfall
Original
About the Image(s)
This was taken earlier this week during our first trip anywhere for over a year. We have a motorhome and positioned it at a Southern England site close to Arundel which is an ancient town with a 13c castle and a Wetland Centre (a zoo for water focused birds, plus a haven for migrating ones). The hides were all closed due to Covid restrictions, but there were many ponds/lakes with birds from all over the world.

These grebes were in a netted area, some we could walk inside, but not this one, so this image was taken through the netting, which is OK where the bird was far enough away from the net. I took this when the grebe was close to a small waterfall to add interest.

Settings - Olympus E-M1 mkii with 40-150 2,8 plus x2 converter at 270 (FF 540), 1/1000 f5.6 ISO320. PP in Lightroom. Not a huge amount after a small crop, adding a tad of texture and definition to the bird and tried to reduce the intensity a bit of the water splashes. Selective sharpening.

---
2 comments posted
---
---
---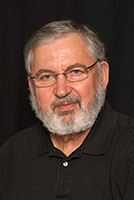 Isaac Vaisman M.D.
Adrian, what a beautiful Grebe. We do not see this variety in South Florida. The intensity of the red eye really makes the image and takes your eyes directly to the birds head and then you can appreciate the rest of it and the environment. The waterfall and the splash really complement the image. It is sharp. The blurred background is well managed and non distracting. &nbsp Posted: 05/04/2021 16:23:03
---
---
---
Bruce Benson
Adrian, Grebes are one of my favorite birds to photograph, with their red eyes and crest feathers. I do not care for the water fall which is causing mist and water drops and mist around the body of the bird. Good job of eliminating the net. Bruce &nbsp Posted: 05/07/2021 11:36:00
---
---
---
Please log in to post a comment