Mary Dreckman
---
October 2021 - Early Morning Death Valley
Original
About the Image(s)
I am submitting both the raw image and the edited image. This image was shot on a Canon 5D Mark II, ISO 640, f/16, 1/10th sec. I shot in Manual Mode, and edited in Lightroom, where I made basic adjustments to lighting, and contrast, as well as cleaning up sensor spots in the sky.

This image, titled Early Morning Death Valley, was shot just before the sun came over the mountains to my left. I was particularly interested in finding some leading line that linked the foreground to the mountains, and then to the color in the morning sky. I thought the rock formation in the foreground achieved that. I included the cactus as a foreground element. I have entered this photo in my camera club's competitions, but it was never highly regarded.

I will be interested in having comments from group members, and their opinions on what would have made this photo more interesting.
---
4 comments posted
---
---
---
Pierre Williot
Hi Mary, it is always frustrating when one is proud of an image but is receiving a thumb down in a competition!
I worked on your final image. I think that your main problem is that there is no good anchor on the bottom. I decided to crop just below the third row of hills, pushing a new directing line from the bottom left to the top right. Slight increase in contrast. Just an idea. I would like to see what the other members of this group would suggest.
&nbsp
Posted: 10/14/2021 09:04:04
---
---
---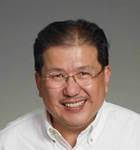 Frans Gunterus
Hi Mary, first welcome to the club. Like what Pierre said, I can fully understand your frustration. I follow many photo salons since 2018, got many Accepted, but only one or two get more than Accepted but never get any medals or awards.
So, I attend an on-line class from PSA: Creating Images for Competitions. In one of the lessons, the mentor requested me to review set of Salon Catalogues and asked me to compare those Accepted images with the one that got medals. Surprisingly, I found some images that got Gold Medal in one particular salon was not even get Accepted in another salon. When I asked my mentor why that happened? He just give me a short answer. That is very common Frans! You like it or not, photo salon is so much subjective.
Now back to your image. I think you have fulfilled all requirements for a good landscape photo. At least that's what I learned from Nigel Danson - 4 Landscape Photography Tips
https://www.youtube.com/watch?v=niPmiExf_OQ
To me, you have done optimum re-touch to this image. IMHO, all you need is don't get stuck with one particular image. Try your luck with another set of images. At least that's what I do now. Keep learning and keep trying! &nbsp
Posted: 10/15/2021 21:32:25
---
---
---
San Yuan
Hi, Mary:
Welcome to the club. Your image has a lot going for it. It is a grand landscape; but the viewers don't know where to focus his/her attention to. I cropped the image, but wish that you would crouch lower and place the cactus in the foreground and using your WA lens to magnify its presence. My treatment of your image might be a bit too saturated. But you get the idea. &nbsp
Posted: 10/16/2021 18:58:37
---
---
---
Kathryn Engle
Welcome Mary to the group. It looks like you have a few options already. I think you did a good job on the processing, but agree on having the leading line into the scene with the more forward cacti. San Yuan shows that a bit in his version by having most of the photo darker and then using the light to bring one into the rest of the scene. I don't know if I would crop as much as the others but agree with their concepts. &nbsp Posted: 10/17/2021 15:00:21
---
---
---
Please log in to post a comment