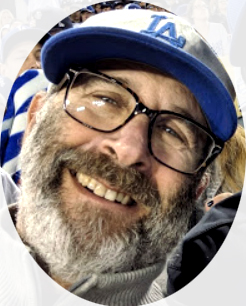 Barry Rothstein
Unlike most of my friends in the 3-D photography community, I didn't own a View-Master™ as a kid, and don't remember ever seeing a 3-D comic book.

An amateur photographer since my teens, I spent several years mostly doing black and white darkroom photography, and never in that time aspired to show it to people beyond my friends and family. I lived my first full fifty years unaware of 3-D photography.

Seeing a stereoscope in an antique store during the winter of 2003 changed my life. How was it I knew nothing about this, when before my eyes I could see the civil war was shot in 3-D. I was instantly fascinated, and within a few months was making hundreds of my own 3-D images for the stereoscope. My wife bought me that stereoscope along with a handful of old stereo cards.

That was in the early days of digital cameras becoming popular. Digital photography, 3-D imagery, and my computer geekiness gelled perfectly in me. I spent a year or so making cha-cha stereo images that could go into the stereoscope and pestering friends and family to look at my stereo images.

The next summer I attended a National Stereoscopic Association convention, where Steve Hughes and Terry Wilson exhibited some phantograms. Steve Hughes also conducted there the NSA's first workshop on how to make them. At first I created a number of "tabletop phantograms" of various household items and art piece chachkas, but soon turned my attention to producing outdoor nature phantograms.

After the NSA convention I joined the Stereo Club of Southern California (SCSC), and later on the National Stereoscopic Asosciation and International Stereoscopic Union.

In the spring of 2005 I published my first book, "Phantograms from Nature, Western USA." "Pop-Up 3D", my first children's book followed in 2007, and on the strength of Phantograms from Nature, Chronicle Books contracted me to produce "Eye-Popping 3-D Pets" (2009) and "Eye-Popping 3-D Bugs" (2011). That year I also self-published "Crossview 3-D", a collection of crossview 3-D images by 26 stereographers.

I was president of SCSC from 2008-2010, and have taught workshops on shooting and processing phantograms at numerous NSA and ISU functions, as well as exhibiting over a dozen Maker Faire and other events over the years. I've participated in and curated a number of art gallery 3-D photo exhibits.

On Christmas day, 2010, I emailed out my first "Image of the Week", a weekly 3-D image blog, usually of my own phantograms and other images, but occasionally by guest artists, and have continued sending them out to this day. My 3-D image blog also became political just before the 2016 presidential election, and since then several posts have contained rants in opposition to Trump's presidency.

And finally toward the end of 2020 in partnership with Jim McManus I produced "Macrophant 3D", a book of macro phantograms.


You can see my work on: Barry Rothstein 3-D books, cards, tutorials or Barry Rothstein author website or Official website of Macrophant 3D