Larry Treadwell
---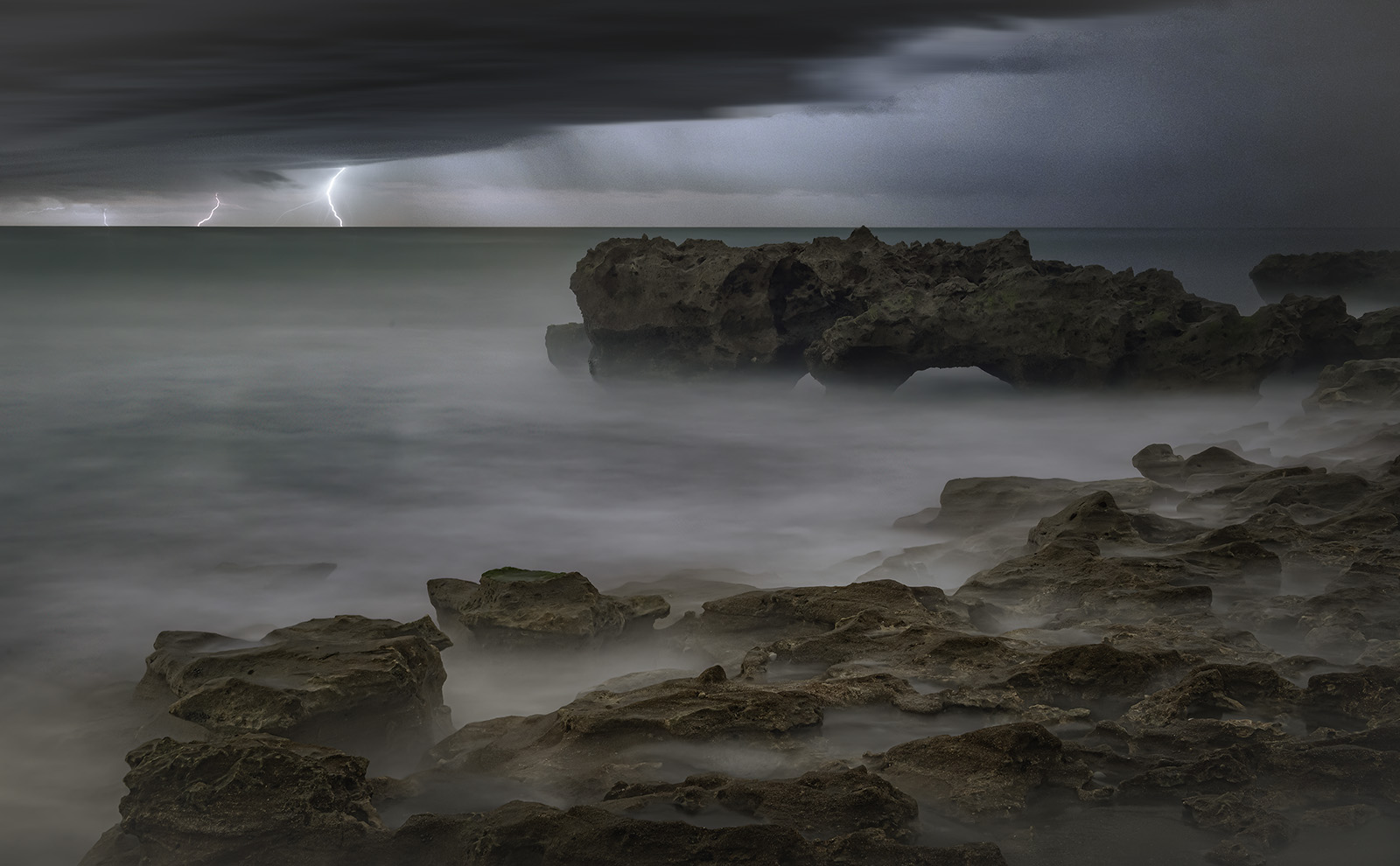 November 2023 - Three Strikes at Coral Cove
About the Image(s)
Nikon D850, 24-70mm lens @ 44mm. ISO 200, f16, 30 seconds, ND6 filter, polarizer, tripod with remote shutter and RRS ballhead. Camera encased in Lenscoat Raincoat.

One of the more difficult (at least in my opinion) tasks in PSA Nature photography is finding landscapes that will meet the requirement of storytelling that PSA has set forth. I think this shot carries a rather impactful nature story, but the final say will be left to you folks.

When I arrived at the shore the rains were coming down in torrents, I could not even see across the road. Since driving was out of the question I huddled in my car until the rain stopped and then ventured out walking toward the shore that was about a half mile climb over sand dunes. There I found the storm I had just sheltered from still visible and moving to the south or camera right. The waves crashing offshore at low tide were creating the type of water action that I could turn into a misty feeling with a long, slow shutter speed while the sky over head was nearly black with a second rainstorm coming ashore from the far left. I set to work trying to play with the waves when the sky began rumbling with thunder. The 30 second exposure I was using worked well with the waves, but to my surprise I captured a single bolt of lightning. My next shot (the one submitted here) ran for thirty seconds and I collect three lightning bolts. The final one (the biggest) when it cracked took at least three years off my life expectancy. I grabbed my gear and rushed toward my car. By the time I arrived it was again raining in torrents and I could hear repeated cracks of additional lightning. My camera's raincoat kept it dry, I on the other hand was not as fortunate however my dumb luck did keep me from getting struck by lightning.
I do feel this image has enough stormy elements to show the fury of the approaching storm and thus provides an adequate nature story. Any thoughts?

---
This round's discussion is now closed!
10 comments posted
---
---
---
Bud Ralston
Yep, if you can see the lightning, you're too close! God protects small children and the feeble-minded. No photograph is worth your life. Enough lecturing. ;-
This is not a landscape image one would expect from Florida. It is the antithesis of palm trees, azure water, and white sand beaches. I know the slow shutter speed was necessary to capture the lightning strikes, but I generally don't prefer the milky look of smoothed water flow. That's just a matter of taste. You definitely have captured the broodiness of the impending storm. I would be running for cover too.
&nbsp Posted: 11/13/2023 10:32:57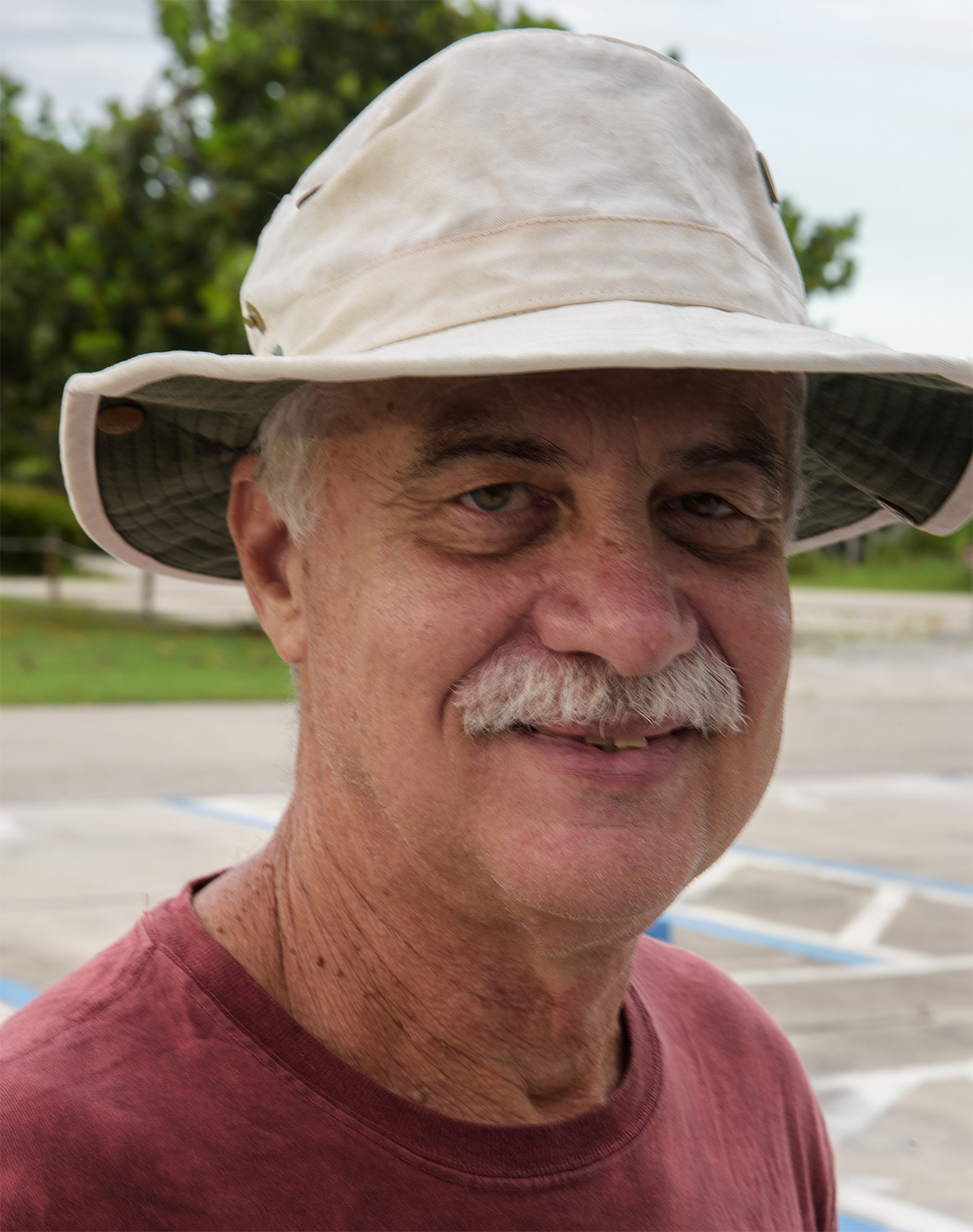 Larry Treadwell
There are two areas areas in Florida that have rocky outcroppings and I've photographed both of them. I have photos of sandy beaches and palms but I search for the unique areas just to be different. I've spent my life taking pictures in bad weather, again, just because others do not. I've tried triggers to capture the lightning bolts but I still get the best with long exposures. I think this images falls in the category of "Fine Art" more than pure nature.

For the record---I'm in the category of the "feeble minded" and proud to be there. :-) &nbsp Posted: 11/15/2023 14:51:07
---
---
---
Cindy Marple
This would be a nice image with just the misty waves crashing on the rocks. Adding that leaden sky and the lightning bolts definitely makes it more of a story. And a more interesting image, IMO.
I love all the opposing diagonals of the composition. They really draw your eye through the whole scene. Fortuitous timing on your part!
Definitely not the typical Florida Beach landscape!! &nbsp Posted: 11/15/2023 09:37:18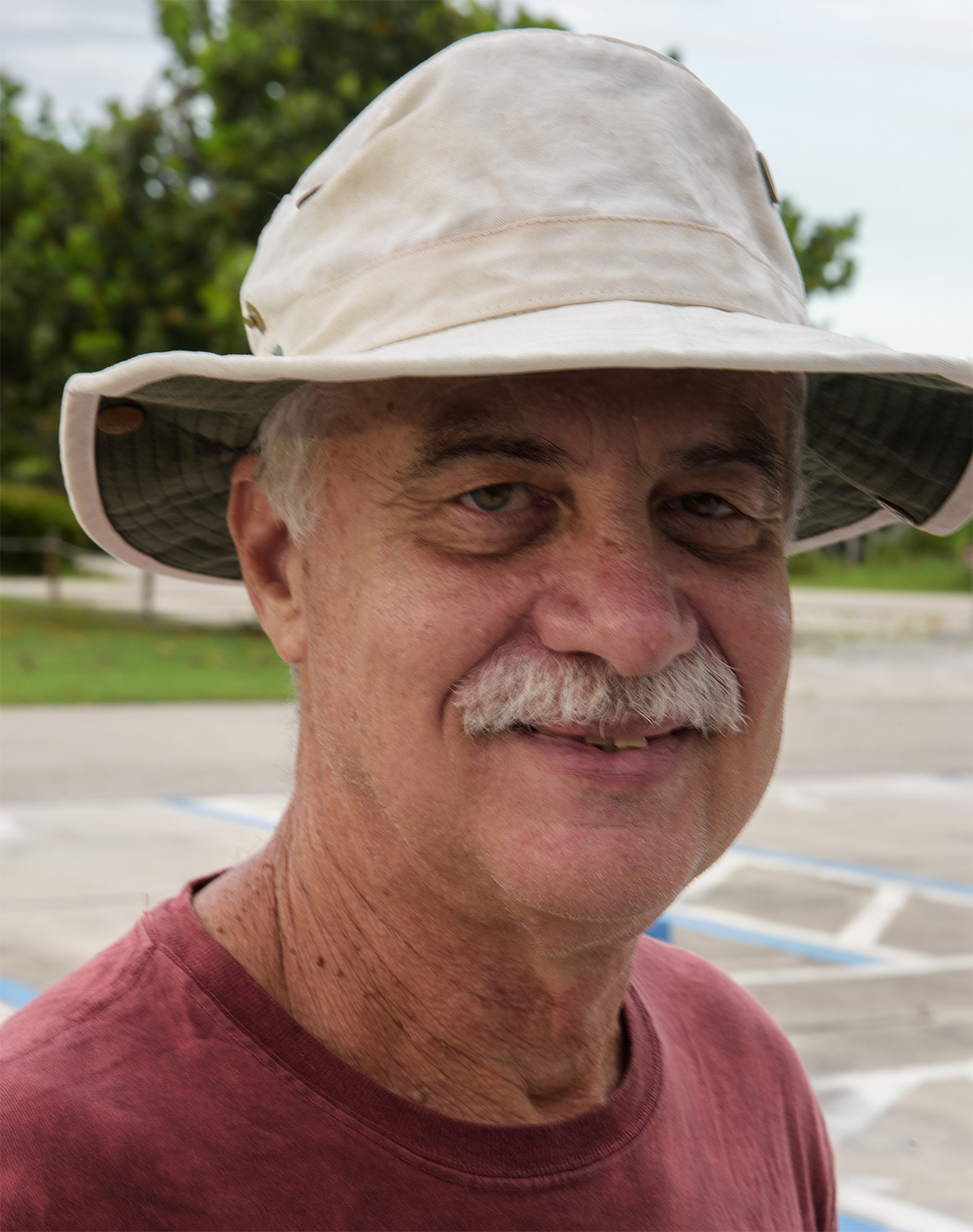 Larry Treadwell
Thanks Cindy. My original intent was to capture the misty waves on the rocks. When I arrived the leaden sky was a magical plus. As for the lightning---just dumb luck. I'm really glad you liked the composition, that was what I was working on, trying to get something interesting. What is neat about this place is the action of the water buries and uncovers different rocks all the time. This I get lots of different combinations of rocks--new challenges. I happy that you liked the things I worked on the most. Thanks. &nbsp Posted: 11/15/2023 14:56:53
---
---
---
Richard Matheny
Larry are you sure you were on the east coast of the US. If you had not said Florida, I would have thought you were in the state of Washington or Oregon. I really am glad you and your camera survived the storm. I love the leading lines created by the rocky out cropping jutting out from the shoreline to the lighting strikes. Story telling with landscapes is challenge for sure. I think you have met the challenge and in Florida of all places. No mountains canyons or high snowy peaks there to work with. Very dramatic scene and the 30 second exposure added the real touch. &nbsp Posted: 11/15/2023 11:37:31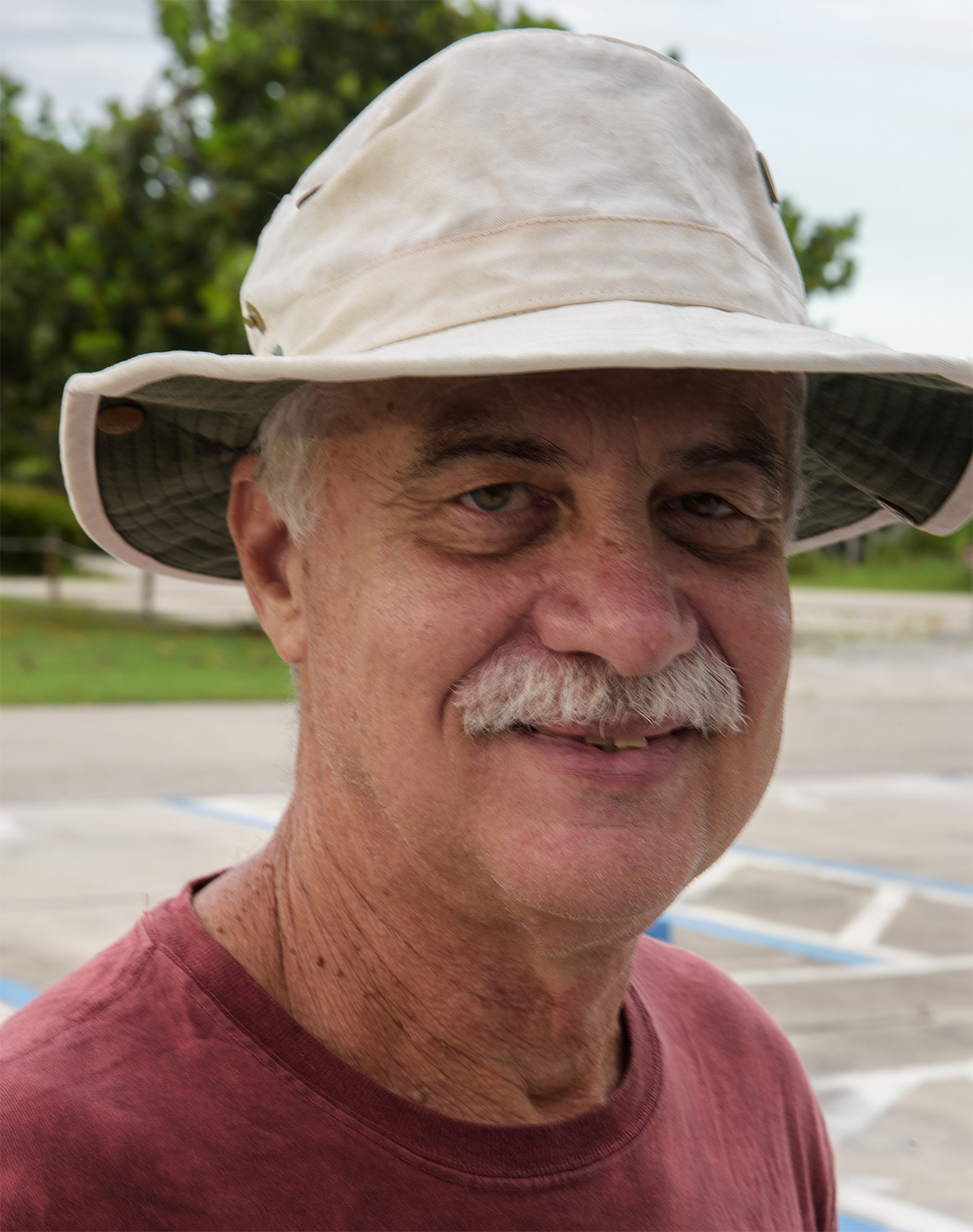 Larry Treadwell
Larry Treadwell Larry Treadwell
Hi Richard. Yep. This is Florida. I love showing this different side of the state's beaches. As a nature photographer I'm frustrated at the punishment PSA saves for landscape photographers. I can't make them change so I'm going to find a way to beat them. d I'm always looking for the story telling feature they want and took advantage of this one. I'm really happy you guys think it works.

Of all the areas I've photographed I find Florida landscapes to be the hardest. Thanks for the support. It is encouraging. &nbsp Posted: 11/15/2023 15:02:27
---
---
---
David Kepley
Larry,
Great capture and even better story!! Thank goodness you escaped with your life!! I love the soft wave action against the rocks! The threatening sky with the lightning bolts is magical! About the only suggestion I have is that I wish you had been slightly higher, so that the rocks were all below the horizonb line. Nit picky I suppose! &nbsp Posted: 11/18/2023 10:41:29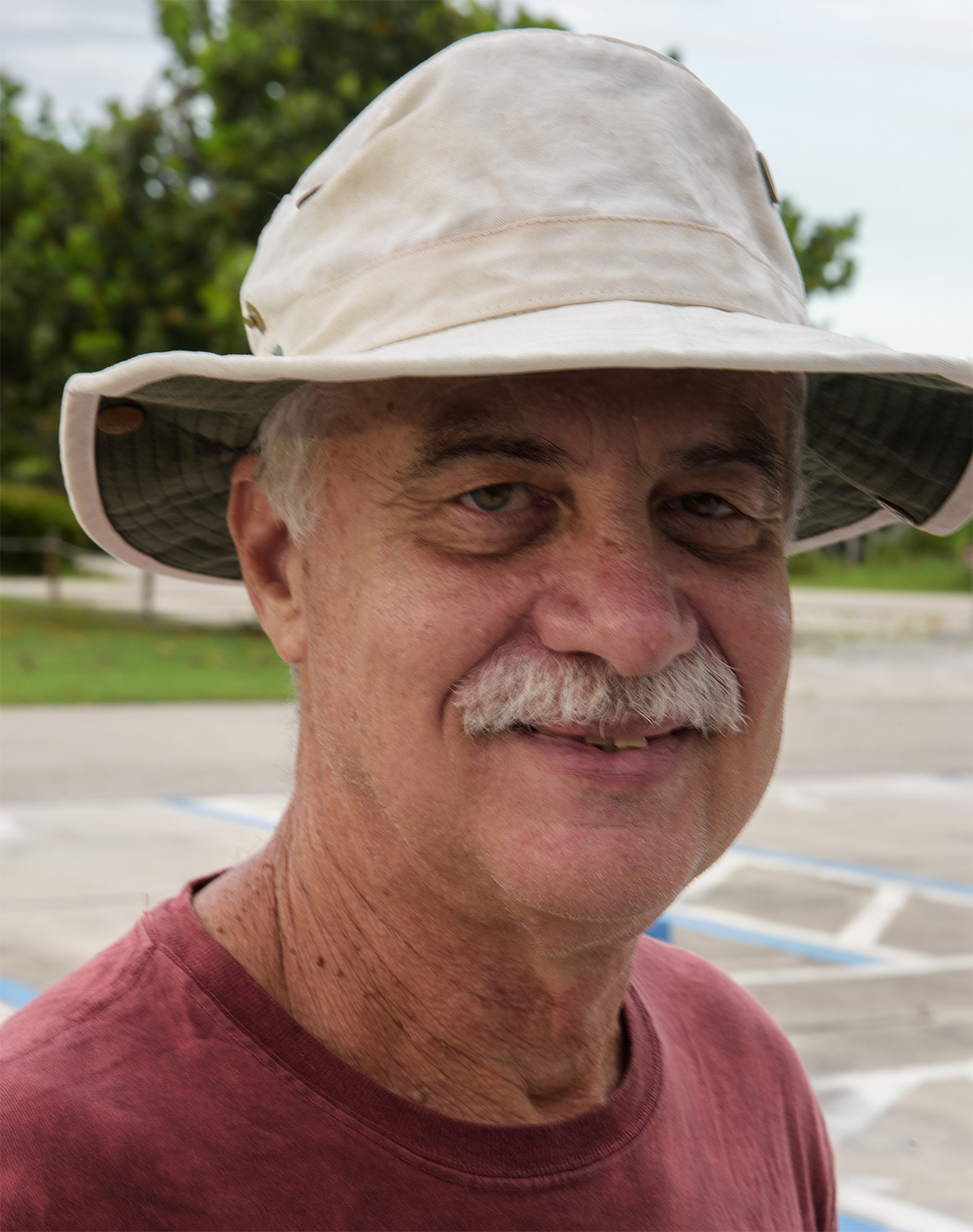 Larry Treadwell
That is my wish as well. Tripod was sinking in the sand and I was trying to shoot before the lightning struck.

Just a bunch of excused I know &nbsp Posted: 11/18/2023 20:17:18
---
---
---
Michael Weatherford
Hi Larry, holy cow what a wonderful image. Maybe the best one you have posted IMO. Such drama and mystery. Couldn't be better IMO. &nbsp Posted: 11/19/2023 21:19:45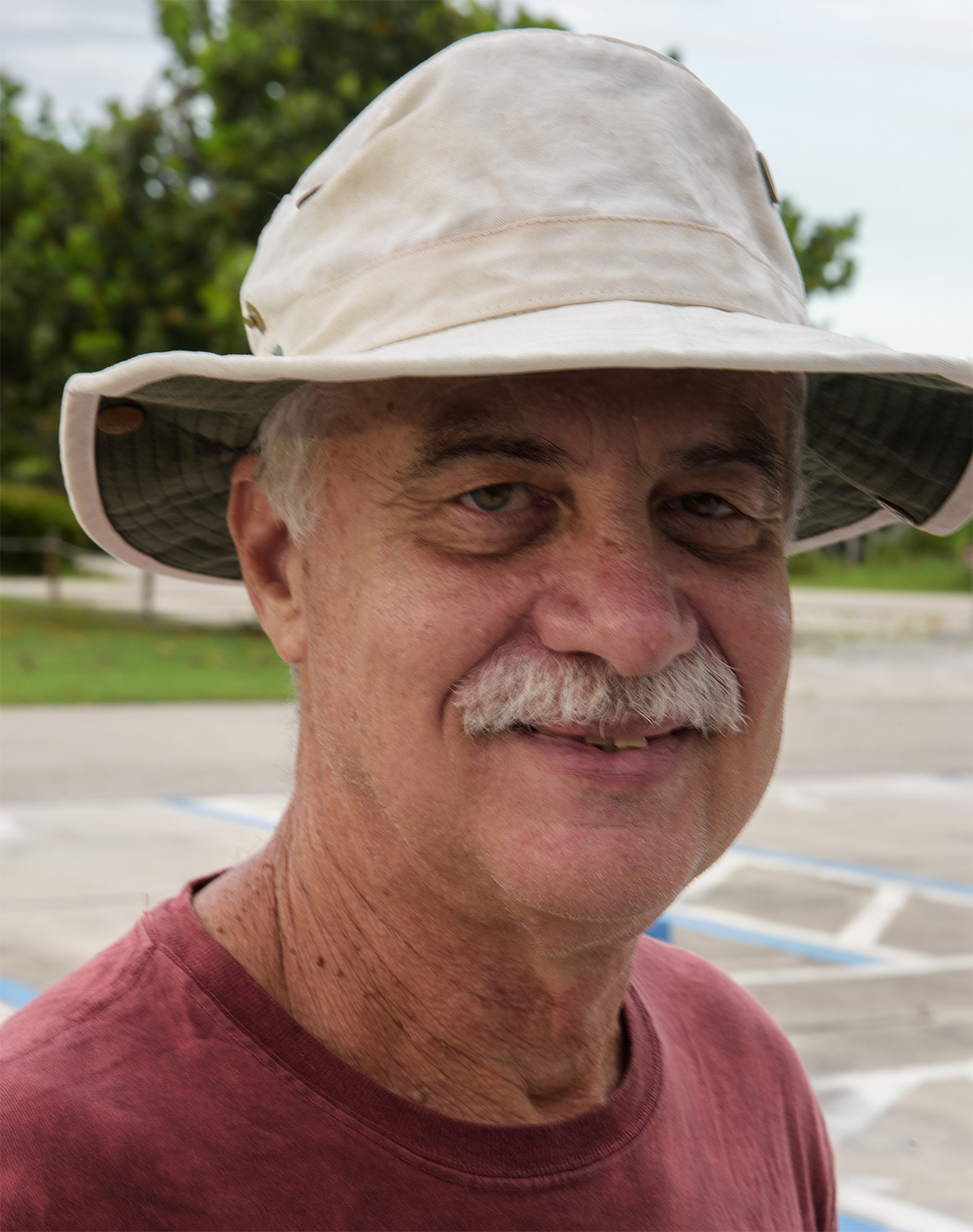 Larry Treadwell
Thanks for your thoughts. I love shooting in bad weather, it is challenge but the rewards can be wonderful &nbsp Posted: 11/24/2023 18:50:20
---
---
---