Richard Matheny
---
November 2023 - Small Bald Cypress
Original
About the Image(s)
I am from WV originally and know all about the beautiful colors the trees produce in the fall. I keep hearing that there are no colorful trees in the South and we don't have seasonal changes like up north.. There may not be a great number of colorful trees in the south but there are some gorgeous colors if you just look around. Last Wednesday I led a group of CNPA photographers to the George L Smith State Park in Twin City Ga. to a 412 acre pond of some unbelievable colored trees.This lake is home to a ton of Bald Cypress Trees. Their leaves don't last long when they start to change. I like to catch them with some green, yellow and orange just before they change completely to that burnt orange. The multi colors add some interest and definition to the foliage. It also adds some texture and contrast which I like. The oranges are good but they become one-dimensional. We were shooting in the evening to take advantage of the setting sun behind us. I was shooting with the Nikon D500 and a 70-200 Nikon lens. A lot of the trees are not really close so I chose the crop sensor camera over my full frame. Shot this at F2.8 and ISO of 400 and 175mm focal length. I was using the new- used 70-200 (like new) I had bought recently at a bargain at an estate sale. I'm really liking the performance of this lens.
I cropped so that the subject tree was easy to find and brightened up the image in LRC. I also ran the original image through Topaz AI to clean any noise and add some sharpening.
---
This round's discussion is now closed!
10 comments posted
---
---
---
Bud Ralston
Perfect, Richard! &nbsp Posted: 11/13/2023 10:35:15
Richard Matheny
Thanks for the complement, Bud. &nbsp Posted: 11/14/2023 06:33:47
---
---
---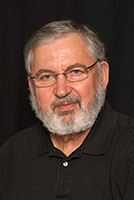 Dr Isaac Vaisman

(Groups 4 & 15 & 58 & 59 & 72)
Richard, we also have cypress trees here in Florida, but I have never seen this color variation. I believe that the trees need a cold shock so it triggers the metabolic changes in the Chlorophyll, the most important class of pigments involved in photosynthesis. Lovely composition and the image is very sharp. &nbsp Posted: 11/14/2023 06:27:52
Richard Matheny
Thanks Dr. Vaisman for the information and the comments. I never thought the location of the trees would eliminate the fall color changes. If I had thought about it, I would have known because I lived in Florida for several years and still lead photo outings there every year. I don't ever remember seeing the Cypress being anything other than green.
&nbsp Posted: 11/14/2023 06:52:41
---
---
---
Cindy Marple
This is quite a lovely rendition of the colorful cypress. You chose a nice specimen to focus on and I can really see how the mixture of leaf colors adds to the image. I like the overall dark, moody tone to the image- seems a little bit spooky and Halloween like!
Your crop focusing in on the one tree is quite nice. I also liked much of the original composition because it gave more of an overall feel of the swamp. The flow of the orange color through the frame I felt makes a nice composition too. So here's my crop version. I didn't try to mess with the white water. &nbsp
Posted: 11/15/2023 09:57:51
---
---
---
Richard Matheny
Thanks, Cindy, for your comments. Lakes with lots of trees always seem to have a spooky quality about them. The overcast day added to that feeling on this day. On sunny days you would want to grab a Kayak and head out among the Cypress Trees. I like your composition better than mine.
Gives more room for this little guy and shows its relationship to his older sibling Trees. &nbsp Posted: 11/16/2023 08:11:42
---
---
---
David Kepley
Richard,
I m ust admit that I am unfamiliar with sypress swamps. I need to learn more!! I was surprised to see that you shot this at f 2.8, since the trees in the background appear to my eye as sharp at the subject tree. Seems like they should have been blurred more. Suggest that you darken all of the trees in the background to alow your subject tree to pop out more. &nbsp Posted: 11/18/2023 10:45:17
Cindy Marple
Regarding the DoF, remember that it increases with subject distance. I plugged in the settings to a DoF calculator (Photo Pills) and assumed a distance of 150 feet. That gave 30 feet of DoF. Even if my assumption is off a bit you can see that's plenty to render the background trees reasonably sharp. &nbsp Posted: 11/18/2023 11:01:23
---
---
---
Michael Weatherford
Man, I just love the colors. They might reflect actual but look enhanced, which is perfectly fine with me. You've wonderfully captured a typical bald cypress swamp during that brief time when the foliage color is at its peak. The small patches of white in the lower right side of the image - is that a road? You might try getting red of those white spots. A really nice photo! &nbsp Posted: 11/19/2023 21:28:59
Richard Matheny
Thanks, Michael, for your comments. The image is enhanced it that I lightened and dehazed the main tree of the image and darkened other areas that were secondary to the photo to help highlight the subject. I did warm up the image to help highlight the colors. &nbsp Posted: 11/26/2023 08:48:22
---
---
---